5 easy tips to save for vacation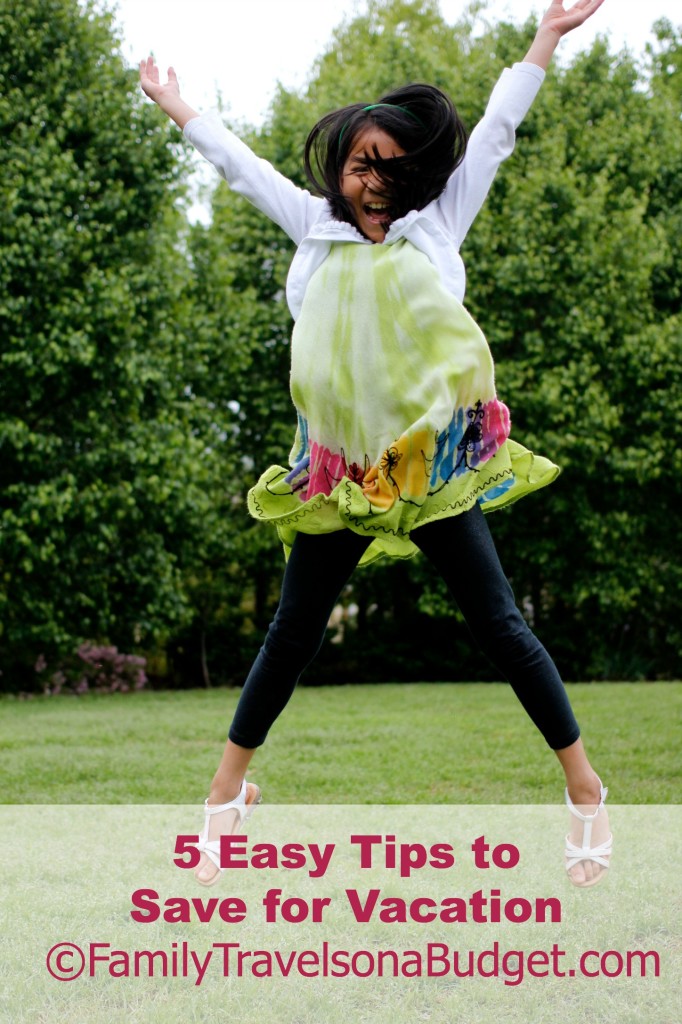 I may write a blog titled Family Travels on a Budget. Sometimes "budget"  isn't in the vacation savings. Sometimes "budget" means saving on other spending to make that dream vacation happen. Curious? Read on…
5 easy tips to save for vacation
1. Shop ebates
Save money on the things you buy anyway using ebates. The ebates site is simple to use.
• Create an account. (Please sign up with this link — thanks!)
• Log into this account to shop retailers online.
• Get cash back either through paypal or with a "big fat check".
• Isn't that great? You save on the things you would purchase anyway!
2. Consolidate errands
We all have errands to run. With gas prices on the rise, the more we run back and forth, the more expensive those errands get. In theory, consolidating errands makes a lot of sense. But if you are anything like me (that means absent-minded and/or disorganized), keeping track of all those errands can be tough. I've really figured out a system that works. It's easy!
1. Keep a basket near the car keys to hold items that you need to return to the store. Keep the items in their bag with the receipt. When heading to a particular area, grab the returns and take them along.
2. Sticky notes are a girl's best friend! I keep a running list for the errands I need to run in different parts of town. When I need to head to Lowe's for gardening supplies (I pretend to be a gardener every spring), I head to the post office for stamps, and the grocery store for bread and milk. I just pull the sticky note for that area and get it all done at once.
3. Resist the splurge! (This is the hard one for me). You might want to make a late night ice cream run, but unless Dairy Queen is right around the corner, the gas to get there and back will more than double the cost of that sundae! Seriously — you would not believe how many calories did NOT make it to my hips because of this simple strategy… though that's a savings of another kind. 🙂
3. Adjust the thermostat
Adjust your thermostat by one degree — yes, one little degree — and save 3% on monthly energy costs. In the summer, move the temperature up just one degree so the a/c runs a bit less. In the winter, turn the temp down by that same amount and save there too. Our summer electric bill runs about $150/month. Turning the temperature up one degree equals a $4.50 savings. Over the course of a year, that's $54 saved!
4. Eat peanut butter
When we were saving for our trip to China (and our daughter Ellie), we cut back on lots of things, including grocery expenses. Back then, we ate peanut butter, lots and lots of peanut butter. We mixed it up with different jelly and even topped it with chocolate chips, but I can honestly say we got sick of peanut butter that year. The people at PBCrave have come out with four fun peanut butter flavors to enjoy: Cookie Nookie, Coco Bananas, Choco Choco and Razzle Dazzle. Right now, PBCrave is giving $100 cash to one lucky winner. No purchase necessary. And, if you win, you're $100 closer to that dream vacation!!!
5. Shop grocery store sales
Other than ebates, our biggest money saver is shopping grocery store sales. We don't get a Sunday paper, so we signed up for the grocery store circulars by email. When it arrives, we look at the items on sale and plan our weekly menu around those sales. It helps in two ways — we get some variety into the menu AND we save money! We also stock up on non-perishables when they are discounted. There are shopping saver websites out there that you can join to make this an even easier way to save. Generally, we save 25-40% on groceries each week just shopping store sales! With two teens and a tween in the house, that's a hefty amount for not much time invested.
How do you save for vacation?
I learned many of these 5 easy tips to save for vacation from friends far and near. Please share your favorite savings tip with us either in the comments here or on my Facebook page so we all can learn from each other!
This post contains a link to my ebates affiliate site For more information see my
disclosure policy
.