Do you have travelers on your holiday gift list? Not sure what to get them? Why not give meaningful gifts that will last long beyond the holidays? Passports with Purpose offers just that opportunity… and if you purchase today or tomorrow, that gift might just give back to you with an amazing prize thanks to generous sponsors from around the world.
What is Passports with Purpose?
Started in 2008, Passports with Purpose offers travel fans the opportunity to win great prizes when donating to a special cause around the world. This year's cause is water for Haiti, which has some of the least sanitary drinking water in the world.
Why I Recommend this Charity
Haiti gained worldwide attention after being struck by a catastrophic earthquake in January of 2010. My husband, with several other medical professionals, traveled to Haiti just ten days after the earthquake to offer emergency aid. Here's some of what he saw: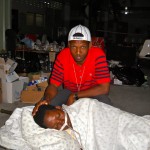 I think the horrible living conditions are the main cause of the illnesses. Many are sleeping in the open without even a tent to cover them. They are drinking out of the sewer. One of our translators (he really can't speak English, but gets mad when you don't understand him), has a horrible cough and has been taking all the food he gets here for volunteering, home to his kids…  Some of the illness is post-op wound infections because the patients are discharged and can only go home to a tent or the ground and they can't keep the area clean… (Read more of his experience at this blog. Search Haiti)
Since the earthquake, 400,000 Haitians still live in tent cities. Living conditions remain deplorable. Anastasia Moloney of AlertNet reported on conditions after Hurricane Isaac (August, 2012). "'Water is stagnating around the camps and in some areas latrines are flooded,' said Jean-Michel Vigreux, country director in Haiti for CARE, a U.S.-based non-governmental organisation. 'In the neighbourhoods water is rushing through poorly constructed drainage, eroding the already precarious hillsides and ravines,' he added."
Those of us fortunate enough to travel — or to dream of travel while surfing the web — can make a difference this holiday season, donating to this cause through Passports with Purpose in our favorite traveler's name. Each donation includes a chance to win great prizes from generous sponsors. What could be better than giving meaningful gifts to bless an entire population this holiday season?
Hurry, though. The contest ends at 11:59 p.m. TOMORROW, December 11, 2012.
If you'd like to read more about Rob's experience in Haiti, check out this article printed soon after he came home in February, 2010. Thank you for allowing me to use this platform to share a cause that is near and dear to my heart. Please don't forget the people of Haiti.