We had a bathroom toilet overflow during the night in March that caused $40,000 in damage to our house. It took almost six months to repair, completed just two weeks ago. Today, we are preparing for the onslaught of Hurricane Florence — with my house in the direct path of the hurricane track.
We live 90 minutes from the coast, so the risk here is heavy rain and winds — so, falling trees and flooding. Our house sits at the top of the hill, and flooding is very unlikely. But, when Matthew came through in 2016, the winds tore shingles off the roof and pulled concrete board siding off the side of the house. Matthew was a small hurricane.
Having lived through two "disasters," I am a bit of an insurance claim expert now. As you prepare for Hurricane Florence, use these tips to prepare for your safety and in case you have to make an insurance claim.
What to do before a hurricane strikes
Keep your insurance information with you, preferably in a plastic bag. If you are "electronic only," write your policy number and the insurance claim number down somewhere. Without electricity or the internet, you can't access your phone.
If you don't have a waterproof/fireproof safe, store important papers in a ziplock bag and carry them with you. We have a cooler, and while not waterproof, it's fairly water resistant and would have to be immersed for papers to get wet. **Some people report that the dishwasher is safe, but I have recently learned that the force of flooding water against a dishwasher seal will not keep water out.**
Take photos of EVERYTHING! One of the hardest parts of an insurance claim is reporting what you have lost. If you have current photos, you'll be better able to make a list. Open every cupboard and take a photo of the contents. Do the same with closets, the attic and the basement. Take a photo of each room. I took photos of our house the day of the bathroom loss, and they helped me make a list of all the lost personal property.
If you have a contractor you trust, put their number in your phone. Use someone you trust for "mitigation" — the initial repair work that minimizes loss (like the blue tarps that cover roofs). If you don't have a company you trust, the insurance company will "recommend" whoever is next on their list. A personal relationship beats a generic referral every time (more on that someday).
Clear all hazards you can outside. Put lawn furniture, kids' toys, and anything else that can fly around in the garage. If you don't have a garage, stack chairs and tuck them into a sheltered corner where they are less likely to fly in the wind.
Clean gutters. Water backup under the shingles can damage your roof and interior walls.
Trim trees. Now is the time to get out that tree trimmer and remove limbs that brush against your roof and/or branches that are weak/broken/sick. Heavy rains saturate the ground and wind topples huge trees in every hurricane, so you can't eliminate the whole risk. But, trimming back where you can to minimize the risk is a good idea.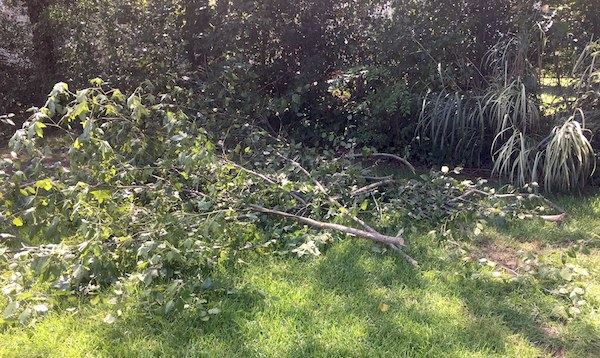 Gather an emergency supply kit. Essential items:

Water — We froze water in plastic cups, removed them from the cups to store in plastic bags. Thaw a cup at a time as needed. Other "hurricane experts" who have lived through many storms recommend filling ziplock freezer bags with water, freeze them flat and then put them between frozen food to keep it cold during power outages and to provide drinking water as needed.
Non-perishable foods — Around here people joke about milk, bread and eggs, but non-perishable foods are better: granola bars, peanut butter (almond butter), crackers, canned fruits and vegetables, etc. will last.
Medications — Refill prescriptions now, before pharmacies and doctor's offices lose power. **You can't do that for every prescription, but if you have necessary medications that will run out within the next few days, try to refill.**
Cash — ATMs and credit card machines don't work if there's no power. Cash is king in a storm! You need enough to get through a week or so.
Things for your grill — Charcoal or propane for your grill. If power goes out, you can cook outdoors once the storm passes. DO NOT GRILL INDOORS!
First aid kit — Just in case, have bandaids, antibiotic cream, and other essentials on hand.
Pet foods and supplies.

Prepare for your pet.

Pets should not be kept outdoors in a cage or on a chain. If there is flooding, they could drown. Bring pets indoors if at all possible.
One lady who has survived many storms recommends writing your pet's name and your phone number on your pet's belly. If you get separated, that's the quickest way to be reunited. Collars can break off and chips work, but only when there's power.
A friend of mine who lives in Florida recommends making an "indoor" bathroom for the dog using a kiddie pool and some sod. We don't have either of those, so we are making one from an XL kitty litter box, with kitty litter in the bottom and a section of my husband's artificial turf putting green.

Prepare your kids. This one's tough. If you're afraid, that rubs off on the kids. But, if you're not in a mandatory evacuation area, do what you can to prepare, then think of things you can do with your kids to make it "fun." Some things you can do:

Move coffee tables and clutter out of the family room and camp out indoors.
Gather up books and games to play while you wait.
Make pillow forts.
Make it a "jammies" day — no one will come calling in the midst of the storm.
Try some of these fun ideas — I wrote this post when trapped at a hotel during an ice storm. Modify these to do at home.

Charge cell phones, and use them only when needed. Put them on energy saver mode and use only for necessary communication to protect your battery life. If you have a backup charger, make sure it's fully charged, too.
EVACUATE! If you face a mandatory evacuation OR your own fear is so great you feel paralyzed, evacuate. Hotels fill quickly, so call ahead and make reservations. Think of taking the "local routes" — not the interstate and pick a hotel in a smaller town as hotels along the interstate are likely to fill first. Or you can head to the local emergency shelter (two of our schools are already designated for emergency shelters for Hurricane Florence and another is designated as an emergency shelter for families AND pets.)

Shut off water to your house if you evacuate. If you don't have a main cut off valve, cut off the supply at each sink and toilet.
Turn off power to non-essential items: the washer, dryer, dishwasher, etc. to minimize power surge when power is restored to your neighborhood. If you unplug them, it protects them from damage in a lightning strike.
Unplug TVs, lamps, internet, computers, clocks, etc. to protect them from a power surge or lightning strike.
During the hurricane
According to our local news, most injuries and fatalities occur during the storm when people go outside — or when they ignore mandatory evacuation orders.
Do not go outside during the storm to inspect damage. Strong winds knock down trees and power lines causing serious risk of injury.
Do not drive! Flash floods and driving across flooded roadways lead to avoidable drowning deaths. Just stay off the roads!
Don't use grills or gas generators indoors. Carbon monoxide poisoning and fire dangers increase dramatically. They should be protected from rain and at least 15 feet from your house with the exhaust pointed away from your home.
Follow storm advice from officials.
After the hurricane
We learned a lot when the toilet flooded our house that is just as important — maybe moreso — after a hurricane.
Call the insurance company to report your loss. If you don't have flood insurance and your loss is from a natural flood, you may not be covered.
Call your mortgage company to report your loss.
Mitigate the damage — which simply means do what you can to keep the damage from getting worse. If it's raining and you lost a window, try to cover the opening with plastic to keep water out of the house. If water pours in through a hole in the roof, sop up what you can with towels and blankets. You might not be able to do much, but try.
Call a repair company to do official storm mitigation. Your insurance company might "recommend" someone, but you can also call a licensed contractor of your own choice. When they come out, take photos of the damage and repairs done.
Expect everything to take a long time! Our damage was mostly cosmetic — drywall, trim, floors, ceilings, light fixtures and bath fixtures. Most of the house was affected, but it took almost six months to fix. After a natural disaster, it can take years to get back to "normal." Just go one step at a time and celebrate progress as you can.
DO NOT pay up front for repairs — especially if the repairman comes to your door without being invited. After natural disasters, scams run rampant! You should never feel pressured to sign on the dotted line OR to pay up front for all repairs. When you do schedule work, take the time to check state sites to make sure they are licensed, ask for proof of insurance (which should come from a third party not from their back pocket) and ask for references. Just because it's an emergency repair doesn't mean you rush into it.
Document everything. Keep a separate box, expanding file folder or basket just for repairs and keep everything until the claim is fully resolved. Record names, phone numbers, dates of calls in a small notebook in case you run into problems.
Give yourself time to grieve your loss. I am very happy to have a "brand new" home, but I wasn't expecting it. But, it is strange to walk through the same door into an entirely new space — even a beautiful space. It's not the comfortable place I knew.
Take time making decisions. Not forever! You have to fix things. But, you don't need to decide it all in one day!
Natural disasters — hurricanes, tornadoes, floods — wreak havoc on our lives. But, with preparation, there is no need to panic. Use common sense and follow instructions from law enforcement. Houses can be fixed. I know.