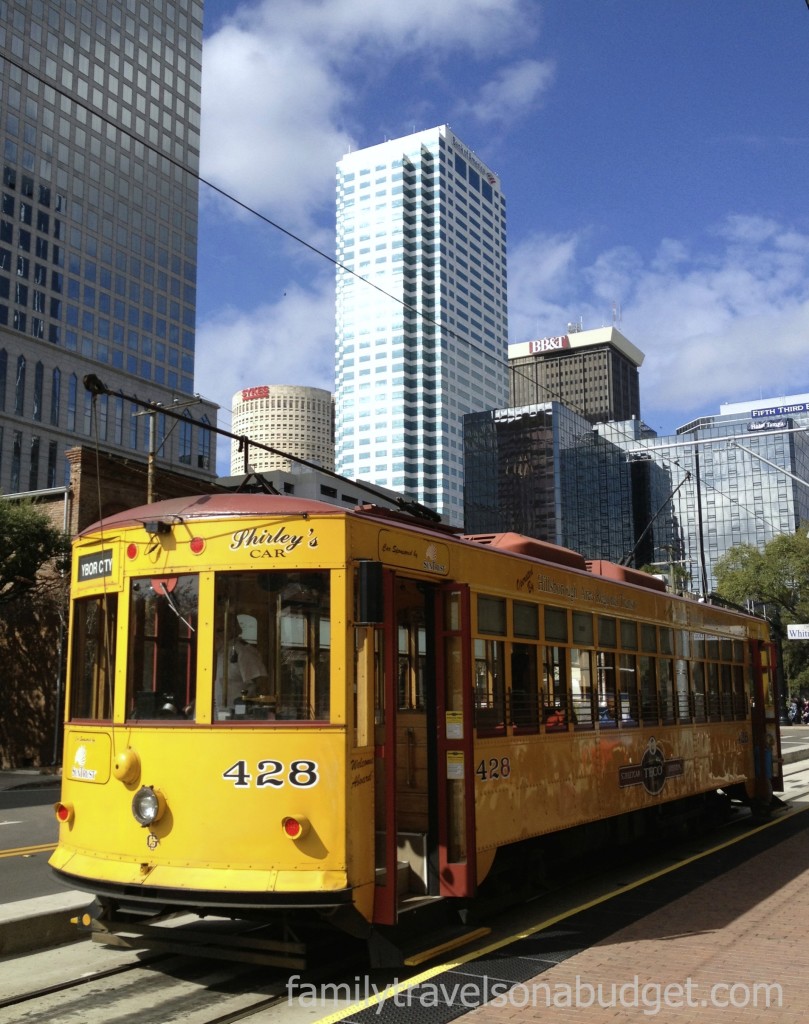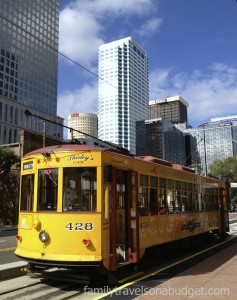 Have the past week's posts convinced you to add a day or two in Tampa to your next Florida vacation? I sure hope so! Here's a handy Tampa in a Day itinerary to make your travel planning easy! It also includes suggestions to expand your trip by a day or two. Enjoy Tampa! It's a great place for families.
Tampa in a Day: Preschool Itinerary
Start your day at the Florida Aquarium, located in the Channelside District. Toddlers are mesmerized by fish tanks, and here they can both look and touch! Pack their swimsuits, because they'll want to jump in to the new Explore A Shore interactive fountain playground which includes Shipwreck Shore, just for toddlers. This area gives young kids their own place to climb on animal figures and a pirate ship replica. Explore A Shore closes each day at 4:45 and may close due to inclement weather or for maintenance.
Enjoy lunch nearby at Columbia Café, located at the Tampa Bay History Center. Columbia Restaurant, dubbed Florida's Oldest Restaurant, opened in 1905 in Ybor City. It offers Cuban coffee, the best Cuban sandwich I've ever had, and the original "1905" salad. The Café menu is a pared down version of the full restaurant menu. Families can dine indoors or out — we prefer the view and relaxed space of the waterfront outside. A kids menu is also available.
After lunch, enjoy the Riverwalk, which connects the Channelside District to Downtown Tampa. Along the Riverwalk, enjoy playgrounds, wide open spaces for kids to run, and great views. The Riverwalk connects many of Tampa's family friendly attractions, so explore the website and pick something fun!
Other places to visit:
Ben T. Davis Municipal Beach
Tampa in a Day: Elementary Itinerary
Elementary aged kids love dinosaurs. Why not start the day at Dinosaur World, dubbed "Jurassic Park without the Scare." Dinosaur World is located near Tampa in Plant City. The outdoor exhibit features 150 life-size dinosaur replicas and a Fossil Dig, where kids can dig for fossils just like real paleontologists. The Fossil Dig is designed for kids age 3-12: their dig is included in the price of admission and each young scientist can take home three fossils as a souvenir of their visit. Other family members can join the dig at a cost of $2/each. An added bonus, Dinosaur World is a dog-friendly attraction. Fido can go, too, as long as he's well behaved and stays on his leash.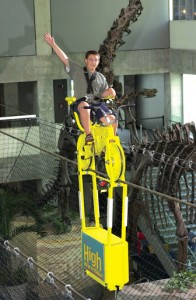 Spend the afternoon at MOSI, Tampa's Museum of Science and Industry. Offering more than 450 hands-on exhibits, MOSI's purpose is to make a difference in people's lives by making science real for people of all ages and backgrounds.
Some of the exhibits at MOSI include Kids In Charge!, The Children's Science Center, Disasterville, featuring Bay News 9 WeatherQuest, and The Amazing You—a 13,000 square-foot exhibition on health and wellness from the beginning of life to adolescence life stages. The whole family can experience an adrenaline rush like no other on MOSI's newest permanent attraction, the Sky Trail® Ropes Course, featuring 36 elements on a 12 – 36 foot high, multilevel structure. There's definitely something for everyone at MOSI!
Other places to visit:
Tampa in a Day: Tweens and Teens
Simple trips for tweens and teens would involve a day at Busch Gardens, which offers thrill rides, Adventure Island water park (seasonally) and an opportunity to get up close and personal with African animals. Of course, Tampa offers much more.
Consider these ideas as well:
Spend the day at the beach. Tampa's beaches offer traditional sun and surf fun, but consider waterskiing, jet-skiing or parasailing to take your teen's beach vacation to the next level. For another type of water adventure, consider a Canoe Escape along the Hillsborough River.
Keep the fun going, even at night. Try Splitsville for bowling and billiards or Q-Zar Laser Tag.
Whatever itinerary you choose with your teens, join them in the fun. Put the smartphones away and play. Work, school and social demands make it hard to connect at home — unplug on vacation and reconnect with your teen.
Tampa Bay offers great fun for any age! Use these ideas to visit Tampa in a day to jump-start your vacation planning. Go to Visit Tampa Bay for more great ideas. At that site, you can also request a visitors guide, plan your vacation using their online vacation planning tool, and receive discounts and other money-saving tips.