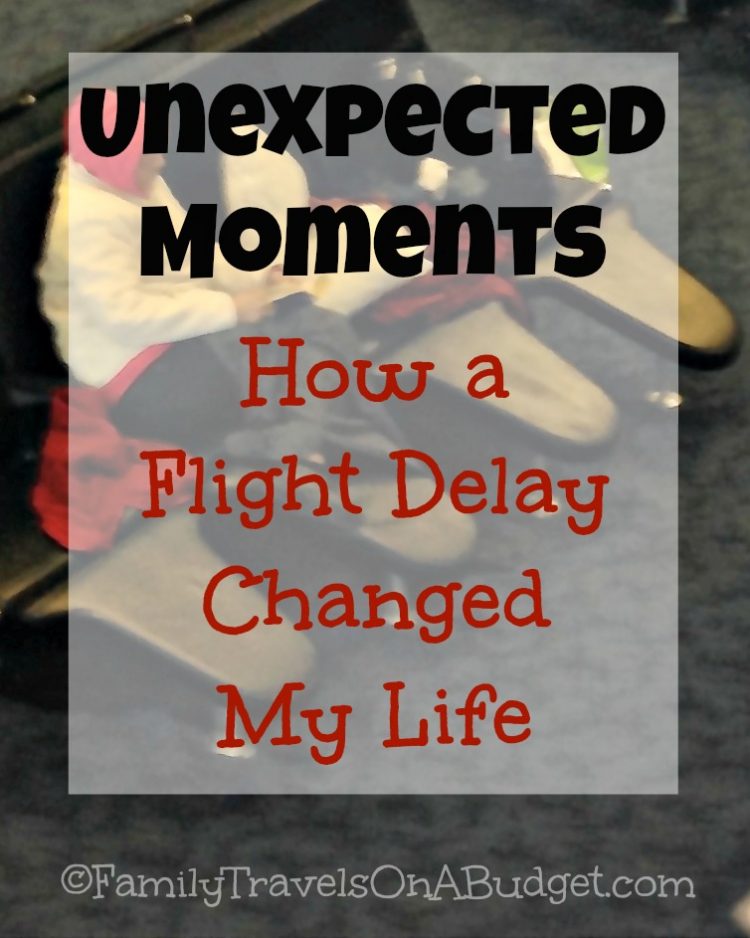 Coming home from Dallas during "Ice-mageddon 2013," aka Winter Storm Cleon, my flight to Raleigh got delayed like hundreds of others. My first thought was, "Darn. We were supposed to decorate our Christmas tree tonight…" Then, I looked around and saw strangers chatting, smiling, and sharing stories of the storm, sudden friends through the bond of adversity. Unexpected moments, breaks from the hustle and bustle of regular life, can change a life forever.
Next to me sat a well-traveled gentleman, Mark, wearing a leather bomber jacket embroidered with "Semper fi." My brother is a Marine… To Mark, I said, "Thank you for your service to our country." He smiled graciously and said, "You're welcome."
We chatted a bit more. He shared that he appreciates how supportive the American people are of the military and added that when he served in Vietnam it wasn't always that way.
Then he looked away, obviously musing over a special memory. He dug in his pocket, pulled out a coin and placed it in my hand. He explained that it was a challenge coin, given to him by Don Jenkins, a U.S. Army Veteran and Vietnam War hero.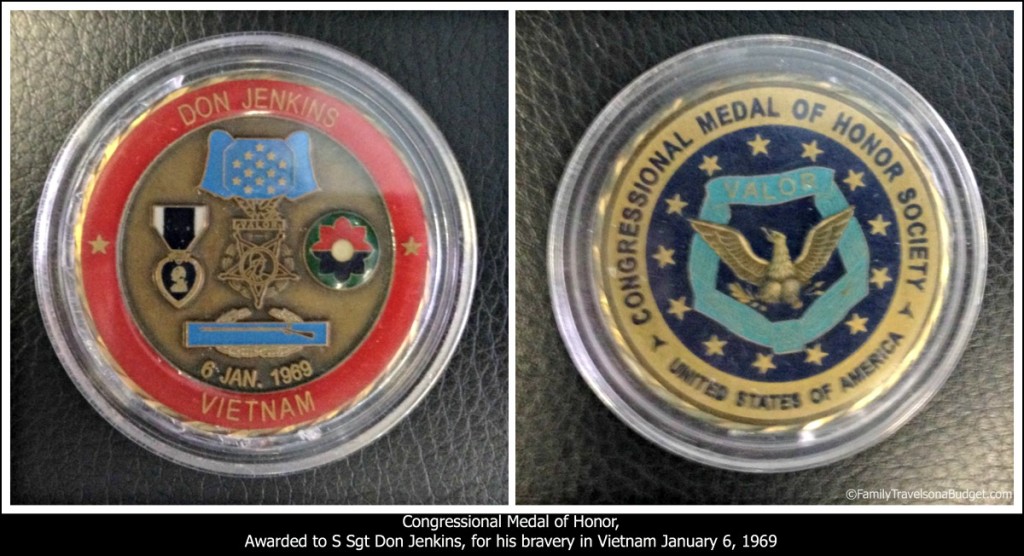 A challenge coin is a medallion bearing an organization's insignia and carried by the organization's members to prove membership when challenged and to enhance morale, a tradition dating back to World War I. This Challenge Coin signifies S. Sgt. Don Jenkins' membership in an elite group of heroes. Only 3468 Medals of Honor have been awarded to heroes for personal acts of valor above and beyond the call of duty.
The rest of this post is Don's story as Mark told it to me.
Sitting in an airport a few years ago, Mark saw a dignified man wearing a backpack with a navy and light blue insignia. He recognized it as the Congressional Medal of Honor insignia and approached the man to thank him for his service and sacrifice to our country. The men parted ways.
A bit later, Mark boarded his flight and as happens in stories like these, our hero, Don Jenkins, was on the same flight seated next to Mark. They talked. Mark learned the man's story of courage and sacrifice.
At one point during the flight, Mr. Jenkins went to the back of the plane. Mark seized the opportunity and told the flight attendant that there was a celebrity on the flight. She asked who, but did not recognize the name "Don Jenkins." The flight attendant listened as Mark shared the story of Don's heroism, which happened exactly 45 years ago today, and shared it with the pilots. The pilots, in turn, confirmed the story.
Sometime after Don returned to his seat, the captain voice crackled over the loudspeaker. He shared Don's story with everyone on board. Here's what he shared, as summarized by Home of Heroes.
When his company came under heavy crossfire from an enemy complex, Staff Sergeant Jenkins maneuvered forward to a perilously exposed position and began placing suppressive fire on the enemy. When his machine gun jammed, he obtained a rifle and continued to fire into the enemy bunkers until his machinegun was repaired by his assistant. He exposed himself to heavy fire when he repeatedly both ran and crawled across open terrain to obtain re-supplies of ammunition until he had exhausted all that was available for his machinegun. He then armed himself with two antitank weapons and maneuvered alone through the hostile fusillade to within 20 meters of an enemy bunker to destroy that position. After moving back to the friendly defensive perimeter long enough to secure yet another weapon, a grenade launcher, he moved forward and resumed placing accurate fire on the enemy until his ammunition was again exhausted. He was seriously wounded but he moved 100 meters to aid a friendly element that was pinned down only a few meters from the enemy. Ignoring the continuing intense fire and his painful wounds, and hindered by darkness, he made three trips to the beleaguered unit, each time pulling a wounded comrade back to safety.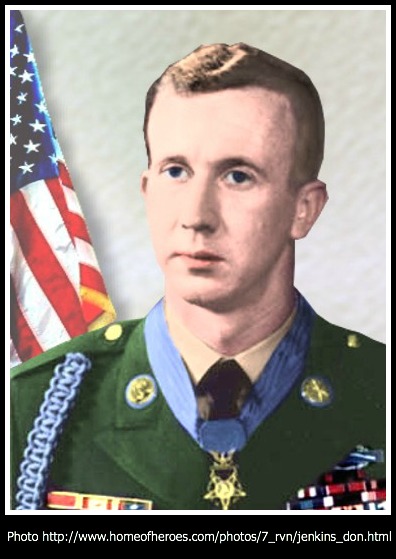 When the pilot finished, the entire plane erupted in cheers of thanks. Through it all, Don's eyes filled with tears.
Quietly, Don asked Mark if he was responsible. Mark nodded yes.
Don then dug deep into his bag, the satchel with the blue insignia that started it all, and pulled out his Congressional Medal of Honor Challenge Coin. "I want you to have this," he spoke as he pressed a small object into Mark's hand.
To this day, Mark carries Don Jenkins' Challenge Coin everywhere he goes. Mark shares Don's story of sacrifice, on the field and off, with anyone who wants to listen. He wants people to know that Vietnam Veterans, including Don Jenkins, sacrificed for our freedom and should be treated as the heroes they are.
There are two heroes in this story… Don Jenkins, whose story we now know, and Mark Ode, USMC, a veteran of the same era. Mark never had to fight in Vietnam, and he does not claim to be a hero. Here, we disagree.
Hero: a person who is admired or idealized for courage, outstanding achievements, or noble qualities. (emphasis mine)
Mark, Semper Fi. Thank you…. for being a hero too. Without your quiet respect for Don Jenkins, I would never have "met" him. I am forever changed by our brief encounter. Thank you.
Thank you, active military members and veterans, for protecting our freedom.
Special thanks to S. Sgt. Don Jenkins, Mark Ode of the USMC,
my dad — PO1 Bob Presley of the US Coast Guard, and my brother — Cpl. Jim Presley of the USMC.
Story edited for accuracy. 1/7/2014