Complete guide to the best restaurants in Gulf Shores and Orange Beach
This post may contain affiliate links. Click here to see what that means.
If you're a regular reader (and I hope you are!!!), you know I'm a big fan of Alabama's Beaches. As a regular visitor, I get to try new restaurants in Gulf Shores and Orange Beach every time I go. I have collected a few favorites along the way, the very best restaurants in Orange Beach, AL and Gulf Shores!
This post includes a list of the best places to eat in Gulf Shores and Orange Beach, updated every time I go. It's categorized by meal for easier searching. If you try one of the restaurants on this list, please leave a comment with your feedback, too. AND, if you have a favorite place not on my list, let me know. I'll try to get there next time!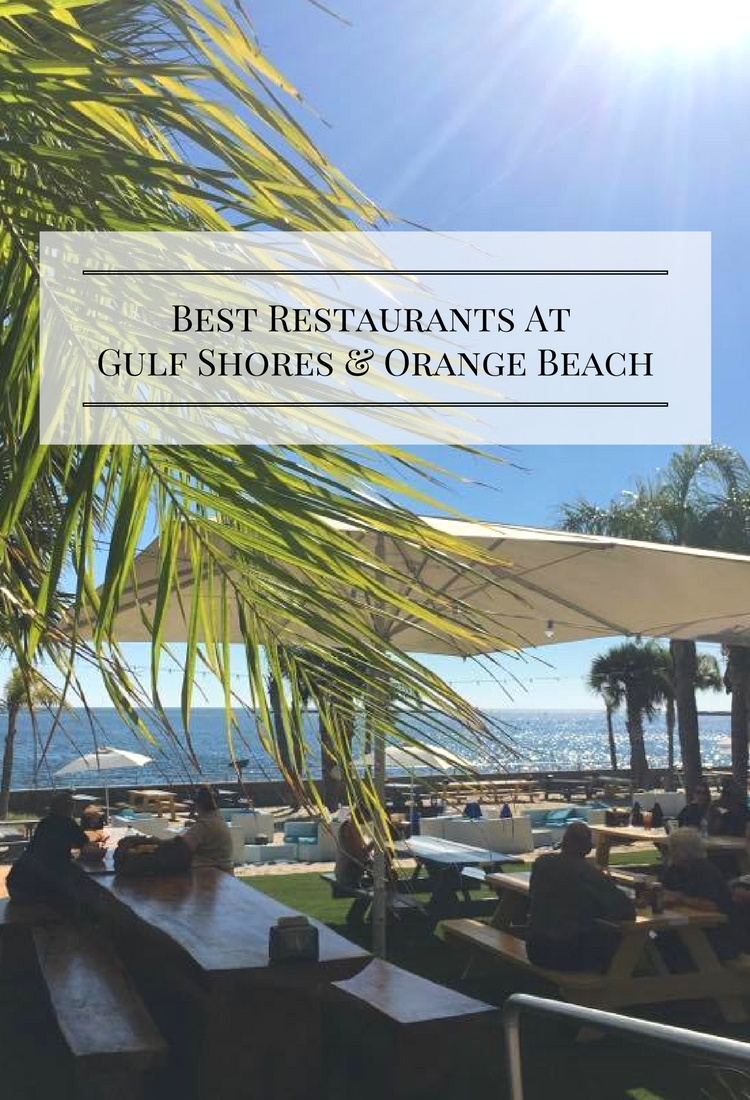 Post updated November 2020 to reflect current status
Best breakfast in Gulf Shores and Orange Beach
My daughter's favorite meal of the day is breakfast! She loves her eggs over easy with a side of grits and crispy bacon. She chases it down with a tall glass of chocolate milk — and she will enjoy every bite! I'm more of a healthy breakfast girl, oatmeal with fruit or avocado toast, with a great cup of coffee. We've found a few places that make us both quite happy!
Best breakfast in Orange Beach
The restaurant's sunny decor and high ceilings are inviting, while the high backed booths balance the openness, creating intimate dining spaces. The Louisiana inspired menu offers sweet and savory breakfast items to please every member of the family.
We recommend:
Savory — a signature benedict (the peacemaker  lets you choose two),
Sweet — the french toast batons (french toast sticks made with brioche),
Sides — pig candied bacon (trust me on this one).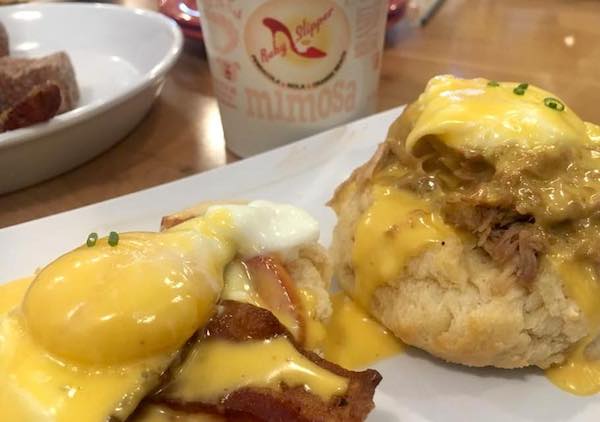 Brick & Spoon, 24705 Canal Rd, Orange Beach
Serving an upscale southern menu in a casual atmosphere, Brick & Spoon provides diners a relaxed way to start the day. Ranked one of the top ten breakfasts in the United States by Travel + Leisure, we hesitate to recommend one dish over another. But, here's what we had — and we loved every. single. bite:
The Caribbean Sampler — an egg dish that's sweet and spicy. With jerk chicken, grilled pineapple, cheese and mango salsa, it really is a party for your mouth!
Stuffed French Toast Sliders — made with a battered french bread stuffed with cream cheese and fruit compote, then topped with fosters' sauce, whipped cream and powdered sugar. It's sweet — and filling!
Bananas in Pajamas — crispy banana egg rolls served with fosters sauce. This is fun for kids — awww, who am I kidding? You'll love it, too!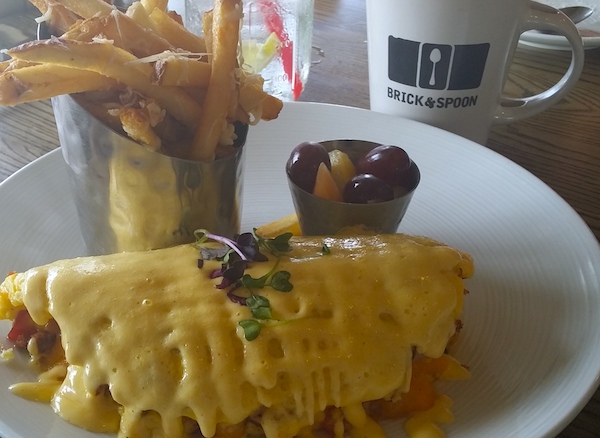 Playa, 7842 Canal Rd, Orange Beach
This newcomer, a bit off the beaten path at Sportsman Marina, offers stunning views and excellent food! Not only that, they have special menus for people with allergies. The restaurant is the newest offering by Fisher's Dockside, and is just as delicious — with equally attentive service in a laid back atmosphere. We enjoyed:
Spanish breakfast: Carnitas (braised and roasted pork) served over sweet corn grits with tortillas and two fried eggs. Ellie said the pork is sweeter than she expected, but very good, and
Breakfast toast: Avocado, cherry tomato, pickled red onion, cotija cheese and cilantro "salad" served over grilled Cuban bread. It was filling and satisfying, the slightly sweet, crunchy bread a great contrast to the creamy avocado.
Best breakfast in Gulf Shores
We have only had breakfast at one place in Gulf Shores, so far, because we usually stay at condos in Orange Beach, but this is a solid choice if you're staying nearby.
Sunliner Diner, 100 E. 2nd Ave., Gulf Shores 

**Temporarily Closed**
Ellie rated the Southern Biscuit Sandwich at Sunliner Diner the best breakfasts she has ever had in Gulf Shores and Orange Beach, so good she would be willing to go back despite the long wait for food. For a fourteen year old not to complain about a 40 minute wait (after being seated), it's an endorsement! I agree with her that the food here is delicious, though pricey. The atmosphere is incredible, very 1950's diner! And, it's the cleanest restaurant I've ever been to. Just don't go if you have a tight schedule and you'll enjoy it. We ate:
The Southern Biscuit Sandwich, a giant biscuit topped with fried green tomato, avocado, a farm fresh fried egg and Alabama White BBQ sauce. Ellie said this spicy white sauce is "THE BEST" sauce she's ever eaten. She even used her finger to wipe the plate clean of every drop. My girl hates messy fingers.
The Chicken and Waffle Benedict, a crispy fried boneless chicken breast and a creole hollandaise on a waffle, drizzled with syrup. I love chicken and waffles, and this dish did not disappoint. I got a side of greens, which is a bowl of fresh greens, not dressed.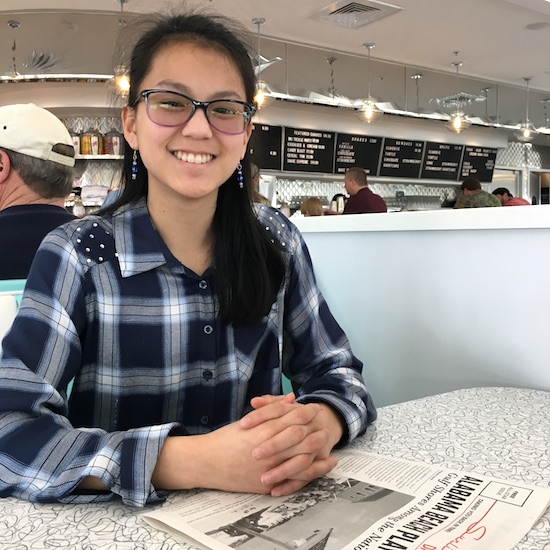 Best lunch in Orange Beach and Gulf Shores
When it comes to the best places to eat in Orange Beach and Gulf Shores, it's hard to pick just one. The best restaurants in Orange Beach are locally owned, dedicated to the culture and vibe of the Orange Beach Gulf Shores area. They take advantage of the scenery (hello, Gulf!), comforting southern cuisine and the relaxed atmosphere that makes the area so special.
Best lunch in Orange Beach (also good for casual evening dining)
The Gulf, 27500 Perdido Beach Blvd, Orange Beach
Food + Location = Perfection.
We love The Gulf, a unique dining concept built entirely of shipping containers, one of the best Orange Beach restaurants on the water. It's an unusual concept, though, so find a table and stake your claim (you might share a picnic table with others). Then get your food: either at the fish container or the taco/burger container. Everything at The Gulf is made fresh daily, and when a menu item runs out, that's it for the day. Hence, my recommendation to eat there for lunch (a late lunch means smaller crowds). With a sandy play area, fire pits, and expansive views of the gulf, you can't find better "decor."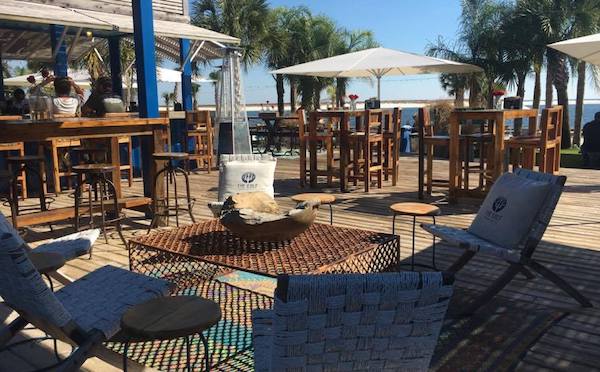 While the menu changes daily, the Gulf Burger and hand cut fries are always delicious! Other considerations include the fish tacos, homemade hummus and pita chips and the daily mojito!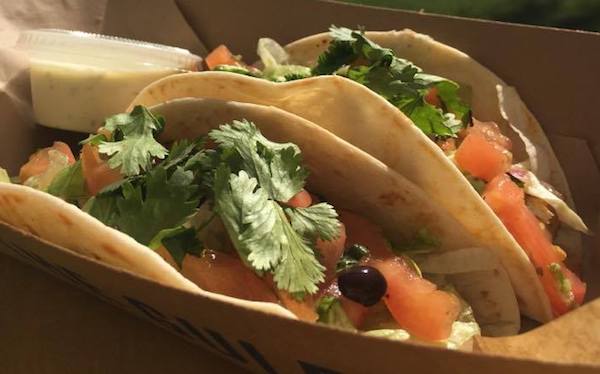 Tacky Jacks, Gulf Shores: 240 East 24th Avenue and Orange Beach: 27206 Safe Harbor Drive
My daughter's favorite for the atmosphere and friendly staff! With two locations on Alabama's gulf coast, both waterfront, hang out at Tacky Jack's to enjoy great food in a funky atmosphere. Built to look haphazard, the restaurant is actually quite organized! Lines can get long at prime dining times, so go for a late lunch or early dinner unless you don't mind waiting. Both locations offer spectacular sunset views year-round — for free.
One of our favorites was the Mexican Garbage (beef and cheese nachos topped with tomato, onions, black olives, sour cream, jalapeno peppers and salsa). It's large enough to share — a meal for three if you ask me! The Po Boys are also terrific.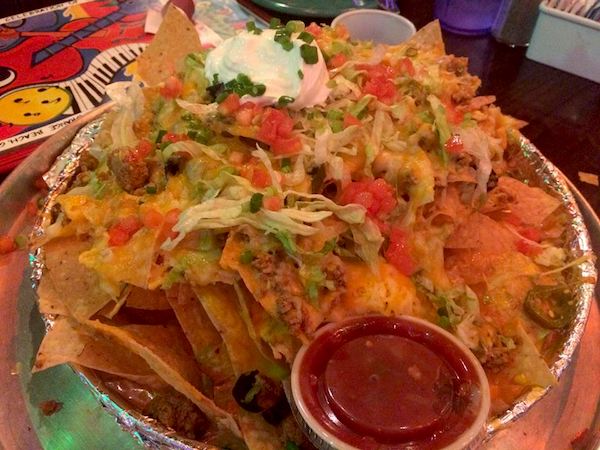 Serving southern favorites that are hand crafted daily using fresh, simple ingredients with a touch of soul. This laid back restaurant offers airy dining and lots of TVs for watching the big game. The staff is attentive to allergy concerns. I ate here alone, something I don't do often, and felt like I was having dinner at a friend's house. The staff checked in on me regularly without smothering me. My cup never emptied!
The day I went, they had a Nashville Hot Chicken dinner that was pure perfection. It's no longer offered as a dinner, but I can confidently recommend the Nashville Hot Chicken Sandwich in its place.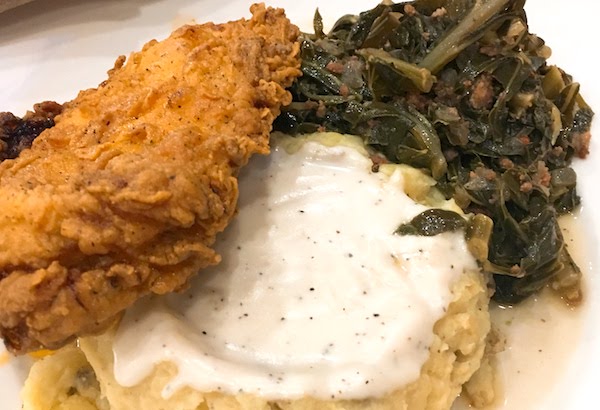 Best lunch in Gulf Shores (also good for casual evening dining)
Another great destination restaurant choice is Lulu's in Gulf Shores. On the waterfront, relax and watch the boats cruise by, listen to live music or let the kids play in the sand. The "restaurant" also has a climbing tower (separate fee), shop, and beach games. Lulu's is about more than dinner: take a break to enjoy family, fun and food!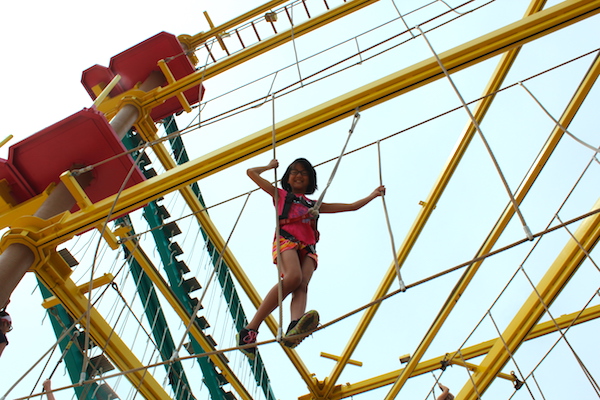 One more thing, Lulu's gets our TOP PICK for families with food allergies. With eight separate food allergy menus and a separate kitchen to prepare foods for those with allergies, Lulu's gets it — and makes it easy to enjoy a meal out without worry
Our recommendations include the "Best of Alabama" fried green tomatoes, any of the burgers, Crazy Sista's Pulled Pork Sandwich, and the Key Lime Pie.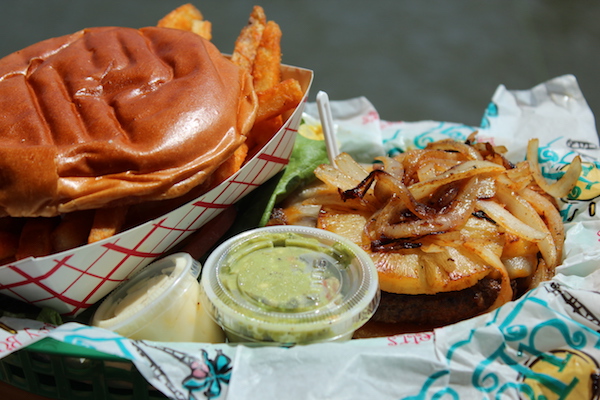 A note: Reviews often state that Lulu's is over-priced. If you are planning a quick dinner and don't want to enjoy a relaxed meal, this might not be the place. If you're want to kick back and enjoy family time, this is the perfect spot.
Picnic Beach, 128 E 1st Ave, Gulf Shores 
**Temporarily Closed**
Picnic Beach might be my best late night find as well as lunch! It's certainly my favorite of the Gulf Shores restaurants! Even though it's located across the street from the beach, you won't miss it. Walk up the turf covered stairs into the white, shiplap sided building to order at the counter. Then grab a seat and play a board game while you wait. It's so relaxed, you could make an evening of it. If weather is nice, there's outside dining, also on fun turf, under Edison bulbs. Everything about this place makes me smile! And, when I go back to Alabama's beaches, I'll be eating here again! We got:
The bison burger with potato salad. Ellie loves bison burgers. Who knew?
The tuna poke protein bowl with tri-colored quinoa, the best tuna poke bowl I've ever had (and I've had a few),
Juices and smoothies!
"Fine" dining in Gulf Shores and Orange Beach
I put this header in quotes, because while the places I'm about to list offer a more sophisticated menu, they're also quite family friendly restaurants. You'll find people dressing up a bit, but they are not stuffy! Kids are welcome — wanted, in fact. Maybe that's the Gulf Shores and Orange Beach secret — it's all about family here.
**Open, but call ahead for seating. 251-981-7308**
Two restaurants in one, Fisher's offers a casual dining experience downstairs (dockside) — where flip-flops and shorts are expected. Situated on the waterfront, marina views, grassy lawns and wide docks provide the decor at this open air restaurant. While the atmosphere is decidedly casual, the cuisine is still top-notch. Fisher's Dockside serves burgers, seafood, salads and sandwiches — and some amazing appetizers.
Fisher's Upstairs (that's the name) is decidedly more fancy with linen tablecloths and draperies, reclaimed wood, graceful chandeliers. Don't let that fool you, though, they also have porthole windows looking into the kitchen — watch the chefs cook your steak or seafood dinner!
Both Fisher's Upstairs and Dockside are recommended by Southern Living Magazine — and me! When eating Dockside consider: Boudin Balls, Fried Green Tomatoes, anything with grits or the special of the day (best red beans I've ever had!)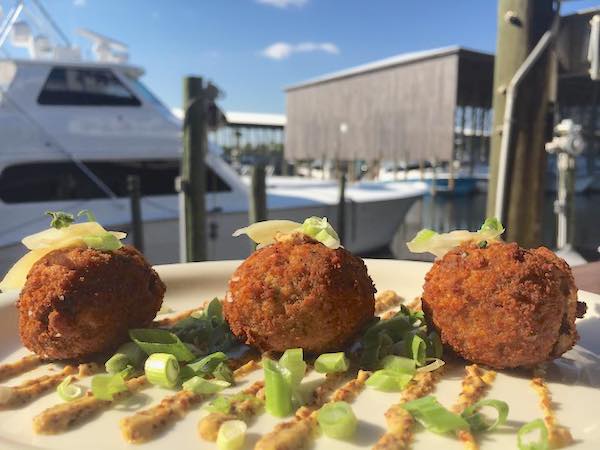 Voyager's, Perdido Beach Resort, 27200 Perdido Beach Blvd, Orange Beach
Voyager's is another of my daughter's top picks — she feels so grown up when we eat here, thanks to the upscale decor (sparkly chandeliers) and phenomenal wait staff. They treat her like royalty and she soaks it up!
Even with the white glove service, Voyager's maintains a friendly, comfortable vibe that welcomes adults and children warmly. We really relax and enjoy dinner here — part of that Alabama Gulf Coast magic!
As to the food, the restaurant is committed to using traceable seafood (they'll tell you exactly where your fish came from if you ask) and fresh local ingredients. I am particularly fond of the menu's creativity — unique without being weird. Recognizable flavors used in unusual, but tasty, combinations.
My recommendations include: Pork "Secreto," a house specialty, the Shrimp and Grits (I am allergic to shrimp — sadly — but others at the table raved about it), and the Gulf Coast Bouillabaisse (same comment — but the smell — oh my!). Of all the places I ate last year, Voyager's Ostrich Carpaccio earned my "best bite of the year" award, so I have to include that as well.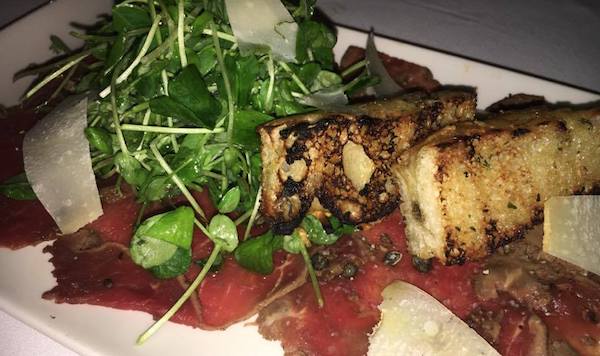 Most restaurants in Gulf Shores and Orange Beach are locally owned, delivering local cuisine you're sure to enjoy. This is hardly an exhaustive list, but it includes my favorites — I'm sure you'll enjoy them too!
If you've been to Alabama's beaches, recommend your favorite restaurants in Gulf Shores and Orange Beach. I'd love to check them out!
Please give your favorite restaurant a shout-out in the comments below or on our Facebook Page.