Fun things to do in Loudoun County with kids
This post may contain affiliate links. Click here to see what that means.
Below you'll find a list of the most fun things to do in Loudoun County with kids, including parks, museums, attractions and more! Locals to the DMV will love them just as much as visitors!
Loudoun County stretches from Sterling, VA in the east to the West Virginia border to the west.
We are breaking this article of the best things to do in Loudoun County with kids into two sections. First, we focus on the best things to do with kids in Leesburg, VA.
Best things to do in Leesburg, VA with Kids
Leesburg is the county seat of Loudoun County. It's the largest city in the county, with a history that dates back to the 1750s! Leesburg is a charming, historic town with a wide variety of shops, restaurants and attractions to anchor a great weekend getaway from Washington, DC.
Enjoy the Douglass High School Park and Playground
Douglass High School dates back to the 1940s. It served as the only black high school in Loudoun County until desegregation led to it closing. In recent years, the community pushed to repurpose the school as an education and development campus.
And that dream became a reality when the Douglass High School Education and Development Campus opened to the public in May of 2023. The former high school now houses informative displays, historic photographs and artwork that share the history of this place. Public use space includes a gym and meeting rooms.
Outside, families can enjoy the ball fields, a skating rink, park benches next to a creek and an incredible playground.
The Douglass High School playground celebrates African American history and culture with a Hall of Heroes climbing structure modeled after the National Museum of African American History and Culture in Washington, DC.
There's also a climbing structure shaped like the Selma Bridge in Alabama, play structures and informational signs that highlight the accomplishments and culture of black Americans. It's a popular playground with activities for kids of all ages. And, it's among the very best things to do with kids in Leesburg, VA — for its culture, its history and its fun!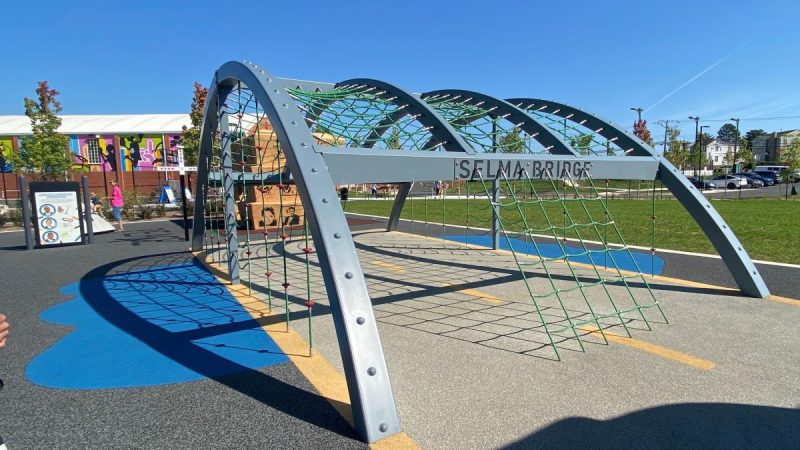 The Douglass School playground and community center are located at 407 E Market St, Leesburg, VA. Free onsite parking is available. There's also an entrance from the W&OD Trail in Leesburg.
Bike the Washington & Old Dominion Trail
The Washington & Old Dominion Bike Trail stretches 45.5 miles from Arlington, VA through Fairfax and Loudoun Counties ending in Purcellville.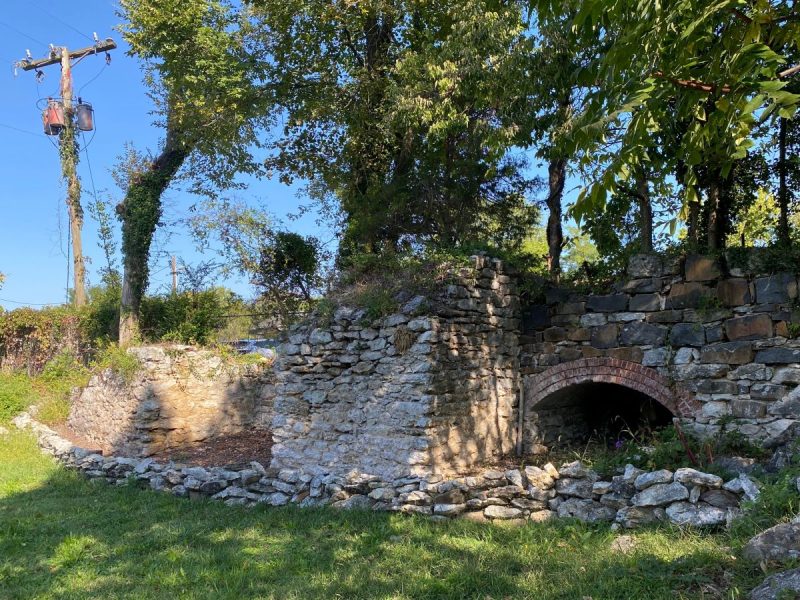 The section of the W&OD Trail that runs through Leesburg connects to other parks and bike trails in the city, making it easy to explore Leesburg by bike.
Venture off the W&OD Trail to explore more of Raflo Park at 345 Harrison Street SE, Leesburg, VA. This park is home to art sculptures sponsored by local non-profits. Placed along the park trail under shady trees, it's a nice spot to enjoy a break or a picnic before continuing along the bike trail.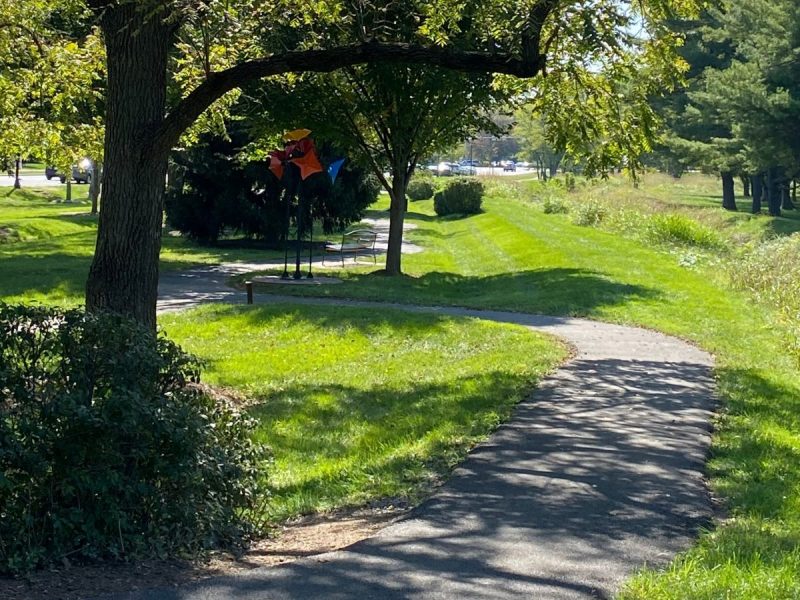 Play at Ida Lee Park and Recreation Center
Ida Lee Park, just north of downtown Leesburg, is one of the best things to do with kids in Leesburg. With both indoor and outdoor facilities, this park is a great place for kids to have fun no matter what the weather is outside!
For rainy day activities, the Ida Lee Park Recreation Center has two indoor pools, several basketball courts and a fitness center. An indoor tennis facility, called the "tennis bubble," is also available.
Outdoors, there's even more to do at Ida Lee Park.
Kids can burn off energy on the playground at Rust Library. The playground is surrounded by trees helping to beat the heat in the summer. And, with wide open fields nearby and access to park trails, there's space for kids to run.
Take a walk on the 1.8 mile loop trail through the park. Dogs on leashes are welcome on the trail. Along the way, take time to enjoy the native tree walk, planted by the Leesburg Garden Club which includes several species of trees native to northern Virginia.
In summer, one of the best things to do in Leesburg, VA with kids is tucked away here in Ida Lee Park at the AV Symington Aquatics Center! Pack the beach bag and head to this outdoor waterpark with slides, a lazy river, water obstacle courses, and a splash area for little ones. The waterpark has lounge chairs and concessions, too, making this a fun day out for the whole family!
Visit the Ida Lee Park website for hours and admission rates.
Explore the grounds at Morven Park
Morven Park was once the home of Westmoreland Davis, a progressive farmer and Governor of Virginia from 1918-1922.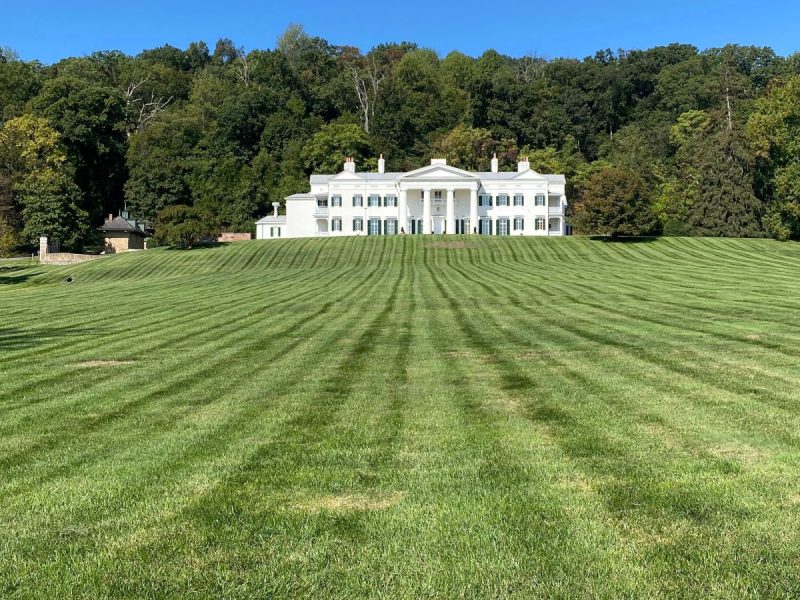 The 1,000-acre property showcases his Greek Revival style mansion, formal boxwood gardens, an Equestrian & Event Center and a Museum of Hounds and Hunting.
The park grounds have multiple hiking trails, some through the woods behind the mansion. Park entrance is free, though there is a fee to tour the mansion.
When the Equestrian Center hosts a competition, spectators can watch throughout the grounds. Pack a picnic and a blanket to enjoy the competition from under the shade of massive trees throughout the grounds. Admission is free!
The address for Morven Park is 17339 Southern Planter Ln, Leesburg, VA. The grounds are open 7 a.m. to 6 p.m. daily.
Take in the view at Red Rock Wilderness Overlook
Head east from downtown Leesburg to take in the great views offered at Red Rock Wilderness Overlook Regional Park.
On a list of the best things to do in Leesburg, VA with kids, hiking the winding nature trails at Red Rock Wilderness Regional Park is high on the list.
Kids who love history will find the old buildings and ruins on the property to be fascinating.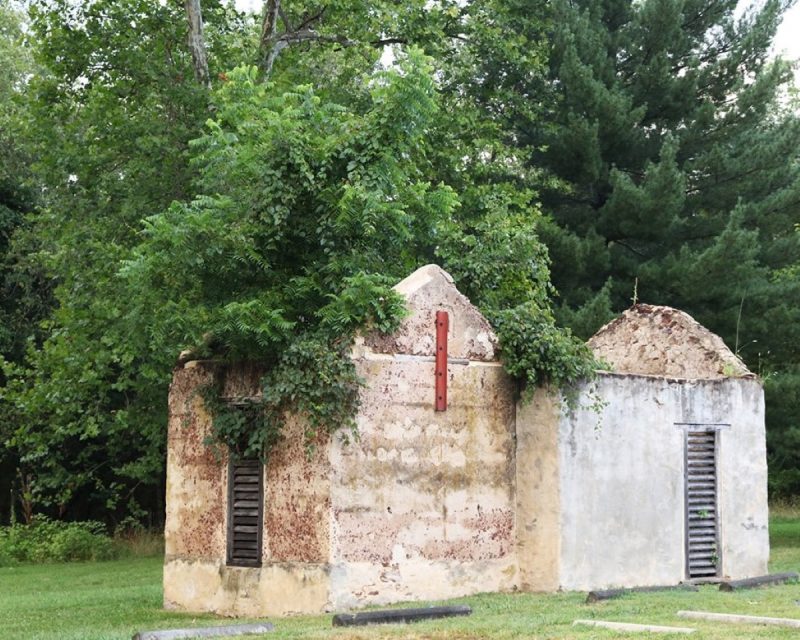 Adventurers will enjoy climbing to the overlook to take in sweeping views of the Potomac River.
Only a 1.2 mile trail loop, this is a great place to spend a couple of hours enjoying green space so plentiful in Loudoun County.
Open daily from sunrise to sunset, the park is located at 43098 Edwards Ferry Road
Leesburg, VA.
Visit Leesburg Animal Park and Petting Zoo
When talking about fun things to do in Leesburg, VA with kids, a visit to the Leesburg Animal Park must surely make the list. Kids love animals!
Leesburg Animal Park is a small, family owned zoo that opened in March of 2000. The zoo features zebras, lemurs, sloths and other exotic animals kids will enjoy seeing. There's also a "petting zoo"Contact Area" where you can roam freely with farm animals like goats, sheep and llamas.
Other activities include pony rides, wagon rides, live animal shows and a fun play area with slides. Special events each spring, Halloween and holiday season add to the kid fun here!
Leesburg Animal Park is located at 19246 James Monroe Hwy Leesburg, VA.
Check their website for current ticket and package options, as well as information on upcoming special events.
Shop and eat in Downtown Leesburg
The city of Leesburg was founded in 1758, and it's historic charm is evident from your first look.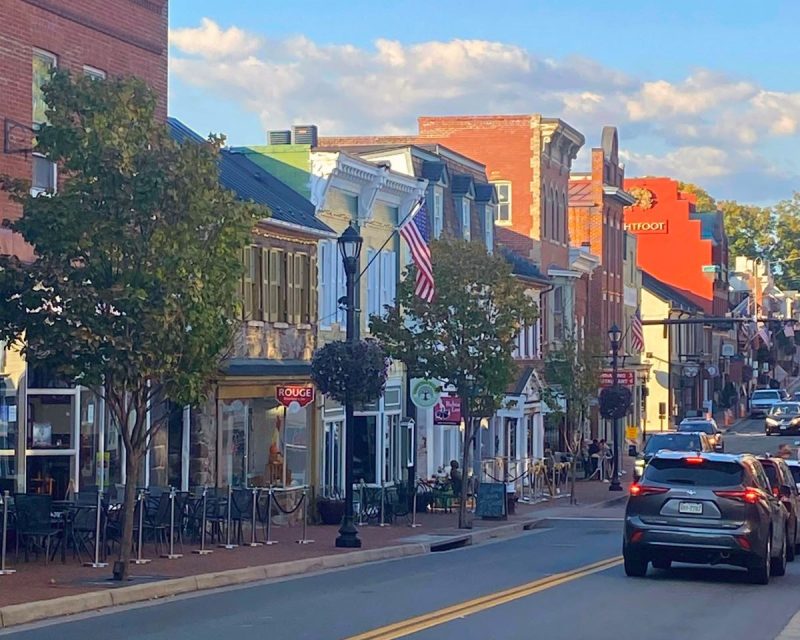 But, except for the charming historic architecture, Leesburg is a modern city with craft breweries and cocktail bars, artisanal coffee shops, local farm to table restaurants and great shopping.
As you stroll through town, keep an eye out for murals, gardens and historic markers.
One of the best murals for kids to find in Leesburg is the dog and fire hydrant near Raflo Park and Market Station. It made me chuckle.
There are several free walking tours available to help you find the best things the city has to share including an African American History Tour, Highlights of Historic Leesburg, a Women's History Tour, a Public Art Tour and a Loudoun County War Memorials tour.
On my visit to Leesburg, I enjoyed dinner at a couple of restaurants.
Lunch at the historic Tuscarora Mill Restaurant was a great spot. The food is delicious. I enjoyed a scrumptious chicken sandwich on house made bread. The waiter provided excellent service. And, housed in an old mill, the interior is fascinating, with mill equipment still in place like historic art.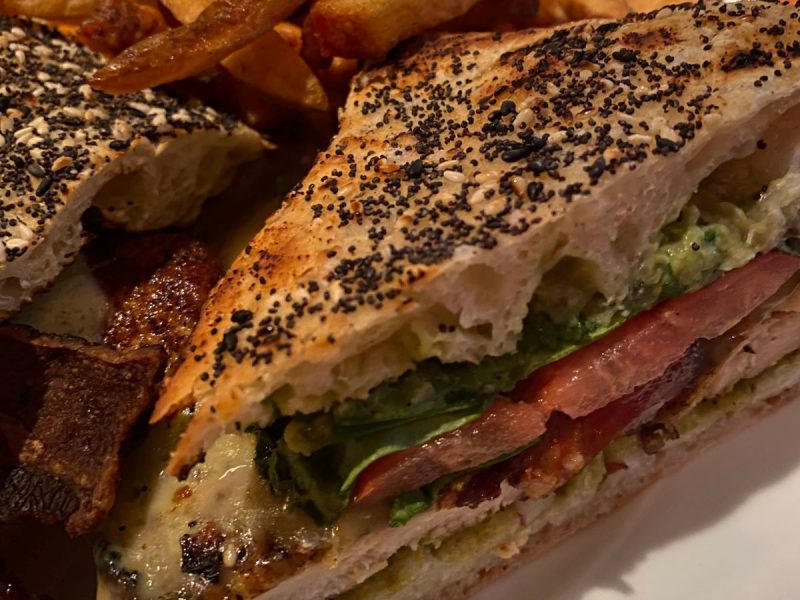 The Wine Kitchen was just as terrific. We enjoyed imaginative drinks, impeccable food and attentive-but-not-pushy service. One of the servers explained that they dream up seasonal drinks as a staff and develop the menu accordingly. We shared several small plates and a steak dinner. It was the most memorable meal of my Leesburg getaway.
The locals I spoke with agreed these are great choices, and then would add that pretty much every restaurant in Leesburg is good.
The shopping in Leesburg is pretty spectacular. At Market Station, a converted mill complex where you'll find Tuscarora Mill Restaurant, there are a number of small shops to enjoy. Then, throughout downtown, you'll find boutique clothing stores, specialty shops and some fun places, too.
Two of my favorite souvenir stops in Downtown Leesburg are the Very Virginia Shop at 16 S. King Street and The Global Local at 105 Loudoun Street SW. Both shops are local, women-owned businesses that offer great souvenirs for vacationers and holiday gifts for easy shopping for locals.
The Very Virginia Shop focuses on Virginia made products and products that celebrate Virginia, including Virginia shaped stuffed "animals."
The Global Local provides unique gifts that support charities and give back in some way. The shop also supports local artisans, selling hand made products made in the Loudoun County area.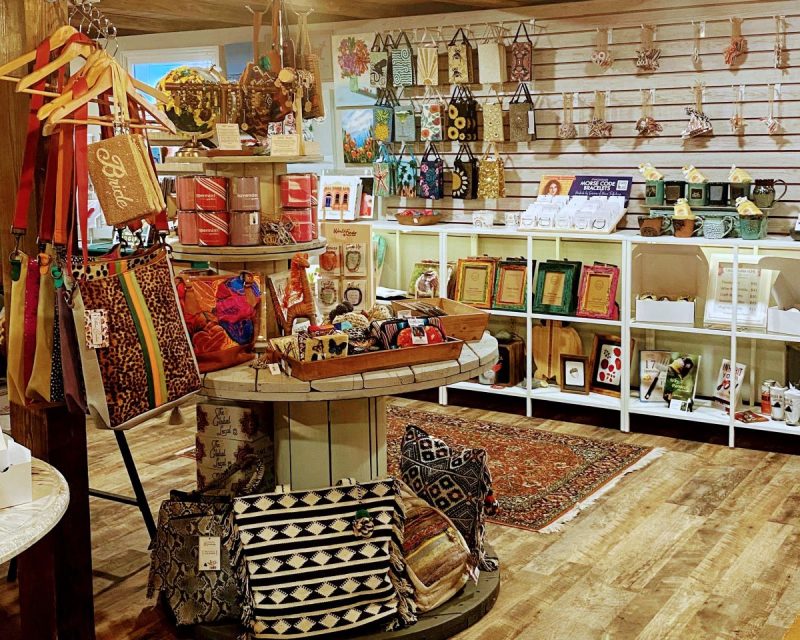 Like many towns, Leesburg, Virginia is a bustling town with shops and restaurants to enjoy whether you visit the area on vacation or take a day as a NOVA local to explore Loudoun County. With great murals, fun shops and great restaurants, add spending a day downtown to your list of great things to do with kids in Leesburg, VA.
Things to do in Loudoun County with Kids
If you're in the area, consider these other fun things to do in Loudoun County with kids! They might be beyond the Leesburg city limits, but they're lots of fun for the whole family!
When looking for things to do in Leesburg, be sure to look beyond the city limits! The towns of Sterling, Middleburg and Purcellville each have great things to do in Loudoun County with the kids.
Things to do in Sterling, VA
First up in this list of the best things to do in Loudoun County with kids is the town of Sterling, in the southeastern part of the county. Sterling is only 30 minutes from Washington, DC, but it feels like a whole different world.
Explore the past at Loudoun Heritage Farm Museum
The Loudoun Heritage Farm Museum, located at 21668 Heritage Farm Lane at Claude Moore Park in Sterling, preserves and shares Loudoun's rich agricultural history. It also hosts festivals and special events throughout the year.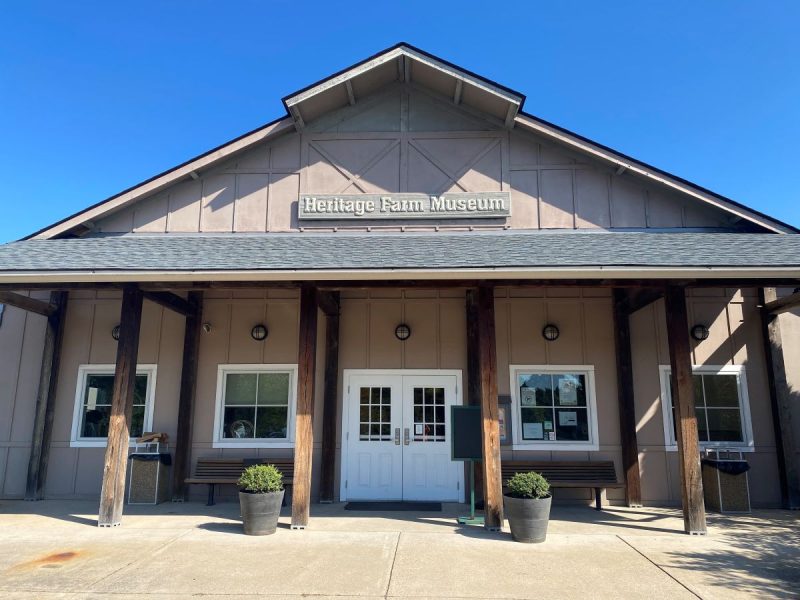 Exhibits at the Loudoun Heritage Farm Museum are carefully curated to share the personal stories of the people who called Loudoun County home. Some of the best exhibits at the museum are:
"It's Just a Way of Life," personal exhibits that share the stories of ten generations of people who called Loudoun County home, including early German immigrants, slaves, freed people and others.
"Waxpool General Store," which is the actual store, including front porch, store shelves and mailboxes. When the store was no longer in use, the family donated it in its entirety to the museum. Kids can play in the store, and adults should look to see how much lace cost back in the day!
"Ms. Su's Schoolhouse," represents a 1909 schoolhouse as it might have been in Loudoun County. Interactive pieces let kids learn through play.
"Grandma's Kitchen," features a farm kitchen that predates the World War I, before homes had electricity. There's even a rocker on the porch just outside the kitchen door.
The museum's clear stories are shared in a personal, relatable way for both adults and children so that multiple generations can experience it at the same time.
And, don't worry. Kids are encouraged to be creative. If they take eggs from the farm to the store or grandma's kitchen, that's okay. The museum is meant to be used that way! (Though, do watch signs that say "don't touch" on antiques and artifacts.)
The museum is open Tuesday through Sunday. It's closed on Mondays and federal holidays.
Current admission is adults, $5; seniors, $4; kids (2-12), $3. Though, check the website to confirm rates before you go.
Enjoy free play at Claude Moore Recreation and Community Center
The Claude Moore Recreation and Community Center is part of the Loudoun County Parks and Recreation Department, and it is open to vacationers as well.
Claude Moore Park's outdoor spaces include wooded hiking trails, wide open greenspace and several small ponds that provide a home for local wildlife. Families looking for things to do in Loudoun County with kids will find the peaceful surroundings a great place for picnics, bird watching and nature photography. You can even take the kids catch and release fishing at the two larger ponds.
With expansive indoor space, you'll find a lot of great rainy day things to do with kids in Loudoun County's Claude Moore Recreation Center. There are pools, one with a slide, a rock climbing wall, fitness centers, an elevated indoor track and several gyms. The park has organized sports as well as open use activities.
Claude Moore Recreation Center is located at 46105 Loudoun Park Lane in Sterling. Check the website for admission prices, hours and their schedule.
Explore Algonkian Regional Park
Explore 838 acres of outdoor adventures at Algonkian Regional Park, located along the Potomac River in Sterling, Virginia.
Hike the miles of trails through the park or spend a summer afternoon at Volcano Island Waterpark. There's even an 18 hole golf course which is very popular and open to the public.
For a relaxing escape from the hustle and bustle of Washington, DC, rent a cabin on the river and enjoy the peace and quiet. You might even see a bald eagle or a hawk!
The park is located at 47001 Fairway Drive, Sterling VA. It is open daily from sunrise to sunset.
Things to do in Middleburg, VA
Just 45 minutes from Washington, D.C., Middleburg is located in the heart of Virginia's horse country. Many people know Middleburg as a place for shopping, dining, and equestrian related activities. And, the Salamander Resort and Spa is very well known.
But, the highlight of Middleburg's activities is the National Sporting Library and Museum.
Appreciate art at the National Sporting Library & Museum
I have to admit that when I arrived at the National Sporting Library & Museum in Middleburg, I had my doubts. I had been told it's a good thing to do in Loudoun County with kids, but I wasn't sure what kids would enjoy at a library and art museum dedicated to equestrian events and fox hunting.
And…. my preconceived notions were completely wrong!
The staff at the National Sporting Library & Museum know that art and scholarly books have to be presented effectively to be appreciated.
This is a research library, not a lending library, so books cannot be checked out. But, the collection includes children's classics, scholarly books and non-fiction books to enjoy in one of the many reading nooks throughout the library.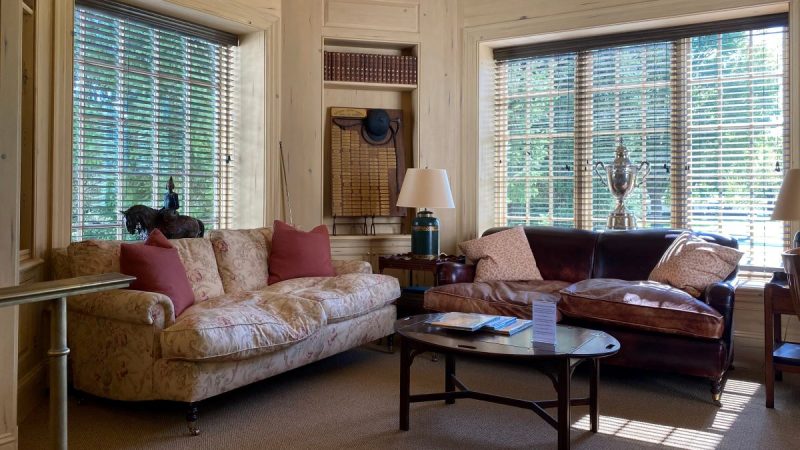 The staff even sets baskets of children's books on the front desk for families to enjoy when they visit. Beyond that, the library organizes regular crafts and activities for families to enjoy together.
The art museum, housed in the building next door, is equally family friendly. There are both rotating exhibits and permanent exhibits to enjoy. And, for family friendly things to do in Loudoun County, special events include hands on art activities for kids of all ages making this museum a top pick for family fun.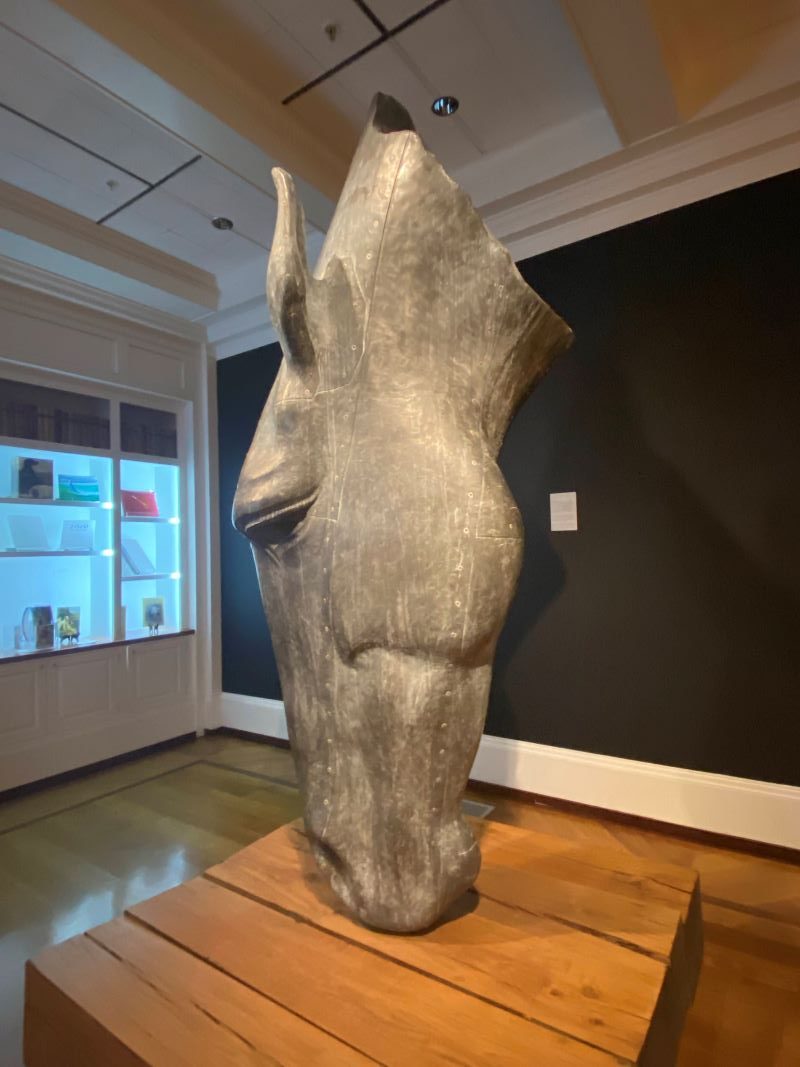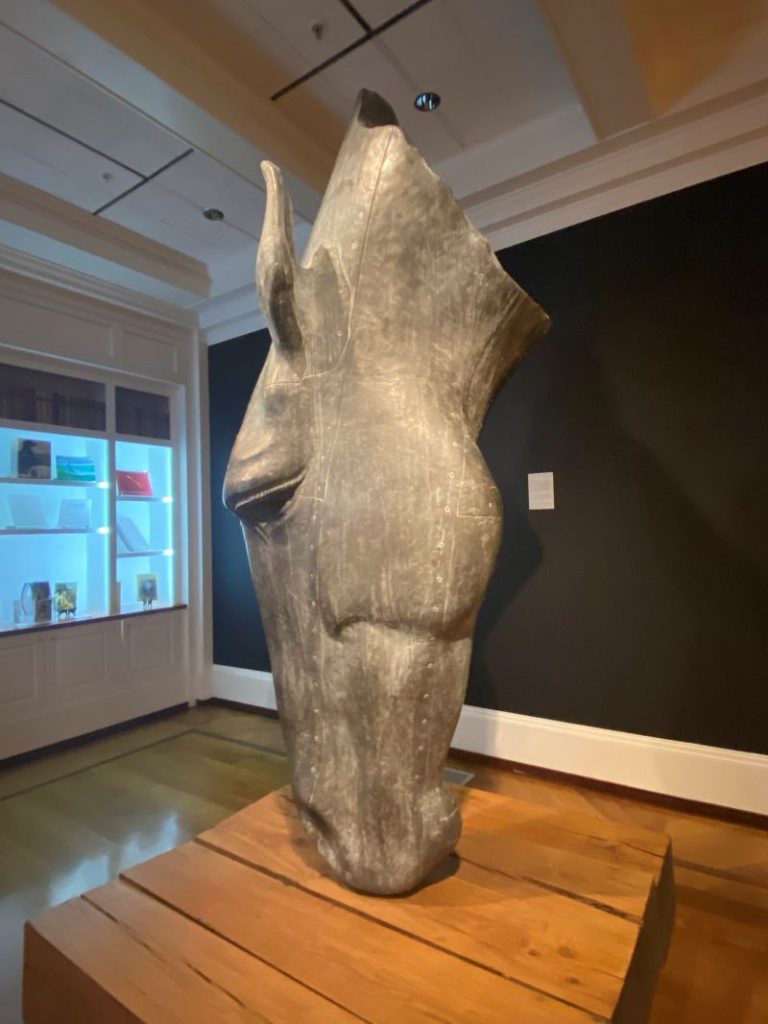 When visiting the art museum, allow 1-2 hours to enjoy the exhibits. It is open Thursdays through Sundays. General admission is $10. Seniors and children are $8. Library admission is free, and it makes a great rainy day activity if you need something to do!
And finally, one of the very best things to do in Loudoun County is a stroll through the gardens at the National Sporting Library and Museum. Throughout the grounds you'll see several statues with signs that explain what they are. It's one of the best sculpture gardens in the area.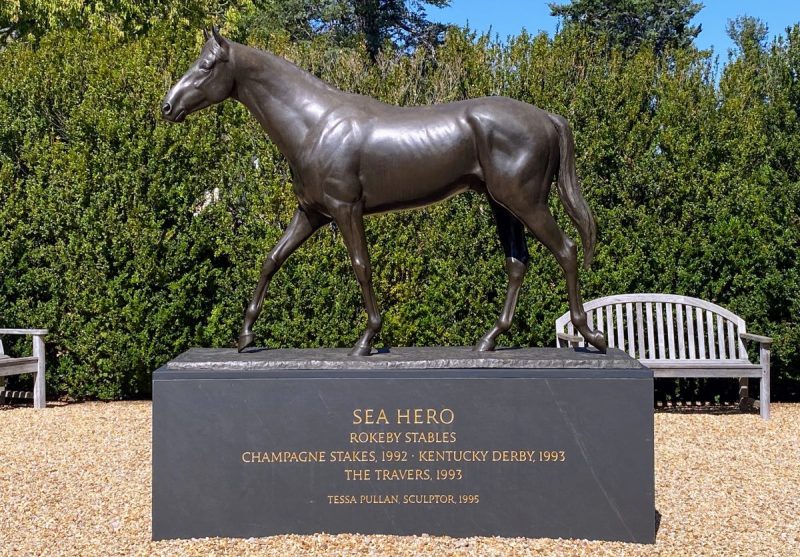 The grounds are open daily — no admission required.
Things to do in Purcellville, VA
Just 15 minutes west of Leesburg, visit the laid back town of Purcellville, Virginia. The small town has loads of family friendly fun, and visiting should be on your list of things to do in Loudoun County with kids!
And, if you're looking for a day trip from Washington, DC, Purcellville should be high on the list for its family friendly activities.
Cheer on the Purcellville Cannons Baseball Team at Fireman's Field
Purcellville has its very own minor league baseball team, the Purcellville Cannons. The team plays in the Valley League, an NCAA sanctioned and MLB supported Class D Minor League.
The team offers season passes, only $100 for a family of four, quite budget friendly!
Throughout the season, special events and in-game entertainment make each game a memorable experience.
A Purcellville local shared with me that the Cannons baseball games are THE PLACE to spend a summer evening. When the kids get tired of watching the games, they run and play near the stands. Adults enjoy food and beverages as they watch the game.
For good old fashioned family fun, this is one of the top things to do in Loudoun County with kids.
Go skating at Bush Tabernacle Skating Rink
Another fun throwback, this one takes me back to the early 1980s, head to the Bush Tabernacle Skating Rink. Admission with skate rental is just $7, a bargain.
If you're wondering about the name of the rink, never fear. I thought it was a strange name, too.
Here's a brief history (source):
In the late 1880s, a group gathered in Dillon's Woods, where Bush Tabernacle sits, to hold temperance rallies. In 1903, the Bush Tabernacle was built with roof, sliding doors, wooden benches and a dirt floor. It was used for rallies to support prohibition, hold religious events and even adult summer camps.
By the late 1930s, the Purcellville Volunteer Fire Department took over Bush Tabernacle and used it for community events and festivals, ultimately naming it the "Fireman's Community Center." It was first used for roller skating in 1936 once the wood floor was installed.
And then, in 2008 the Town of Purcellville purchased the property, which is now listed on the National Register of Historic Places.
From its beginning to today, Bush Tabernacle Roller Rink and Fireman's Field Park at Dillon's Woods serve the community as a gathering place where family friendly fun is the focus.
Bush Tabernacle is located at 250 South Nursery Ave, Purcellville. Check their website for special events, movie nights and other events at the venue.
Sip some wine at Walsh Family Wine
I don't usually include vineyards and wine tastings in articles like this one about things to do in Loudoun County with kids.
But, Walsh Family Wine isn't your typical vineyard.
It's incredibly family friendly. In fact, they welcome kids to visit and play on the grounds.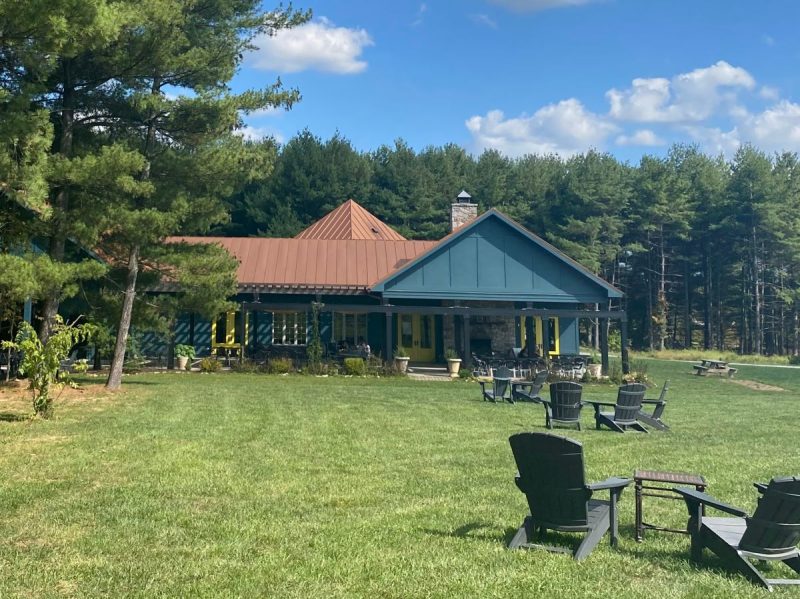 Not only that, they offer an incredible wine tasting experience that takes visitors to the vines to taste the grapes (once ripe enough) that they use in their wines.
When I visited Walsh Family Wine, I enjoyed myself so thoroughly that I hated having to leave. From the moment you walk in, it feels like you're being welcomed into someone's home. Besides the wine, they have board games and records with good old-fashioned vinyl records that you are welcome to play. It's so comfortable and homey, it's hard to leave.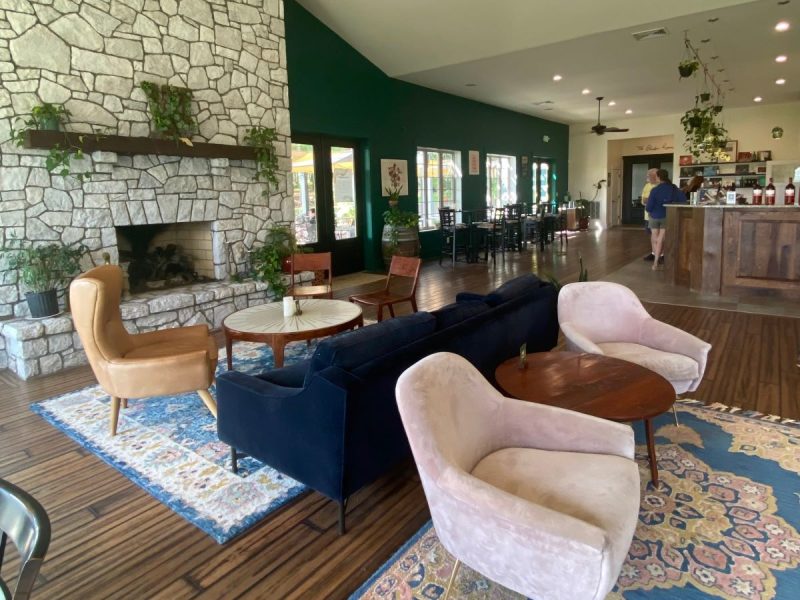 Walsh Family Wine is located at 16031 Hillsboro Road in Purcellville. When you visit, tell Sarah I say hi!
Earn some serious cool points with a visit to Shamrock Music Shoppe
Shamrock Music Shoppe, at 160 W Main St, in Purcellville, just happens to be owned by Scott Kinney. And, Scott Kinney just happens to be the older brother of Jeff Kinney, the author of the Diary of a Wimpy Kid series.
If you know the book series, Rodrick (the older brother to the main character, Greg Heffley) is a musician like Scott.
And it should come as no surprise that the books are sold at the music store! Yep, parents, earn serious cool points with a stop here to meet the inspiration for Rodrick (the music shop also provides music lessons regularly, so plan your visit when it's not busy with lessons).
Play at the farm
Just outside of Purcellville, Great Country Farms at 34345 Snickersville Turnpike in Bluemont is the ultimate agritourism farm for families looking for things to do in Loudoun County with kids.
Open year-round, this "agri-business" was designed from day one to be a tourism destination.
The Zurschmeide family runs the business which includes a winery (Bluemont Vineyard), a brewery (Dirt Farm Brewing), a cidery (Henway Hard Cider), and a working farm (Great Country Farms).
The Great Country Farms portion is home to a country store, bakery and children's play area that defies description. Throughout the year, kids can play at the farm on an ever expanding number of activities.
Activities include things like a giant bounce pillow, putt putt golf, a farm ninja course, a misting station in summer and more.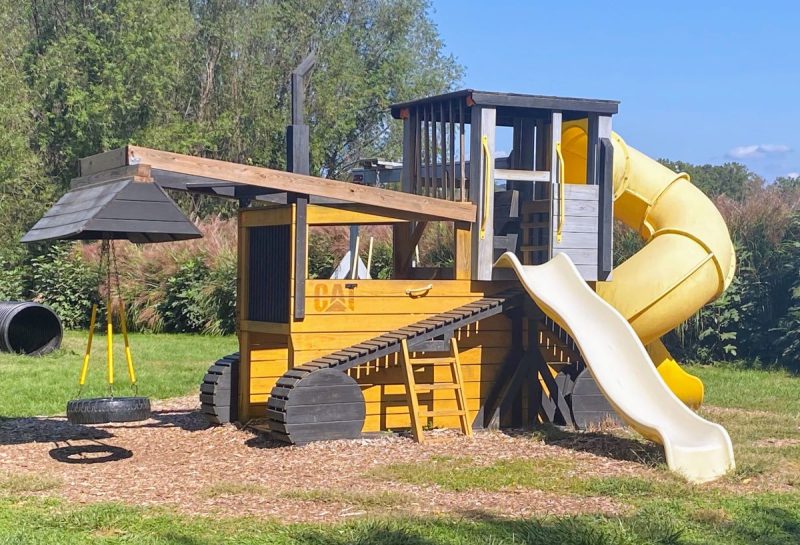 There's even a barnyard with live animals that kids can feed! It's a popular area.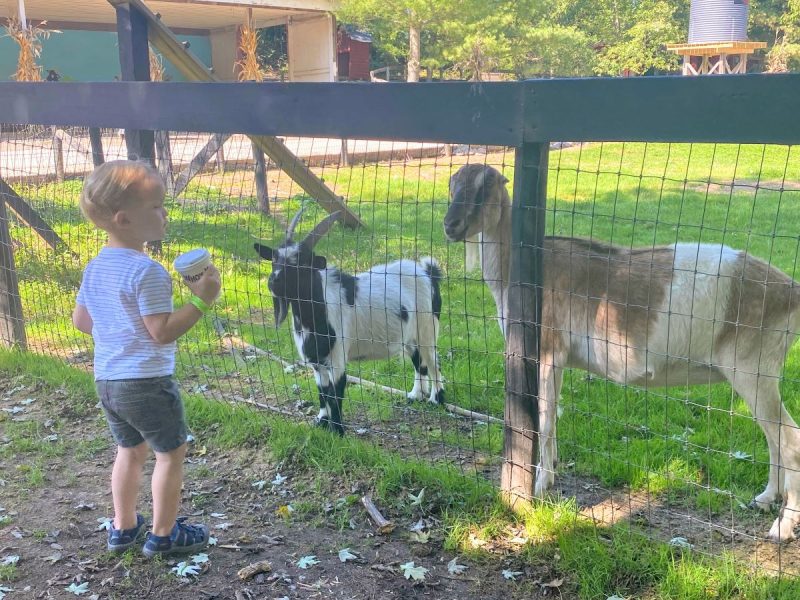 Seasonal events like apple picking and wagon rides to the pumpkin patch provide even more fun. For things to do in Loudoun County with kids, Great Country Farms is top notch — and worth the hour drive from Washington, DC.
Less than an hour from Washington, DC, there are lots of great things to do in Loudon County with kids! Why mot plan a visit and enjoy all the fun things to do with kinds in Leesburg, VA and neighboring towns! It's a nice change of pace from the big city!
For more ideas, check out these articles featuring other attractions in Northern Virginia.