10 best things to do in Old Town Alexandria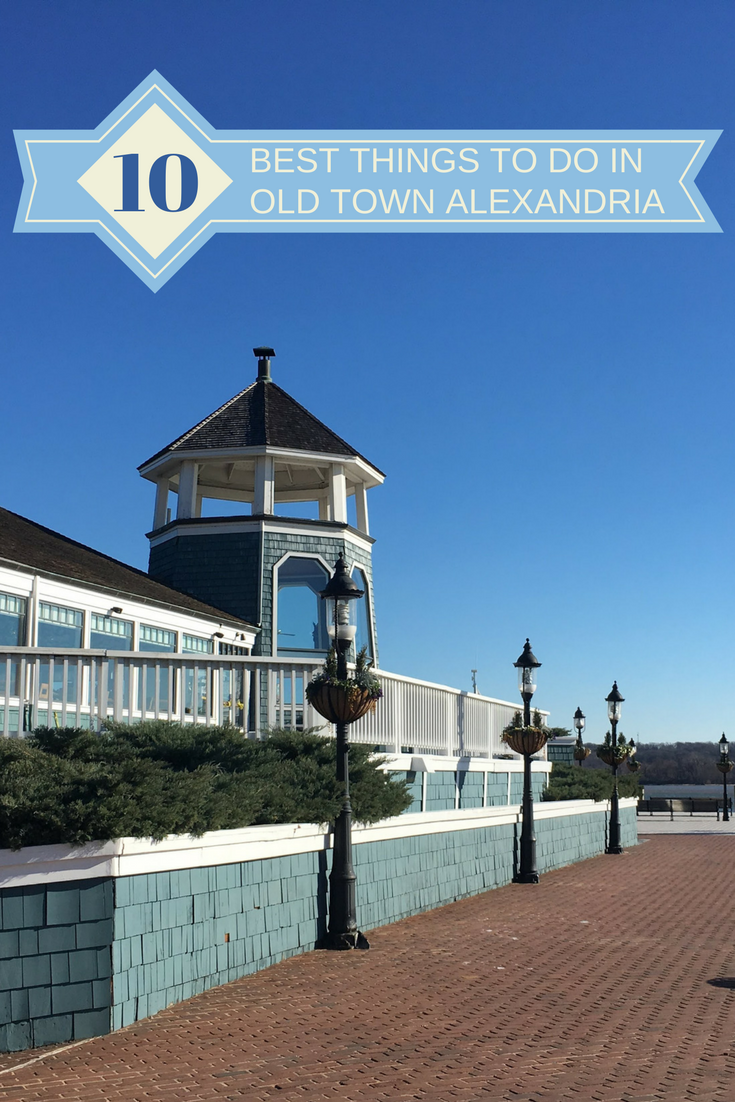 One of the oldest cities in the United States, Old Town Alexandria, VA sits on the shores of the Potomac River, offering views of Washington, D.C. and the National Harbor. This historic city, with well-preserved 18th century architecture and cobblestone streets is one of the most romantic places in America!
But, this romantic city — Alexandria weddings on the waterfront are quite popular — is great for vacationing families, too. Alexandria, VA has many parks, some of which sit on the riverbank and inspire thoughts of grand adventures. Savor sweet treats from the candy shops and ice cream parlors tucked into historic buildings throughout town.
Mount Vernon, George Washington's beloved estate, is just a few miles down the road — perfect for a day trip! The adventurous might even enjoy getting there by bike — awesome bike trails make it easy to explore on two wheels.
An added bonus for vacationing families: Hotels and parking in Alexandria are cheaper than nearby Washington, D.C., and the D.C. Metro is an easy way to get there (plus you avoid crazy city driving AND the high cost of parking in D.C.). You know what that means, right? More ice cream!
Read this beginner's guide for the DC Metro!
If history, ice cream and savings haven't convinced you to add Alexandria to your vacation list, maybe this list will!
10 reasons to vacation in Old Town Alexandria, Virginia
1. Torpedo Factory Art Center (and summer art camps)
What could be more cool than an art center in an old torpedo factory? Especially one that has real torpedos on display!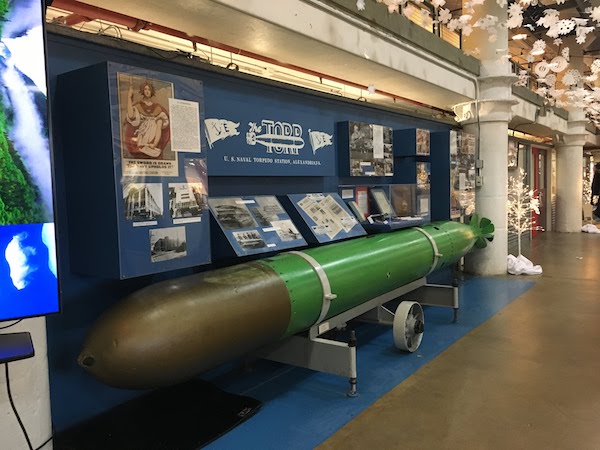 The Navy built the torpedo factory after World War I and used it to store torpedos until needed in World War II. Once the second world war ended, the factory was converted to government storage space — even holding dinosaur bones for the Smithsonian. Eventually, the city of Alexandria purchased the waterfront space from the Navy, but it sat unused for many years. In the mid-1970s, it finally found its purpose — as the Torpedo Factory Art Center, a funky space to create art.
Today, after updates and revisions, the Torpedo Factory Art Center is home to 165+ professional artists who work in its studios and sell their art. The Torpedo Factory also offers summer art camps for kids — and families on vacation can participate! Parents, enroll your kids in morning art classes and enjoy a leisurely adults-only breakfast, a bike ride along the waterfront or a romantic stroll along Alexandria's cobblestone streets!
2. Stabler-Leadbeater Apothecary Museum in Old Town Alexandria
If you have history buffs in tow, or Harry Potter fans, the Stabler-Leadbeater Apothecary Museum is a must-see! The medicines in this apothecary were used to treat George and Martha Washington's family and General Robert E. Lee. There's even a note written by Martha Washington on display.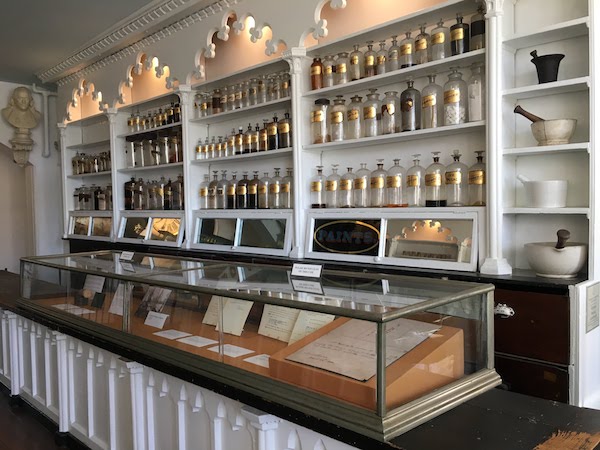 Upstairs, Harry Potter fans will be delighted to find real, honest-to-goodness dragon's blood. Just look at all the artifacts on display. It might not be the Warner Brothers' studios in London, but it's a close second. The museum offers Harry Potter inspired events, too!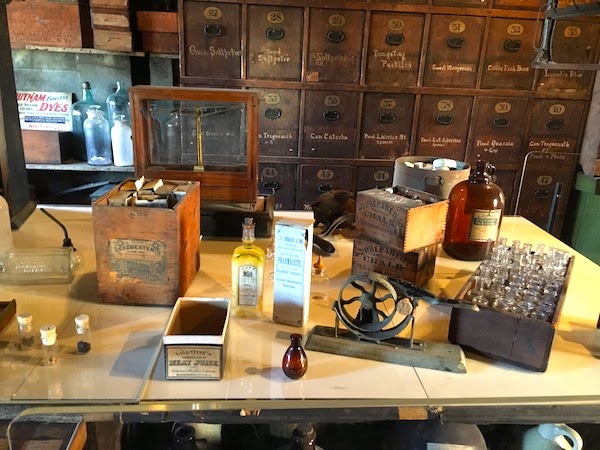 The apothecary is frozen in time (petrificus totalus?) just as it was the day it closed its doors to business the last day. Some things used back then we would never use as medicine today. It's a fascinating look back — and they have an amazing gift shop, too!
3. Mount Vernon — George Washington's family home
Only twenty minutes from Old Town, Mount Vernon is more than a historic home. The interactive museum, onsite demonstrations and family farm are among the many things to see at Mount Vernon. You can easily spend a day here — maybe two — so enjoy lunch at one of the restaurants onsite. Plan your day at Mount Vernon using this visitor's guide.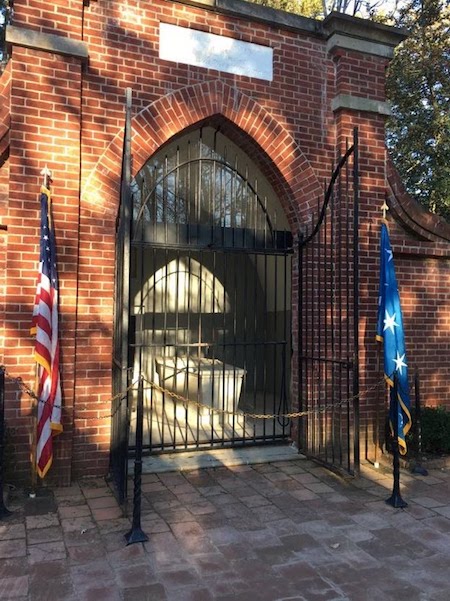 4. Shopping
Old Town Alexandria is home to unique boutiques housed in historic brick buildings. Even window shopping is a great experience here! Some shops to consider: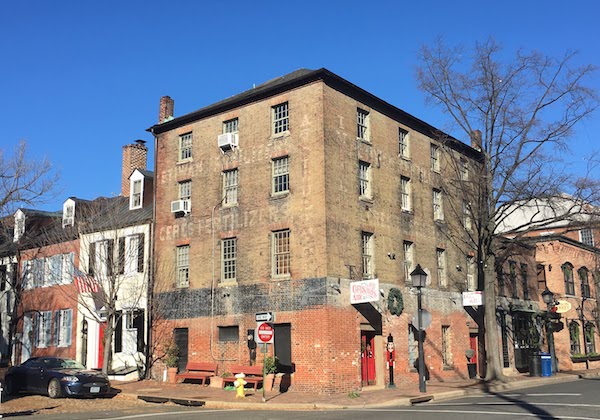 The Hour — On historic King Street, this shop is dedicated to vintage cocktail ware and barware, a la Mad Men. Find them at 1015 King Street, open Wednesday-Sunday.
Red Barn Mercantile — This shop offers antiques and home furnishings updated with a fresh look perfect for today's fresh home design. Find them at 1117 King Street, open seven days a week.
Bishop Boutique — Picture your dream closet. Now imagine shopping there for a chic outfit or classic little black dress. Find that dream closet at 815-B King Street, open seven days a week (you never know when you'll need that new dress!)
Fibre Space — Knitting has made a comeback in a big way. Fibre Space offers unique yarns for all your textile projects. And, they offer workshops, "yarn tastings," movie nights and even a lounge where you can relax and work on your project.
Art Galleries — There are several art galleries in Old Town each with its own focus. Of course, the Torpedo Factory Art Center has the most, with 165 artist studios where you can meet the artist as you shop.
5. Carlyle House
Made more famous by the PBS series, Mercy House, Carlyle House is one of the oldest homes in the United States. With a rich history, including its use by Union soldiers during the Civil War, this home is on the National Register of Historic Places. Carlyle House is open to the public Tuesdays-Sundays, except Christmas and New Year's. An admission fee is required for people over age 5.
6. Spite House
This is one the kids will love — and only takes a few minutes of your time. Enjoy the stroll to Spite House at 523 Queen Street. This private residence is not open for tours, but is famous as the skinniest house in America at just 7 feet wide! Built by John Hollensbury in 1830 to keep people from loitering in the alley beside his home, the house is still popular with tourists today.
As you look at the house, ask the kids what they think the kitchen must look like? Seriously, a 200 year old tiny house in the city! Awesome.
7. Parks, parks, parks!
With parks throughout the city, Alexandria is a great place to take the kids — and even the dog! My favorite is Founder's Park, though Jones Point Park comes in a close second.
Dog friendly Founder's Park sits on the banks of the Potomac River with lovely views and beautiful gardens, volleyball courts, walking paths and places to picnic. This peaceful spot is perfect for recharging the batteries (yours, not your cell phone) and enjoy nature's beauty.
Jones Point Park has an interpretive trail that explains the park's history: the marsh habitat, American Indian history, shipbuilding and navigation. That's a lot for one park, and there's even a lighthouse (built in 1855). Learn a little history, then enjoy the playgrounds and basketball courts, fish from the pier or go canoeing and kayaking on the Potomac. Park rangers also teach kids how to ride bikes and teach lighthouse life.
8. Great restaurants
If you want a great cup of coffee, step into Misha's Coffee at 102 Patrick Street, offering artisanal coffees roasted onsite, or Killer ESP at 1012 King Street, which serves coffee (of course), gelato, pies and teas.
For a great dinner, head to Virtue Feed & Grain at 106 S. Union Street. Get the Duck Poutine, even if you don't like duck much. The fries are cooked to the perfect crisp in duck fat, then drenched in poutine gravy, roasted duck meat, cheese curds and fried rosemary. Of all the meals I ate in the past year, this dish was the best (and I get to eat a lot of great food). My poor husband has heard me rave about this poutine so much he's about ready to take himself there to get his own! Besides the incredible food, the building is an old feed house — the rustic decor offers a reminder of history and offers amazing views of the Potomac River.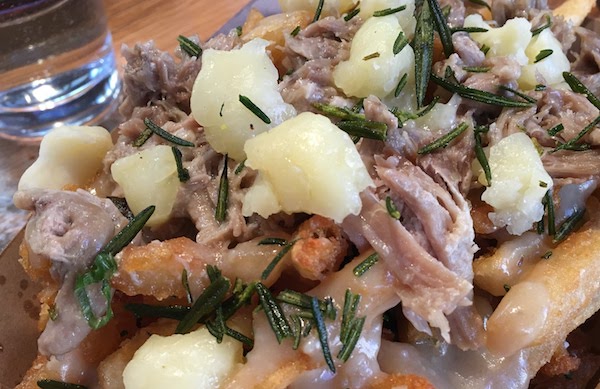 The kids might enjoy Nicecream at 726 King Street. Awwww, who am I kidding? Adults will love it too! Nicecream uses liquid nitrogen and farm fresh ingredients to make each dessert frozen dessert in front of the customer! Super cool — pun intended. Ben and I ate at their original store in Arlington, expecting the ice cream to be grainy since it's quick frozen. But, nooooo. It's smooth, creamy and intense. We loved every single bite (even when it was only 20 degrees outside)!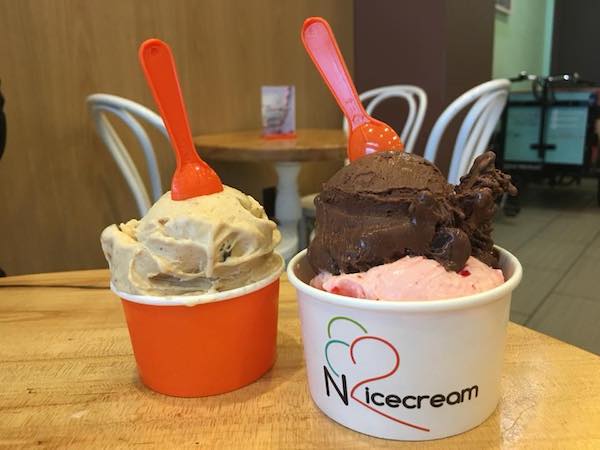 9. Christ Church
Years ago, we went to Paris and visited Notre Dame Cathedral and St. Chapelle. These churches, dating back to the middle ages, bowled me over. To think, I stood on the same floor that kings had walked. In Alexandria, you can tour Christ Church Monday through Saturday, and sit in the same pew where George Washington worshiped! That's pretty amazing, too. Christ Church is located at 118 N. Washington Street.
10. Gadsby's Tavern Museum
Gadsby's Tavern Museum, which includes the 1785 tavern and the 1792 City Hotel, was a hub of political and social life in the late 1700s and early 1800s. Prominent citizens, including George Washington, Thomas Jefferson, James Madison and James Monroe to name a few, came here for meetings, social events and town balls. President Washington was known to stop in for a bit before heading home to Mount Vernon. Stop by for a tour. Stay to enjoy lunch or dinner at the restaurant.
Bonus tip: It's budget friendly!
Alexandria sits just across the Potomac River from Washington, D.C. and is part of the D.C. Metro system. Hotels here tend to cost about 20% less than those in D.C. And parking — oh my gosh — so much cheaper!
If you get the Alexandria Key to the City card, only $15, you save big time on local attractions and museums. It also includes a 40% off coupon for Mount Vernon and museum shopping discounts for even greater savings. You know we like those savings at Family Travels on a Budget!
Consider this historic city, with its brick buildings and cobblestone streets, for your next D.C. area vacation. Did I mention it's also less crowded and less noisy than Washington?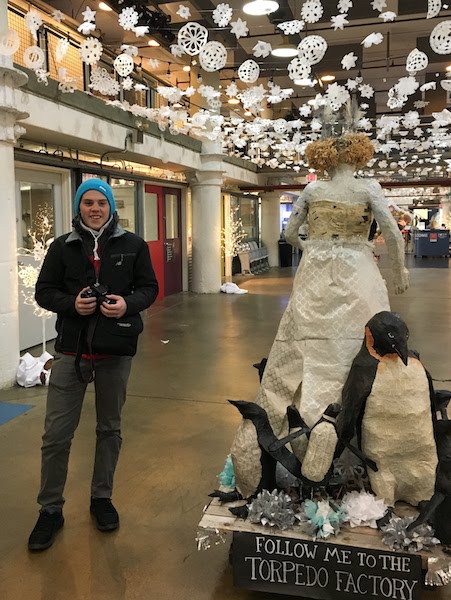 Alexandria, Virginia is ranked the most romantic city in America, but it's great fun for families, too. Ben and I thoroughly enjoyed our visit (despite the cold weather in December) and plan to take the whole family back soon.
Ben and I were hosted by Visit Alexandria, VA and enjoyed free lunch and complimentary admission to the Apothecary Museum for purposes of this review. All opinions are ours.