The 7 Day Cruise Packing List: What you need to pack for a 7 day cruise!
So, you want to know what you need to pack for a 7 day cruise. You have come to the right place! Our 7 day cruise packing list (with FREE downloadable PDF cruise packing checklist) includes everything you need!
We created this 7 day cruise packing list to make it easy! Because vacation should be fun!
What to pack for a 7 day cruise, the basics!
When you think about your 7 day cruise packing list, it might seem like you need to pack a lot. But, really, it's not that bad!
What to pack for a 7 day cruise
When it comes to clothes, here's what you need to pack for a 7 day cruise
5-7 Casual outfits for daytime — shorts and t-shirts,
3-4 Casual dresses or pants and blouses for dinnertime,
2 pairs of Khakis or slacks and 3-4 polos for the guys,
Two dressier outfits for the formal nights:
A couple of swimsuits,
Hats and sunglasses,
A sweater or jacket for breezy/cool nights,
Makeup and bathroom essentials (not soap, shampoo or blow dryer unless you have specific needs),
And then all the essentials: passport, ID, credit card, medications
Keep reading for helpful tips on how to pack for a seven day cruise to make it even easier! Because who wants to spend hours packing?
With this cruise packing checklist, you will know how to pack for a 7 day Caribbean cruise so so you don't forget the important things.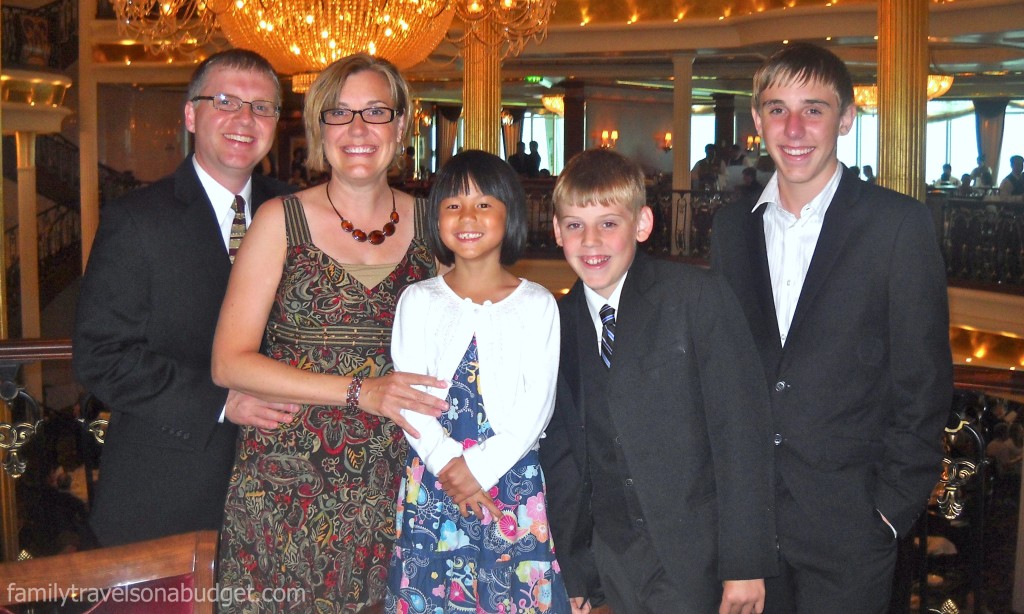 Packing for a 7 day cruise — the luggage!
Today's travelers prefer a resort casual vibe and less luggage (thanks airline restrictions). But, most cruise lines still offer a formal night and theme nights.
Use compression packing cubes
To pack more in less space, we CONFIDENTLY recommend the Well-Traveled compression packing cubes.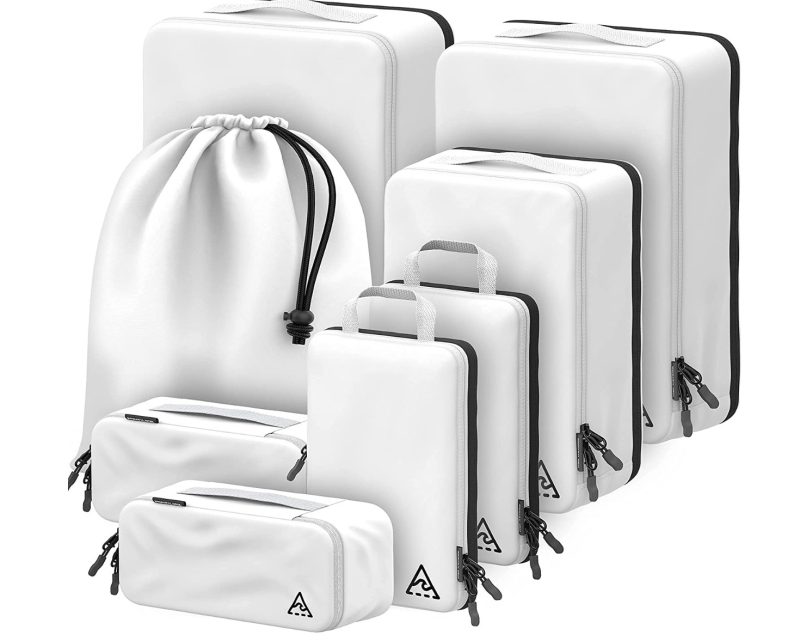 On a scale of 1-10, my husband (a soft spoken guy who rarely raves) gives them a 10! In fact, he likes them so much, he was even willing to help me pack for our lasts cruise!
These packing cubes unzip to expand to twice their size. Fill them with clothes, zip the top shut, and then zip the compression zipper to condense the packing cube.
You get twice the stuff in half the space!
Buy compression packing cubes here!
Choose the right luggage
If you're traveling by air to your cruise, this is especially important!
Airlines don't just limit the number of bags you can take, but they also limit the weight. Choosing lightweight, spacious luggage is helpful.
If you're in the market for new luggage, consider these. I recommend them because of their durability, overall lightweight design, and TSA compatible locks. I also prefer bags with wheels!
Samsonite 20-inch carryon with spinner wheels and TSA lock — Long recognized for quality luggage, Samsonite delivers with this polycarbonate bag. Lightweight and durable, it comes with a 10 year warranty! The bag is expandable, but may exceed carryon size limits if used that way.
Level 8 Road Runner carryon with computer pocket and TSA locks — If traveling with computer, iPad or Kindle, this carryon is a great choice. There's an easy access pocket for electronics that also has TSA approved locks for security. It's durable and lightweight, too!
eBags Mother Lode Underseater — For carrying the essentials, this underseater bag is amazing! It's got a computer sleeve and storage for a couple days of clothes. I use the shoe compartment to carry air travel essentials. With many airlines having insufficient overhead bin space, this can come in handy.
And don't forget the luggage tags
The cruise line uses special luggage tags to deliver your luggage to your cabin. These paper tags are easily torn, so using luggage tags ensures your tags stay put!
We use these luggage tags for every cruise so the paper tags don't get torn off during handling. If the cruise line mails luggage tags, they are generally more sturdy than the tags you print at home. Most of the time, you'll print your tags, and that's why we recommend these!
What else should you include on your 7 day cruise packing list?
Cruises are nearly all-inclusive, so you don't need to bring a whole lot of extras. The ship provides swim towels, endless food and water stations.
When you think of things to put on your cruise packing checklist, pack the things you really need and leave the rest behind.
These items are always included on our 7 day cruise packing list:
beach bag for shore excursions and pool days — I use this bag almost daily at home and pack it for vacations! It's incredibly spacious, quite durable and SUPER CUTE!
Sunscreen — Many cruise port destinations now require reef friendly sunscreen, and this one is awesome. It's a mineral based sunscreen that smells great and is easy to apply. (A friend of mine visited me recently and used my sunscreen. She raved about how great it smelled! And, she didn't burn in the hot southern sun!)
Sunglasses
Cell phones and chargers — Even if you don't get a WiFi package, most cruise lines now offer FREE onboard communication with an app.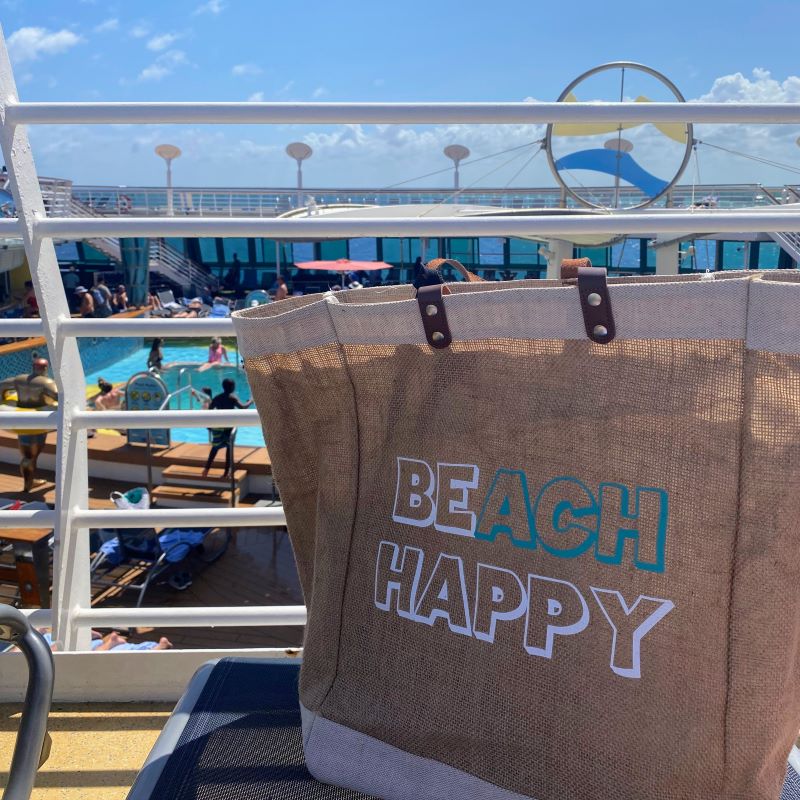 For a COMPLETE LIST of cruise essentials — the little extras we think make cruising better — check out our guide to cruise essentials for your cabin.
Of course, you need all the required cruise documents!
I've been on lots of cruises and am quite surprised at the number of people who don't have all the required cruise documents!
Even though you upload all your information for check-in before you get to the port, REMEMBER, you still need to provide those documents to board the ship!
Required identification — passports are best, but some cruise lines allow a birth certificate. THIS seems to be the item people are most likely to forget! Your passport MUST have at least six months active time remaining to use for a cruise, so check that expiration date well in advance!
Boarding passes — paper copies or documents on the cruise line app. If you use the app, make sure ALL boarding passes appear correctly before you get to the cruise terminal!
Reservation confirmations — for anything you prescheduled like shore excursions, onboard activities, drink packages, etc. Having proof of those before boarding will help should there be a computer glitch.
Credit card/cash –– The cruise line will ask you to register a credit card online as part of your precruise preparations. Bring the physical credit card with you as they will confirm the card at check in!
Get your FREE Cruise Packing Checklist!
Now that we've covered the basics, download your FREE cruise packing checklist!
It includes everything listed above, item by item, in a cruise packing checklist to make packing easy. There's even a page to write notes for special things you'll need — medical supplies, reminders for shore excursions, pre/post cruise hotel stays and car rentals.
Cruising should be fun — and hopefully this checklist makes packing EASY! 🙂
What NOT to pack for your cruise
When making your 7 day cruise packing list, it's important to know what is NOT allowed.
On all cruise lines, weapons, illegal drugs, flammable liquids, irons, candles, and most small electrical appliances are banned.
Here's the link to the four major family cruise lines' lists of prohibited items:
What to pack in a carry on bag for a cruise?
When you board the ship on embarkation day, the cruise terminal is pretty hectic. You'll drop off your marked luggage for the cabin stewards to deliver to your stateroom.
But, the luggage might not arrive until close to 8:00 p.m., so keep essential items with you always.
First time cruisers tend to carry more than more experienced cruisers. I know I sure carried too much on embarkation day my first cruise!
This cruise packing checklist for your carryon includes everything you should keep with you:
ALL cruise boarding documents (boarding passes, photo ID, passport, and anything else the cruise line requires). When I say what the cruise line requires, I mean requires! If you don't have the required documents, you can't cruise!
ALL medications. If checked luggage gets lost or delayed, you can't easily replace prescriptions. Read this article for tips on how to properly pack medications for travel.
Swimsuits. HINT: Have boys wear their swim trunks as shorts! If girls have 2-piece suits or tankinis, they can wear theirs under clothes, too. Simple cruise packing hacks make life so much easier, don't you agree?
A bottle of sunscreen.
Sunglasses.
All valuable electronics. If you must bring a computer, carry it with you. Cruise lines have computers available on-board, so consider using those instead. It's a whole lot easier!
Camera. Make sure batteries are fully charged so you don't have to carry those.
Valuable jewelry if planning to bring any. (I don't recommend it. Simplify with a few costume pieces and pack in checked bags.)
Diaper bag for younger kids with enough diapers and wipes, baby food/bottles, and a couple toys to get through 6 hours. (Of all the family cruise tips, this is my favorite. Think of what you'd normally pack for a one day outing. That's all you need for your carryon diaper bag.)
Some things you do NOT need in your carry on bag for a cruise. Just pack these items in your cruise luggage.
A change of clothes. You'll have access to your cabin before dinner so you can change. And if your luggage arrives late, don't worry! Dinner the first night is quite casual.
Beach towels. Towels are provided for guests by all major cruise lines. You can use them for shore excursions, but remember to return them to the ship or you'll be charged for them.
Chargers for electronics. Make sure phones, cameras, e-readers and computer are fully charged the morning of the cruise and pack the chargers in your checked luggage. Less is best for cruising carry-ons.
Additional cruise packing tips and hacks
1. After arriving at the port, take a photo of the luggage you plan to check at the cruise terminal.
When I travel, I always take a photo of my checked luggage. If my luggage gets lost — or held by cruise security — I can show staff exactly what the bag looks like, making it quicker and easier to retrieve.
On a Carnival cruise with my mom, security held one of my bags because something apparently didn't look right to them. I went to guest services and showed them my photo.
They retrieved my bag and explained it needed a hand search. Two minutes later, search uneventful, I had my bag and enjoyed a lovely vacation. I still don't know what looked weird to them.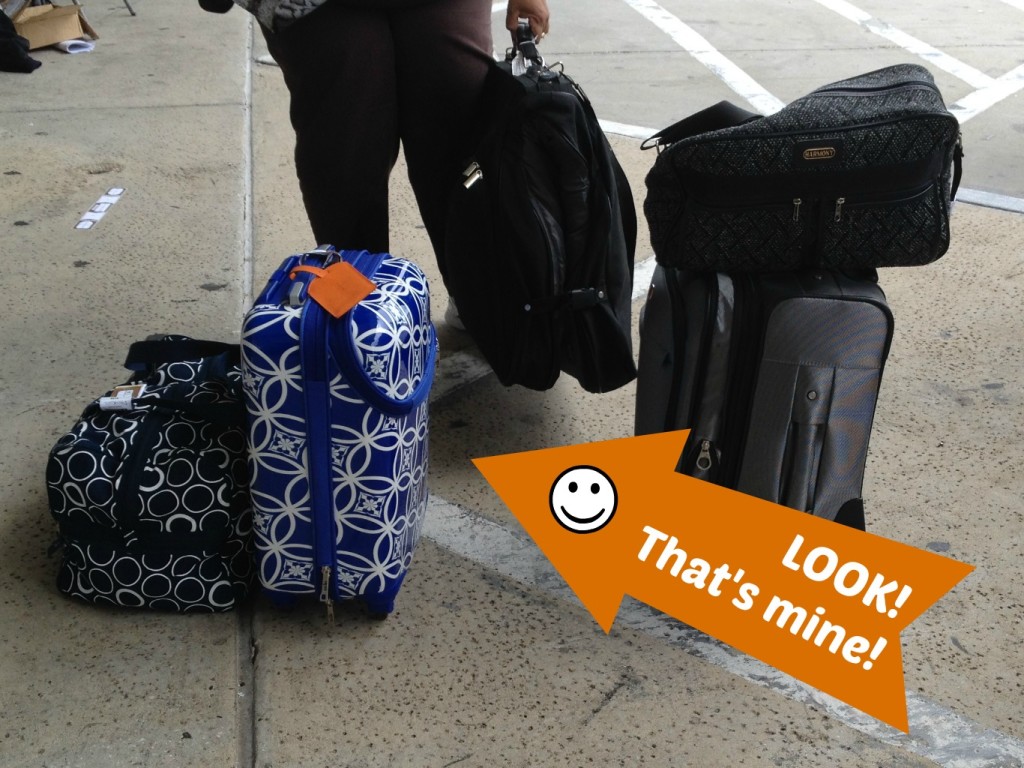 2. Split items for passengers among all the luggage.
If traveling with someone else, divide your checked items into two suitcases.
Put some of your stuff in each bag, and some of theirs in each bag. That way, if a bag gets lost or delayed, you both have something to wear.
This is a great tip for all travel, not just cruise travel.
3. When in doubt, leave it out.
Ask yourself, "Do I need this?" If the answer is no, leave it out.
If the answer is, "But if XYZ happens, I might need…." leave it out. How often does XYZ really happen?
To learn more about cruising:
To learn more about cruising, read these articles on choosing the best cruise line
These articles answer most essential questions about cruising! I hope you find them helpful.
And, don't forget to download our FREE cruise packing checklist! Save it to use for every cruise you take. It's a pretty handy checklist for any beach vacation, too!
Pin this post!!!! This is one of the most popular posts on our website! Pin it to your cruise and travel boards for easy reference when it's time to pack for that Caribbean vacation!