Cruise mistakes: What first time cruisers should know
This post may contain affiliate links. Click here to see what that means.
On a 25th wedding anniversary cruise on Royal Caribbean's Adventure of the Seas, my husband and I met many people going on their first cruise. Some were taking a couples cruise, while others were on a honeymoon cruise. When they found out this was not our first time cruise, they asked for first time cruise tips, often related to mistakes people make on their first cruise.
But first — a cautionary tale about one of the worst possible cruise mistakes you can make — forgetting your documents and ID. In planning for your first time cruise, nothing is more important. You can replace clothes and sunscreen, but without cruise documents you'll never make it to your first cruise vacation!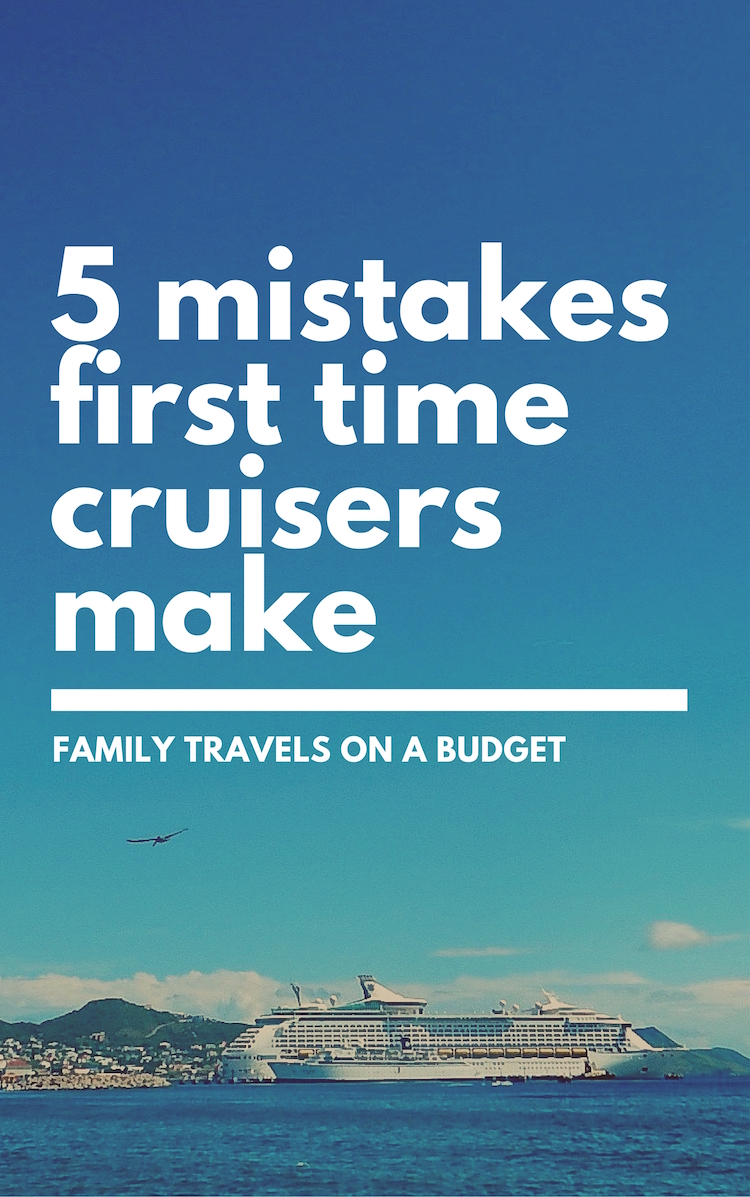 • Updated January, 2020 •
1. Bring cruise documents and identification
On Disney cruise to the Bahamas, we joined a cruise travel group on Facebook to "meet" some of our fellow cruisers months before the cruise vacation. Two days before sailing, a family sent a mayday to the group, explaining that they'd left their documents and passports at home in South Carolina. Since we had to drive through South Carolina anyway, we met with one of their family members to get their cruise documents. On the morning of the cruise, we handed over their documents and gained lifelong friends.
Another incident on our most recent cruise didn't have such a happy ending. The couple had their marriage license, which is not an acceptable form of cruise identification. They were pulled from line and the last I heard, the officer was explaining to this tearful couple that they could not board. With stricter security measures in all areas of travel, there's little (or no) room for exceptions.
CRUISE TIP: Passports are the best identification for cruise travel. If unsure what you need, check with your cruise line or travel agent.
Disney on a Budget? Save money and time now with UndercoverTourist.com!
2. Pack the right cruise wear
Of all the first time cruise questions we were asked, this one was the easiest to answer: What should we wear for formal night on a cruise?
Most cruises of three nights or longer have a semi-formal or formal night. Some people go all-out, dressed in evening gowns and tuxedos. Others don't dress up at all, choosing shorts, t-shirts and dinner at the buffet on the pool deck.
We met three families on their first cruise — three! — who did not bring formal cruise wear for the main dining room. One lady looked particularly sad, explaining she didn't have dressy clothes at home and couldn't afford a fancy dress so they didn't bring any.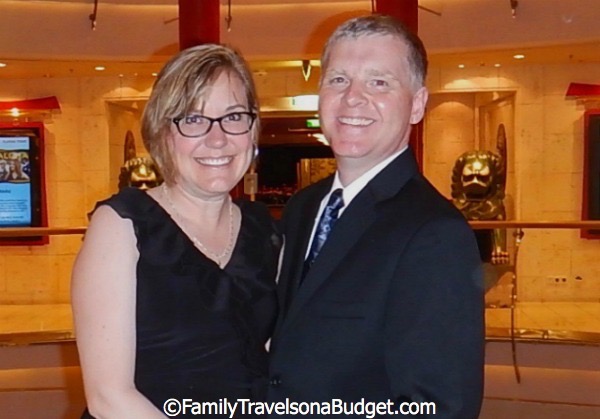 Some cruise tips for formal night, especially if you're cruising on a budget:
Borrow from a friend (my BFF and I share clothes all the time),
Shop at a thrift store in a ritzy neighborhood. A friend of mine got a full sequin gown for $30 from a thrift store. She looked — and felt — stunning!
Remember, you don't have to dress in gown and tux for formal night. A dress for ladies and dress pants, shirt and tie for men is all you need.
⇒ Download our FREE CRUISE PACKING LIST with more tips ⇐
3. Try something you've never done before
I remember (with some regret) our first time cruise. We didn't know what to expect on a Caribbean cruise and missed out on a lot of fun. So, we didn't take dance class, because we didn't want to embarrass ourselves. We didn't do a lot — all for the same reason! Silly us — free entertainment and opportunities that we let slip away.
Twenty-five years later and a lot wiser, we had a lot more fun on our most recent Royal Caribbean cruise. We participated in a "selfie" race that sent us all over the ship, something we've never done before. Every other group was in their 20s, but guess who won!
Yep — US! I may be pushing 50 (in less than 2 months), but I can rock a selfie, y'all!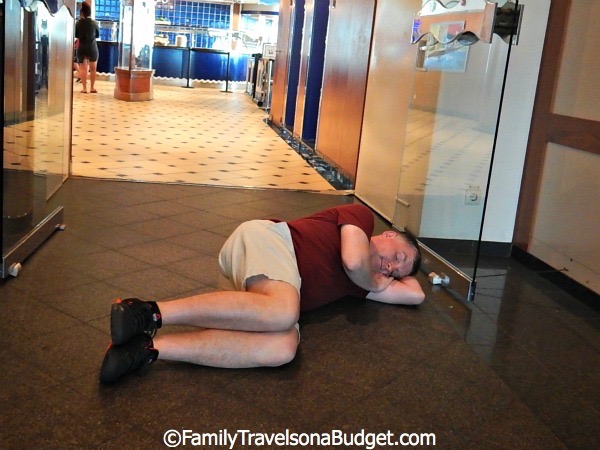 We also took a dance class, motivated in part by our son's upcoming wedding. And also because we wanted to try something new. You know what? Everyone in that dance class, young, old and in between, was new to dancing. We all messed up. We all had fun. That's how to have fun on a cruise! Oh yeah, if you don't want to do something, don't. It's your cruise, after all.
⇒ Read our Beginner's Guide: What to expect on sea days ⇐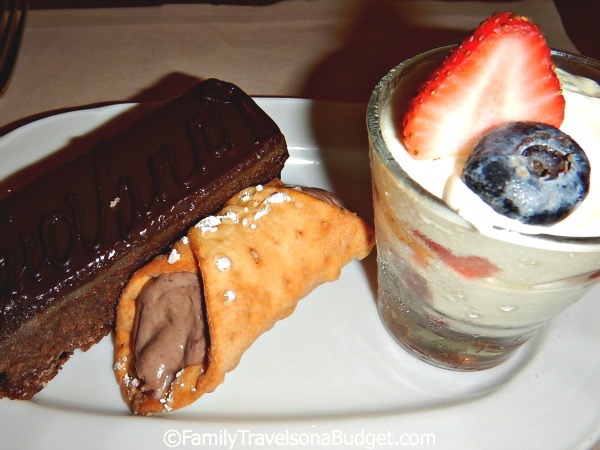 4. Tip your server and cabin steward
One of the worst cruise mistakes you can make is to not tip the crew. If you're looking for first time cruise tips to save money, this isn't the way to do it. Sorry! Most cruise lines are not US based, so they don't have to pay staff the US minimum wage. When you skip the tip, the people serving you don't get paid.
For first time cruisers (and others who might not know), the cabin steward hauls luggage and maintains public areas around the cabins. Even those who hang the "do not disturb" sign all week still receive housekeeping services in the areas nearby. Servers work the buffet stations for breakfast and lunch, serving all guests at some point — even those who never eat in the main dining room. They do so much behind the scenes that not tipping just doesn't make sense.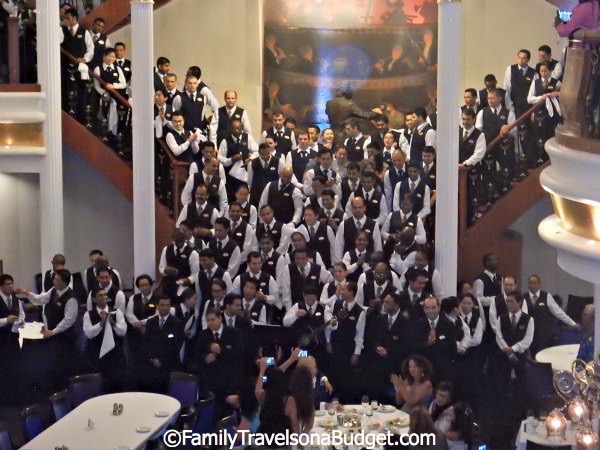 5. Stick to your budget
Of all the cruising information and tips I can offer, this one is most important: Stick to your budget! It doesn't matter if your budget is $2,000 or $20,000, either.
Every cruise I've been on, the last night almost brings me to tears. People line up at customer service (LONG LINES, TOO) to dispute charges. I've heard, "I know I didn't spend that much <on drinks, the casino, etc>." It breaks my heart! All charges are electronically tracked these days, so cruise lines don't make many billing errors. Of all the cruise mistakes people make, this is most devastating (except for not getting to board at all).
On our last cruise, many people on our flight home had been on the same cruise ship. Partway through the flight, the lady across the aisle solemnly pulled her cruise charges printout from her purse. She unfolded it and dragged her finger down the list of charges — page 1, page 2, page 3, page 4, page 5. She sat, frozen, as she stared at the last page. Then she folded it up, smaller and smaller and smaller and shoved it deep in her purse. I watched (wanting to cry myself) as a tear rolled off her chin and dripped on her hand.
I don't know how much she spent — and really, it's not the amount that matters. She clearly spent more than she planned or maybe could afford.
CRUISE TIP: Track your spending on your cabin TV throughout the cruise to stay on budget.
Planning a cruise for the first time? Here's how to budget!
 Talk with your travel companions who will share your bill about the vacation budget:
Daily spending limits on soda or alcohol,
How much to spend on souvenirs (we avoid the ship stores entirely, except for pre-planned purchases — a toy or t-shirt for the kids and a Christmas ornament for us. We set a budget for each stop along the way),
What the casino budget is for the entire cruise (and walk away when you've lost that much),
How much to spend on last minute shore excursions for the entire trip (when it's spent, no more shore excursions)
What type of budget cushion to add to each day.
Remember that tips are added to your bill at the end of the cruise (usually about $15/day per person, even kids) unless they're prepaid.
Total up that amount and you have your cruise spending planned. Adjust before travel if needed to be realistic.
Cruising with teens? Try this! We tell our teens their budget for all spending for the week. AND, we tell them that whatever they don't spend they can keep at the end of the trip. They learn some personal budgeting skills and we don't seem like bad guys! It works great.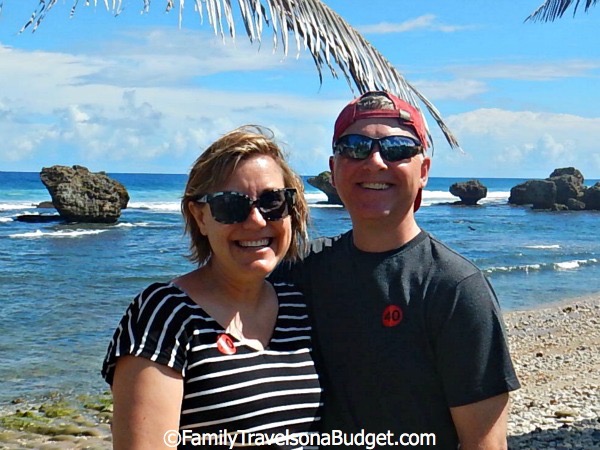 Experienced cruisers, what do you know now that you wish you knew then? Share your tips to help first time cruisers avoid frustrating mistakes.