5 More First Time Cruise Tips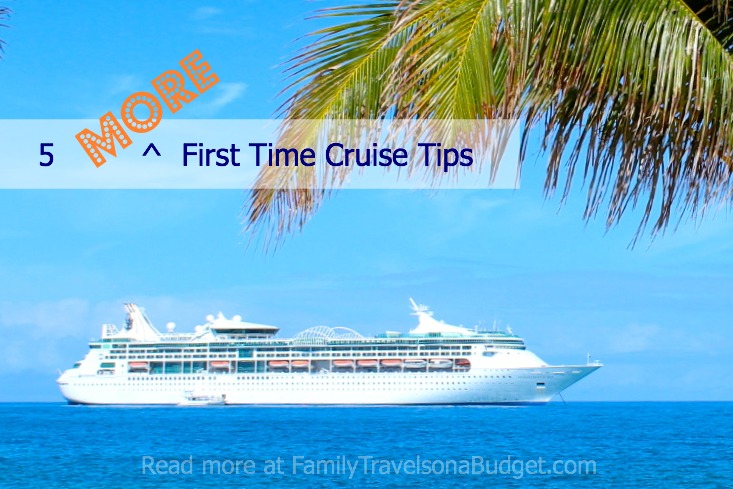 As a seasoned cruise traveler, I know what to expect on the cruise experience. Regardless of cruise line or destination, ships run much the same way. On my last trip, celebrating my mom's 70th birthday, we met several first time cruisers who didn't know what to expect.
Save $53on a Disney World 4-Day Park Hopper! Hop through all 4 parks.
So, here are:
5 More First Time Cruise Tips
1. You do not have to do everything together!
Your cruise staff will offer a wide variety of activities, from pool games to trivia contests, from dance lessons to shopping advice. Choose the activities that interest you. You'll meet other people who enjoy the same thing. It's okay to go your separate ways now and then. Just agree when and where you'll meet to enjoy shared activities and/or meals.
2. Room service is included in the price of your cruise.
I know…. not at all like a traditional hotel! Cool, eh? My mom and I enjoyed having coffee delivered to our cabin as we prepared for the day. Also, since we had late dining (8:30 p.m.), we had snacks delivered to our cabin late afternoon as we prepared for the evening activities. NOTE: There may be a surcharge for room service during the overnight hours. Call room service from your cabin phone if you have any questions.
3. Bring a lightweight bag with essential supplies for embarkation and disembarkation day.
On arrival, your luggage is not available the first several hours. Likewise, you must pack your luggage and set it outside your cabin the night before disembarkation. Carry a lightweight bag with sunscreen, swimsuit, medication, valuables and essential papers for the first day. Going home, use it to pack your medication, pajamas, and fragile souvenirs.
For more on what to pack for a cruise, check out our cruise packing tips with free printable cruise packing list.
4. Take advantage of spa specials.
Cruises are all about relaxing, right? On embarkation day travelers are busy acclimating themselves with the ship and unpacking so spas tend to offer great deals for same day services. On our cruise, the spa offered a "travelers' tension" special, $80 for full massage and mini facial. What a great way to start the trip! (It's okay to ask for specials. If they don't have one, you can walk away!)
5. You do not have to eat in the dining room.
Most ships offer a buffet restaurant that provides long breakfast, lunch and dinner hours. It's convenient… but it's also crowded. You can get your meal and eat at tables by the pool or take your meal back to your room…. whatever you want! Enjoy your dinner without the crowd — and yes, you CAN go back for more. You can even go to get a drink or a snack during open hours. This is your cruise. Enjoy the amenities the way you want them!
And a bonus tip!!!
When booking your cruise, whether through a travel agent or directly through the cruise line, find out what is located above and below your cabin! An inexpensive cabin above the engine room will be noisier than a slightly more expensive cabin down the hall. A cabin located under the late night entertaining venues will have more late night noise than a cabin sandwiched between other cabins or below the dining room. Similarly, consider whether the convenience of being close to the elevator (less walking) is worth the trade-off of more noise late evening. That's a call only you can make.
For more cruising tips, check out these great articles:
What's your best cruise tip?
Have a tip to share? Please leave a comment! We'd love to learn from you!