What's the best cruise line for families?
This post may contain affiliate links. Click here to see what that means.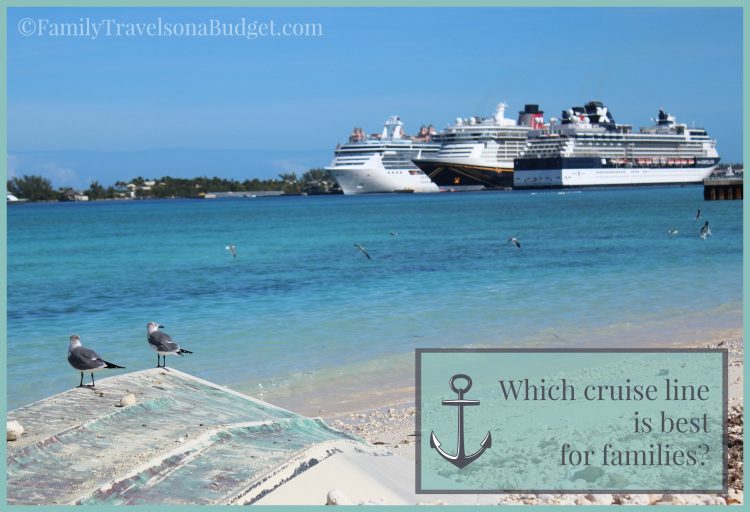 Since November of 2013, I've had the awesome opportunity to cruise the Bahamas on the three most popular family cruise lines: Royal Caribbean Cruise Line (RCCL), Disney Cruise Line (DCL) and Carnival. All three sailings visited the Bahamas (Nassau), were during the winter months (November-January) and were considered "short" cruises (4 or 5 nights long). On RCCL and DCL, I sailed from Port Canaveral, Florida. The Carnival cruise was from Charleston, SC. As I cruised, I paid particular attention to ship amenities, spoke with dozens of other guests (adult and child) and interacted with crew to learn all I could. The ships sailed were the Carnival Fantasy (launched 1990 and lest ship in the Carnival fleet), Royal Caribbean's Enchantment of the Seas (launched 1997) and the Disney Dream (2011).
Save $60 on Universal 3-Park 3-Day Park to Park! Visit Universal's Volcano Bay Water Theme Park.
Now that I'm home, I have had time to reflect on each experience to rate each line in a variety of categories. For purposes of evaluating this research, the lower the score the better — think golf, not football! Overall scores for each category are highlighted in blue, with the individual score components in black below. The overall winner, probably not surprising, is Disney (DCL). Carnival comes in third, but earned a better score than some might expect. Hopefully these scores and the explanations that follow will help you determine the best cruise for your family and budget.
The best cruise line for families
Please include attribution to FamilyTravelsonaBudget.com with this graphic.

Checkin/Checkout
A cruise vacation starts long before actually boarding the ship. Disney excels in this area, with a dedicated cruise terminal at Port Canaveral offering expansive waiting areas, the opportunity to pre-check children into kids' clubs while waiting to board and a fun experience overall. Organized by boarding times and then further assigned zones, boarding on Disney is controlled so that no one gets rushed or trampled. It doesn't hurt that each family is introduced as they board the ship or that Captain Mickey is there to greet everyone.
Parking for a Disney cruise is also well-organized. As guests arrive at the port parking terminal, they are directed to curbside baggage drop off and then to the parking area — for us the entire parking process took about 15 minutes. Carnival's port in Charleston is as different as can be. Directions to the port are not clearly marked (we missed our turn once). Once arriving at the parking terminal, guests must present passports and tickets to gain access to the rest of the parking area. Once bags are tagged properly, the queue heads to another section of the parking lot for baggage drop-off. Finally, vehicles are directed to a parking garage and shuttled to the cruise terminal.
Finally, disembarkation on Disney is a dream (pun intended). Guests are not funneled through the ship but are free to roam the ship until final debarkation. Also, all guests are invited to dine in the restaurants with full service (limited menu) before leaving the ship. For guests whose schedules don't fit the dining schedule, this won't work, but for many guests, a last leisurely meal is a wonderful treat.
At Carnival's check-in area, all beverages must be dumped. The carry-on baggage scanning area is crowded and confusing. Then, guests are shuttled to another line to wait to be checked in. The whole process takes close to an hour — and suggests a process similar to herding cattle.
Royal Caribbean (RCCL) lands someplace in the middle. Parking isn't terrible, and the check-in process is friendlier than Carnival's, but it doesn't come close to Disney's.
On the three cruises I took, Royal Caribbean and Carnival were about the same price. Disney was more than double, but that was also the New Year's cruise. Disney does cost about 50% more than other cruise lines. Is it worth it? The DCL faithful say yes, and they say service, amenities and extras justify the costs. DCL does provide soda free of charge (in the dining rooms, but not room service) and, in general, drink prices are comparable to those on land. I guess it's up to you to decide how much these intangible extras are worth the extra price.
Disney wins this one by a landslide.
Food Experience
The results of this category might surprise you — I know it surprised me. In the main dining rooms, the overall quality of the food was about the same. Some dishes stood out and some missed the mark. When cooking for 3,000+, that's to be expected I guess. Room service, popular on Disney especially for bedtime milk and cookies and Mickey Bars, actually was best on Carnival. Yes, I'll pause while you let that sink in. Carnival had a broader menu available and offered room service on the last morning. Disney does not offer disembarkation room service (see comments above for Disney's great alternative).
Perhaps the greatest "ding" against Disney — trust me, it wasn't a lack of food — is that food options throughout the day are largely limited to fast food on the pool deck. In this area, Royal Caribbean shines, offering casual dining options throughout the ship. If Royal Caribbean opened these other areas for lunch on day of departure, the pool deck crowds would drastically improve.
For those not familiar with dining, guests are generally assigned early or late dining in a particular dining room each evening of their cruise. Disney has three themed dining rooms and rotates guests through them for unique experiences every night of the cruise. Assigned servers rotate with guests — so you get to know your server just like you would on other cruise lines.
Cabins
Disney wins this one in a landslide too. Of course, sailing on the Dream (a 4 year old ship) vs. Royal's Enchantment or Carnival's Fantasy (both much older) is hardly a fair comparison. Cabins on the Dream are much quieter than those on RCCL or Carnival. Disney's split bathroom makes getting ready nice, too (One side has toilet and sink, and the other has shower and sink). Our cabin on Disney included a huge porthole window with cushioned seat. Waking to the sunrise was simply glorious.
Carnival does take the prize for bed comfort, though. Those beds are incredible! Nice update, Carnival.
Rest assured, cabin stewards on all lines clean the cabins at least twice daily, are friendly to guests and make awesome towel animals. (Wanna know a secret? If you're nice to them — they're much more willing to go above and beyond for you!)
Kids' Space
For purposes of this review, kids' space is defined as areas designed for children ages 10 and under. Disney, of course, wins this category in a landslide. The amount of ship space dedicated to kids is simply amazing! Disney has a state of the art security system, excellent staff to child ratio and extended hours that include lunch and dinner options. For guests who participate in late dining, the kids' staff will collect children from the dining rooms after the first hour so parents can linger over dessert (my daughter did not enjoy this, though…. she felt like she missed out on family time and the first two nights her meal was rushed).
Carnival's Fantasy offers a great kids' pool deck, but other kids' space is retrofitted. The staff is friendly and the space is clean, but it doesn't compare to Disney. RCCL's kids' programming is also good, but hours are limited compared to Disney. Both lines are making upgrades to be more competitive, but let's face it. Disney is the expert in family entertainment.
Sports/Pools/Deck space
I know. I know. Disney has the AquaDuck — it's fun. BUT, waiting 45 minutes for a 3 minute ride? Well, that only happens so often! Disney's AquaDuck, small sports deck and tight putt putt course provide options but lack the space and excitement of Royal Caribbean's options. It's hard for a super slide to compete with a rock wall, bungee trampoline and numerous large pools.
Speaking of pools, the Disney pools are small. Our sons said there's no point in using the pools since they're so crowded. The adult pool is not private like on RCCL's Enchantment of the Seas, but acts as a pass-through from the elevators to the main pool. While Carnival does not have an adult pool, the adult serenity area with hot tubs offers a quiet oasis away from children. Also, Carnival's retro-fitted children's pool deck with slides and water feature offers young families a separate, spacious area to play.
Royal Caribbean gets the big win in this category for adults and teens, though Disney does have lifeguards!
Shows/Entertainment
The winner here might surprise you, too. Royal Caribbean wins. Carnival comes in second and Disney… gasp… loses. Disney fans can enjoy first run movies (We watched "Into the Woods" our first night on board) and Disney shows featuring their favorite characters, but to be honest, the Disney character shows felt like a massive Disney advertisement. If you live and breathe Disney shows, you might enjoy them more than we did. They certainly appealed to my daughter. But, for the first time ever, we did not feel like we were missing anything by skipping the Disney stage show one night. And I'm a HUGE FAN of stage shows!
As to shipboard entertainment, I found plenty to do on all three ships. From trivia, to bingo, to mixology classes, there's something for everyone. Disney does not have a casino, while the other cruise lines do.
Royal Caribbean wins because it offers a wider variety of shows than Carnival and more comfortable seating (could that just be the age of the Fantasy?).
Decor/Maintenance and Extras
In all three categories, Disney wins. Just like the parks, every element on the Disney ships is carefully designed. Quiet nods to Mickey Mouse, the giant porthole windows and even the Mickey Mouse color of the ships is intentionally crafted. As I searched the Disney Dream, I could find nothing out of place — and no cobwebs anywhere. The Carnival Fantasy hardly stands a chance with its 1980s decor and decades of wear and tear. The ship was clean, but tired — so outdated. RCCL's Enchantment of the Seas, also older, is in need of a facelift. Shiny 1990s brass and neon colors just aren't "in" anymore. I was also disappointed by the number of dishes left randomly throughout the ship. The towels and bedding on RCCL were absolutely the worst! Cabin towels were frayed and stained. The beach towels were seriously faded and needed replaced. Disney knows that every element is critical to guests' enjoyment and leaves nothing to chance.
Which cruise line is best for families?
With so many factors to weigh, the only way to determine which cruise line is best for your family is to weigh the factors and choose for yourself. For our family, any cruise is better than a day of work and school. For families with young kids who have a generous budget, Disney is the way to go! You can't really put a price on great childcare! For families with older kids and teens, RCCL and up-to-date Carnival ships probably are a better fit.
Use this chart to determine which factors matter most to you and then compare the ships your considering to it. (Newer Carnival ships are not retro-fitted and will have greater kids' options.)
Which cruise line or ship is your favorite? Why?