Best Family restaurants in Savannah
This post may contain affiliate links. Click here to see what that means.
Historic Savannah, Georgia is one of the most popular vacation destinations in the United States. And, it's easy to understand why. Savannah's historic district, laid out in its famous squares with live oak, Spanish moss and interesting architecture, is a beautiful destination. The best family restaurants in Savannah remind you where you are and provide great food!
The city is also well known for the Forrest Gump scene, "Life is like a box of chocolates. You never know what you're gonna get."
You can rest assured that if you use this guide to the best casual restaurants in Savannah, you're gonna get tasty food and an enjoyable meal that everyone in your group will enjoy!
Explore Savannah the easy way — with the best Savannah travel tours!
Eating my way through Savannah to research this article has been purely delicious!
This guide is organized by meal to make your search easy! Jump to the meal info you need. Most breakfast restaurants also serve lunch, and many of the lunch restaurants also serve dinner. Just FYI!
Best breakfast restaurants in Savannah, GA
Start your day with a tasty breakfast at the best casual restaurants in Savannah, GA. These downtown Savannah restaurants are located in the historic districts, a beautiful setting. They serve excellent food, usually quick, making them the best choice for family restaurants in Savannah.
Located between Broughton & Congress, Downtown Savannah
Open Monday, Thursday and Friday, 7:30 a.m. to 2:30 p.m. and Saturday and Sunday 8:00 a.m. to 2:30 p.m. Closed on Tuesday and Wednesday.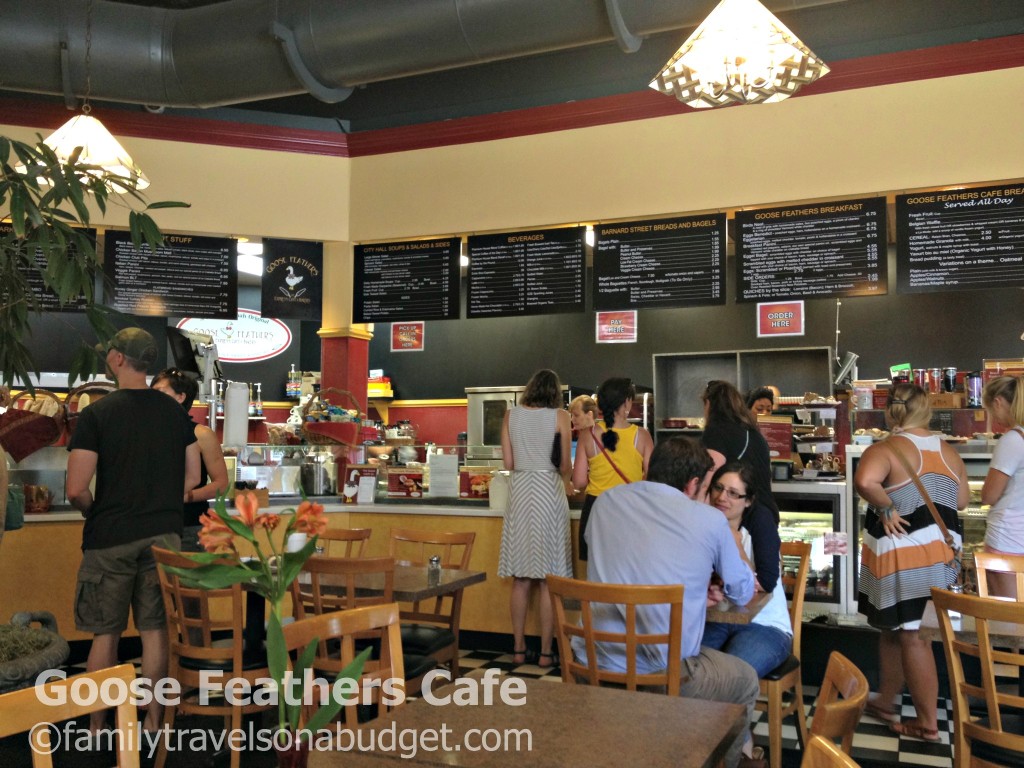 Goose Feathers Cafe and Bakery serves fresh-brewed fair trade gourmet coffees, teas and sodas to go with their complete breakfast menu that includes bagels, various egg dishes, Belgian waffles, oatmeal and bread pudding. The onsite bakery serves fresh, made from scratch croissants, pastries and desserts — including locally renowned whoopie pies and seasonal pies.
While Goose Feathers Cafe is our top pick for breakfast, the lunch menu is just as good offering gourmet sandwiches, freshly-made soups, homemade quiche, and specialty salads.
When it comes to the best family restaurants in Savannah, Goose Feathers Cafe offers great variety and a kids menu that even offers Cheerios!
Located in the Thomas Square Historic Neighborhood, just a few blocks south of the original Savannah Historic District
Open Monday through Saturday 8:00 a.m. to 9:00 p.m. and Sundays 8:00 a.m. to 4:00 p.m.
Foxy Loxy Cafe is our choice for best breakfast in Savannah, GA on the go!
The restaurant serves wide variety of barista beverages as well as on the go breakfast goodies. Their breakfast specialty is kolache, a slightly sweet pastry filled with sausage, cheese and fruit that hails from the Czech Republic (my heritage). YUM!
For families on the go, you can order online and pick up in store before touring Savannah's historic district.
Historic Tours are easy with Savannah's Hop On-Hop Off Tours
Located in the Savannah historic district between City Market and Ships of the Sea Maritime Museum, near Ellis Square
Open 8:00 a.m. to 3:00 p.m. every day
Le Café Gourmet serves classic French dishes like crepes, quiche and croissants, all made from scratch using French butter and imported French chocolate batons. The pastry selection changes daily!
While they don't have a dedicated kids' menu, they do have a peanut butter and jelly crepe, a nutella crepe, and a banana crepe, one of which is sure to please picky little ones. With more sophisticated offerings for adults, along with the gorgeous decor, we confidently include it on our list of the best family restaurants in Savannah.
Whether dining indoors (limited seating) or outdoors, the decor is reminiscent of a French cafe in Paris.
Located a block north of Calhoun Square near the Olde Pink House
Open 8:00 a.m. to 2:00 p.m. every day
Clary's Cafe, serving traditional southern diner breakfast all day, Clary's Cafe is a Savannah institution. It's no surprise that it makes our list of the best casual restaurants in Savannah as it is popular with locals and tourists alike.
Clary's has an extensive menu including eggs Benedict, French toast, pancakes and omelettes indoors or out.
Clary's is a pet friendly restaurant, so bring the dog, too!
Located in the historic Victorian District just 5 minutes south of Forsyth Park
Open weekdays from 7:00 a.m. to 5:00 p.m. and weekends from 8:00 a.m. to 5:00 p.m.
No list of the best casual restaurants in Savannah would be complete without one geared for families!
Henny Penny Art Space and Cafe is just that place!
This family-focused restaurant in Savannah offers a menu of crepes, coffee, hot chocolate and horchata, sandwiches and salads in a creative environment where it's okay to draw on the tables!
The shared art space is open daily, and offers weekly art projects for a small fee. If the day's adventures get rained out, or the kids need a break from the historical tours, this is the place to go!
Best lunch restaurants in Savannah, GA
When touring the historic homes and gardens, grabbing lunch at the best casual restaurants in Savannah is a great way to rest and recharge! Especially when traveling with kids, giving them some downtime to recharge will help beat the afternoon meltdowns.
These are our favorite places to take a tasty lunch break in Savannah!
Zunzi's | 236 Drayton Street
Located between Chippewa Square and Colonial Park Cemetery
Open 11:00 a.m. to 11:00 p.m. every day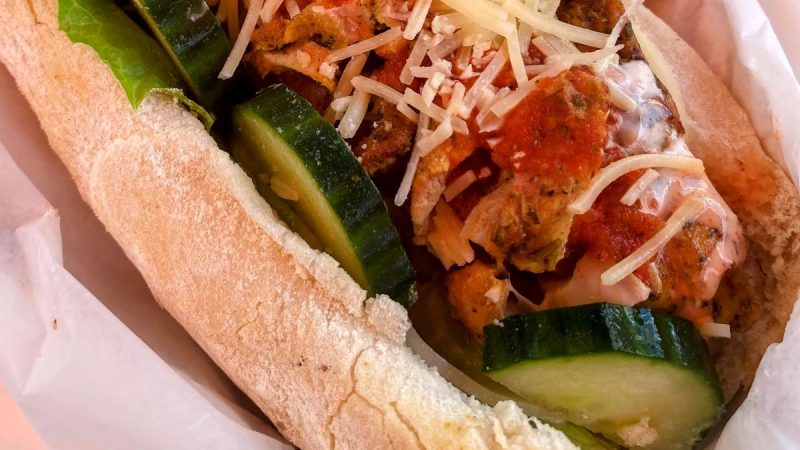 Zunzi's opened in 2005 and has racked up the awards for best sandwich and one of "34 foods worth traveling for."
I know that last one is true! I detour through Savannah just to get a sandwich from Zunzi's on road trips further south.
Zunzi's sandwiches are like nothing I have had anywhere else. The South African inspired cuisine has a touch of Dutch flair — and is jam packed with flavor!
I highly recommend "The Godfather," an enormous sandwich stuffed with chicken, Boerewors Sausage, smoked sausage, lettuce, tomato, provolone, Sheba tomato sauce, parmesan, Zunzi's Sauce and Zunzi's Dressing. So good!
Located in the heart of Savannah's historic district between Pulaski Square, Chatham Square, Monterey Square and Madison Square
Open Monday through Friday 11:00 a.m. to 2:00 p.m.
Credit cards are NOT accepted. Cash or check only!

Mrs. Wilkes' Dining Room is a Savannah legend, definitely one of the best casual restaurants in Savannah.
Mrs. Wilkes' Dining Room does NOT take reservations. Get there early as a line forms down the block before the restaurant even opens for the day. This may be a slight drawback when considering family restaurants in Savannah, especially if the weather is bad. BUT, if you have big eaters or love southern cuisine, it's a great value and a delicious meal.
Once inside, you'll be seated at a table for ten, family style, and get to know your neighbors in the boardinghouse tradition it's been known for since 1943.
The restaurant serves classic southern home cooked dishes like fried chicken and cornbread dressing, sweet potato souffle, black-eyed peas, okra gumbo, corn muffins and biscuits.
Mrs. Wilkes' Dining Room does not accept credit cards! Bring cash or check.
Located near Madison Square at the corner of Bull Street and Liberty Street
Open 11:00 a.m. to 3:30 p.m. Wednesday through Sunday for lunch. Open daily for dinner.
At The Public Kitchen & Bar, they believe that quality food and excellent service in a beautiful setting shouldn't be just for "fine dining." They uphold this standard serving locally sourced dishes in a warm environment suitable to its historic location. And they don't take reservations, because fine dining should be for everyone.
Located south of Savannah's historic squares in the Thomas Square neighborhood near midtown
Open 11:30 a.m. to 10:00 p.m. Monday through Saturday. Closed Sunday.
Green Truck Neighborhood Pub was founded for one reason — to be the best casual restaurant in Savannah. The restaurant consistently earns a spot on the "Best of Savannah" restaurant lists, so they are meeting the objective.
It's no surprise this place makes the best casual restaurants in Savannah list. Everything on the menu from the ketchup to the pimiento cheese is made in house.
The kids' menu, scroll to bottom, even serves an octo-dog — now that's one special hot dog! And, that sense of humor is one reason we include it on our list of the best family restaurants in Savannah!
Insider's tip: Save room for dessert. It changes daily, and every bite is delicious.
Best dinner restaurants in Savannah, GA
After a day of sightseeing, enjoying a relaxed, casual dinner is the perfect way to end the day. For family restaurants in Savannah, these are hard to beat. They serve great food in an unfussy atmosphere, so kids can relax and enjoy their food. So can the adults!
Many of the restaurants on our list of the best lunch restaurants in Savannah are also open for dinner.
But, it's probably no surprise that the best casual restaurants in Savannah include several notable dinner spots as well, each with its own special offerings.
Located east of Washington Square, near the Riverfront district
Open 11:00 a.m. to 9:00 p.m. every day
Reservations strongly suggested
On my first trip to Savannah, The Pirates' House was not on my list of places to eat, but locals and tourists kept recommending it so I decided to go! It did not disappoint!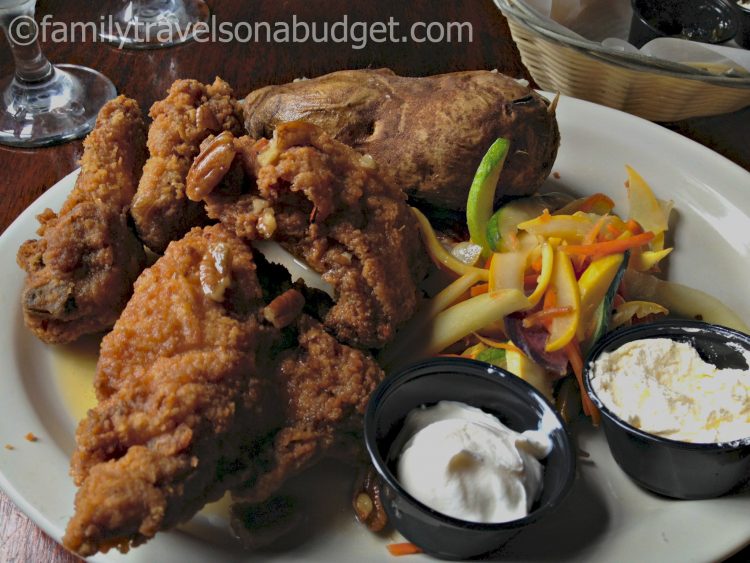 Honestly, the Pirates' House Award Winning Pecan Fried Chicken, served with baked potato and vegetables, is one of the best meals I've ever eaten. It's half a chicken — yes, four pieces — and I ate it all! I don't normally do that kind of thing.
Not only was the chicken delicious, but the atmosphere is incredible.
The Pirates' House got its start as an inn serving those who came to the area through the Port of Savannah. By 1753, it became a hot spot for pirates and sailors from around the world.
Today, the restaurant — absolutely among the best casual restaurants in Savannah — is comprised of 15 separate, historical dining rooms. Guests are invited to stroll through the restaurant and enjoy the full experience!
Be sure to visit the "Herb House," which is the oldest building in Georgia, built in 1734.
Traveling with older kids? How about a ghost tour and dinner at the Pirates' House?
Some tours are better than others, and this Savannah Ghost Tour and Dinner is one of the best! After a "haunted trolley tour" around Savannah, enjoy exclusive access to the Pirates' House rum cellar and a delicious dinner at the restaurant.
Located near Chippewa Square in the heart of Savannah's historic district
Open 11:00 a.m. to 11:00 p.m. daily, and later on weekends
Featured in the 1995 movie "Something to Talk About"
Six Pence Pub got its start as a pub to welcome British ex-pats with a pint and some home made British pub food. In 1999, the new owners took over, creating the British Pub feel this casual restaurant in Savannah is so well known for today.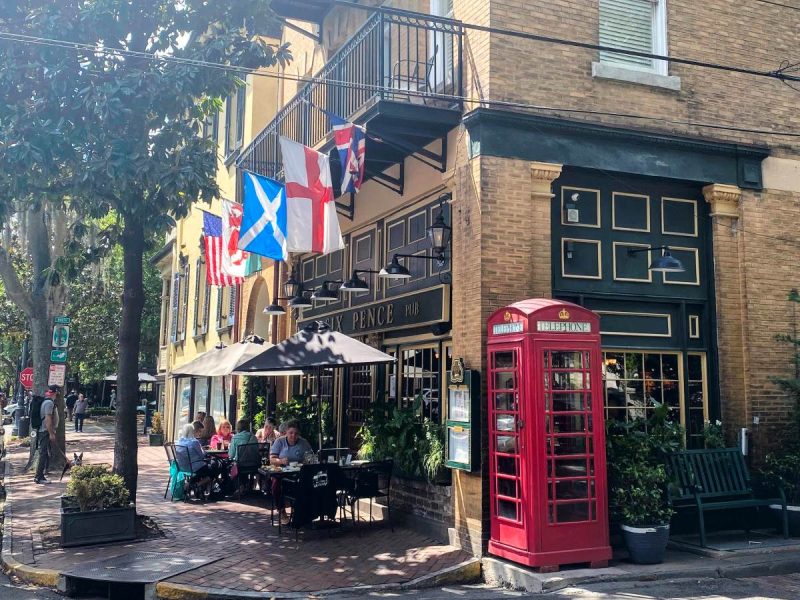 The menu includes American classics, British pub fare and, of course, a wide selection of ale.
We include it as a family friendly restaurant in Savannah for its casual atmosphere and delicious food. Familiar items like ham sandwiches, grilled cheese and nachos mean even picky kids will find something they like.
Dining here, people come, they stay and they chat. It's a comfortable spot for locals and visitors alike.
Located near the Riverfront District, between Ellis Square and Johnson Square
Open 11:00 a.m. to 8:00 p.m. Sunday through Thursday, until 9:00 p.m. Friday and Saturday
The Lady & Sons, is Paula Deen's restaurant in the historic district of Savannah.
When the restaurant first opened, food was served buffet style. Today, the restaurant serves a family style menu — choose main dishes and sides for the table. Everyone gets their own dessert.
The restaurant is a bit pricier than others, but it's a popular restaurant for casual dining in a great location. The food, made with butter of course, is pretty darn good, too.
Best snack spots in Savannah
Sightseeing in historic Savannah can leave little time for a long, sit-down meal. Where do you go for a quick bite or a late night snack?
Don't worry! We've got that covered, too!
There are lots of great places to get a snack in Savannah and it's hard to choose just one.
Located between Reynolds Squre and Oglethorpe Square near the main shopping area
Open 11:00 a.m. to 10:00 p.m. Sunday through Thursday, and until 11:00 p.m. on weekends
After much debate with friends who know the city well, we agree that the best snack in the city is offered at Leopold's Ice Cream, which has served the city since 1919.
A traditional ice cream shop, Leopold's also offers sandwiches for an affordable, quick meal or big snack.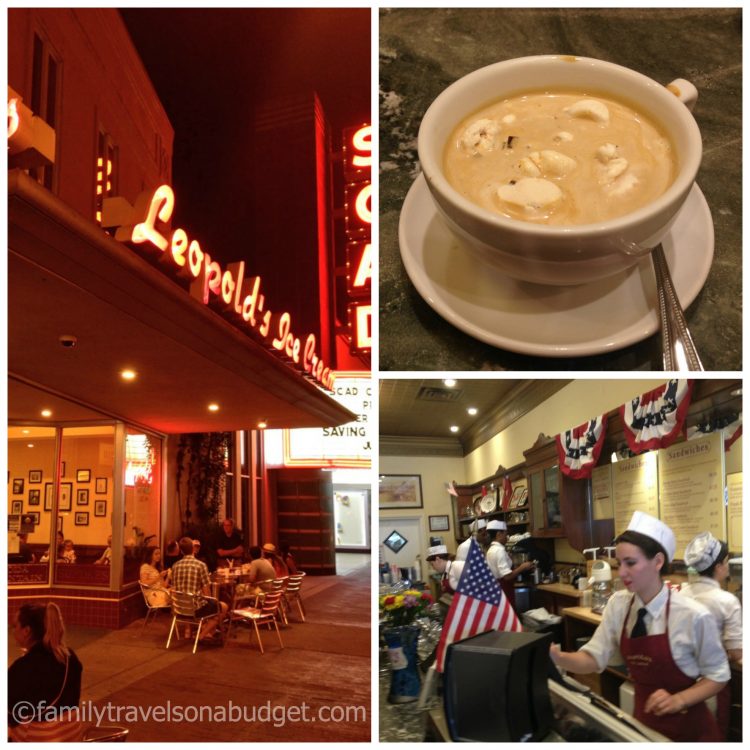 Late in the evening, the line at Leopold's can get a bit long. But, the staff is great, the atmosphere perfect, and the ice cream delicious!
It's the perfect spot to end the day.
Open daily 9:00 a.m to 10:00 p.m. and until 11:00 p.m. on weekends
Savannah's Candy Kitchen is the place to go to satisfy your sweet tooth. Known for their pecan pralines, turtle gophers (pralines with chocolate) and peanut brittle, it's a great place to stop for a souvenir snack or to take a gift for the dog sitter!
They offer free samples, too, so you can decide what tastes best!
We hope this list of the best casual restaurants in Savannah makes your vacation planning easier! Or, should I say tastier?
If you've got a favorite spot in Savannah, let us know about it! Leave a comment below giving your favorite restaurant in this historic southern city a shoutout.
For more ideas in Savannah:
Check out these resources for more ideas for your family vacation.
And if you want to explore beyond Savannah, here are some great places nearby to visit.
Relax and Reconnect on St Simons Island — A short 1.5 hour drive from Savannah is St. Simon's Island on Georgia's "Gold Coast." Spend a few days on the beach and a few days exploring historic Savannah. St. Simon's Island has lots of beaches and parks, biking trails and other activities.
Jekyll Island for Family Vacation — Next door to St Simons Island is Jekyll Island, a historic island where the rich and famous once played. The island is home to Driftwood Beach (a top ten must see), biking, a sea turtle rescue hospital and more.
Hilton Head Island Family Getaway — Only 45 minutes from Savannah, Hilton Head is another popular beach island getaway. Larger than St. Simons Island and Jekyll Island, Hilton Head has even more to offer with beach front condos, kayaking, horseback riding, golf (and more golf), biking trails, tennis, and all the beach activities.