Jekyll Island Family Vacation Guide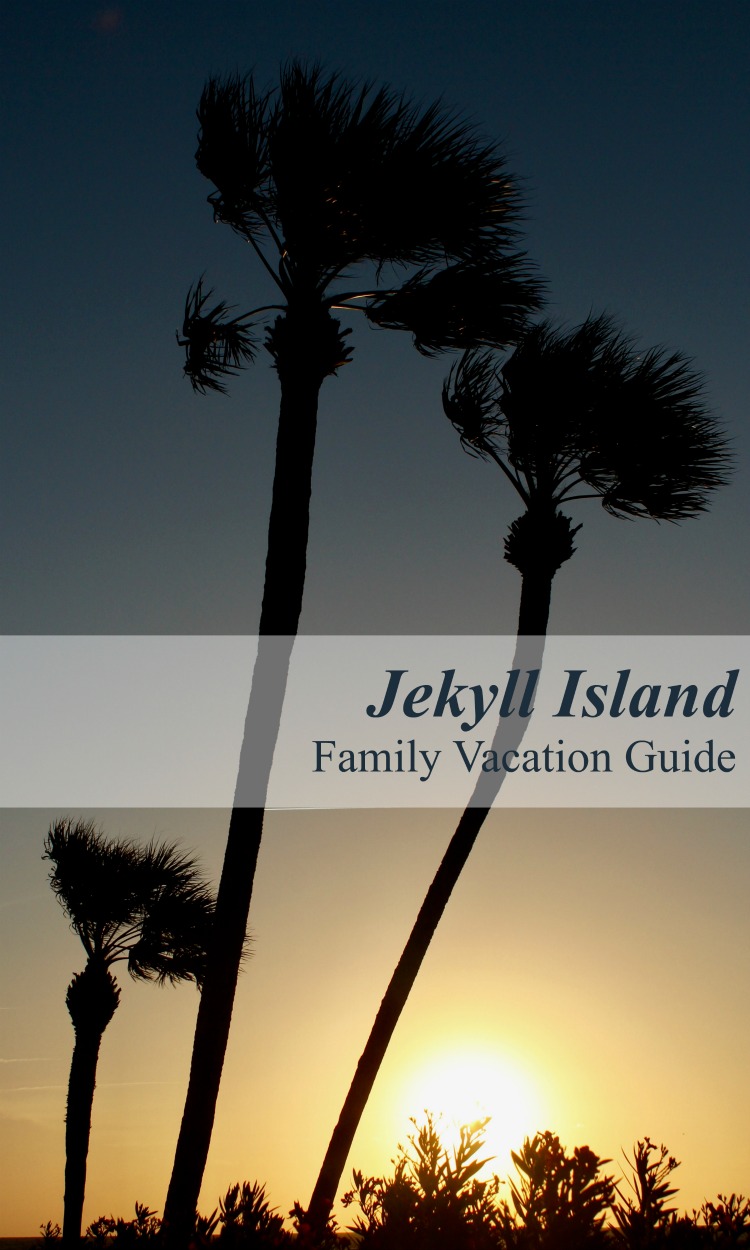 Jekyll Island, once the winter playground of the American elite like the Rockefellers, the Vanderbilts, J.P. Morgan and Joseph Pulitzer, has become a playground for everyday people, like you and me. Jekyll Island was developed to give these rich industrialists a place to escape harsh northern winters. They enjoyed hunting, lawn games and whatever else it is the richest of the rich do when they gather together on an isolated island.
Today, you can't hunt on Jekyll Island — and the whitetail deer know it! They roam freely without fear. But, you can play year-round. With 65% of the island's natural beauty preserved, there's not much commercial development on the island. That means there's a lot of space for you to roam, too!
We took a quick trip to Jekyll Island to celebrate my birthday, and had a blast. Our only regrets were not having an extra day to explore more and not taking bug repellant! The no-see-ums feasted on Rob and Ben's legs.
Because Jekyll Island is essentially a state park, visitors pay a $6 daily admission fee. Budget tip: That ticket is good for a full 24 hours, not just daily. We got one at 9 p.m. as we came to the island. The next night, we went to another island for dinner and returned before 9 p.m. Our ticket still worked.
Jekyll Island Attractions and Activities
Jekyll Island Club Tours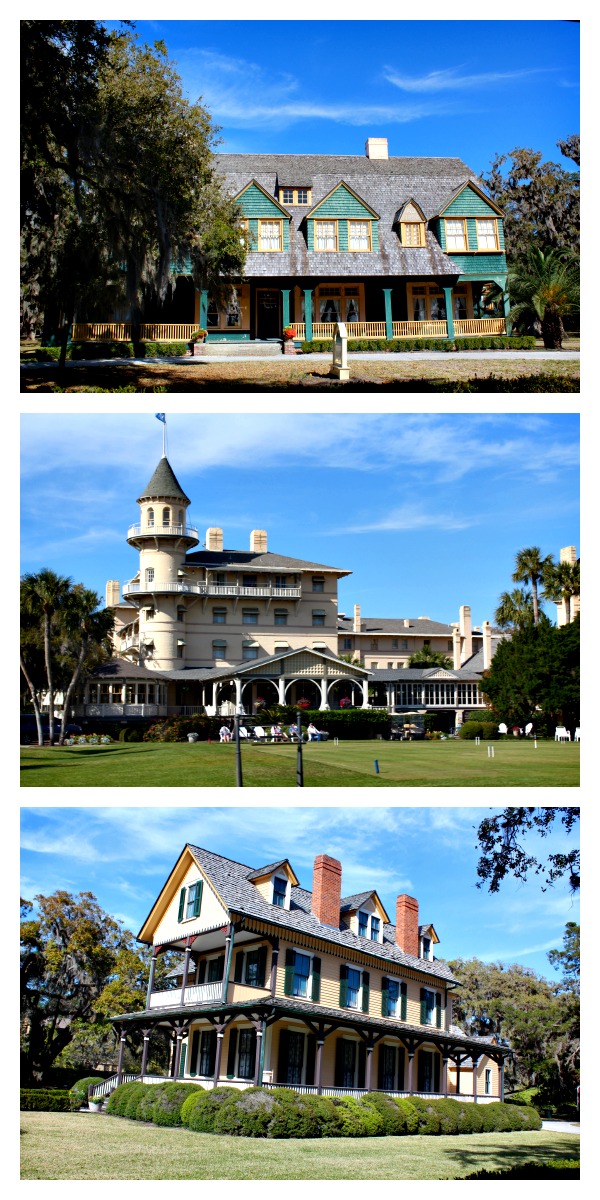 Most of the buildings constructed during the late 1800s and early 1900s still exist today, most of them carefully preserved and used today as vacation rentals, museums, art galleries and other shops. Trolley tours of the Jekyll Island Club historic district are offered three times daily and board at the Jekyll Island Museum. We were surprised to learn that even in the off-season, tram tickets sell out regularly. The tour lasts about 90 minutes — with guides providing stories of the island and its inhabitants. It makes several stops to allow guests to tour homes.
Ellie and I have been watching some TV shows set in the early 1900s, so she really loved seeing the grand ballrooms and decor on display. Ben, Rob and I all enjoyed the stories — we even learned a few things (like a cool fact about the first transcontinental phone call).
Address: Jekyll Island Museum, 100 Stable Road, Jekyll Island, GA 31527
Hours: Daily, 11 a.m., 1 p.m., & 3 p.m. (tours last approx. 90 minutes)
Cost (2017): $16 for adults, $7 for children ages 7-15, free for children 6 and under
Purchase: Purchase tickets by calling 912.635.4036 — online sales are not available.
Faith Chapel
Tram tour tickets include admission to Faith Chapel (or you can pay $5 and go separately). This chapel, built in the gothic style  for the exclusive use of club members of all faiths, reminded me more of a northeastern hunting lodge with gothic decorations — but that's just me. It's worth a visit to learn the history of the chapel, to see gargoyles, the signed Tiffany stained glass window and also learn about the luminous Armstrong window. The Armstrong window was my favorite element — by far! Hours and admission information are available at the Jekyll Island Museum.
Horton House Ruins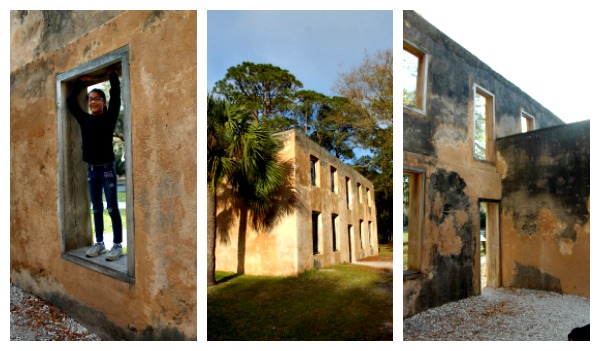 One afternoon, we decided to drive the perimeter road on the island to see what else we could discover — and the Horton House was an easy find. I knew before we went that the house was on the island, I just didn't know where. Since it sits right at the road, it's hard to miss!
Anyway, the house dates back to 1742 and was built by Major William Horton who lived on the island during the British colonial period. It's one of the oldest buildings in the state, made of tabby — a mix of oyster shells, lime and water that harden like cement. The wide walls helped keep the house cool in summer and warm in winter.
The house, despite its missing roof, windows and doors, inspires the imagination. If you visit, ask the kids where the fireplace might have been or how many bedrooms they think the house had.
This roadside attraction (of sorts) is free and always open.
Prepare for the bugs!
Bike Rentals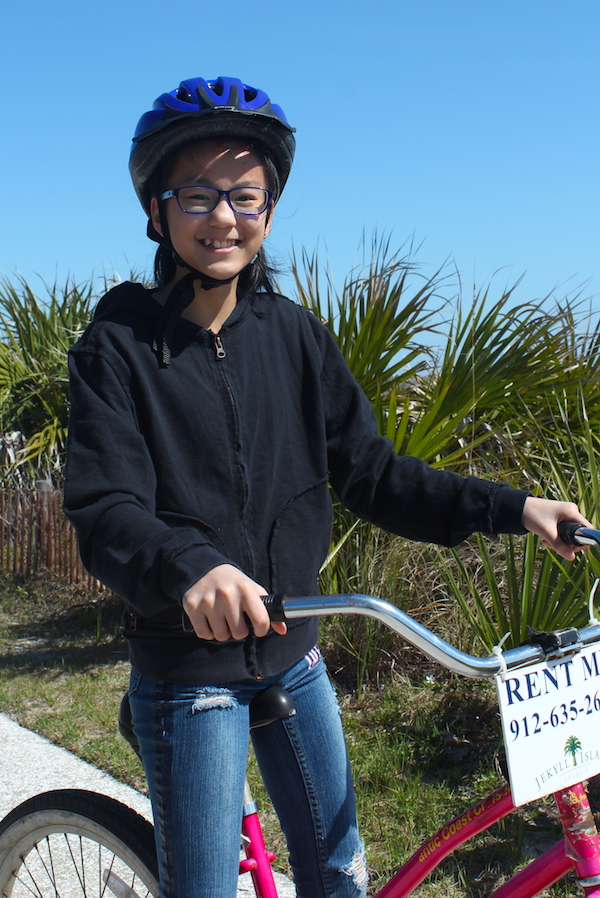 I'm not a big fan of biking, though this is my third bike rental in a year. Hmmmm? Maybe I'm changing? Or maybe, I like beach and trail biking better than road biking. Anyway, there is absolutely no better way to explore Jekyll Island than by bike! We rented bikes at the mini golf bike rental location (though bikes are also available at area hotels). A local told us that the best bikes are at the mini golf location. When they found out I was there to write about vacationing at Jekyll, they said to "make sure your readers know that the bike trails can get a little bumpy in places, so always rent from the mini golf place. Their 3G bikes are the best." So there you have it folks, a great tip from a local!
As for us, we biked about 11 miles — with a couple stops thrown in — and all agreed it was a great option.
Bicycle Rentals: Per hour $5.62; All day $13.91
Bike Trailers for Children: Per day $4.82 (In addition to bicycle rental fee)
Kiddie Seat: Per day $2.67
Specialty bikes (tandem, surrey, etc) are available as well and rates vary
Kids' helmets are included with their bike rental.
Rental locations: Island hotels, Jekyll Island Campground and the Mini Golf Course
Jekyll Island Bike Path Map
Georgia Sea Turtle Center
Our son, Ben, is an art major. This semester, the sea turtle has inspired elements of many pieces — some easily recognizable, others more abstract. When planning our trip, I knew a visit to the Georgia Sea Turtle Center (GSTC) was necessary.
A visit to the GSTC includes your own sea turtle "experience." Five stations throughout the educational center explain the elements of sea turtle life — egg, gender, habitat, health and life span. At each exhibit, guests stamp a card with an unmarked stamp to find out about their sea turtle self — a great technique to engage visitors!
But, the highlight of the GSTC is the wide hospital window that allows visitors to watch the caretakers treat injured animals. Placards explain who the patient is and how they are being treated. This guy is malnourished and his shell is weak and peeling as a result. He's being treated with a special, syringe-fed diet and his shell is debrided and cleaned daily. Hopefully, he will be able to eat on his own again soon and be returned to the wild within a few months.
After exploring the educational center, aka museum, guests can also go to the back building where all the rehabilitating turtles live. One guy had an amputated leg and is learning how to swim without it. Another turtle was rescued after birth when she didn't make it to the ocean with the rest of her siblings. She's just hanging out and growing until the next turtle release. Many others were there with shell injuries — the most common issue turtles face.
Address: 214 Stable Road, Jekyll Island, GA
Hours: 9:00 a.m. to 5:00 p.m. (Expect to stay 1.5-3 hours), closed major holidays
Cost (2017): Tickets range from $5 (kids) to $7 (adults) and can be purchased online.
Driftwood Beach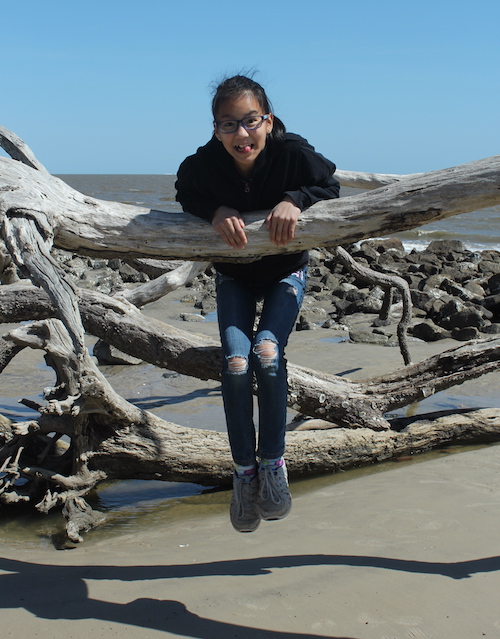 If you do nothing else when visiting Jekyll Island (or nearby St. Simons Island), make time to visit Driftwood Beach. I'd heard from many readers that Driftwood Beach is THE BEST thing on the island. I honestly think Driftwood Beach might be my favorite spot in the world. I'm not joking!
We read about it before our trip — with everyone on TripAdvisor sharing a similar enthusiasm. We even looked at photos uploaded to Yelp. But nothing — absolutely nothing — prepared us for this experience. Pictures don't come close.
Driftwood Beach was once a grove of trees at the northeastern end of Jekyll Island. Tidal waters eroded the northern end of the island and washed over these trees. As you can imagine, the salty water wasn't good for the trees. Neither was the relentless wash of the sea over the trunks and branches. Over time, the trees died. Some fell. Others still stand, gray statues at the water's edge. The trees have worn smooth through the years, their bark long gone. What remains is an other-worldly playground of curled branches, sun-dried and strong, that beg to be climbed, sat on, and photographed. Be sure to look close, though, as critters have made homes among the roots.
Check the tide schedule before your visit.
Wear close toed shoes good for climbing.
Before letting kids splash in the small pools of water, remember this is a dog friendly beach.
Bring bug spray!
Please respect the beauty of this place so others can enjoy it too (don't carve your initials in the wood, etc).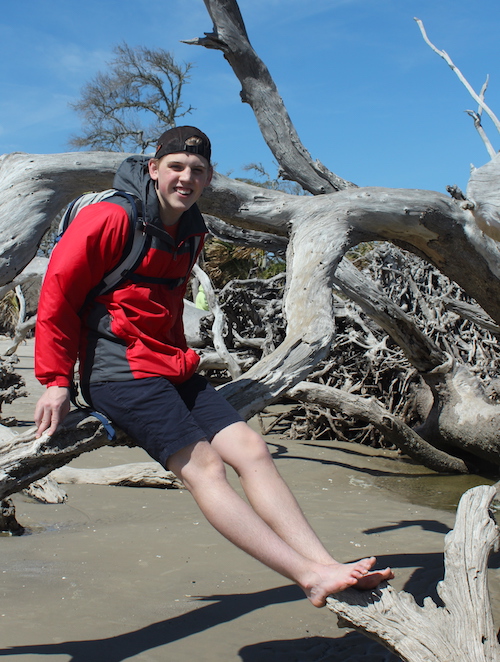 Other attractions on Jekyll Island
We only had two days on the island so that's all we got done. But, there's so much more to do! Here's a list to help you plan — if you're lucky enough to have more time.
Golf: Four courses, 3 18-hole courses and 1 9-hole course. The Pine Lakes Course has family tee boxes, so parents and kids can golf together. Learn more here.
Mini-Golf: Located at the corner of N. Beachview Dr. and Shell Road, families can choose from two 18-hole courses — or do both! Visit website for hours, rates and contact information.
Horseback Riding: Provided by Three Oaks Farm, families can go horseback riding or take a horse-drawn carriage tour. Three Oaks Farm also has a large petting zoo.
Kayaking and Paddle Boarding: What better way to explore an island than by water? There are a number of kayaking and paddle boarding outfitters and tours available. Click here to find out more.
Tennis: Jekyll Island Tennis Center has 13 har-tru clay courts that are open to the public. They also offer tennis lessons and week-long summer tennis camps (yes, vacationers can register their kids for summer tennis camps).
Summer Waves Water Park: Open seasonally, the water park has a number of slides, a wave pool, a lazy river and little kids' splash zone.
Parks, trails and wildlife. Because most of the island is protected from development, Jekyll Island has LOTS of wilderness areas and parks to explore!
Where to stay on Jekyll Island
Now that I've piqued your interest, where should you stay on Jekyll Island?
Of course, there's the historic Jekyll Island Club that started it all. The resort offers a wide variety of rooms and suites, so there's bound to be one that fits your needs. But, because of its' historic status, it's pricey — and there are resort fees in addition to the room rates. A budget saving tip: Consider booking a seasonal package and staying Sunday-Thursday nights.
The Holiday Inn Resort at Jekyll Island hosted us during our stay. This ocean front resort offers rooms and two-room suites, most with ocean views. Other amenities include an outdoor pool and hot tub, fire pits, an exercise room, onsite restaurants and an exercise room. Look for specials that include breakfast! We liked our suite — tons of space in a relaxing ocean inspired color scheme with a kitchenette and balcony overlooking the beach. This is an older hotel that had a recent facelift. The only thing they didn't address was the noise — you might hear your neighbors and traffic noise. But, it's a great value for the location, space and room amenities.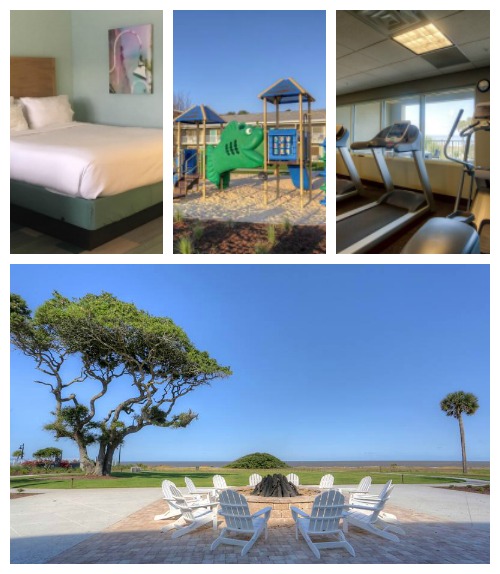 Holiday Inn Resort at Jekyll Island
Other hotel chains on the island include: Hampton Inn & Suites, Westin, Days Inn & Suites and Quality Inn & Suites. I did not visit these hotels, so I can't tell you which is best, though there are few restaurants on the island — so wherever you rent, get a room with a kitchenette!
If you want more space, consider a vacation home rental.
Jekyll Island is not the place you go for a wild and crazy vacation — it's a quiet island. It's where you go to relax, to reconnect, to explore a different era. I hope when you go, you'll climb those driftwood trunks with the kids, take a bike ride and enjoy the slower pace this island offers. And maybe, you'll climb a tree, too… like Ben did, just because "it's there."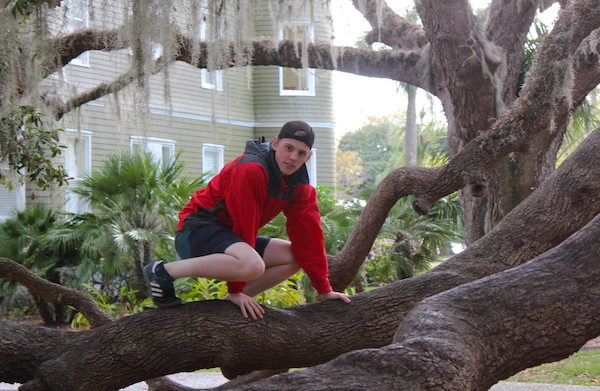 Special thanks to the Holiday Inn Resort at Jekyll Island for inviting us to stay and to the Jekyll Island Authority for providing bike rentals and tour admission. All opinions in this post are my own.
Learn more about Jekyll Island