Presque Isle State Park Travel Planner: Your guide to Erie, PA beaches
Growing up in Northeast Ohio, Lake Erie has always been part of my life — at Cedar Point, Put-in-Bay and when seeing family near Cleveland. So, when I got the chance to visit Erie, PA beaches and Presque Isle State Park recently, going back to Lake Erie was a lot like "going home."
It felt nostalgic, comfortable, familiar.
I know I'm not alone in that.
Every year, more than 4 million people visit the Erie, PA beaches at Presque Isle State Park. Many of them make regular visits to this historic peninsula — camping at their favorite spot, grabbing a bite to eat at a favorite restaurant, and, of course, enjoying long, lazy days on the beaches of Erie, PA state park.
If you have never been to Presque Isle State Park in Erie, I hope this post makes you consider Erie, PA's beaches for a vacation getaway. If you have been to Presque Isle before, maybe you'll learn something new. OR — let me know in the comments below if there's something more to add to this post!
Presque Isle State Park Travel Planner
Presque Isle State Park is a 3,200-acre sandy peninsula that arches into Lake Erie. Access to the Erie, PA beaches at Presque Isle are four miles west of downtown Erie. You'll find the beaches on the north side of Presque Isle, stretching for seven miles along the shores of Lake Erie.
The southern side of Presque Isle State Park presents a rocky shoreline with boat launches into Presque Isle Bay — a protected waterway used by commercial shipping frighters, tour boats, private boats, wind surfers and kayakers.
Presque Isle State Park is a day-use park that provides visitors access to the Erie, PA beachy coastline with many recreational activities, including swimming, boating, fishing, hiking, bicycling, and in-line skating. The park is open 365 days a year from sunrise to sunset.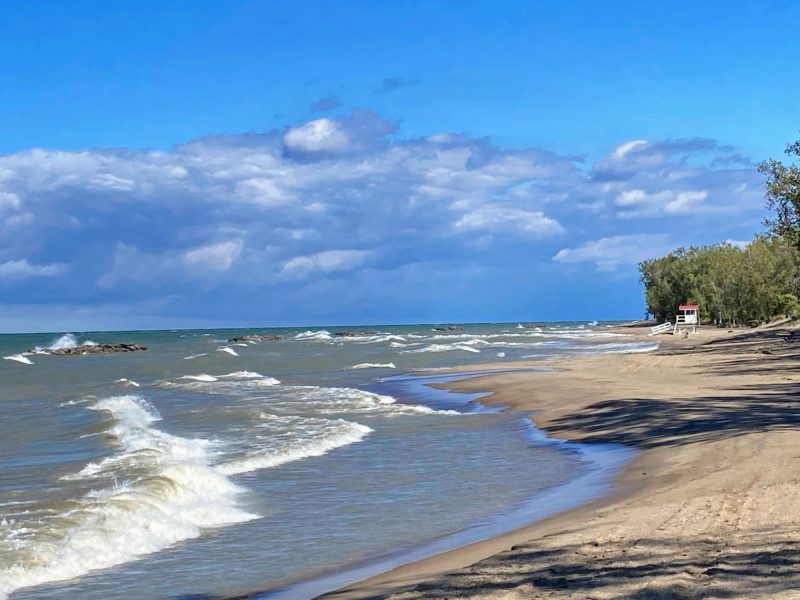 While this Erie, PA state park is a day use park only — no overnight lodging — there are ample vacation accommodations nearby providing a variety of lodging options.
Presque Isle State Park is considered a National Natural Landmark, designated by the Secretary of the Interior for its outstanding biological and geological resources. Presque Isle State Park earned this designation for its numerous, unique habitats that contain a greater number of the state's endangered, threatened, and rare species than any other area of comparable size in Pennsylvania.
In less scientific terms, it's a beautifully diverse ecosystem that attracts bird watchers and nature lovers who appreciate all it has to offer.
Since Presque Isle State Park is open year round, it offers seasonal activities for all to enjoy. Yes, even in winter, there are things to do in Presque Isle! Of course, the most popular season is summer — so let's start there!
Things to do in Summer at Presque Isle State Park
Swimming at Presque Isle beaches
Presque Isle beaches allow swimming from Memorial Day to Labor Day. Wide, sandy beaches — each with its own lifeguard station — attract visitors all summer long. First time visitors are often surprised to learn that Lake Erie has tides — just like the ocean — with waves and everything!
The beaches are numbered from 1-11, each with specific amenities. Swimming is only allowed at beaches with lifeguard stands. A favorite past-time for beach goers is looking for beach glass. It's hard to find, but worth the hunt.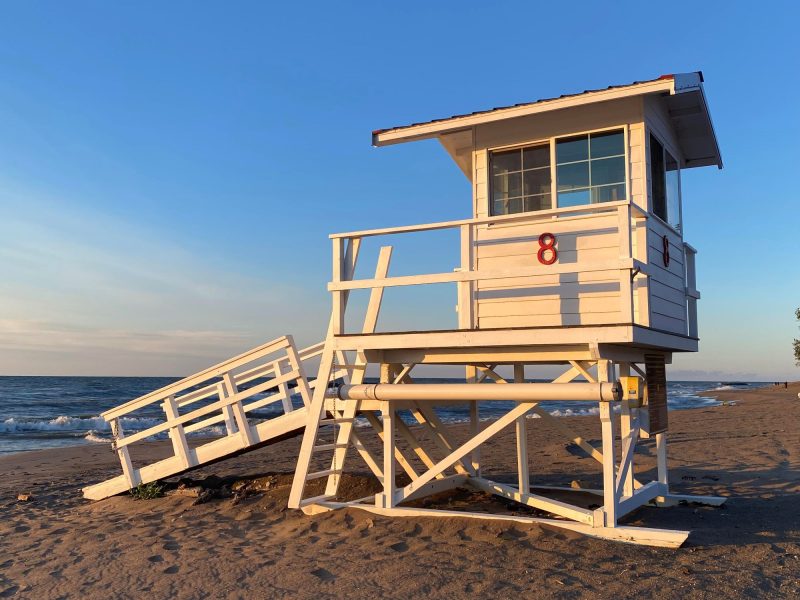 Dog rules state that dogs must be on leash and only in the treeline on guarded beaches. Dogs may swim with supervision in areas outside of guarded beaches.
Some highlights:
Beach 7 (Waterworks Beach) and Beach 8 (Pettinato Beach) are ADA accessible, including restrooms, changing areas and a ramp that provides ADA access to the water's edge. Beach wheelchairs are available at the Public Safety Building.
Beach 6 (Lyons Beach) has sand volleyball courts, a beach house with changing areas, restrooms, food and beverage concessions.
Beach 9 (Leslie Beach) is closest to the Presque Isle Lighthouse.
Beach 11 (Kohler Beach), a smoke free beach, is the most sheltered beach featuring shallow water, a large sandy beach, beach house with changing areas, restrooms, and a food and beverage concession. Kohler Beach is also adjacent to picnic areas, playground equipment, and a picnic pavilion making this a popular beach for families with young children.
Beach 3, the Millroad Beaches and Beach 11 are smoke free beaches, each with its own amenities.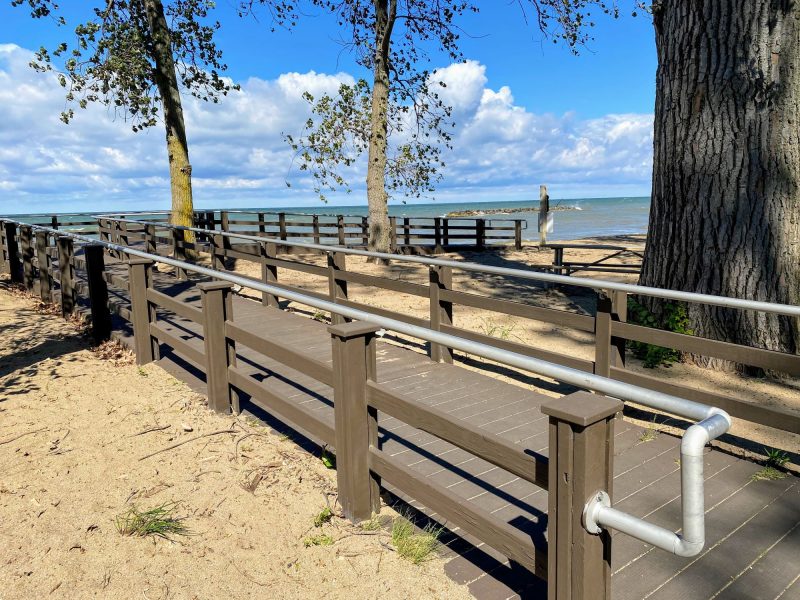 If at all possible, stay for sunset. It's simply glorious watching the sun drop away on the western horizon.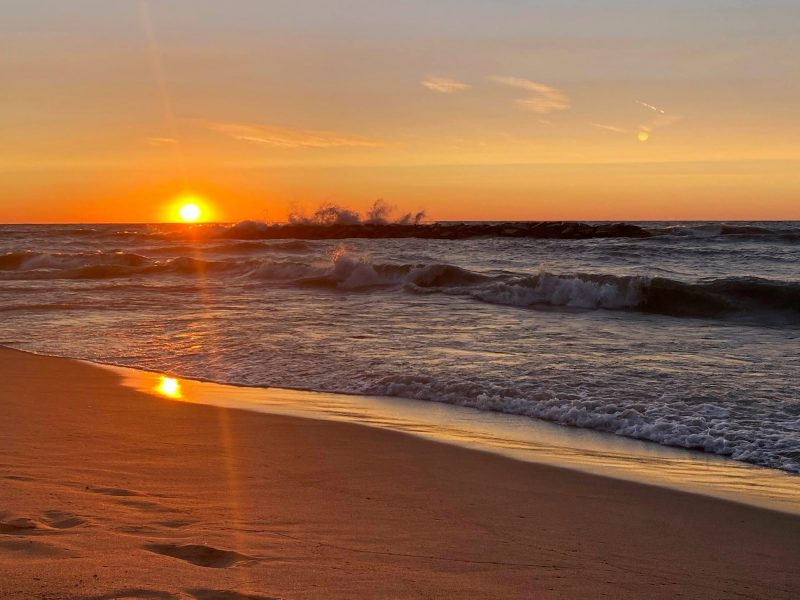 Educational activites at Presque Isle State Park
This Erie, PA state park offers a wide variety of environmental education programs for all ages. Through hands-on activities, guided walks, and evening programs, participants learn about the natural and cultural resources on Presque Isle. Year-round programs are offered to the public on history, art, wildlife, plants, and outdoor recreation.
Families who visit Presque Isle in summertime can participate in special educational programs offered this time of year. Children's programs explore the outdoors through structured play, reinforced by stories, and crafts.
⇨ Learn more about summer children's programs on Presque Isle ⇐
Boating at Presque Isle State Park
Both personal watercraft, commercial boats and boat tours are offered at Presque Isle State Park or in the harbor nearby.
Presque Isle Boat Tours offers a 14 mile, 90 minute, fully narrated tour on the open waters of Lake Erie and Presque Isle Bay. The tour, offered spring through early fall, includes Erie's historic lighthouses, Gull Point Nature Preserve, Presque Isle's shores, Erie's skyline, ships, beaches, wildlife and numerous other sights. Tickets can be purchased in advance online (recommended June-August) or at the Presque Isle State Park ticket booth near Perry Monument.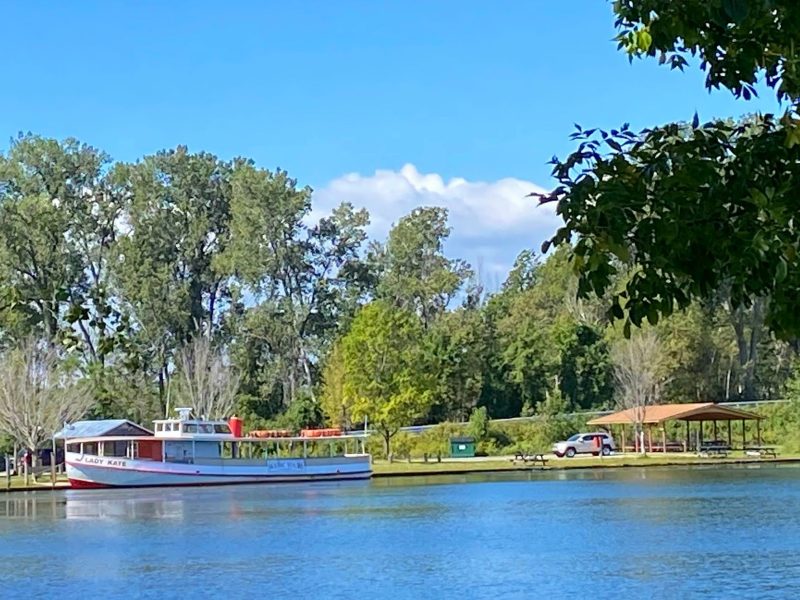 Presque Isle Marina, with 493 slips, is open May 1 through October 31 each year, and can accommodate boats up to 42 feet long. Park concessions offers gas and diesel, sewage pump out station, food and refreshments. Contact the park to reserve a boat slip.
Beaching of boats, water skiing, ice boating (ice levels are not monitored) and boat launches are available at this Erie PA state park. Check the Pennsylvania Department of Conservation and Natural Resources website for specific rules, including registration and boating safety.
⇒ Read More: Discover Boating! ⇐
Presque Isle Boat Rental near the Perry Monument provides pontoon and motor boat rentals, canoes, kayaks, row boats, paddleboards and equipment to day guests at the Erie, PA state park. They operate from Memorial Day to Labor Day, and weekends in October. This outfitter also offers a variety of guided tours.
Biking at Presque Isle State Park
Biking is a popular activity at this Erie, PA state park. The Karl Boyes Multi-Purpose National Recreation Trail, a 13.5 mile long, ADA accessible trail runs throughout Presque Isle State Park and is popular with bikers, joggers and in-line skaters.
The bike trail at Presque Isle is part of the Pennsylvania Seaway Trail, which follows the Lake Erie shoreline from Ohio to New York, passing through Erie, PA.
Bike rentals are offered near the Waterworks Pumphouse area on Presque Isle State Park from Memorial Day to Labor Day. Rental options include bikes, tricycles, surrey bikes and roller blades. Call Yellow Bike Rentals at 814-835-8900 to learn more.
Hiking at Presque Isle State Park
Hiking at Presque Isle State Park is geared more toward beginners than rugged hikers. The same trails used for biking allow "hiking" to explore nature up close. From short walks (about 2/10ths of a mile) to walking the complete 13 mile loop, there are lots of options. The trail is paved, ADA compliant and suitable for strollers as well.
Things to do at Presque Isle State Park in Winter
In winter, this Erie, PA state park is still popular, especially with locals. Park rangers offer programming year round, and the schedule is available on their website.
Popular wintertime activities at Presque Isle include cross-country skiing, ice fishing and ice skating. Ice boating is another popular activity for the more adventurous.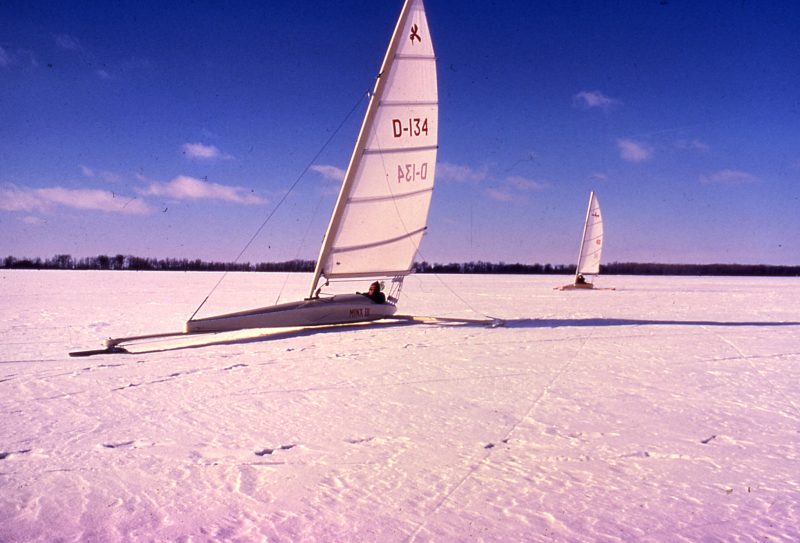 NOTE: Park rangers do NOT monitor ice thickness. That is the responsibility of those choosing to use the lake for winter sports.
Things to do Year Round at Presque Isle State Park
Visiting the Lighthouse at Presque Isle State Park
Built in 1873, the Presque Isle Lighthouse is an active lighthouse, still used as an aid to ship navigation near Erie. Open to visitors daily during the summer months. With 78 steps to the top, this is a relatively easy lighthouse climb. House tours and tower climbs with beautiful views of Lake Erie are $7. For those who want to tour the house only (and skip the stairs), admission is only $3.
In the fall and winter, the lighthouse is not open every day, but it's makes a great photo op!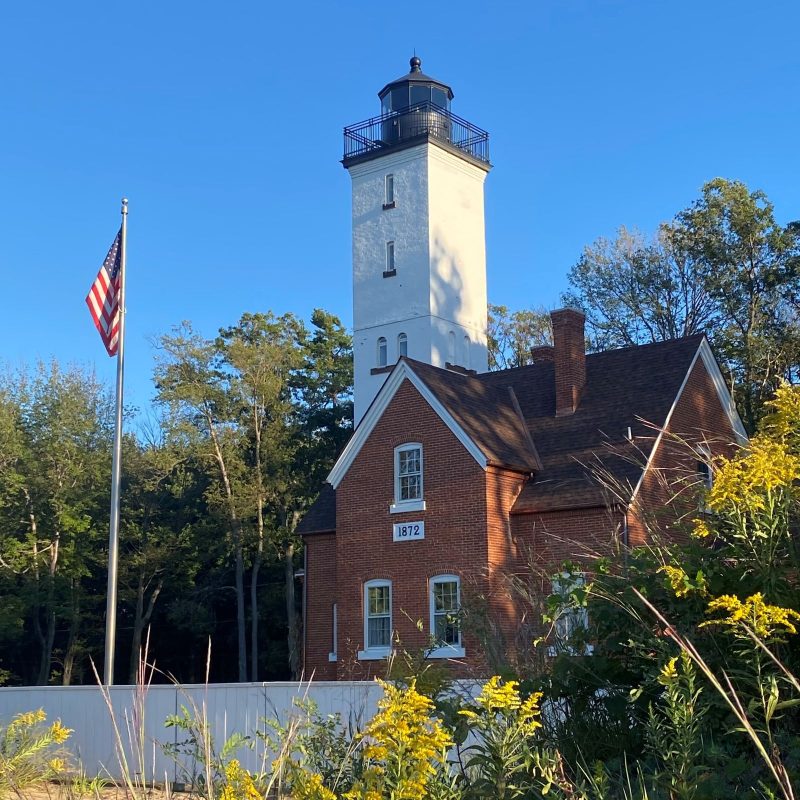 Visiting Perry Monument at Presque Isle State Park
Perry Monument at Presque Isle sits at the halfway point on the drive through the park. A large parking lot, restrooms and picnic areas nearby makes visiting easy.
On the walk from the parking lot to the Perry Monument, signs explain the significance of the area in the War of 1812 against the British, and also why Oliver Hazard Perry is honored.
A quick history lesson: Early in our nation's history, the British continued to be a threat to American freedom, particularly along the Great Lakes. Captain Daniel Dobbins, a sailing master in the US Navy recognized the threat — and also identified the value of what is now Erie, Presque Isle and Presque Isle Bay to the Navy. He recommended that ships for the war be built in this protected area, and a city was born. Six of the nine ships used by the Navy in the Battle of Lake Erie were built here. Commodore Oliver Hazard Perry used the bay strategically to protect his ships and crew from the British, and eventually the US won the war. a replica of the USS Niagara, one of the ships used in the battle, is moored nearby at the Erie Maritime Museum and open seasonally for tours.
When visiting Presque Isle State Park, stroll along the paved walkways under a canopy of trees to learn more about what Perry and his crew endured throughout the war and the long winters afterward. Find out what he meant when declaring, "Don't give up the ship!" Take a break at the base of the monument to enjoy the view — and the amazing Lake Erie breezes.
Things to do near the Erie, PA state park
Dining and shopping near Presque Isle State Park
The Erie, PA state park offers concessions in summer. Picnics are allowed, as is grilling at grilling stations located throughout the park. But, for restaurant dining, park goers must leave the Isle peninsula and head toward Erie. Some of the most popular restaurants are close by, including:
Bayfront Grille at the Sheraton Erie Bayfront Hotel — yes, a hotel restaurant! This one happens to serve incredible, cooked to order breakfasts, served in the airy dining room with floor to ceiling windows that overlook Presque Isle Bay. This is a "come for the views and stay for the food" type of place, and a great spot to start your day.
Icing on the Lake — located in Erie's West End, not too far from the state park, Icing on the Lake is a charming bakery with delicious sweets and treats for the whole family. Picnicking on the bay? This is a great spot to get a yummy dessert. Celebrating a special event? Make it memorable with a celebratory snack. I must confess, I sampled their cupcakes, cookies, macarons and cake pops. Due diligence done, and I truly loved every single bite!
Sara's Restaurant — located just outside the park gates, Sara's has been a favorite of state park goers for decades. This retro diner serves locally famous Smith's hot dogs, burgers, fried perch sandwiches, chicken baskets and ice cream. The vanilla-orange swirl is a particular favorite. The restaurant is open seasonally, with outdoor dining and drive through options. I tried a Smith's hot dog and onion rings, and that hot dog lived up to the hype.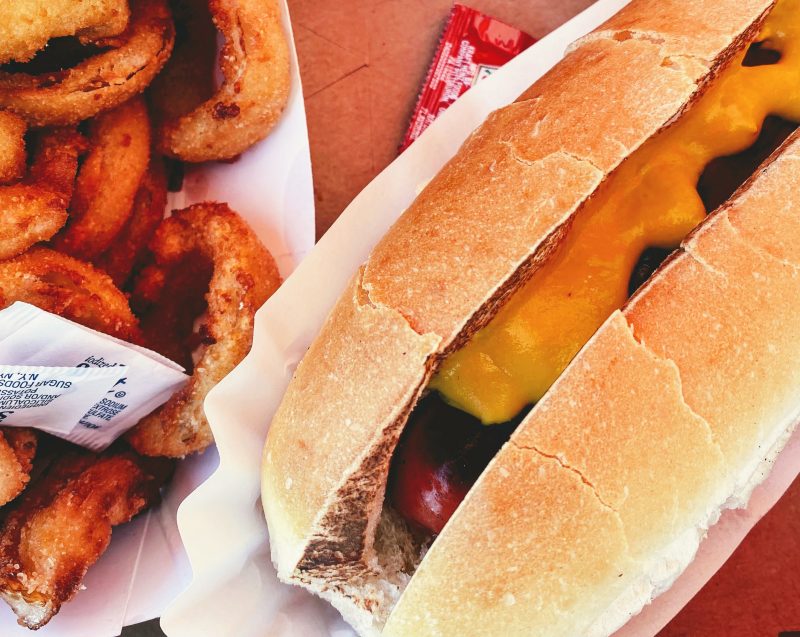 As for shopping, local shops are the way to go for souvenirs and gifts in Erie. Two shops stand out:
Glass Growers Gallery — Open in Erie since 1974, Glass Growers Gallery is an art gallery and gift shop offering handcrafted pieces including jewelry, pottery, art, socks, and much more. Located downtown next to the art museum, it's worth a visit to find the perfect gift or souvenir.
Relish — Owner, Jennifer Reed, grew up on the shore of Lake Erie, collecting beach glass. In time, she developed a passion to create jewelry, usually featuring found beach glass. She even got her college degree in jewelry design. Today, she owns Relish — which features her custom made jewelry pieces as well as art by local and regional artists. Every piece is a true one-of-a-kind. Relish is located near the state park at 3835 W. 12th Street in Erie, PA.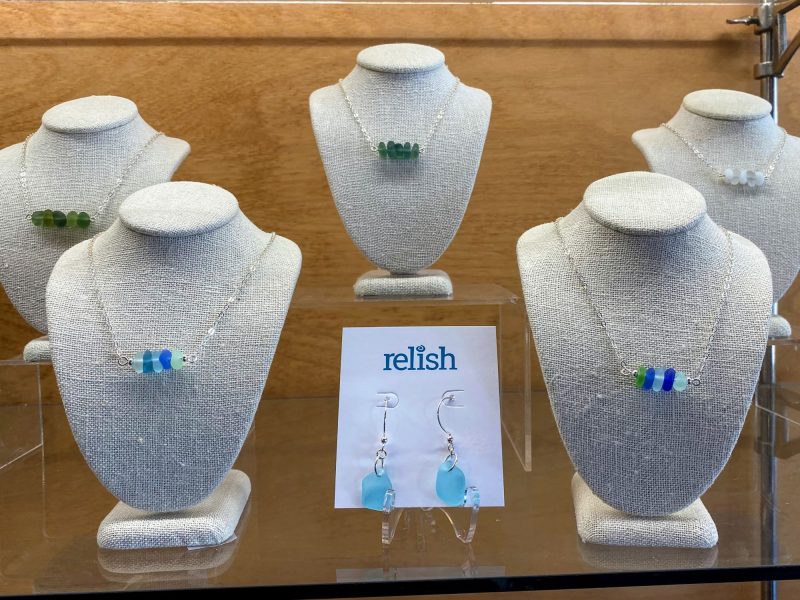 Places to stay near Presque Isle State Park
There are many places to stay near Presque Isle State Park, including camping, hotels and vacation rental properties.
Those who prefer camping near Presque Isle State Park should make reservations early. Three places to consider are:
Sara's Campground is the closest to the Erie, PA state park. Located just outside the park gates, Sara's Campground accommodates both tent camping and RV camping. Beach tent camping is very popular, and space is offered on a first come/first served basis. Those wanting to reserve a spot should make requests early (fall of the year before is not too soon).
Lampe Campground and Marina is located across Presque Isle Bay from the Erie, PA state park. The campground has 42 waterfront camp sites, as well as a free boat launch and bike paths to the state park and Erie's Bayfront District.
Erie KOA Holiday Campground is located about 20 minutes away from the state park. It's included here because of the popularity of KOA campgrounds generally, and for the many amenities it has. This "kid friendly" campground offers fishing in a catch and release pond, heated pools, pedal carts and bikes for rent. Movies, ice cream socials, DJ dance parties on holidays add to the fun. On rainy days head to the recreation room for air hockey, pool, ping pong and arcade games.
There are many other campgrounds near Presque Isle State Park, so if these don't work, keep looking! (Seasoned campers, share your favorite in the comments below, and I will add it to our list! Tell me why you like it.)
For people who prefer a less rustic vacation experience, there are many hotels in Erie, PA near the state park.
Some of the best hotels are convenient to the Erie, PA state park and Erie Bayfront entertainment area. Some of our favorites include:
Sheraton Erie Bayfront Hotel — Located on the waterfront between the marina and Presque Isle Bay, there are water views from both sides of the hotel. It's steps away from Dobbins Landing and many attractions. The restaurant offers an incredible breakfast, too.
Hampton Inn & Suites Erie Bayfront — Open for just over a year, this hotel is located near Dobbins Landing, and features rooms and suites with views of the marina or of the Erie Maritime Museum. Oliver's Rooftop restaurant is a great place to catch dinner and a sunset, while Oliver's Beer Garden, outside, offers casual fare and a fun atmosphere.
SureStay Plus Hotel by Best Western — located just a few blocks away from Presque Isle State Park, this hotel offers convenience on a budget. Free WiFi and breakfast are included with each stay.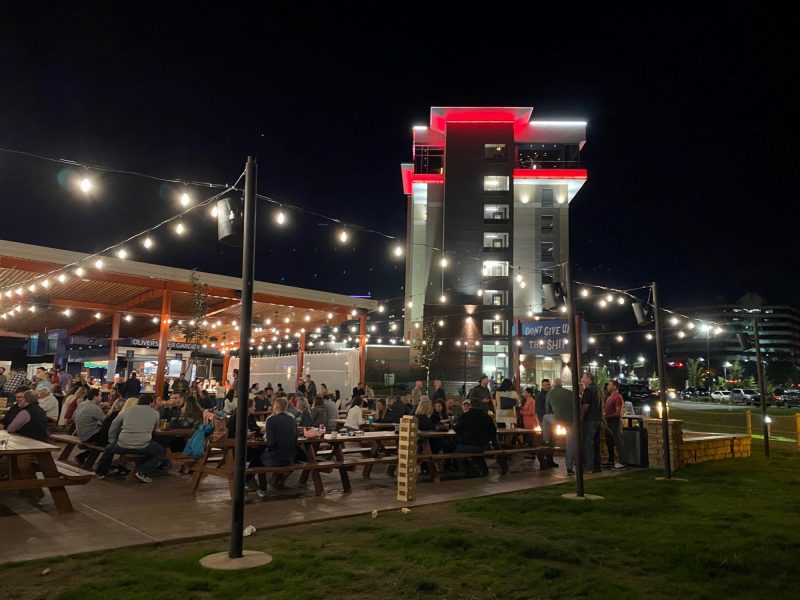 Attractions near Presque Isle State Park
While one day at Presque Isle State Park is good, to fully explore this Erie, PA gem, I recommend a three day visit. Allow one day for the beach, one to explore the trails on bike or on foot, and one for boating, fishing or tours.
I recommend a few more days to explore other attractions near the Erie, PA state park!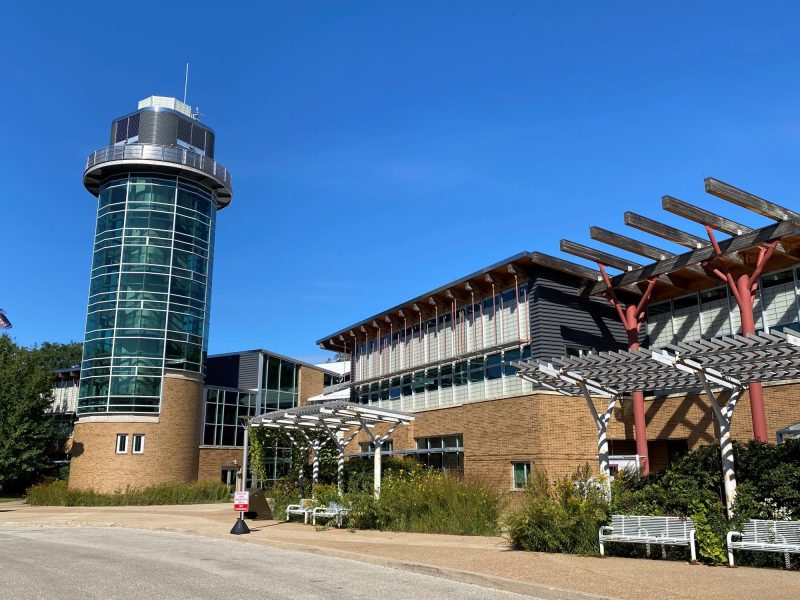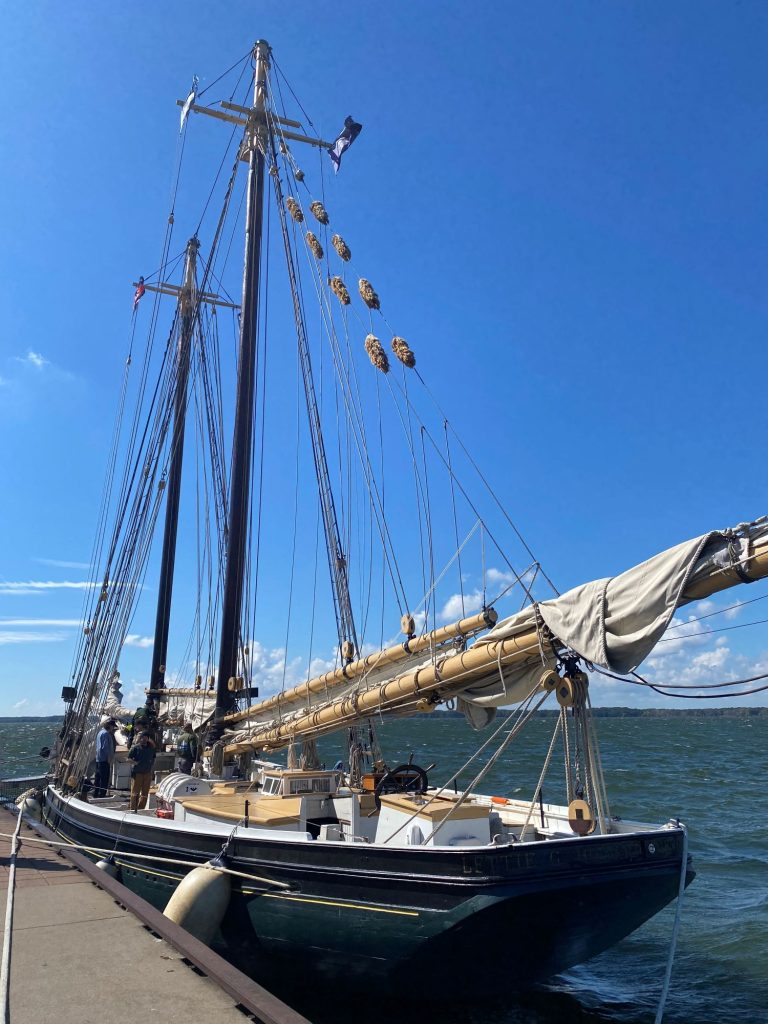 I hope this post inspires you to explore Presque Isle State Park and historic Erie, Pennsylvania. It's a vibrant little city that's proud of its heritage and happy to share its beauty.