Family vacation: Niagara Falls for kids
At Family Travels on a Budget, we love road trips in the United States!
And, one of my favorite destinations growing up was Niagara Falls, US side. Taking my daughter for the first time reminded me why Niagara Falls for kids is a great summer vacation idea!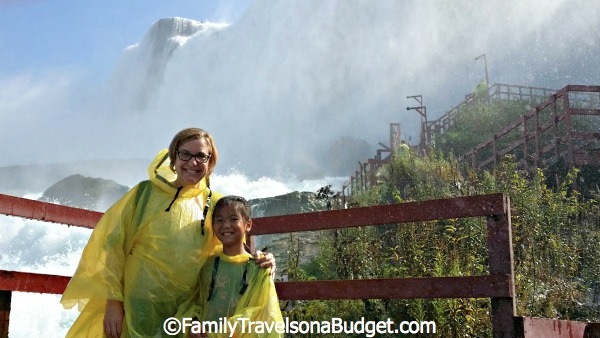 Originally published September 2014. Updated March 2023
Besides seeing the iconic falls, there is a lot to do in Niagara Falls for kids.
And well, since I've done all the research already, I thought I'd pass this itinerary on to you!
Niagara Falls for Kids — a three day itinerary
This itinerary for Niagara Falls for kids is geared toward a late afternoon arrival that coincides with hotel check-in times. If driving in, try to arrive by 4:00 p.m. EST.
If you're flying to Niagara Falls, NY, we used the Buffalo airport (BUF) which had more options and better prices than flying straight in to Niagara Falls. The drive from Buffalo to Niagara Falls is about 30 minutes on I-90. Very easy!
Day One: Let's settle in!
On arrival, check in to your hotel.
We stayed at The Giacomo Hotel, a luxury, boutique hotel located in the heart of Niagara Falls, New York. From here, we could walk to many of the attractions and to restaurants throughout downtown.
The Giacomo Hotel has great views of the fireworks from the rooftop deck, but rooms might be too small for summer vacation for families!
There are many branded hotel chains nearby as well, with a variety of hotel perks and room configurations.
Explore Downtown Niagara Falls
After checking in, explore Downtown Niagara Falls and enjoy dinner at a local restaurant.
Old Falls Street USA was a highlight of our trip. This tourist-friendly area links the convention center with Niagara Falls State Park. Enjoy family friendly games, food trucks and festivals along with the free WiFi and comfy adirondack chairs to chill out. There are festival here throughout the summer, too.
Some restaurants within walking distance of the downtown hotels are:
Day two: Niagara Falls aquarium, speed boat and locks
Planning note: At Family Travels on a Budget, we like to save the best for last — in this case, Niagara Falls. When planning your itinerary, consider what works best for you! Will the excitement be unbearable? And how's the weather? Niagara Falls activities are more fun on sunny days, even though you get wet either way!
Enjoy breakfast at the hotel if available. If not, enjoy breakfast at a nearby restaurant. Throw a change of clothes in the car for later in the day. You might get wet!
MORNING: Aquarium of Niagara
Aquarium of Niagara. Located near the waterfront at 701 Whirlpool Street, the Aquarium of Niagara is a rescue facility for injured and endangered sea animals. Two of note are the Humboldt penguin colony and the blind seals rescued and rehabilitated here.
LUNCH: The Silo in Lewiston
For a fun experience, head to The Silo at 115 N. Water Street in nearby Lewiston.
This casual, indoor/outdoor dining on the banks of the Niagara River provides a great place to enjoy a hot dog or burger. Order online as you drive in to save time!
You may have heard of The Silo on Man vs. Food, in which case you should get the Beef on Weck.
AFTERNOON: Whirlpool Jet Boat Tours
Take a thrill ride with Whirlpool Jet Boat Tours located at 115 S. Water Street, also in Lewiston. See — making it easy!
This speedy boat tour guarantees guests will get really wet, even with the provided rain coats and life jackets. The boat takes riders along the Niagara River to the Niagara Gorge and then back again through the Class V Devil's Hole Rapids. The high speed ride and choppy water guarantee you'll get wet!
But don't worry, this ride is in the lower river, below the falls, so you can't go over!
We recommend you wear water shoes of some sort (sport sandals with a sturdy strap are good). If you wear flip flops, you'll be shopping for new shoes after the ride. Leave the camera in the car and purchase the video or photos from the tour company instead. I'd hate for you to lose your camera overboard.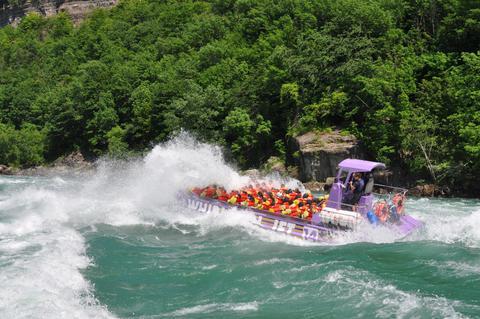 LATE AFTERNOON: Lockport Cave & Underground Boat Ride
Head east, about 20 minutes, to the town of Lockport for the Lockport Cave & Underground Boat Ride.
The Lockport Cave tour starts with an easy walking tour along five locks, used to move materials during the early days of the Industrial Revolution. These locks allowed boats to travel 60 feet uphill! The guide explains how they worked and their importance to our country's development.
Then, the tour takes you on an underground boat ride through the caves of the Erie Canal.
Finally, you'll walk through a 2100 foot water power tunnel blasted out of solid rock. Called the Hydraulic Tunnel, this invention provided water power to several industries — without which, the area might not have developed.
Travel Tip: This tour is tough for people who aren't steady on their feet. The walkway is old and uneven, and the ground can be slippery. We recommend it for people who are steady on their feet and for kids ages 4+. Younger kids might not like the cold, dark, damp environment. If traveling with older relatives or younger kids, consider a relaxing break at the hotel before dinner.
DINNER AND EVENING: Savor Restaurant
Head back to Niagara Falls for dinner at Savor Restaurant, of the Niagara Falls Culinary Institute.
Savor offers an upscale dining experience while providing a hands-on learning experience for students enrolled in the Culinary Arts, Pastry Arts and Hospitality programs at the Niagara Falls Culinary Institute. The restaurant features an open kitchen where student chefs are on "display" to showcase their talents to the guests.
Savor is open to the public and offers a prix fixe lunch and dinner menu.
For my daughter, this was the best part of our vacation to Niagara Falls! She loved being treated like an adult and "savored" every bite set before her! Dinner at Savor is a slow-paced experience, but it's family friendly — and a great way to unwind after a busy day.
Return to hotel for the evening and collapse! Or, head up the Giacomo bar on the top floor for great views of the area.
Day three: Niagara Falls for kids
Rise and shine for another exciting day! This time, it's all about Niagara Falls for kids! And parents.
MORNING: Maid of the Mist and Cave of the Winds Tours
Tour Maid of the Mist and Cave of the Winds, both part of Niagara Falls State Park.
At Family Travels on a Budget, we recommend you purchase the combo ticket for Maid of the Mist and Cave of the Winds to save time. After all, who wants to spend their vacation standing in line at the ticket counter?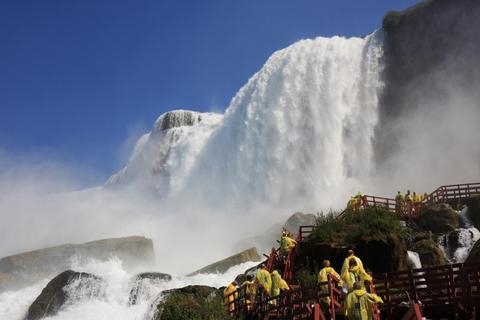 The tour starts at the Maid of the Mist boat ride where your guide shares stories of the daredevils who have tried to go over the falls, the history of the state park and some historic rescues through the years. Then, you'll get your check-in time for Cave of the Winds (avoiding the lines again), a hop-on hop-off pass for the trolley and more.
It's an absolutely amazing experience, one you don't want to miss!
LUNCH: Top of the Falls
Enjoy lunch in Niagara Falls State Park at Top of the Falls on Goat Island, open May to October.
This is the only restaurant overlooking Niagara Falls — what a view!
They serve trendy burgers, hot dogs and beef on weck (a local specialty) in a casual atmosphere. The restaurant is air-conditioned, so bring a sweatshirt or sweater, especially if your clothes are still wet.
AFTERNOON: Hike a trail
There are two options for the afternoon.
For an easy exploration, take a walk along the Riverway Trail toward the Old Stone Chimney (from Goat Island, cross back into Niagara Falls and go right). There are many scenic overlooks along the way to watch the rapids. It's a relaxing, easy stroll along a fairly shaded, paved walkway.
Or, for a more challenging hike, take the car and head a couple miles north to Devil's Hole State Park which overlooks the Devil's Hole Rapids. The park has picnic areas, scenic overlooks and hiking trails. A stone staircase leads to the base of the gorge, offering stunning views of the rapids and gorge rock layers.
DINNER: The Red Coach Inn
Enjoy a delicious dinner at The Red Coach Inn. This charming restaurant in a historic tudor inn offers a different, award-winning menu every day. The restaurant welcomes kids — making it a comfortable place to enjoy a fine dinner even with kids in tow.
In summer, enjoy dining outdoors on the patio surrounded by flowers and a koi pond. Or, eat inside in The Rapids Room, which offers stunning views of the Niagara River Rapids.
While the food is upscale, the prices are reasonable and the atmosphere is family-friendly!
EVENING: Niagara Falls Illumination
Enjoy Niagara Falls Illumination from the Prospect Point Observation Tower at Niagara Falls State Park. This nightly tradition of lighting the falls goes back to the 1920s and crowds gather early. The Observation Tower offers the best views and admission is $1.25/person, though it does get crowded. Other points throughout Niagara Falls State Park offer good views as well.
INSIDER TIP: If you have been to Disney, the crowds gather a bit like they do for the nightly fireworks. Arrive early for front row seats.
And there you have it, three days at Niagara Falls for kids. It's got adventure, history (that's fun), awe-inspiring experiences and relaxed time just to reconnect.
Extend your stay
If you'd like to do more in the area, here are some options nearby:
Learn more about Niagara Falls
To learn more about Niagara Falls for kids, these articles will help: