Summer vacation ideas: Visit Erie PA
Best Summer Vacation Ideas for Active Families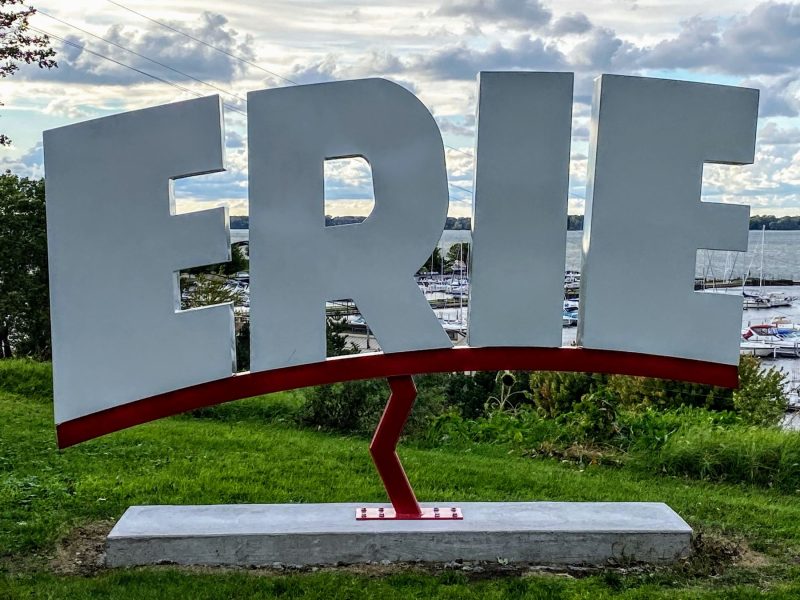 I have gotten to visit Erie, PA three times in recent years. Each time, I'm surprised by how much there is to do in Erie.
I'm not sure why it surprises me anymore, but it always does.
If you're looking for an exciting family vacation that's great for active families AND is also a great budget travel idea, check out all that Erie, Pennsylvania has to offer.
Things to do in Erie, PA
When you visit Erie, PA there's something for everyone in the family — whether you love adventure, outdoor activities, museums, history or food.
This little gem on the shores of Lake Erie has something for everyone!
Outdoor activities in Erie, PA
Presque Isle State Park
When you visit Erie, PA, the number one attraction is Presque Isle on the shores of Lake Erie.
Presque Isle is the most visited state park in Pennsylvania, largely because of all there is to do here.
Active families will enjoy the variety of activities offered at Presque Isle.
There are many wide, sandy beaches on Presque Isle, offering families a chance to play in the surf. Most beaches have convenient restrooms nearby. Some offer other amenities like playgrounds, concessions and wheelchair accessibility.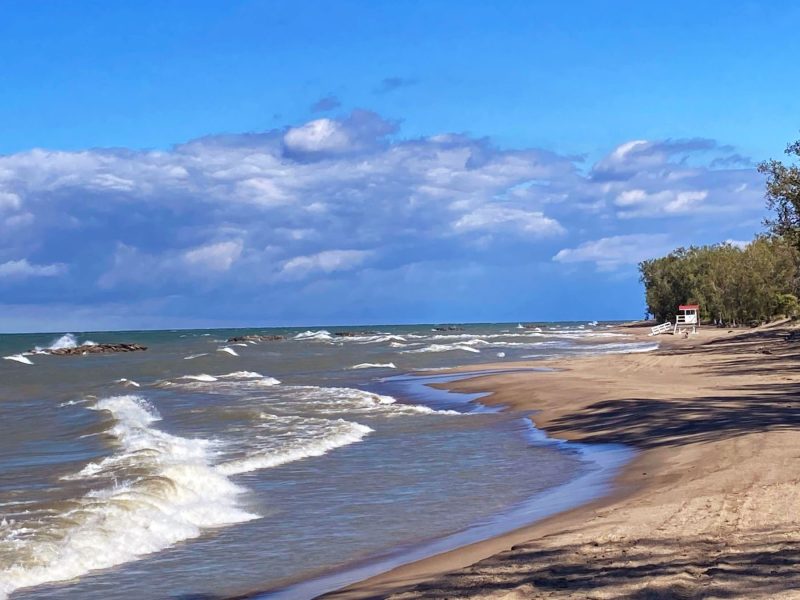 Click here to explore all the beaches at Presque Isle.
There are miles of hiking trails on Presque Isle. The Karl Boyes Multi-purpose National Recreation Trail offers 13 miles of paved trail suitable for walking, running, strollers, bikes and skates. From the trail, miles of interior hiking trails take adventurers to the interior of Presque Isle to discover the flora, fauna and wildlife of the area.
Available rentals at Presque Isle offer even more to do. On Graveyard Pond across from Misery Bay (see the next section on history), families can rent canoes, kayaks and pontoons to explore on water. Or, to explore on two wheels, bike rentals are available in the Waterworks Pumphouse area.
Presque Isle is a four season park, and winter provides opportunities for cross country skiing and ice skating.
History lovers will enjoy learning the rich history of this important Isle.
The most famous historical monument shares about Commodore Oliver Hazard Perry, a naval war hero who defeated the British at the Battle of Lake Erie during the War of 1812.
The Perry Monument is located at Crystal Point on Presque Isle.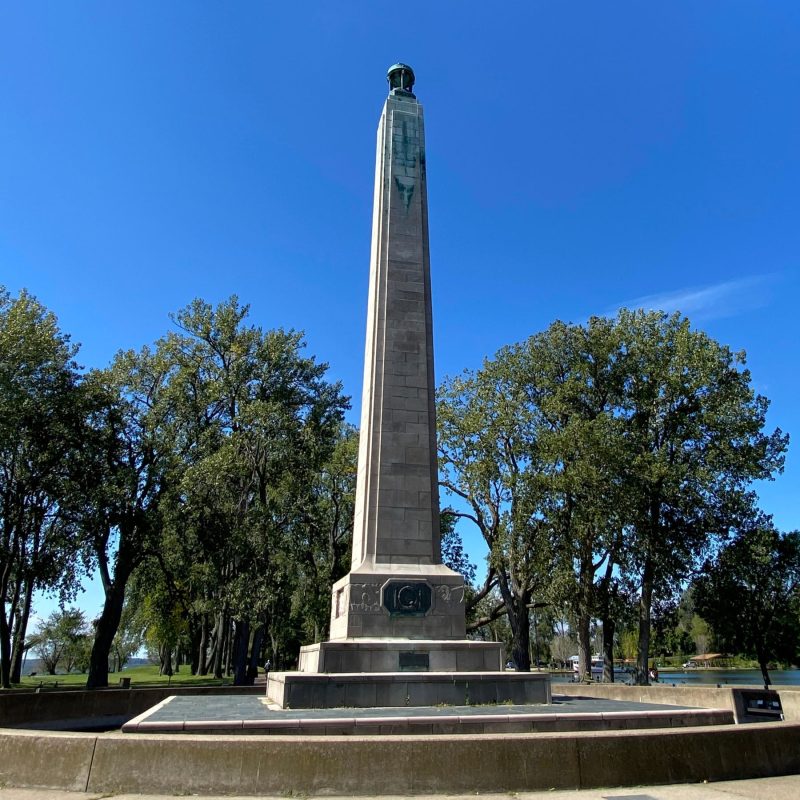 Markers along the paved walkway explain this important moment in history.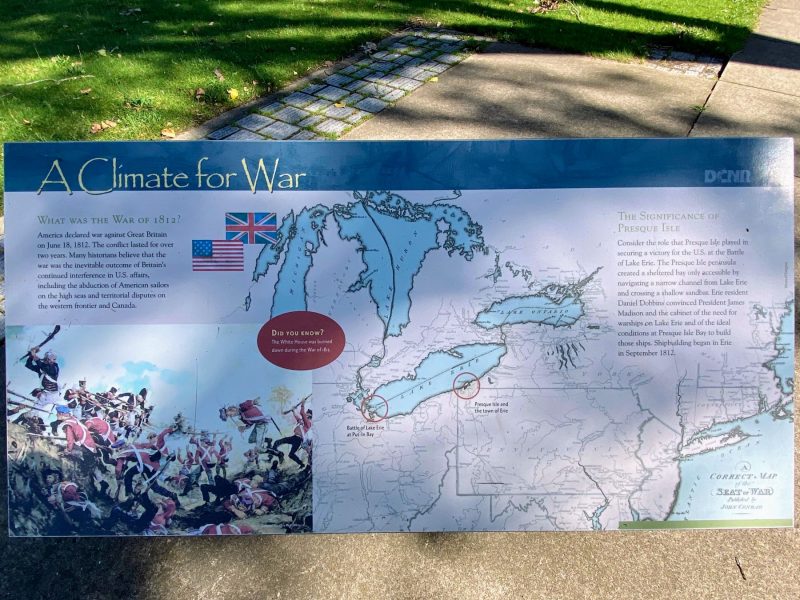 Nearby parking, picnic tables, park benches and restrooms are available.
Another important historical spot is the Presque Isle Lighthouse. Construction on the Presque Isle Lighthouse began in 1872 and was completed a year later. It was used as a navigational beacon for vessels in Lake Erie. No longer a private residence, the lighthouse is a visitor center, open in the summer months, so guests can learn about the rich maritime history of Presque Isle Lighthouse.
Nature Lovers will enjoy the many things to see on Presque Isle.
One of the best things to see is the sun set over Lake Erie from the beaches on Presque Isle. This popular event draws people every day who sit on picnic benches to watch the day close, as well as those who like to walk along the edge of the surf or stretch out on beach blankets.
There are at least five naturally biodiverse habitats on Presque Isle, each with a distinct set of plant and animal species. Because of these, Presque Isle's 3400 acres is home to over 100 rare species of plants and animals, more than any other area of comparable size in Pennsylvania.
Beyond the showy sky, there are hundreds of animals on Presque Isle from bugs to toads, frogs, turtles, chipmunks, coyotes, deer and many, many more. (Click here for a great checklist!)
Waldameer and Water World
Waldameer is a family friendly amusement park and water park, all in one, located near Presque Isle State Park.
Admission to Waldameer is FREE! So, if you aren't planning to ride or slide, you can enjoy the park without having to pay admission.
The park offers a variety of ride options, from an all day, all attractions wrist band that lets you ride everything — wet or dry to a pay as you go plan for the dry rides. There's even a waterpark only wristband option available.
New for 2023 is the Rocket Blast Water Coaster. This new water attraction/water coaster uses inflatable rafts to carry riders at high speeds down 50 feet and over a distance of about 450 feet. In addition to the long, downhill stretches, water jets blast riders uphill for sections of the ride. The thrilling attraction will travel riders up and down and intertwine them with other existing slides. This will be the most thrilling water attraction Waldameer has ever had.
Scallywag's Pirate Adventures
Located in the bayfront area, Scallywag's Pirate Experience Cruise is a popular family attraction.
The crew of the Scallywags ship discovers a treasure map leading to a shrunken treasure! They need the help of some young buccaneers to find it.
On this fun family boating adventure, kids get to "be" pirates — what could be more fun?
Erie Bluffs State Park
Located just 12 miles west of Erie, PA, Erie Bluffs State Park offers a variety of hiking trails from easy to difficult.
The park has one mile of shoreline and is named for its 90 foot bluffs overlooking Lake Erie. Some parts of the park are ADA accessible.
One of the easiest trails is the Whitetail Crossing Trail, which is about a half mile long, and parallels the railroad tracks. It offers opportunities to see field birds and raptors native to the region.
A more difficult hiking trail is the quarter mile Lookout Trail, a connector trail that winds through older growth forest with large black cherry trees, oaks, poplars and hemlocks. The trail rewards hikers with overlooks at a ravine that offer spectacular views.
Fishermans Footpath is a considered a most difficult trail, that rewards active travelers with a hike through a ravine to a sand pit at the mout of Elk Creek. This trail is only .13 miles long, though strenuous, and rewards hikers with spectacular sunset views and the chance to find beach glass.
These are just a few of the many trails at Erie Bluffs State Park.
Peek n Peak Ski Resort
Just 20 miles from Erie, Pa, Peek n Peak Ski Resort offers year-round fun for families. Spend a few days here and a few days in Erie for a great family vacation!
Summer activities at Peek n Peak include swimming, miniature golf, ziplines, and a ropes course.
Winter activities include skiing, of course. Snow boarding and tubing are also offered. And don't worry if you don't know how to ski. You can take lessons here, too! Equipment rental is also available.
Lake Erie Arboretum at Frontier Park (LEAF)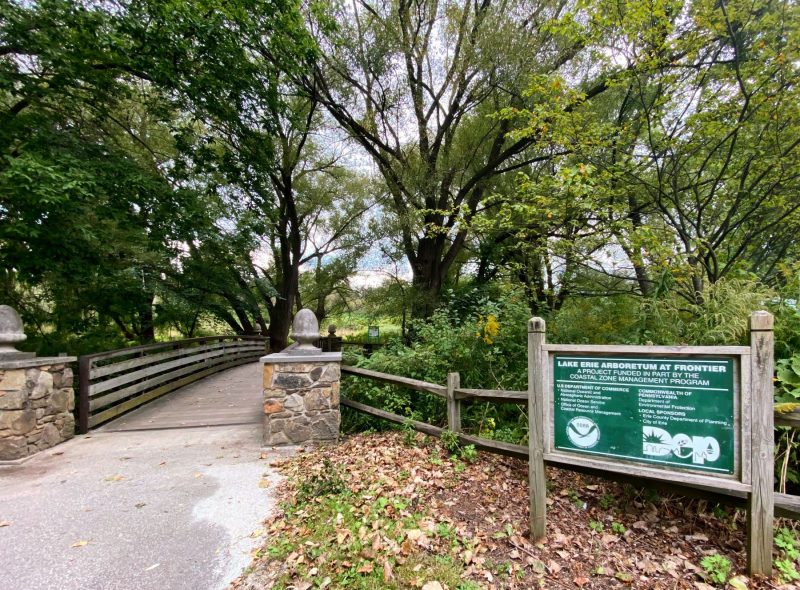 Lake Erie Arboretum is a tree museum located within Frontier Park. LEAF's mission is to help visitors learn about the importance of trees to our lives.
With walking trails, bridges and an education center, there is much to see here.
Frontier Park also hosts special events throughout the year.
Indoor Attractions in Erie, PA
When looking for things to do in Erie, PA, having indoor plans is a good idea. If you get too much sun one day or the weather doesn't cooperate, an indoor backup plan is always a good idea.
And, more than a backup plan, there are some really amazing indoor attractions in Erie, PA!
Tom Ridge Environmental Center (TREC)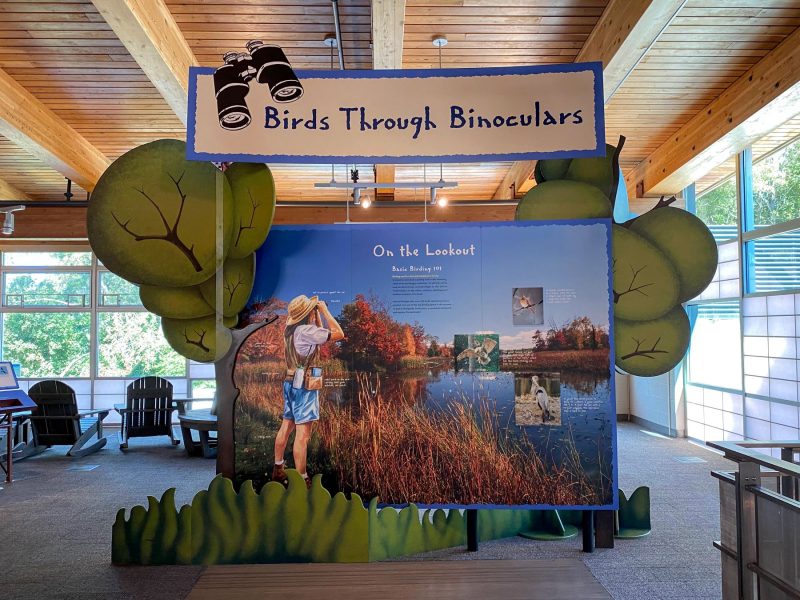 The Tom Ridge Environmental Center at 301 Peninsula Drive is known as the gateway to Presque Isle State Park.
This two-story building, just outside of Presque Isle State Park provides visitors with stunning views of the state park from a 75-foot observation tower, as well as 7,000 square feet of interactive exhibits. The multisensory exhibits are entertaining and educational, providing a deeper understanding of the diverse habitats at the state park.
I highly recommend visiting the Tom Ridge Environmental Center, known locally as TREC, before exploring the trails at Presque Isle State Park.
Erie Art Museum
The Erie Art Museum, located at 20 E. 5th Street in downtown Erie, is home to more than 8,000 objects, including collections of American ceramics, Tibetan paintings, Indian bronzes and comic book art. The comic book art collection is especially intriguing to children.
ExpERIEnce Children's Museum
Nearby is the Experience Children's Museum at 420 French Street. Closed on Monday and Tuesday, the museum is open 10 a.m. to 5 p.m. on Wednesday-Saturday, and 1 p.m. to 5 p.m. on Sundays.
Exhibits at the Experience Erie Children's Museum let kids discover through hands on activities and exploration. The museum is divided into two floors, the Explore Floor and the Imagination Floor.
The Explore Floor lets kids discover science and history through play with an array of exciting exhibits:
The Portal to the Past Cave lets kids crawl through a cave where they can explore artifacts and cave drawings on their way to a slide!
The Water Table exhibit gives kids a chance to learn about the power of water, while playing with paddle boats, fountains, duck slides and more.
Of course, the museum also hosts a Water Works exhibit where kids can learn about the fish and wildlife of Lake Erie!
Other exhibits let kids learn about the power of the air waves, light, and art.
The Imagination Floor lets kids discover the adult world in a kid sized space. Exhibits include Our Town, which has a doctor's office, bank and pizza shop.There's a play grocery store, a play locomotive, and a theater where kids can ad lib to their hearts' content.
This is a great museum for families with kids aged 2-10.
Hagen History Center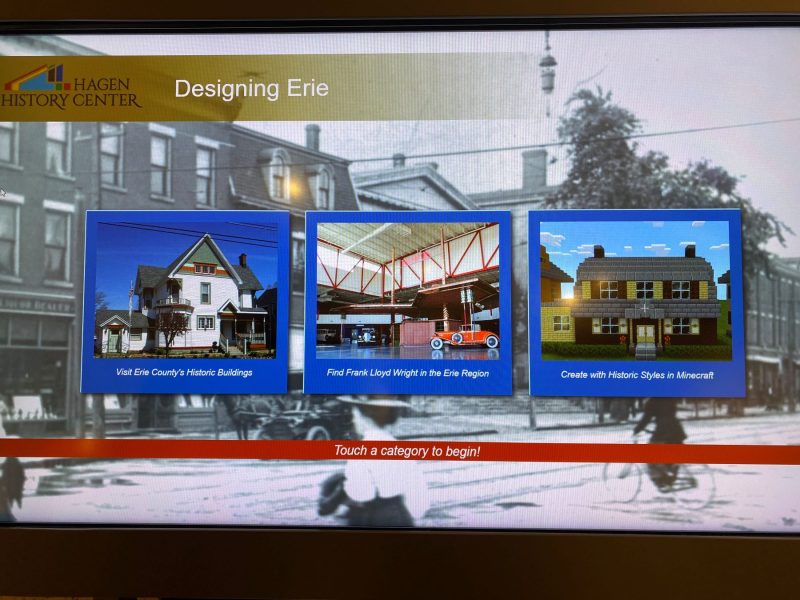 The Hagen History Center at 356 W. 6th Street in Erie has more than 20 exhibits spread among four historic buildings.
One of the newest additions is Frank Lloyd Wright's original San Francisco Office, which was moved here to be on permanent display.
Read more about Frank Lloyd Wright in Pennsylvania
The Hagen History Center also has a Civil War gallery, a Servants Quarters gallery, a collection of Victorian dresses, and stories of the brave people of Erie who fought for our country and more.
Erie Maritime Museum/U.S. Brig Niagara
Of course, a visit to Erie would not be complete without a visit to the Erie Maritime Museum and the U.S. Brig Niagara at 150 E. Front Street in the Bayfront District.
A Museum tour includes a self-guided exploration of the two-story exhibit gallery as well as a docent-led tour of the Brig Niagara (when in port). A typical tour lasts anywhere between 45-minutes to 2 hours.
Early maritime history in the United States included challenging weather and harsh work conditions, appreciated when exploring this museum.
Best food in Erie, PA
A great vacation deserves great food!
And the food Erie, PA has to offer fits the bill.
Sara's Restaurant
For the best family friendly food Erie, PA has to offer, head to Sara's Restaurant at 25 Peninsula Drive, just before crossing into Presque Isle State Park. Offering burgers, hot dogs, and the most amazing onion rings, Sara's has been a favorite for decades. Save room for an orange twist cone for dessert. It's tradition.
El Amigo Mexican Grill
Another great family option is El Amigo Mexican Grill at 333 State Street, which regularly wins top honors for the best food Erie, PA has to offer. This family owned restaurant serves authentic Mexican cuisine, including house made tortillas and table side guacamole.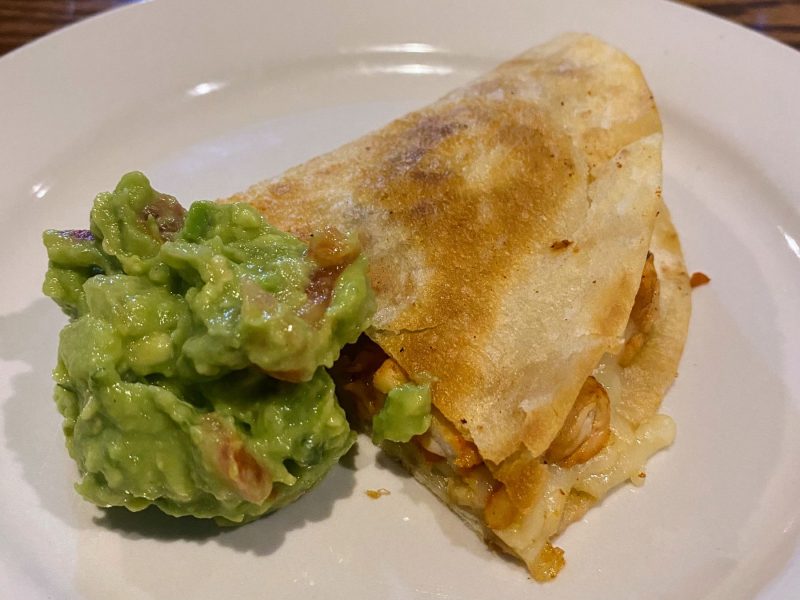 Like My Thai
For noodles, Like My Thai at 827 State Street is the place to go. The owners, Michael and Liz, do most of the cooking and serve consistently delicious dishes from South Asia. The menu is easily adapted to accommodate most food allergies, while still tasting great.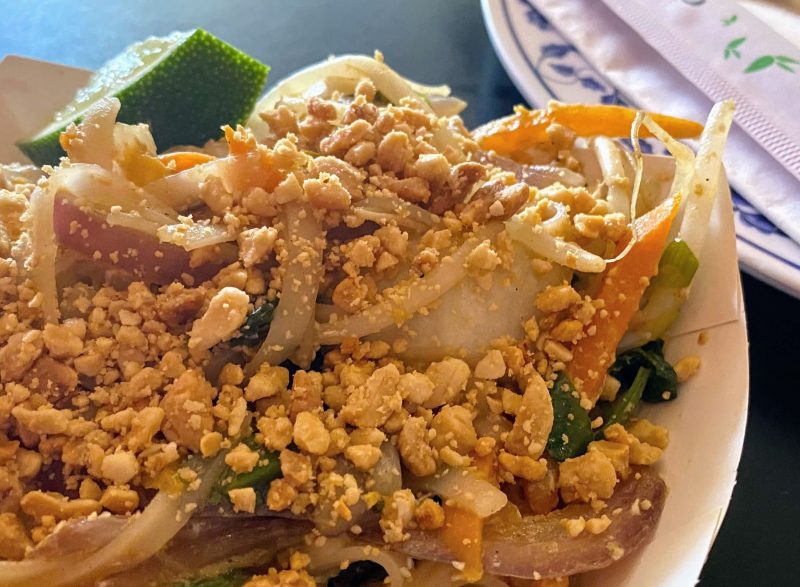 Stevo's Pizza
Of course, no family restaurant recommendation list would be complete without an awesome pizza place! Stevo's Pizza at 1019 State Street is the local hangout. College kids, families and downtown professionals all enjoy Stevo's. For the local favorite, order a pepperoni roll. It originated here!
Read our Guide to the Best Restaurants in Erie for more ideas!
Where to shop in Erie, PA
When I visit Erie, PA — or anywhere, let's be honest — I always stop in at a couple of my favorite local shops to pick up gifts or souvenirs.
Glass Growers Gallery
My all-time favorite shop in Erie, PA is Glass Growers Gallery at 10 E. 5th Street near the Erie Art Museum. This shop curates artisan works from the region, offering unique gifts and souvenirs. Pottery, hand made jewelry, glasswork, stationery… you'll find incredible pieces here. Glass Growers Gallery also has a rotating exhibition space that makes every visit that much more special.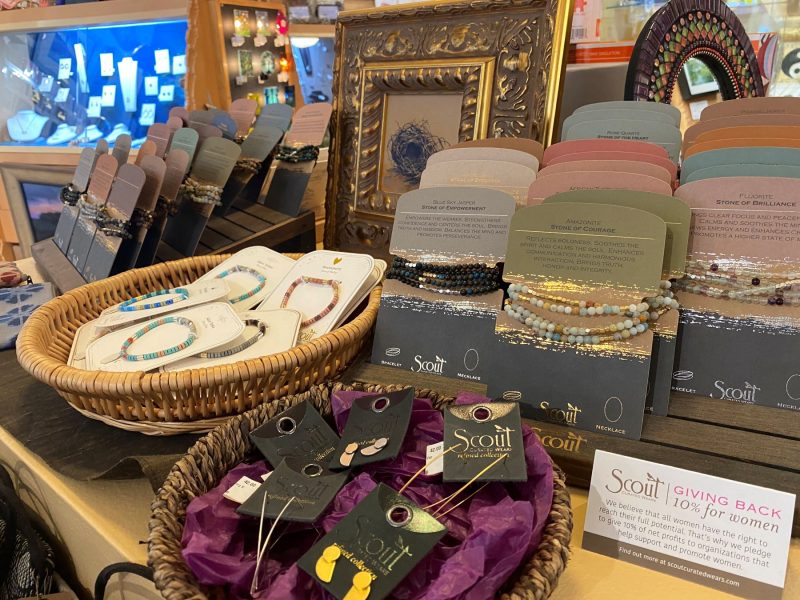 Relish
A close second is Relish, a coastal art studio and gallery, featuring beach glass in many jewelry pieces. The shop is uncluttered and beautiful. Give me an hour here and I'll enjoy every minute! I'll find a great souvenir, too.
Beach Zero
When traveling with the kids, beach gear is a necessity. And you don't have to go far to find it. Beach Zero, at 83 Peninsula Drive (the entrance to Presque Isle State Park), has beach toys, flotation devices, umbrellas, souvenirs, mugs, T-shirts, beach glass jewelry, boogie boards, and even snacks and hot and cold drinks. No need to waste time driving to the mega store — it's all right here, near the beach!
Where to stay when you visit Erie, PA
When you visit Erie, PA, you have lots of hotel options. All the major hotel chains have hotels here. For waterfront hotels consider Sheraton Bayfront which is right on the water and Hampton Inn & Suites Erie Bayfront, with large rooms and great views.
More resources to plan your visit to Erie, PA