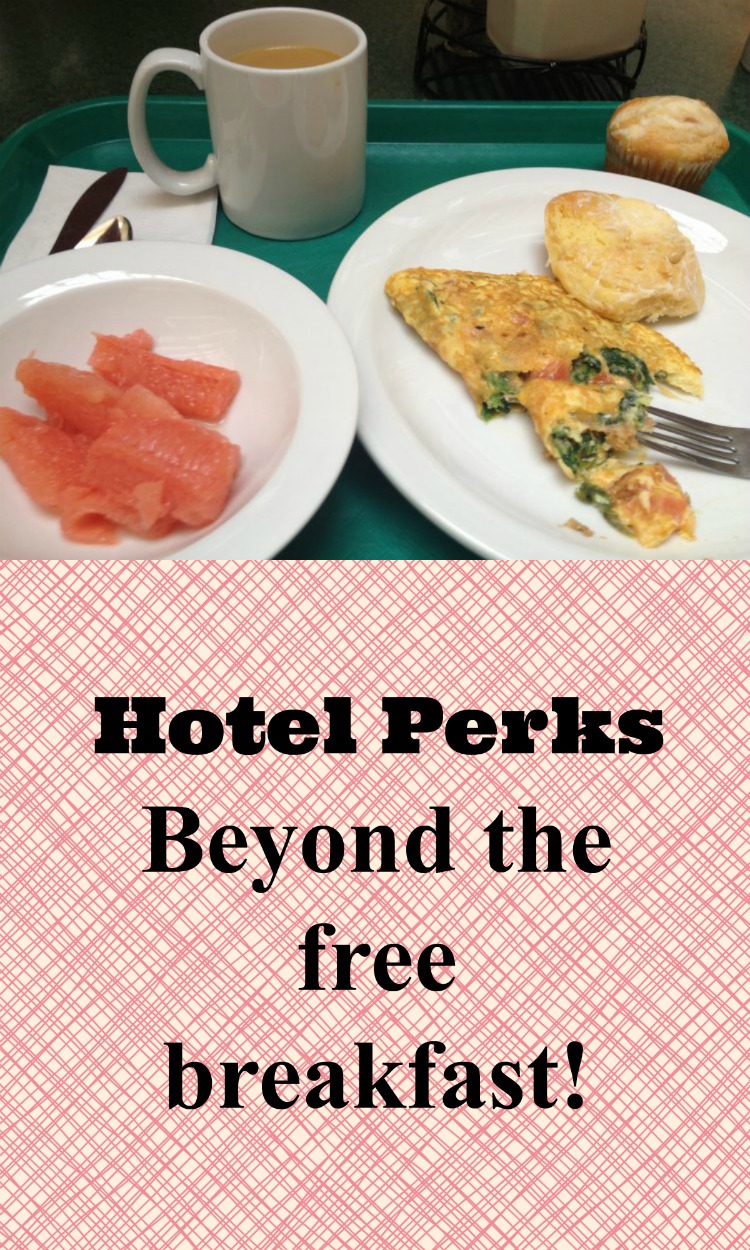 Our family is vacationing this week, so my good friend, Kristl, has a great post for you highlighting hotel perks to stretch your travel budget! I used this post as a resource to select our hotel this past weekend!
If you're a budget traveler, you probably try to make reservations at a hotel with a free breakfast, but are there more hotel freebies out there? You bet!
Free Happy Hour (a.k.a. – Manager's Reception, Evening Social) – Drury Inn, Embassy Suites, Hawthorne Suites, Homewood Suites (certain nights)
Free Chocolate Chip Cookies – Doubletree, Hampton Inn
Free Shuttle Service – Varies by location, but this can save you a taxi fare or even a rental car. Shuttle service might be offered to/from the airport as well as to/from the downtown area.
Free Toiletries – We all know about the free shampoo and soap, but if you forgot your toothbrush…just ask at the front desk. Most hotels have free toothbrushes, sewing kits and even feminine products which saves you a trip to Walgreen's at bedtime.
Free Treats for Fido – If you're staying at a pet friendly hotel, make sure to pick up a free treat for Fido. Pet friendly hotels vary by location, but you can always count on Comfort Inn and La Quinta Inn if you want to bring Fido along and save the cost of boarding. Kennel rates in our area are $50 a night, so the $100 non-refundable pet fee was well worth it on our recent vacation.
Free Newspaper – just another perk to keep you in touch with the real world on vacation.




Are these perks enough to sway your business, maybe not. But, if you're trying to decide between The Hampton Inn and Holiday Inn Express, and the rates are exactly the same… those chocolate chip cookies might be the deciding factor.
Hotel Perks… the free breakfast list!
If you're wondering which hotels offer a free breakfast, here's the list:
AmeriSuites
Best Western
Comfort Inn
Country Inn and Suites
Days Inn
Drury Inn
Embassy Suites
Fairfield Inn
Hampton Inn
Hawthorne Suites
Holiday Inn Express
Homewood Suites
Hyatt Place
La Quinta Inn and Suites
Residence Inn
Spring Hill Suites
Staybridge Suites
Wingate
Hotel perks for rewards members…
Of course, if you're a rewards member, that ushers in even more perks, but that's a different article for a different day. To earn those perks, it sure helps to be brand loyal. (That's a free bonus tip!)
Until then…
Happy Savings and Happy Travels!
About the author:
Kristl Story, TheBudgetDiet.com (It's a diet for your wallet, not your waistline!)
Kristl is the CEO of her family and also the maid, the cook, the coupon queen and yes, the bargain shopper. She's not a financial planner or an accountant, just a mom that knows how to live the good life on a budget! Kristl's tips have been featured in publications like Consumer Reports, All You Magazine and Good Housekeeping as well as Mint.com, MSN Money and KHOU-TV. Discover more frugal living tips at TheBudgetDiet.com
Like this post? Please share!