Free things to do in Savannah, GA that are Worth Doing!
This post may contain affiliate links. Click here to see what that means.
In a conversation recently, someone asked me why I Savannah. My reply surprised him, I think. But I really appreciate that there are so many free things to do in Savannah, GA!
Savannah is a popular vacation destination. Hotels, especially in the city center and during prime season, are a bit pricey. But, with so many free things to do in Savannah, GA, I find it's also a budget friendly vacation option.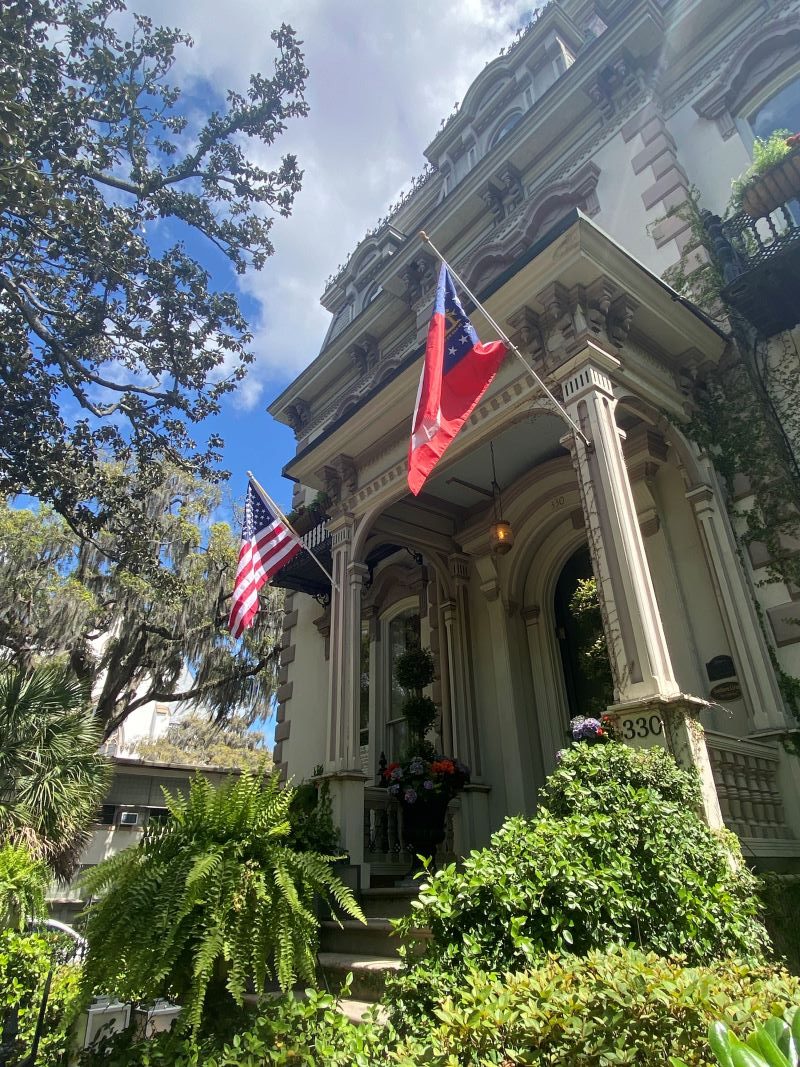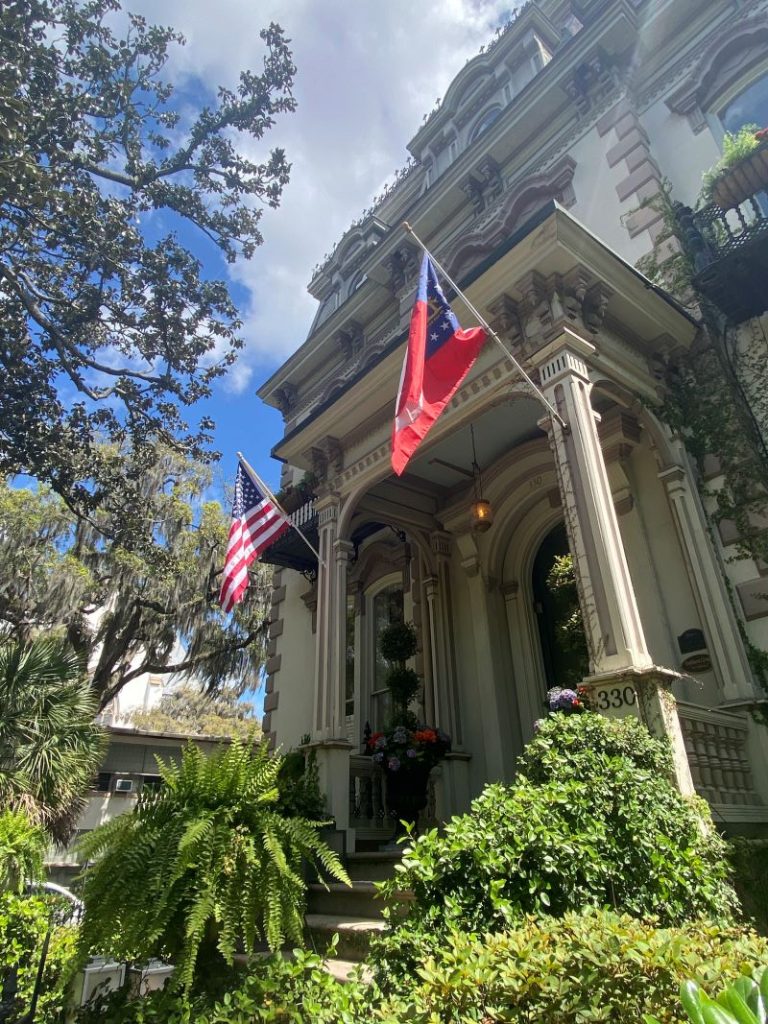 And, check out our guide to the best restaurants in Savannah. Lots of them are really budget friendly!
Since the Savannah Historic District is compact and easy to walk, you don't need to spend a lot on taxis or parking. Just leave the car at the hotel and explore on foot! As the matter of fact, I think exploring Savannah on foot is one of the very best ways to experience its incredible squares, stunning architecture and beautiful live oak trees.
So, let's explore all the FREE things to do in Savannah.
The best free things to do in Savannah, GA
Like I mentioned above, the best free things to do in Savannah start in the Savannah Historic District.
Explore Savannah's Historic Squares
The Squares that make up Savannah's Historic District, which is listed on the National Register of Historic Places, have been here since the city was created.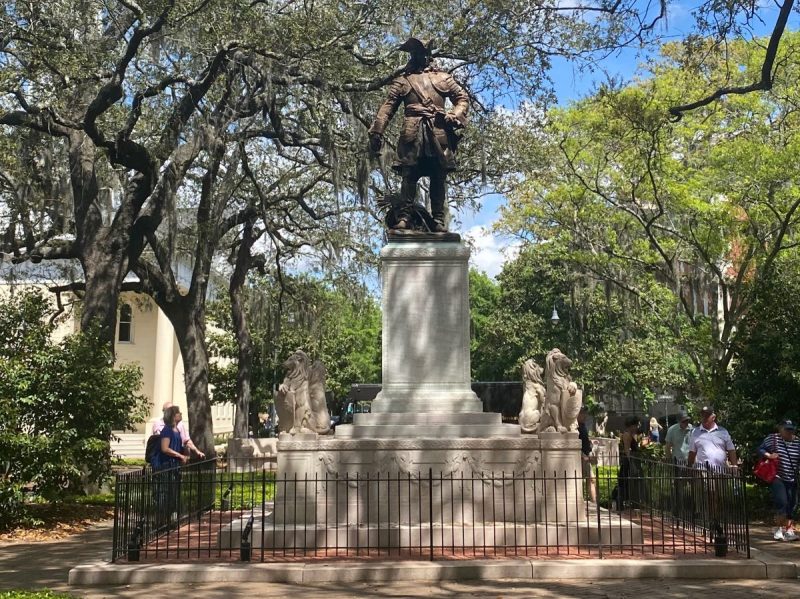 General James Oglethorpe, who is credited with designing Savannah back in 1733, laid the city out in a series of grids with homes and businesses arranged in squares around a central park area.
That grid, and the historic buildings, still exists today, much as it did back then.
Some of the best squares in Savannah are:
Ellis Square — Close to the riverfront district and Congress Street, Ellis Square was converted into a "playground" many years ago. Today, you'll find a children's splash pad, giant chess, and green space surrrounded by trees. The popular City Market borders it on one side. This square is especially fun for families with younger kids.
Chippewa Square — Perhaps best known for its use in the movie, Forrest Gump, Chippewa Square is centrally located in the Savannah Historic District, about halfway between Forsyth Park and the river. The park has a large, bronze statue honoring General Oglethorpe, and is also where you'll find the Savannah Theater. Stately oaks add to the grandeur of this square.
Madison Square — To see the best of the architecture in Savannah's Historic District, head to Madison Square, just a few blocks north of Forsyth Park. Buildings that frame the square include stunning examples of Gothic, Greek Revival and Romanesque architecture.
Johnson Square — For the history buffs, head to Johnson Square which is the first square Oglethorpe designed and is fairly close to the Savannah River. City Hall and Christ Episcopal Church sit on this square, as well, both worth touring.
But, really, you can't go wrong visiting any of the squares. Each one has a unique vibe and a historic sense of place.
Visit City Market
Savannah's City Market is an open-air market that dates back to the 1700s. After a major update in the mid-1980s, the Savannah City Market became a hot tourist destination.
Today, visitors and residents enjoy shopping, dining and art studios that fill this four block space. It's a great place for window shopping, souvenir shopping and to grab a bite to eat.
Don't forget to stop in at Savannah's Candy Kitchen to enjoy free samples of their famous pralines.
Take a Self-Guided Movie Tour
So many movies have been filmed in Savannah, that there's a movie site on just about every block. Here are some of the most well known movie locations in Savannah's Historic District.
FORREST GUMP (1994)
Probably most famous is the Forrest Gump scene where he's sitting on the bench in Chippewa Square waiting for the bus. You know the one, "Mama always said…"
The bench is preserved at the Savannah History Museum, but you can see the bus stop sign!
Another famous scene from Forrest Gump is when the feather floats past the church steeple. You can see that at the Independent Presbyterian Church, located at Bull and Oglethorpe Streets.
SOMETHING TO TALK ABOUT (1995)
RENT the movie here. (One of my personal favorites for an evening in)
At the Six Pence Pub, located at 245 Bull Street, Julia Roberts' character catches her husband's character, played by Dennis Quaid, cheating with another woman. In the scene at Six Pence Pub she makes quite a fuss, a breakout moment in her career.
Look for the red phone booth to find the spot!
By the way, the food here is incredibly good! So, stop in for a meal while you're in the area.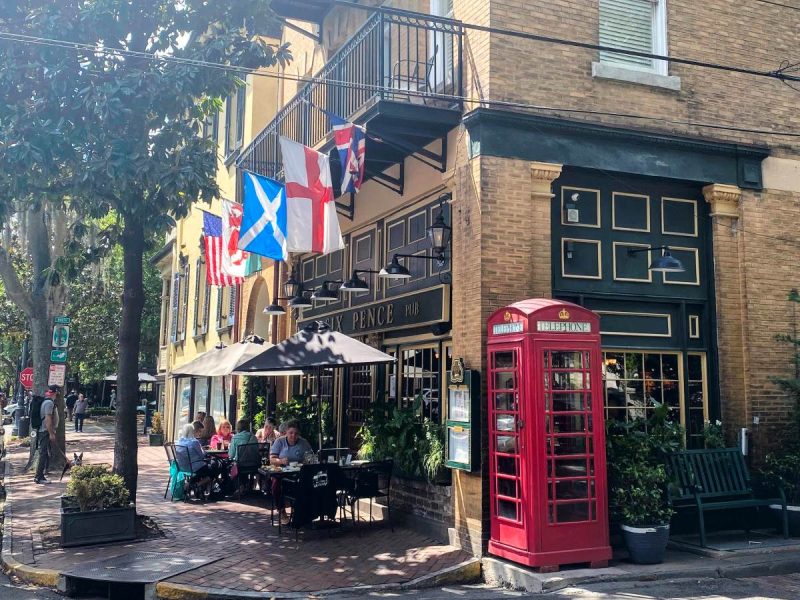 LADY & THE TRAMP (2019)
The Cathedral of St. John the Baptist, which is known as the Sistine Chapel of the South, served as the backdrop for the opening scene of Disney's Lady & the Tramp remake. The Cathedral is located on Lafayette Square and open daily for docent-led tours.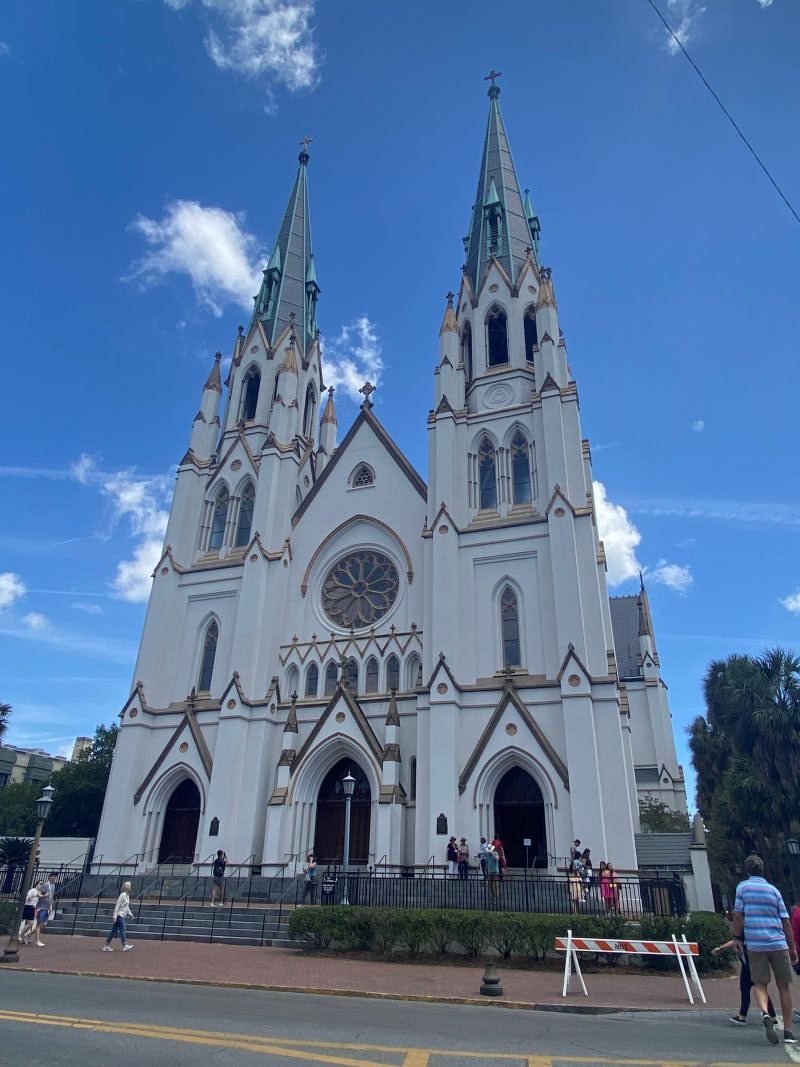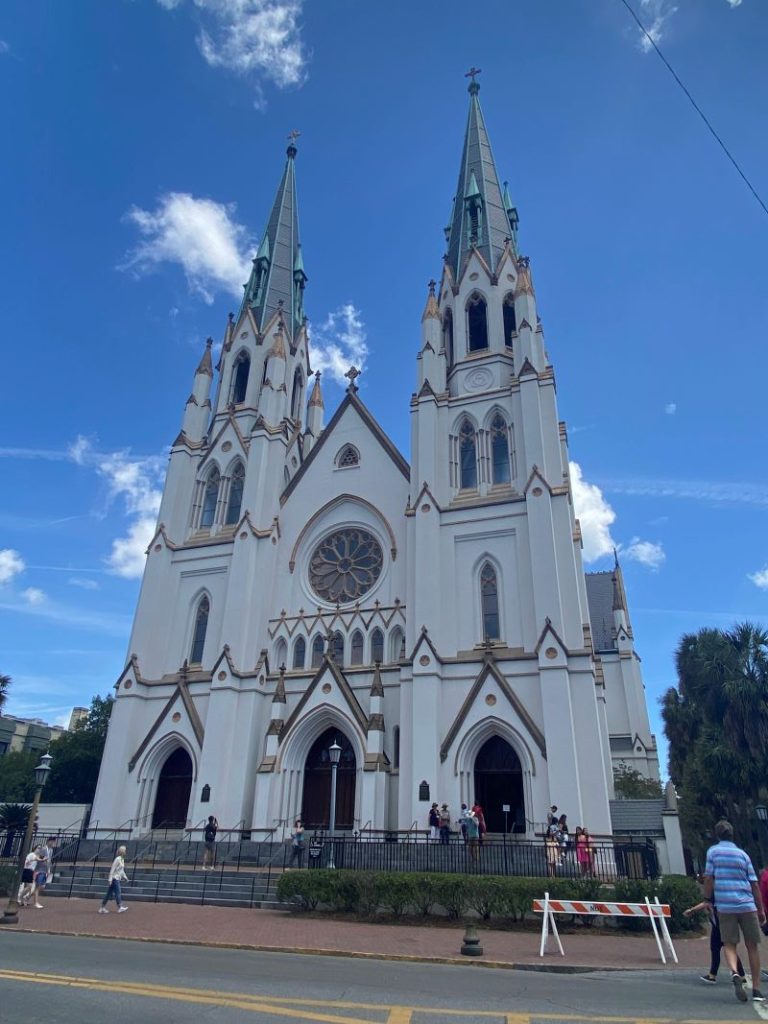 SpongeBob SquarePants Movie: SPONGE OUT OF WATER (2015)
I have to admit, I haven't seen this movie, but if you have kids, this might be of interest!
Broughton Street was transformed into a seaside town for the live action scenes in the SpongeBob SquarePants movie.

Broughton Street has served as a backdrop for many films, so maybe you'll recognize it from another one if not from SpongeBob SquarePants.
MIDNIGHT IN THE GARDEN OF GOOD AND EVIL (1997)
This movie, based on the "non-fiction" novel of the same name, written by John Berendt, almost single-handedly turned Savannah into the tourist destination today.
The book's unexpected success led to the movie, starring John Cusack and Kevin Spacey, which was filmed in Savannah. It makes sense, right? Film the movie where it happened?
While there are many paid tours available to see every site made famous in the book and movie, there's a lot to see for free, too.
These include: Mercer-Williams House (429 Bull Street), Forsyth Park and the fountain (Gaston and Whitaker Streets) and Clary's Cafe (404 Abercorn Street).
Stroll along Jones Street, aka Savannah's prettiest street
Jones Street is consdered to be the prettiest street in Savannah, at least according to a lot of people.
Lined with large oak trees and elevated homes with stately, raised entrances and wrought iron railings, Jones Street is as iconically Savannah as a historic street can be.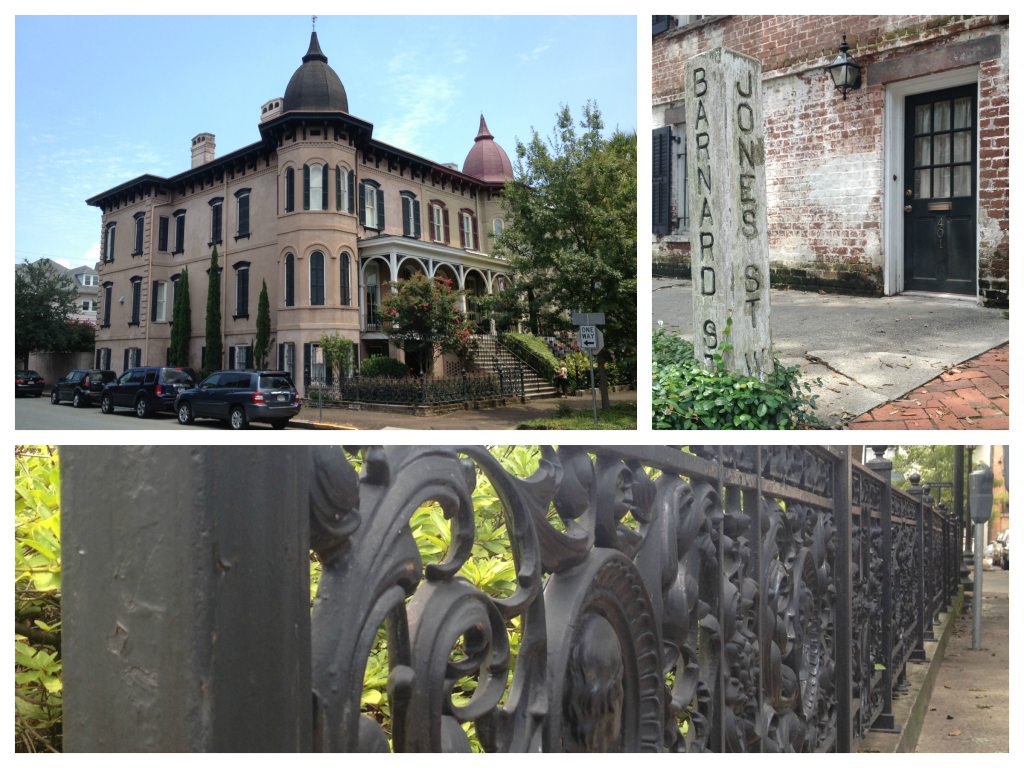 Enjoy Forsyth Park
Forsyth Park, which is about the same size as ten city blocks in Savannah is popular with both residents and visitors to Savannah's Historic District.
The park has basketball courts, tennis courts, picnic areas, a playground and public restrooms.
On Saturdays, year-round, the Savannah Farmer's Market sets up at the south end of Forsyth Park near the intersection of Bull Street and Park Avenue. This is a food-only farmer's market, featuring vendors from within 200 miles of Savannah. Each weekend, up to 35 vendors offer fresh produce, pasture raised meats, local honey, artisan dairy and cheeses, craft breads and baked goods and a wide variety of prepared foods. Go early. They often sell out!
But, the most popular attraction at Forsyth Park is its fountain located toward the north end of the park. Installed in 1858, and fashioned after the fountains found at the Place de la Concorde in Paris, the fountain is one of the most photographed spots in Savannah.
Cathedral Basilica of St. John the Baptist
The Cathedral Basilica of St. John the Baptist, located at 222 E. Harris Street in Savannah at Lafayette Square) is the oldest Catholic Church in Georgia.
Throughout the week, docents offer free guided tours of the cathedral. You can also just step inside to see the rose windows as long as there's no service going on.
Savannah African Art Museum
The Savannah African Art Museum, located at 201 East 37th Street in the Victorian District, offers free admission to all. It is open Wednesday through Saturday, from 11:00 a.m. to 5:00 p.m., offering guided tours on the half hour.
The museum's collection includes more than 1000 pieces that come from either West or Central Africa. The pieces in the collection represent more than 28 countries and 180 individual cultures and ethnic groups.
Take a peek in a virtual visit before you go in person.
Savannah Belles Ferry
Stepping away from Savannah's historic city center, the Savannah Belles Ferry is one of my favorite things to do in Savannah. It's especially fun after dark when you can look back at the lights of the city over the water.
Besides, who doesn't love a free boat ride?
The Savannah Belles Ferry system runs between the Riverwalk area of Downtown Savannah and Hutchinson Island, across the river. The ferry is completely free and runs daily from 7:00 a.m. to 10:00 p.m.
Hutchinson Island is home to the Savannah Convention Center and the Westin Savannah Harbor Golf Resort & Spa.
Bonaventure Cemetery
One of the most popular free things to do in Savannah, GA is tour Bonaventure Cemetery at 330 Bonaventure Road.
It sits on a former plantation on the banks of the Wilmington River at the eastern edge of the city. It became a cemetery in 1846.
With its azaleas, Spanish moss draped trees and riverfront setting, it's a beautiful place.
Though, there are several "must see" plots at the cemetery.
The cemetery is open daily, and is always free. On the second Saturday and Sunday each month at 2:00 p.m., free guided tours are also available.
Battlefield Memorial Park
One of the newer memorials in Savannah, this one dates back to events of October 9, 1779 during the Revolutionary War's Battle of Savannah.
Located on the grounds of Tricentennial Park between the Savannah Visitor's Center and the Railroad Roundhouse Museum, this memorial marks the second worst battle of the American Revolution, where about 800 troops died or were wounded.
The 2,500 British soldiers defending the city were outnumbered by more than 2 to 1. In the end, the costly battle Savannah remained in British control.
The City of Savannah purchased the battlefield grounds in 2003, and with the help of archaeologists, evidence of the Spring ?Hill Redoubt was found.
Redoubt (noun) — a temporary or supplementary fortification, typically square or polygonal and without flanking defenses.

Oxford Dictionary
Today, a monument stands at the remains of the original redoubt. Nearby, a new earthen fortification shows memorial visitors what the redoubt would have looked like. And finally, 800 stones made of Georgia granite, arranged in ranks of ten to represent the attacking columns, stand on the grounds.
Guided tours are sometimes offered, but there may be a fee.
Plan your visit to Savannah, GA
Where to stay in Savannah
There are lots of places to stay in Savannah, Georgia. Use this interactive map to find a hotel that fits your budget and vacation plans.
How to get to Savannah
If traveling by car, Savannah is close to Interstate 95 and Interstate 16 in southeastern Georgia, making it easy to get here from the west, north or south.
If flying to Savannah, the closest airport is Savannah International Airport with a limited number of flights from major airports across the country. If you'll be renting a car during your stay, Jacksonville International Airport is just two hours away, and has more flights available.
More tips for visiting Savannah
Now that you know all the free things to do in Savannah, GA, use these articles in your trip planning: