Ardastra Gardens in Nassau: A tropical treat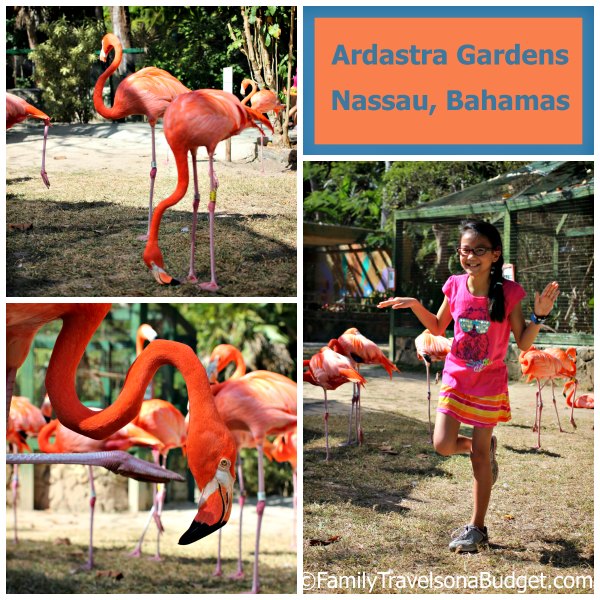 Special thanks to Ardastra Gardens for providing free admission to my family for purposes of this review. All opinions are my own. See my disclosure page for more details on this policy.
Step through the gate at Ardastra Gardens in Nassau, The Bahamas, and enjoy bright tropical flowers, up close encounters with tropical birds and their friends, secret gardens and meandering pathways. This quiet "zoo" tucked away in the western corner of Nassau offers guests a relaxing alternative to busy beaches, noisy city streets and bustling shopping districts. Whether arriving by cruise ship or lodging on the island, a visit to Ardastra Gardens is a worthy addition to your vacation itinerary!
We arrived in Nassau by cruise ship and chose to walk the 1.5 miles through the city to Ardastra Gardens. My kids are 20, 17 and 10 and have traveled the world. The walk is not difficult and provided a glimpse into everyday Nassau not often seen by tourists. Along the way, we saw gravediggers working in a cemetery, a man chopping bananas out of the trees in his expansive roadside garden and a wide variety of buildings from crumbled ruins to elaborate tropical estates (most were simple homes). We met many locals, most of whom seemed surprised at first to see us, but then welcomed us warmly to their island, offering directions if needed. (Honestly, it's hard to get lost in Nassau, but we appreciated the kindness).
Save $60 on Universal 3-Park 3-Day Park to Park! Visit Universal's Volcano Bay Water Theme Park.
Ardastra Gardens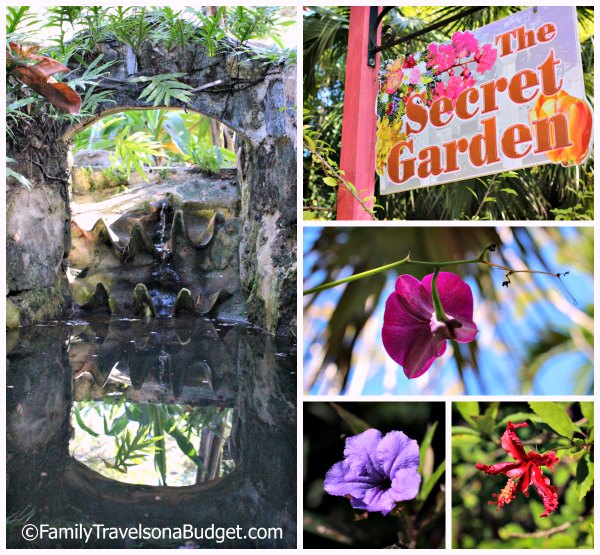 The first major garden you'll enjoy is the Secret Garden home to an Australian Black Swan. The flowers and rock structures in this area are simply magical. My daughter loved exploring this quiet garden, tucked away along the edge of the "zoo." My son and I took way too many photos — enamored by the bright colors and soft florals against the rugged rocks.
Birds and animals of Ardastra Gardens
While Ardastra Gardens is a small zoo compared to those in the United States, the meandering paths and opportunities to discover creatures up close makes up for it. We found lizards, spiders, snails and other small creatures throughout the Gardens. My daughter found the lizard, above lower right photo, hidden at the base of a tree. Look closely and you'll see his curled tail. Other animals, like the owls, meerkats (exhibit opening soon) and turtles (below) do have fencing, but the space inside is wide and more natural than you might expect. Ellie laughed as she and Nathan watched a turtle cover himself in lettuce leaves. 🙂
Tropical birds star at Ardastra Gardens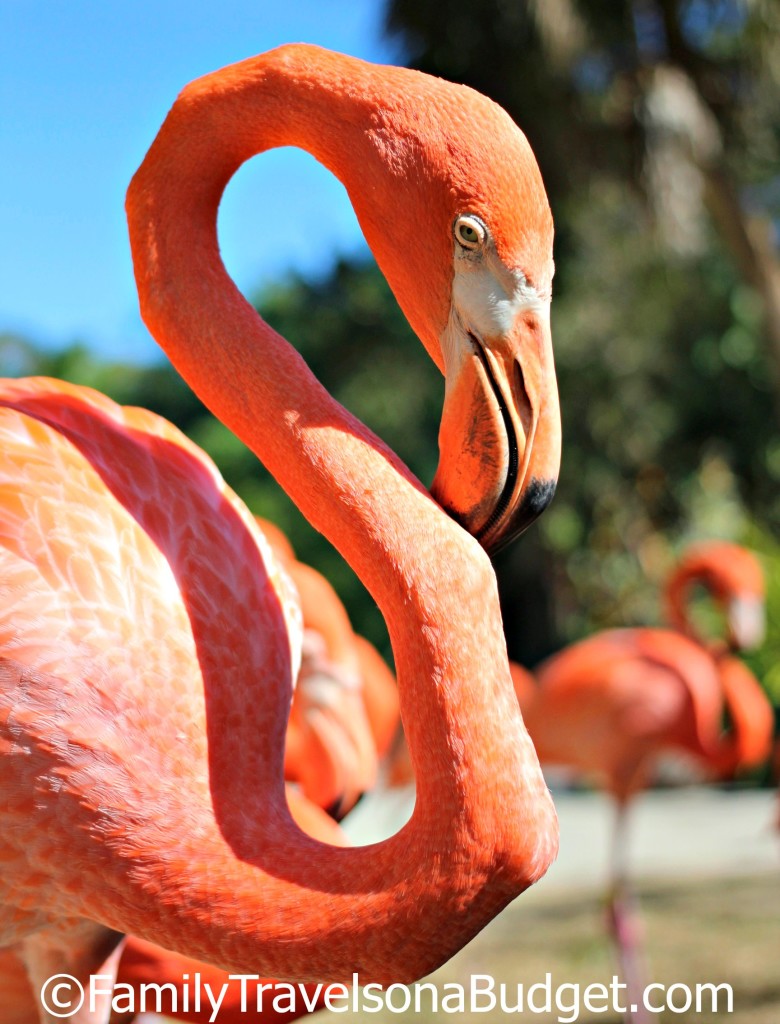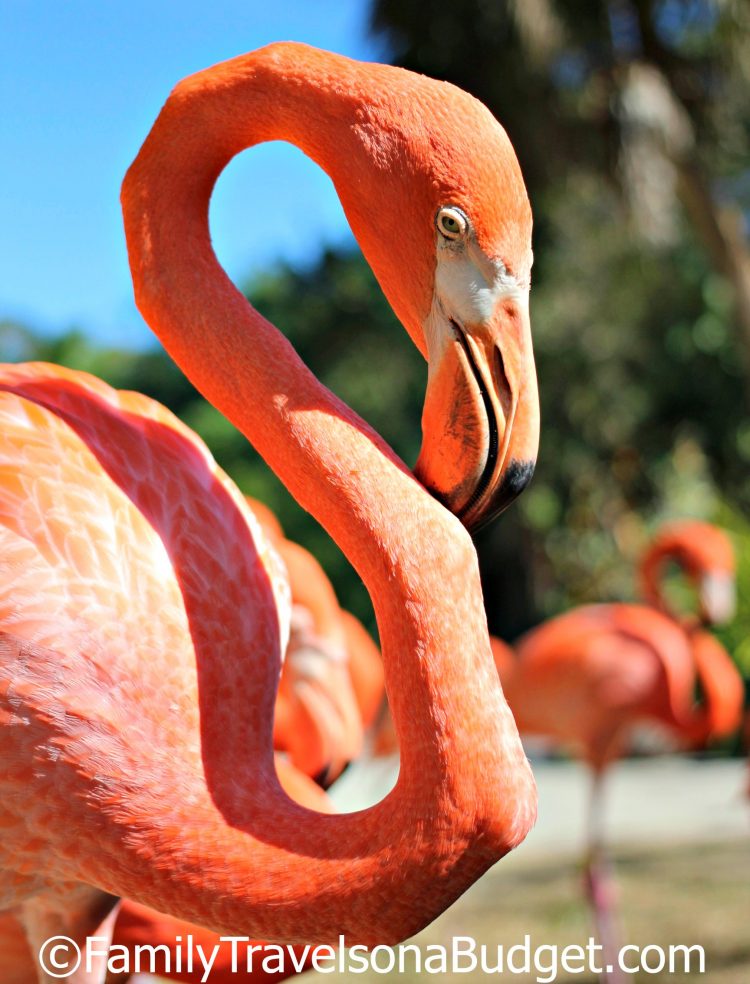 Ardastra Gardens started as a flamingo rescue back in the 1950s, so it's no surprise that flamingoes are the stars here. I've seen flamingoes at many zoos through the years, but I've never gotten as close as I did in the photo above! They take center stage at Ardastra Gardens, roaming freely. We walked among them, scolded with a squawk when we got too close, and enjoyed watching them prance, preen and pose! No tropical zoo would be complete without parrots and other tropical birds. As you can see, they are used to posing for the camera! Signs nearby do warn not to get too close. These pretty birds can bite!
Signage and seats at Ardastra Gardens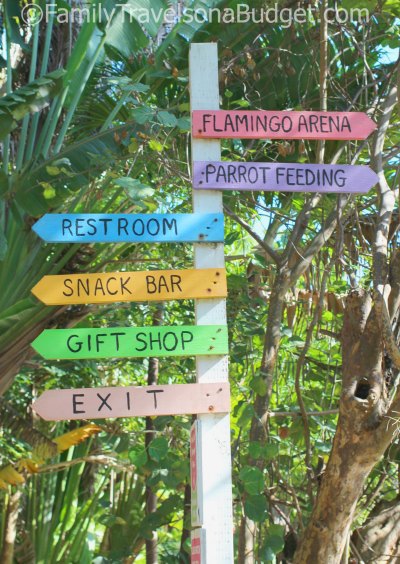 The whole atmosphere at Ardastra Gardens fits the tropical setting. The signage, above, provides clear, whimsical direction throughout the zoo. The "Flamingo Arena" offers a shaded place to relax (or sit on dad's face) during your visit — as well as shows throughout the day. Of course, we checked the bathroom for a thorough review: Ellie exclaimed, "They have hot water!" The women's restroom also offers a baby changing area. Nice!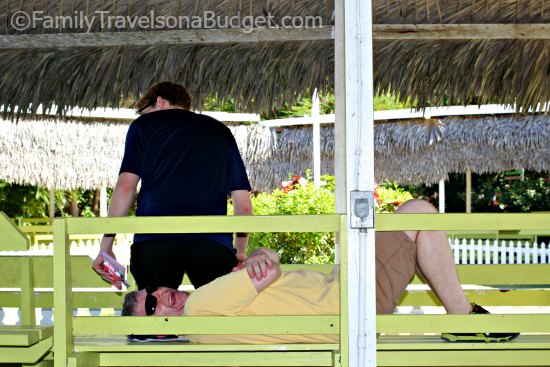 Planning your visit to Ardastra Gardens
Tickets, Hours and Dates: Ardastra Gardens is open daily except for Christmas, Boxing Day (12/26) and New Year's Day. Hours are 9:00 AM to 5:00 PM with last admission at 4:00 PM. Check the website for current admission prices (as of 1/1/2015, adult admission is $16.00 US).
Directions and Transportation: Cruise ships offer an Ardastra Gardens shore excursion (currently, Disney Cruise Line prices the 3-3.5 hour tour at $50.75 US for adults and $33.50 US for children ages 3-9) that includes an hour narrated bus tour of Nassau. Budget minded tourists can easily enjoy this attraction without the high shore excursion price! We walked to Ardastra Gardens, toured the zoo, walked back to port along Bay Street with an hour of playing on the beach and were easily back on board before 2:00 PM. (Total cost of doing it our way for a family of 5 — 4 adults/1 child: $72, though our visit was complimentary in exchange for this review.)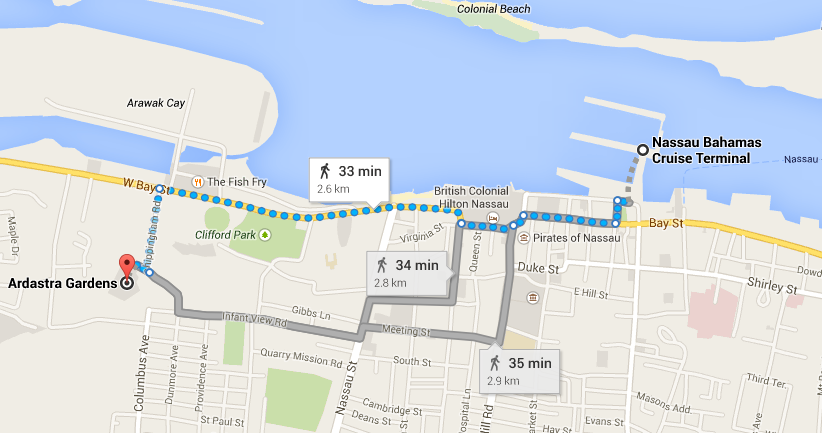 If you prefer not to walk (it's approximately 3 miles round trip), taxi and bus are both easy options:
• Ardastra Gardens by TAXI: Available at Festival Place, taxi drivers will take you to the gardens at a rate of $4-$5/person. Negotiate ahead of time with the cab driver for a narrated tour of the city — just be sure to define the time and rate before your journey!
• Ardastra Gardens by JITNEY (bus): Take the #10 bus to Chippingham Rd and West Bay Street. From there, walk up the street past the botanical gardens and you'll see the entrance to Ardastra Gardens on the right. Signs clearly mark the way! On the return trip, go back to the bus stop and finish your island tour. Each bus ride costs $1.25/person — and the full circuit provides a great visual tour of Nassau.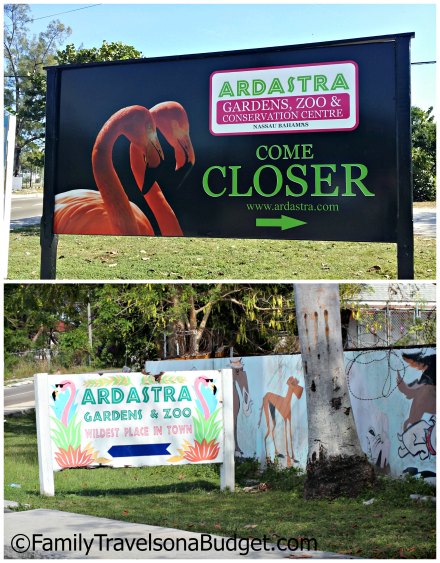 The top sign is located at Chippingham and Bay Streets (where you get off the bus).
The bottom sign marks the entrance to the gardens at the top of Chippingham.
Our overall opinion of Ardastra Gardens
The whole family, including our 20 year old and 17 year old, enjoyed our trip to Ardastra Gardens. While the zoo itself is small, its creative layout hides treasures around every turn. Informative signage, an "organic" layout and friendly staff makes this an enjoyable family outing. Certainly, it's a wonderful break from the hustle and bustle on the cruise ships!
Most of Ardastra Gardens is accessible to those in wheelchairs, but the restrooms are not handicapped accessible.
We would like to thank Ardastra Gardens for a memorable visit and encourage you to consider it on your next cruise or Bahamas vacation! To learn more, visit their website!
You might also like