Best Parks in Northern Virginia for Families (2023)
This post may contain affiliate links. Click here to see what that means.
The best kid friendly things to do in Northern Virginia
There are so many great parks in Virginia. And, after visiting several times, we have found the very best parks in Northern Virginia for families.
To be considered one of the best parks in Northern Virginia for families, there must be a lot to do, with easy access and natural beauty.
If you're considering a family vacation to the Washington, DC area, take a day to explore beyond the city to explore the best parks in Northern Virginia. And, if you live in the area, use our guide to the best parks in Northern Virginia to discover fun places just beyond your doorstep!
I am always surprised to discover how much green space there is just outside of Washington, DC.
These parks are especially beautiful in late fall when the trees are changing color and the animals are actively preparing for winter.
Best Parks in Northern Virginia: Fairfax, County
The best parks in Fairfax County take advantage of the natural beauty of the area. These are some of the best parks in Northern Virginia's Fairfax County, just west of Washington, DC.
Great Falls Park, 9200 Old Dominion Dr, McLean, VA
Great Falls Park, owned and managed by the National Park Service, is an 800-acre park just 15 miles from Washington, DC. The Potomac River's Mather Gorge gives the park its name as the waters here form Class V whitewater rapids in some areas.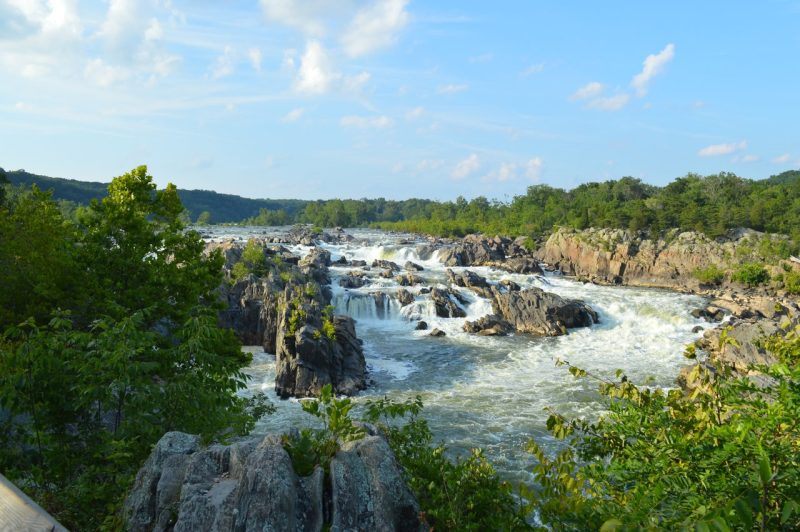 History features in Great Falls Park as well. The park protects the ruins of the Patowmack Canal, an early effort by George Washington to develop the region.
There are many overlooks along the river that provide great views of the river and falls. And, with 800 acres, there's lots more to explore here, too.
NOTE: Entrance into Great Falls Park is $20/vehicle unless you have a National Parks Pass.
PRO TIP: This popular park often fills. Plan to go early to ensure a parking spot.
Pohick Bay Regional Park, 6501 Pohick Bay Dr, Lorton, VA
Next up is my favorite, certainly what I consider to be among the best parks in Northern Virginia, Pohick Bay Regional Park.
Pohick Bay is one of several parks managed by NOVA Parks (Northern Virginia Parks). It offers a lot of kid friendly things to do in Northern Virginia, and can easily serve as a weekend getaway whether you live nearby or are looking for someplace fun to stay in the region.
For fun things to do in Northern Virginia, head to the bay of the Mason Neck peninsula, following the clear signage in the parks, to enjoy boating, kayaking, a playground and a couple of park trailheads for easy hiking.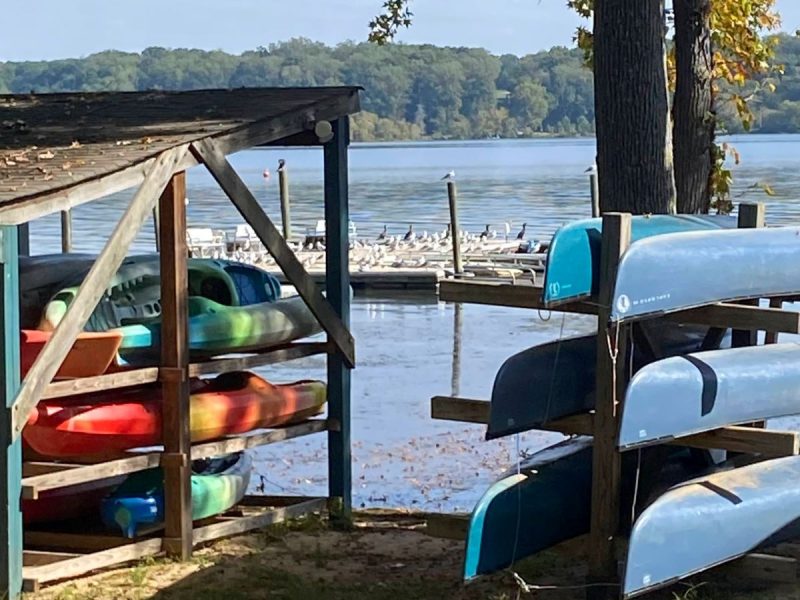 Or, do what I did. Sit on a park bench overlooking Pohick Bay and watch the birds! Depending on the time of day, you might see bald eagles, herons, geese, ducks or hawks. It's so quiet and serene — except for the bird squawks — that it's hard to believe it's just a few miles from the DC Metro area.
Besides the wildlife and tranquil scenery, the park also has an 18-hole golf course, a campground, a seasonal waterpark (summer), boat rentals, a fishing pier, miniature golf course, frisbee golf course (with easy and hard "tee" boxes), horse trails, nature trails and playgrounds.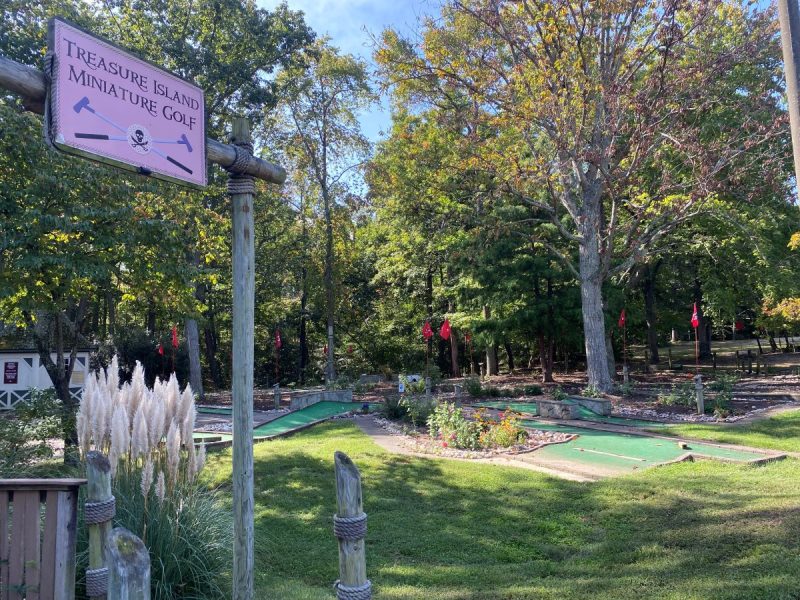 During the busy season, expect to pay an $8 entrance fee, with an extra fee for some activities. As one of the best parks in Northern Virginia, it's worth every penny.
Mason Neck State Park, 7301 High Point Rd, Lorton, VA
Mason Neck State Park sits on a peninsula formed by Pohick Bay, Belmont Bay and the Potomac River. This quiet park is one of the best parks in Northern Virginia to watch bald eagles.
If you're looking for kids activities in Northern Virginia for wilderness lovers, this is one of the best places to see whistling swans, ducks, and herons. There's even a heron rookery, so look up!
The park spans hundreds of acres, much of it covered in hardwood forests of oak, holly, hickory and evergreens. There's a wetland area. With so many different habitats, it's easy to understand why birds like it here.
For kid friendly things to do in Northern Virginia, the park also has biking and hiking trails which are not too strenuous, picnic areas, and boating and fishing (permit required).
Admission to Mason Neck State Park is $10 per vehicle year round. If the ranger station is not manned, there is a drop box to pay your entrance fee.
Elizabeth Hartwell Mason Neck National Wildlife Refuge, High Point Rd, Lorton, VA
Just before you get to Mason Neck State Park, you'll see a parking area on the left for the Elizabeth Hartwell Mason Neck National Wildlife Refuge.
The beautiful trail in this park is easy to navigate, and leads to the Eagle's Nest overlook near the Potomac River.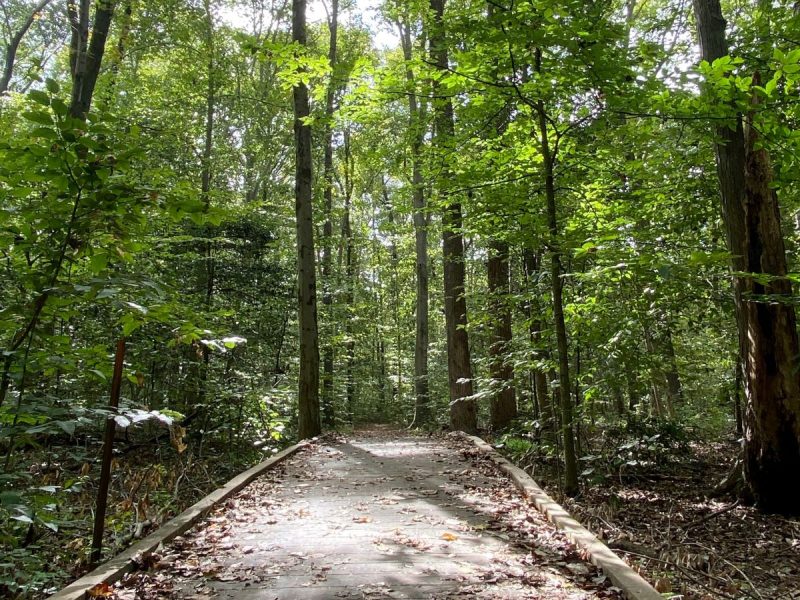 When looking for kid friendly things to do in Northern Virginia, this is not a hard trail, though it is a little long. The views at the end are well worth the trek.
Parking at Elizabeth Hartwell Wildlife Refuge is free, as the entrance is just outside the state park.
Best Parks in Northern Virginia: Loudoun County
Loudoun County, Virginia is northwest of Washington, DC. Dulles International Airport is located in Loudoun County, not Washington, DC. But, that shows how close Loudoun County is to Washington, DC.
There are some beautiful and unique parks in Loudoun County. For fun things to do in Northern Virginia, visit the parks in Loudoun County. They're worth the short drive from the DC metro area.
Morven Park, 17339 Southern Planter Ln, Leesburg
Morven Park was once the home of Westmoreland Davis, a progressive farmer and the Governor of Virginia from 1918-1922. After his death, his wife gave this 1,000-acre property, including their Greek Revival style mansion and most of its contents, to Loudoun County to be used as a park.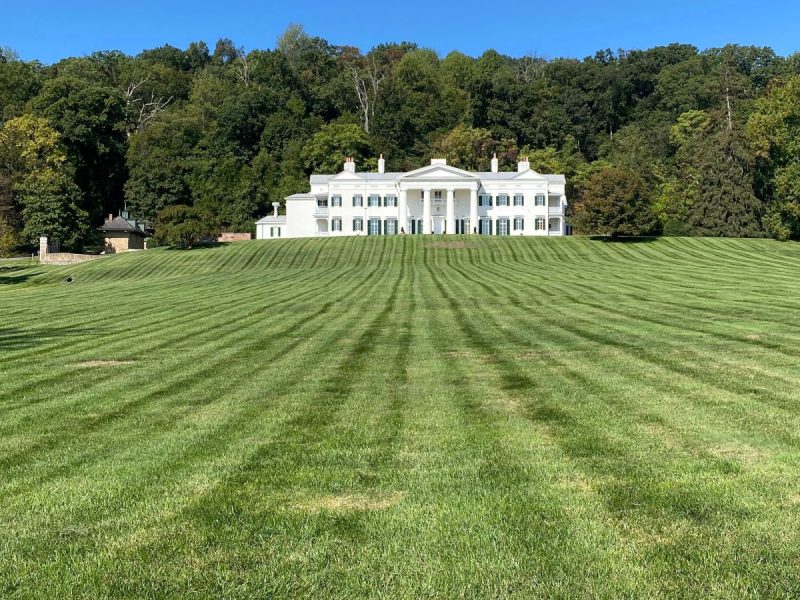 The formal boxwood gardens, an Equestrian & Event Center and a Museum of Hounds and Hunting are also housed on the property.
Locals know this park, with free parking and admission to the grounds is a great place to run or walk the dogs.The park also has multiple hiking trails and wide open grassy spaces to run or enjoy a picnic.
And, the mansion exterior is a spectacular backdrop for photos!
PRO TIP: When Morven Park hosts an equestrian event, it's completely free to come out and watch the competition. The jumps run throughout the property, with great views from many places, much of it under the shade of a tree. Pack a picnic and spend the day watching equestrians show how skilled they are.
Algonkian Regional Park, 47001 Fairway Drive, Sterling, VA
Algonkian Regional Park is another of the many Northern Virginia Regional Parks. Like it's sister park, Pohick Bay, Algonkian is an expansive park that offers activities for the whole family.
Spread across 838 acres in Sterling, Virginia, the park offers a seasonal waterpark, hiking trails (paved and natural surface trails), wooded areas, open fields for fun with the kids, playgrounds and an 18 hole golf course.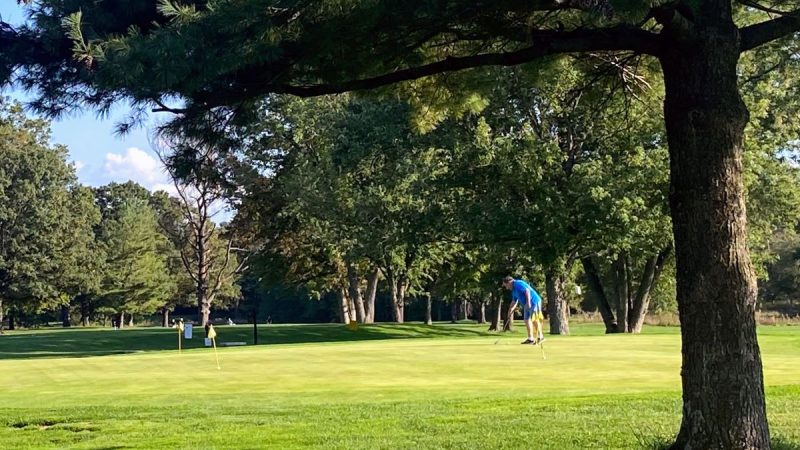 I spent three days in Sterling, and the golf course was really busy every day! According to a local golfer (I'll talk to just about anyone to get info for an article), the Algonkian Golf Course is a great local course.
For a weekend getaway from the city, Algonkian offers a number of rental cabins, from small to large, with views of the Potomac River. I don't recommend Cabin 3, unless it's the only one available, as it does not face the river, and it doesn't have the same privacy as other cabins. The cabins aren't fancy, but they offer a lot of space and a quiet break from the city.
Historic Douglass High School Education and Development Campus, 407 E. Market Street, Leesburg, VA
Give me a moment here to explain why I consider this one of the best parks in Northern Virginia since, technically, it's a campus.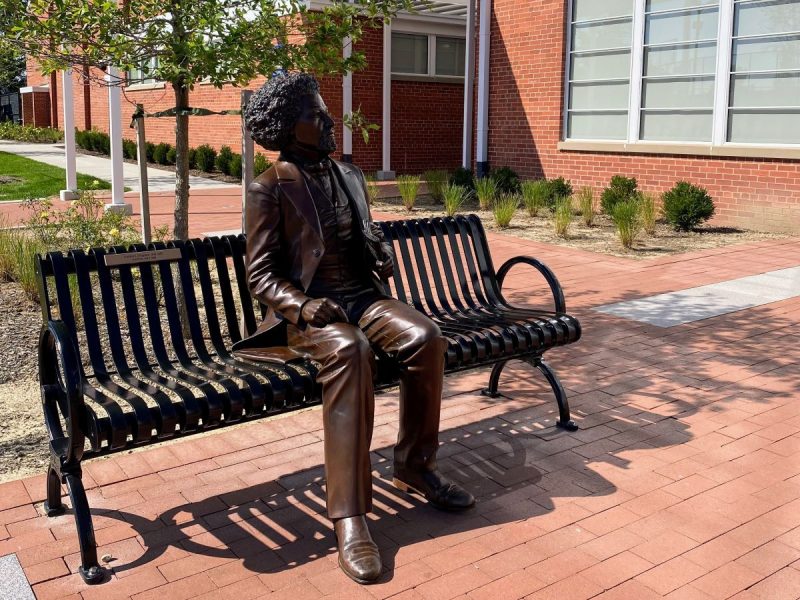 When I stopped by to see the park, I wasn't sure what to expect. I knew there was a meaningful playground.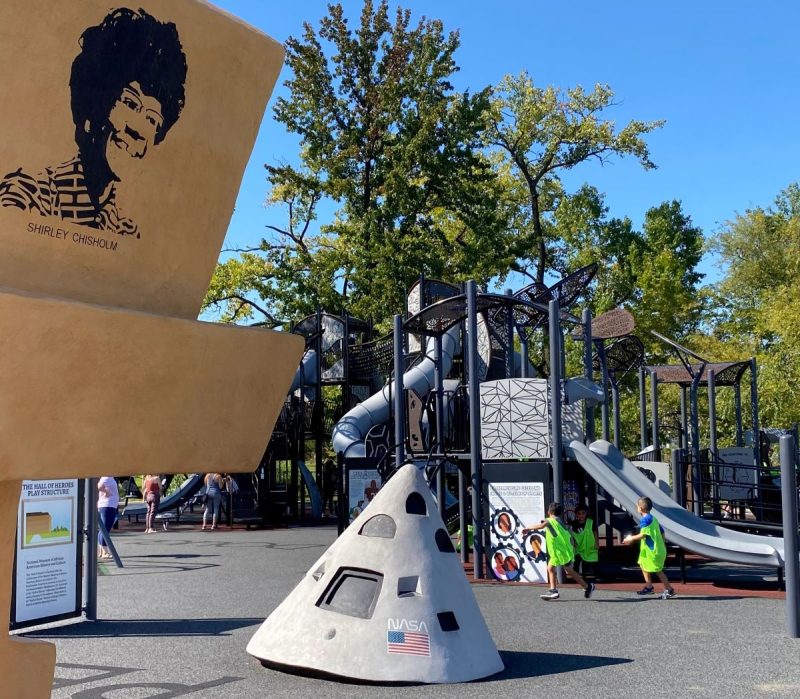 But, this park is so much more. And, it's always busy!
The Douglass School, for which this site is still named, was built in 1941 on land purchased by the local African-American community and then transferred to the local school board to ensure that their children would receive an education. It was the only African-American high school in Loudoun County until the end of segregation in 1968.
Today, the school building is listed in the Virginia Landmarks Register and on the National Register of Historic Places.
Loudoun County recently renovated the Douglass School. The restored building serves as a community center and displays artwork, kiosks and oral histories of the history and importance of the school within the community.
And then, there's the amazing playground. These pictures do more than my words ever could to show how unique it is.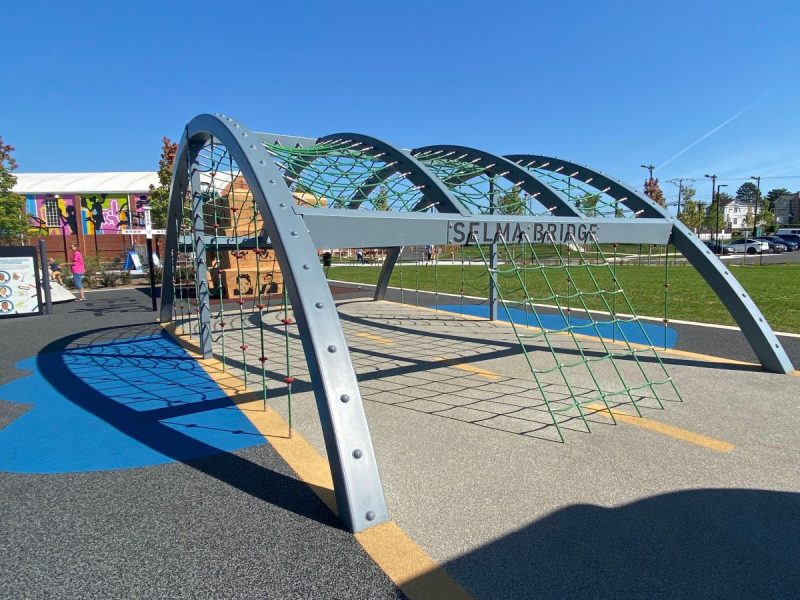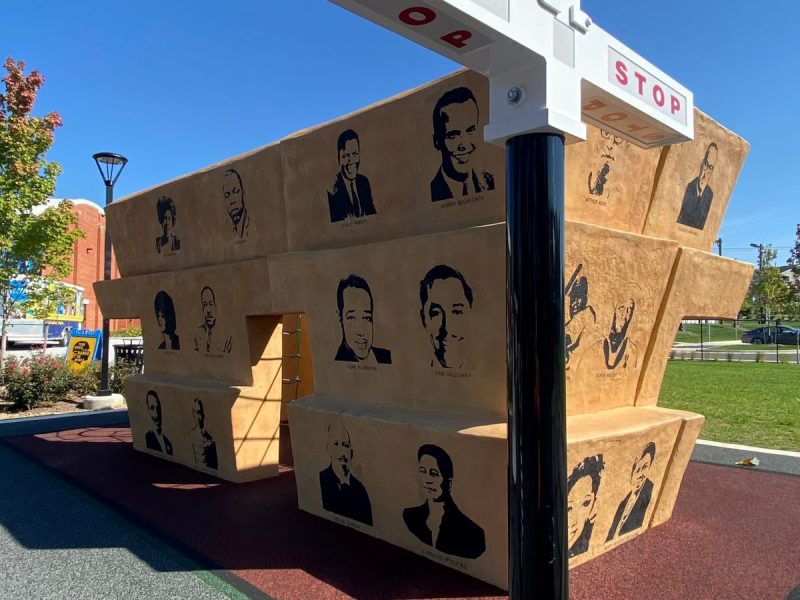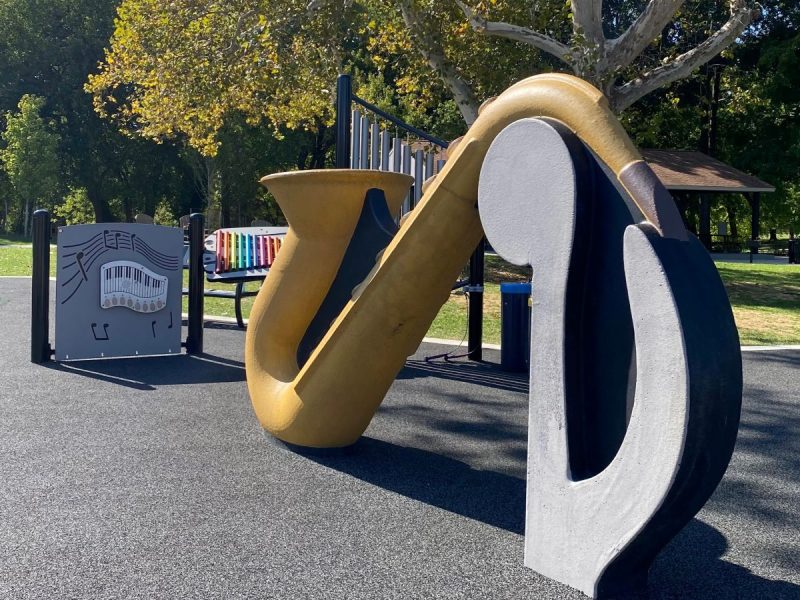 Surrounding the building, the campus is now a community park with a skating rink, ball fields, picnic areas and an incredible, accessible playground that celebrates African American history and culture.
Raflo Park, 345 Harrison Street SE, Leesburg, VA
This is a small park compared to the others on this list, but it is quite popular — and for good reason.
Leesburg's Raflo Park and Sculpture Garden runs alongside Harrison Street between the Washington & Old Dominion Trail to the north and Catoctin Circle to the south.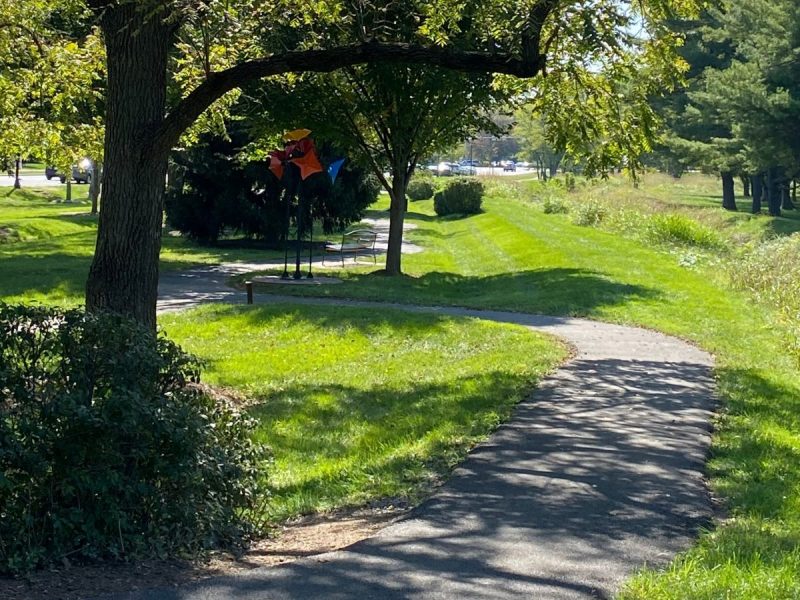 The 3 acre park has picnic areas, open spaces, and a gazebo.
It is also home to the Raflo Park Sculpture Garden, ArtsPARKs, a collaborative project between the Leesburg Commission on Public Art and the Friends of Leesburg Public Arts.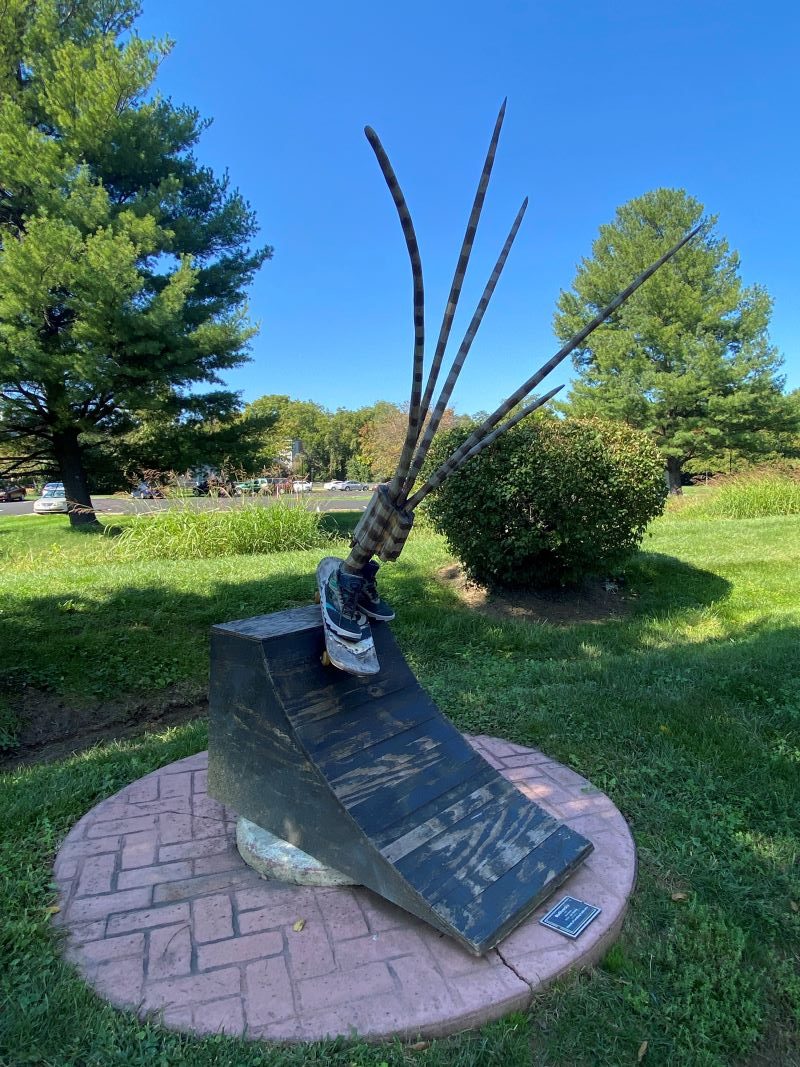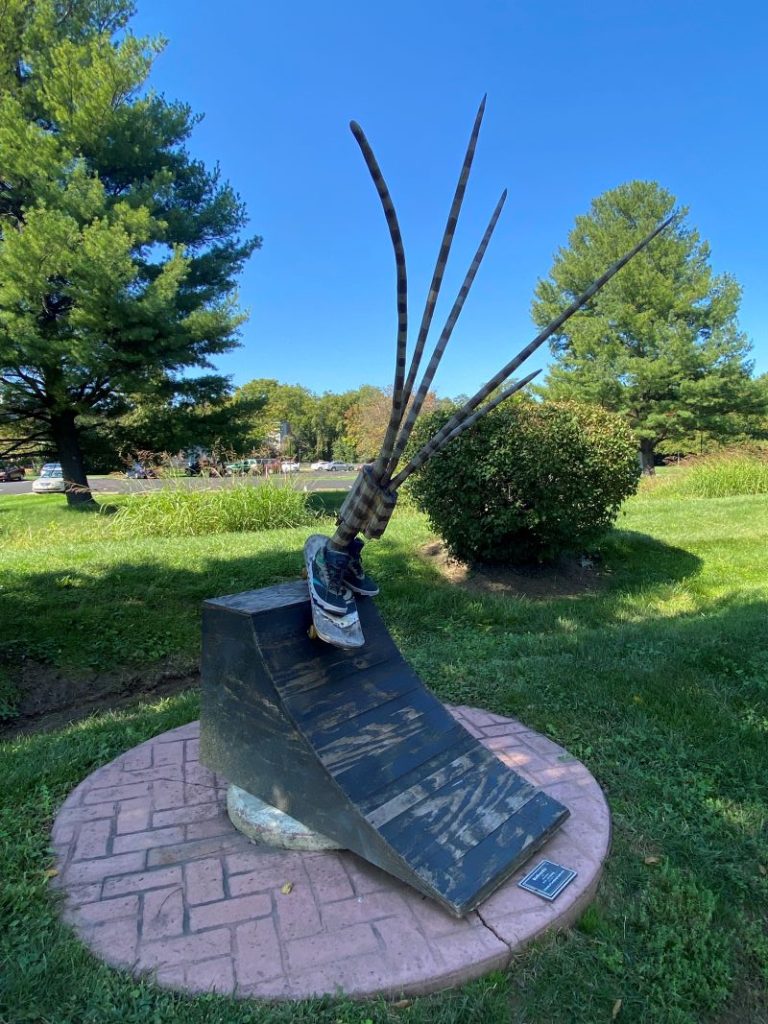 Curated sculptures are installed and displayed for a few years, providing the local community with easy access to public art.
Not surprisingly, locals often stroll through the park during lunch breaks. But, it's a great place for a picnic — especially if hiking along the Washington & Old Dominion Trail.
Washington & Old Dominion Trail, Northern Virginia Trails
The Washington & Old Dominion Trail is a paved trail along the old W&OD Railroad Line. It stretches 45 miles from Shirlington in Arlington County to Purcellville in Loudoun County, passing through Fairfax County along the way.
I have always enjoyed rail trails because they provide a glimpse into the culture that you don't always see driving past on the highway.
The W&OD Trail passes by the remnants of historic mills, wildflower gardens planted for birds and butterflies, through towns like Leesburg and past rolling farmland.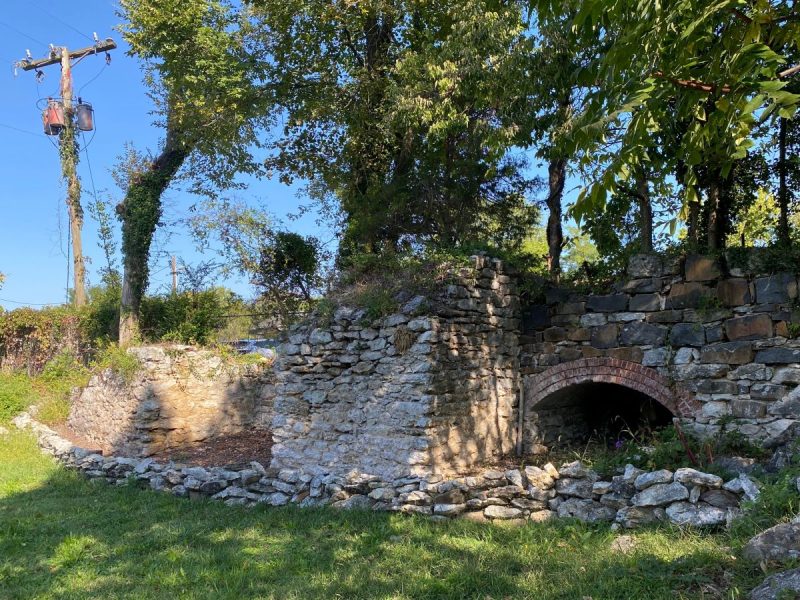 I saw all but the farmland walking the trail from Leesburg to the Douglass School Community Center!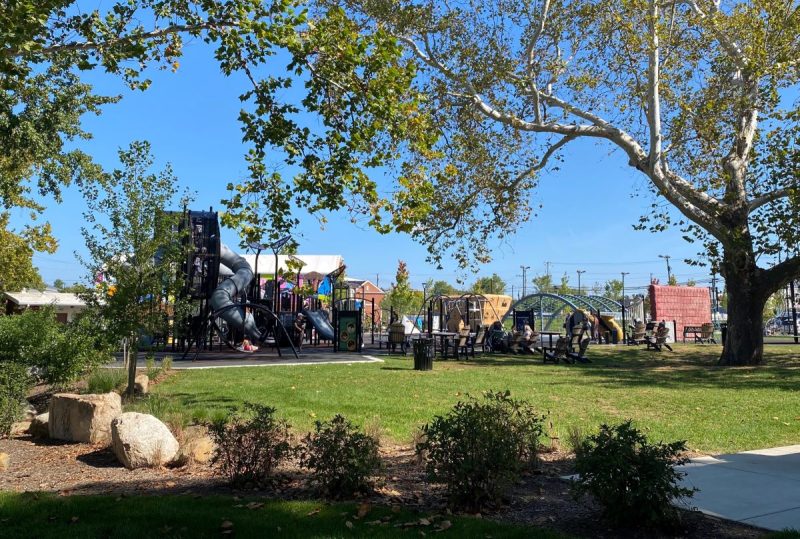 Signs and markers along the way explained what I saw.
People use it to run, bike or skate along the former railroad line, passing through urban areas all the way to the Virginia countryside. A full 32 miles of gravel horse trail run alongside the paved trail. And, there are several parking areas at trailheads all along the route.
For families who like to explore on foot or by bike, the W&OD Trail is fantastic!
Best Parks in Northern Virginia: Prince William County
Prince William County Virginia is just south of Washington, DC.
People who travel I-95 from the northern states to the southern states pass through Prince William County. Because of its convenient location near I-95, it has some of the best parks in Northern Virginia for travelers who want a break!
Though, I confess that until I visited a few years back, I had no idea there were such beautiful parks near the highway.
Prince William Forest Park, 18170 Park Entrance Rd, Triangle, VA
Prince William Forest Park is part of the national park system, located near the Marine Corps Base Quantico and the town of Dumfries.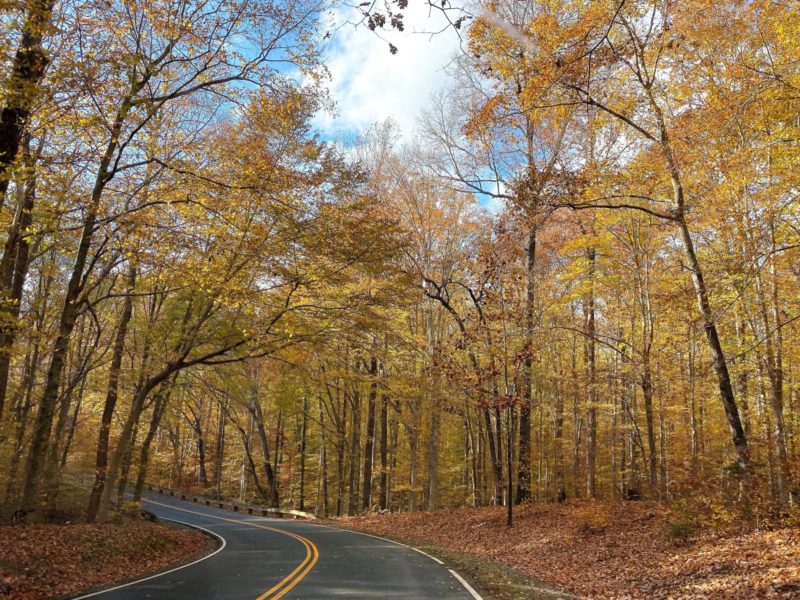 With a campground and cabin rentals, it's a quiet place to break up a long road trip. Or, if you live nearby, the park is a great place for a quick weekend getaway or day trip.
Besides camping, the park offers hiking trails, biking, picnic areas, orienteering, fishing and bird watching. The barred owl is native to the region and fairly easy to spot.
Read our detailed review of Prince William Forest Park to learn how FDR and spies used the space! It's got a fascinating history that makes visiting today even more intriguing.
A weeklong pass to Prince William Forest Park is $20/vehicle. Nearby residents should consider the annual pass for $35/vehicle.
River Mill Park, 458 Mill Street, Occoquan
River Mill Park at the north-western edge of historic Occoquan, VA, opened in 2016.
Looking over the Occoquan River, the park has an easy walking trail (stroller friendly), public restrooms and an event pavilion that hosts summer concerts and other special events. A walking bridge at the east edge of the park connects Occoquan to the town of Fairfax across the river.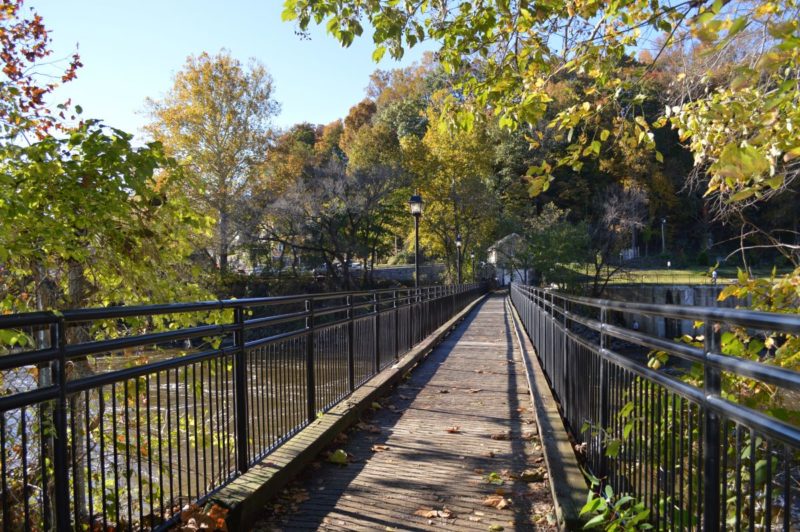 While the park is small, it is a great spot to enjoy a picnic and break from the traffic on I-95. The park is only a couple minutes from the highway.
Get to the park by taking Exit 160 from I-95 and go west (southbound, turn right/northbound, turn left) at the end of the exit ramp. Follow Gordon Blvd. (VA-123) to town and turn left at Commerce Street. Turn Right on Washington, and then turn left on Mill Street. Drive through town and park at the end of the road.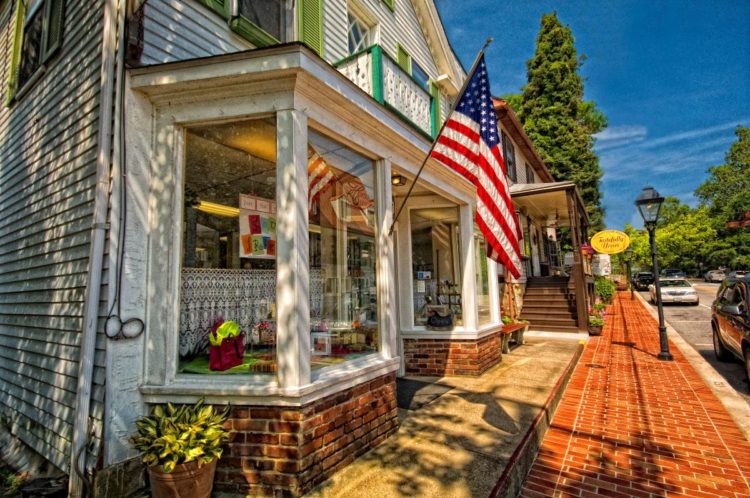 On the banks of the Occoquan River, this charming town has unique art shops, great restaurants and an old fashioned feel. Spend an hour or stay for the weekend.
Manassas National Battlefield Park, 6511 Sudley Road, Manassas, VA
Only 30 miles from Washington, DC, Manassas National Battlefield Park sits in the northwestern corner of Prince William County.
The park, managed by the National Parks Service, comprises more than 5,100 acres.
Thousands of people visit to learn about the two major Civil War battles fought here: the First Battle of Manassas (July, 1861) and the Second Battle of Manassas that led to the Battle of Antietam (August, 1862). Guided walking tours with a park ranger and other programs and activities help tell the story. Along the way, you'll see Civil War artifacts, memorials, farms that existed here during the war, and more.
However, the park is more than "just" a battlefield memorial.
Enjoy birding, fishing and wildlife watching. Or, explore the 40+ miles of hiking trails or 21 miles of equestrian trails throughout the park. With a variety of habitats from hardwood forest to meadows, with creeks and ponds, this natural space is meant to be enjoyed.
There is no fee to visit Manassas National Battlefield Park. Plan your visit — with maps of trails, where to park, and hours of operation — at the park's NPS website.
Best parks in Northern Virginia: Stafford County
Just south of Prince William County, Stafford County is the most remote from Washington, DC of all the Northern Virginia counties. Though, it's still less than an hour from the Metro DC area to most everything in Stafford County.
The two best parks in Stafford County can be found at its eastern edge, near the Potomac River.
Widewater State Park, 101 Widewater State Park Road, Stafford, VA
Sitting on a peninsula between the Potomac River and Aquia Creek, it should come as no surprise that Widewater State Park is a popular spot for kayaking and boating.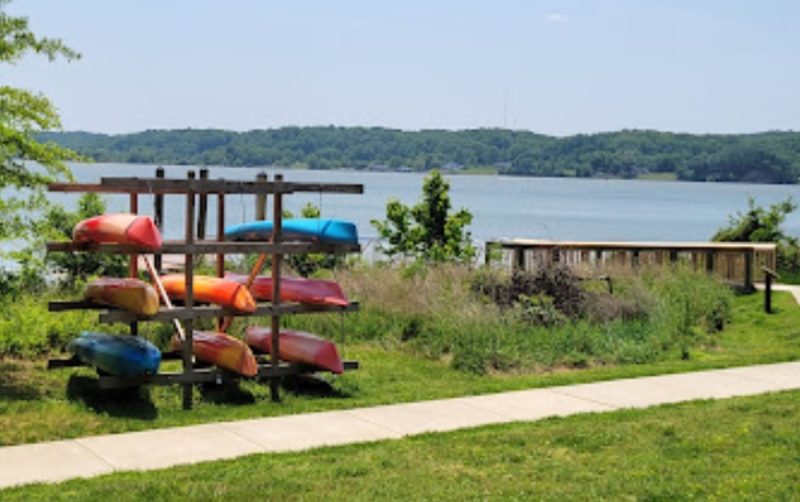 Other amenities at Widewater State Park include a visitor center, picnic shelters, playgrounds, restrooms, a motorboat launch and hiking trails.
The two hiking trails are considered easy trails, and are popular year-round. Throughout the park, directional signs and informational signs make it easy to navigate and learn.
The park has a fairly robust park ranger program, great to introduce kids to new ideas or to nurture budding naturalists to learn more.
Like most state parks in Virginia, there is an entrance fee and there can be fees for activities, equipment rental and boat launch access.
Crow's Nest Natural Area Preserve, 2500 Brooke Road, Stafford, VA
Spanning more than 3,000 acres near the Potomac River, Crow's Nest Natural Area Preserve is a beautiful place to visit and reconnect with nature.
Before I tell you about it, take a moment to look at this photo to SEE what I mean. Can't you just picture yourself here with a pair of binoculars to look for birds?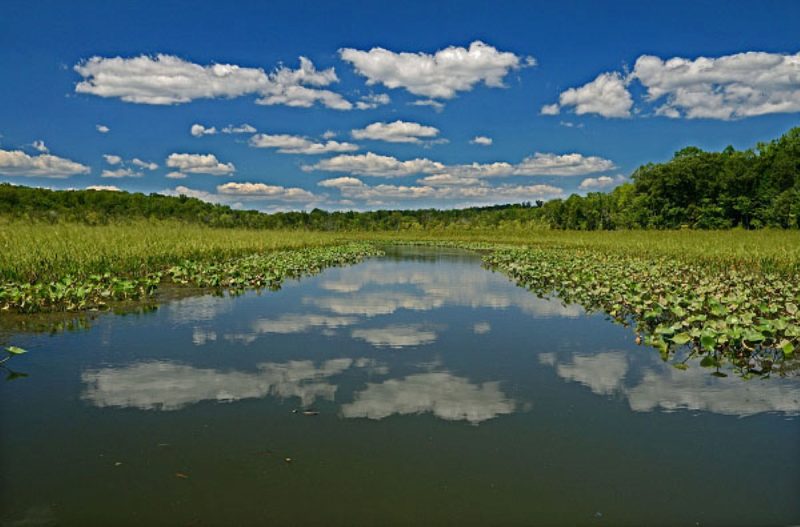 The preserve has a varied topography with a 160 foot ridgeline and deep ravines that cut into coastal plain marine sediments. In layman's terms, this protected area is great for wildlife because they have protected nesting areas and an abundant food supply.
When you visit here, you might see bald eagles. Listen, too, for songbirds, as more than 60 species pass through the area throughout the year. Click here to download a checklist of birds you might find at Crow's Nest.
The park has two parking areas, but only the Brooke Road area is open seven days a week.
The Brooke Road access area includes parking for up to 20 vehicles, a nature trail along the shoreline with viewpoints at Accokeek Creek, and an ADA-accessible canoe/kayak launch facility at the Crow's Nest Water Trail.
The other access point, at Raven Road, allows parking for up to 18 vehicles and is the trailhead for 8 miles of hiking trails through the forested area of Crow's Nest. This part of the park is only open Thursday-Sunday.
Best Parks in Northern Virginia: Arlington County
Closest to Washington, DC, Arlington County sits just west of the nation's capital on the Potomac River. When visiting Washington, DC, it can be hard to distinguish where DC ends and Arlington begins. Both Arlington National Cemetery and the Pentagon are in Arlington.
When I visit Washington, DC, I prefer to stay in Arlington and use the DC Metro to get around the area.
I was surprised to learn that there are some beautiful parks in Arlington, Virginia. It's not all sky scrapers and government offices! These are the best parks in Northern Virginia near Arlington.
Potomac Overlook Regional Park, 2845 Marcey Road, Arlington, VA
Along the banks of the Potomac River, this park provides 67 protected acres for hiking trails and other attractions. Though, the trails are the main draw here. Click here for a downloadable map.
The miles of trails include interpretive displays where you can learn about Northern Virginia's native plants and animals. While hiking, you might see owls, hawks, falcons, eagles or vultures. All call this park home.
Park rangers made this video so people can learn about the birds who live here so you know what to look for!
The Nature Center at Potomac Overlook includes interactive exhibits to highlight the connection between the human world and the natural world. And, The James I. Mayer Center for Environmental Education houses live native animals, an interactive augmented reality watershed exhibit, and more.
There's also an organic vegetable garden which is used for local school field trips and summer nature camps. And other demonstration gardens show how native plants, insects and animals interact for a healthy ecosystem.
Regular visitors to the park recommend sturdy shoes with closed toes and a good tread. It's also a good idea to wear a hat and watch for ticks.
Potomac Overlook Regional Park is closed on Mondays.
Fort C.F. Smith Park, 2411 24th St N, Arlington, VA
One of the smallest parks in this list of the best parks in Northern Virginia, it is included because people who use it consider it one of the most serene places to visit in Arlington.
Sometimes, on a hectic city vacation, or if you live in the city and just need a change of scenery, a quiet park with beautiful grounds might be perfect.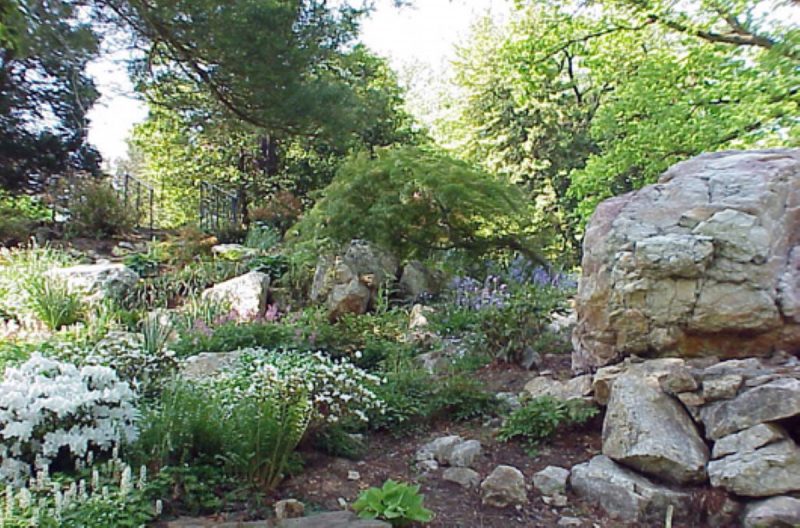 Fort C.F. Smith Park spans 19-acres near the Potomac River in the southern part of Arlington County. The park is known for its lush tree canopy, open meadow and beautiful gardens. The park is also home to the Hendry House, used for special events, and a preserved earthworks fort from the Civil War.
For park goers, C.F. Smith Park has a half-mile of trails throughout the grounds. Look for deer, fox, rabbit, squirrels and owls. Your best chance to see the owls is along Bird Creek, a man-made feature on the property built to attract birds.
There are several things to see along the trail, which you can read about in their downloadable trail brochure. The Peace Garden is probably one of the best things to see on the grounds, established at the end of World War I and expanded a bit over time.
The park is open daily from sunrise to sunset. The Civil War Center at the park is open 10 a.m.-5 p.m. Saturdays and 1 p.m.-5 p.m. Sundays. Kids can try on replica Civil War uniforms, and there are archaeological relics on display.
Admission is free. And, there is parking onsite. Those who prefer to use public transportation can choose from several routes with stops nearby, though there are no stops at the park.
And there you have it, our recommendations for the best parks in Northern Virginia for families. I hope I have convinced you to go beyond Washington, DC to enjoy the wide open spaces just beyond its borders. And, if you live in Northern Virginia, I sure hope our guide to the best parks in Northern Virginia has introduced you to some new places to explore.
Save this post to Pinterest
We always appreciate when you share great content, whether on Facebook, Twitter (X) or Pinterest. Use this pinterest pin to save this post to your Washington, DC boards, Virginia boards, adventure boards, or things to do with kids boards! And, thank you for sharing!