How to save money on a Disney Cruise
You've compared the cruise lines and decided to take the plunge. Disney Cruise Line it is. Or maybe you're on the fence, and wonder how to save money on a Disney cruise.
Either way, we've got you covered. There are lots of ways to save money on a Disney cruise!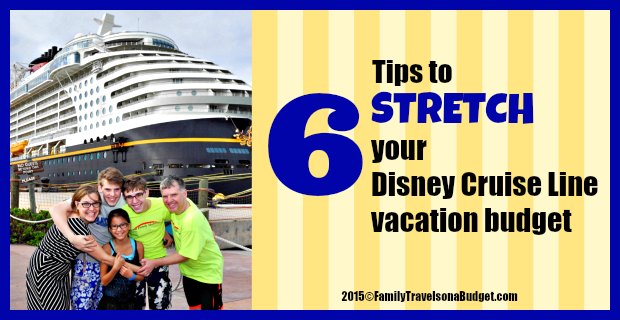 Great tips for how to save on a Disney Cruise
1. Save on your cabin: Skip the verandah.
How much is a Disney cruise? A lot! But, you can save on your Disney cruise cost by choosing a lower priced cabin.
With so many Disney cruise activities throughout the ship all day and evening, you really don't need a high priced verandah cabin.
Watch the water from pool decks and even from huge porthole windows in public spaces on lower decks. Besides that, you'll be so busy enjoying shows, activities, Disney cruise characters and all the other fun onboard, you'll hardly use your cabin.
While inside cabins and ocean view cabins are less expensive, they have all the features that make Disney Cruise Line a standout for family cruising. The smallest interior cabins sleep 3 and come with a full bath, including tub. You won't find that on other cruise lines!
They also come with a virtual porthole, created by Disney Imagineers. The porthole provides a 24 live feed from a camera mounted outside the ship with the added Disney magic of favorite Disney characters swimming by. You won't even miss the real window!
2. Pay for your cruise with the Disney visa card.
When our kids were young and we went to Disney often, we had a Disney visa card. We used it to pay our monthly bills and paid the balance in full each month to avoid interest charges. We earned points toward Disney vacations, and used those points to help pay for our first Disney cruise back in 2001. The card also offers Disney visa discounts, so using a Disney cruise credit card can help offset the cost of your cruise.
3. Register and check in online for your Disney Cruise Vacation!
Guests in regular cabins can check in 75 days before the cruise (Suite guests and gold members can check in 90 days ahead). Be sure you check in that day if at all possible. The earlier you check in online, the earlier a boarding time you can secure. That means you get on the ship before most everyone else to enjoy a less crowded lunch or nearly empty pool. NICE!
Also, the earlier you complete online check in, the more options you have to reserve specialty dining, shore excursions and other extras. We checked in 74 days before travel and secured a 10:45 registration. We boarded the ship about 11:30 and had lunch before the big crowds arrived by bus. If you are using Disney transportation to the cruise ship, your check in time is whenever the bus gets to port. You do not select a check in time.
Insider Tip: Early check in means more time on board!!!
4. Pre-purchase the photo CD and make a photo album at home.
Disney Cruise Line offers photo packages which are great, except for the cost. If you think you'll get the photo package, purchase in advance to save!
For greater savings, choose the digital package ONLY and make your own photo books at home. It's lots cheaper and you can pick your favorite photos, AND include those you take yourself.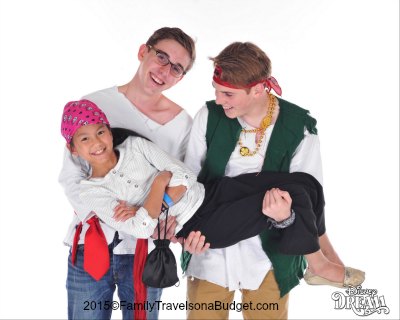 My goofy kids…. Arrrghhhhh…. I mean my pesky pirates!
The guy I get to do life with! He's a keeper!
5. Use Disney gift cards to pay your cruise gratuities.
I'll be honest, I'm not sure if this was worth the hassle to me, but it can save you some money, so I'll share it. Purchase discounted Disney gift cards at home (either through the Target red card which saves 5% or through discounters like BJs and Sams Club which offer similar savings).
When you board, go to Guest Services to have the gift cards applied to your account (basically prepaying on board expenses and gratuities). It takes a bit to have the cards uploaded, but you do save money. If you don't use the full value of the gift cards deposited, you have to go back to guest services to get a refund the last evening of the cruise (again, standing in line).
We saved $45 using gift cards, but spent about 45 minutes in line. I guess the more you plan to spend, the better the value!
6. Get Disney cruise character meet and greet tickets and skip the line.
Get the best value for your vacation by saving time on character meet and greets! While this doesn't "officially" qualify as how to save money on your Disney cruise, it does save time. Saving time means more time to play!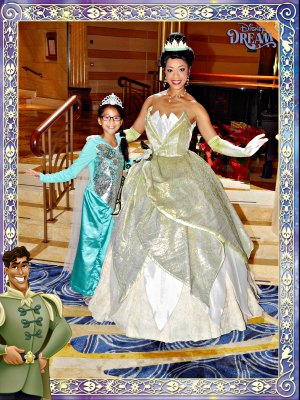 Less time waiting in line means more time to play!
There you have it…. 6 tips for how to save money on a Disney cruise!
If you're new to cruising, these posts are a great resource: