5 reasons to visit Niagara Falls, NY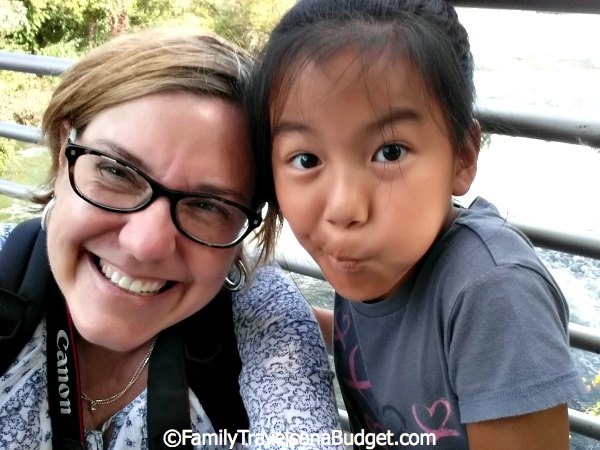 Ellie and I were hosted by the Niagara Falls CVB to learn about the area for purposes of writing these articles. All opinions are our own.  Read my full
disclosure policy
here. 
To prepare Ellie for our trip to Niagara Falls, I showed her pictures of the falls. She thought they looked neat, but I don't think she really grasped how very large and powerful they are. I'd been to Niagara Falls as a kid, so I knew that part.
Most people who visit Niagara Falls know about the Cave of the Winds and Maid of the Mist. They easily top the "must do" list for the area, but don't miss out on everything else! Like me, you might just be surprised by all you can do in the town of Niagara Falls.
 The town certainly surprised me!
5 reasons to visit Niagara Falls, NY
When I think of New York, like many I'm sure, I think of New York City. I picture the whole state based on this iconic city… and that's such an injustice! New York has a long commitment to preservation, thanks to landscape architect, Frederick Law Olmsted, who designed Central Park!
Olmsted lived during the Industrial Age, a time of great industrial expansion — especially in the northeast and midwest. Cities along the Great Lakes and surrounding rivers became industrial powerhouses. Olmsted fought to protect Niagara Falls from industrialization and preserve its beauty for all to enjoy. He won — and the country's first state park was created. (Of course, there's lots more to this story. Click here to read the whole thing.)
Click here to purchase tour tickets for Niagara Falls State Park and Old Fort Niagara. This is a great way to see everything and actually know what you're looking at. Tickets include travel in a 6-passenger luxury van while the knowledgeable guide takes you through the State Park, passing Rainbow Bridge, Robert Moses Hydro-Electric Power Plant, the Niagara Gorge and the Whirlpool Aero Car on your way to Old Fort Niagara. Your guide will explain how the three different falls that make up Niagara Falls produce energy to help light New York City.
2. Family friendly Niagara Falls is budget friendly too.
For some reason, I associate "major destinations" with expensive. Think Disney, the Eiffel Tower, London… Why wouldn't Niagara Falls, one of the natural wonders of North America, be expensive too? While you can spend a lot of money here, not everything costs an arm and a leg.
Pricey hotels, like the Giacomo and Red Coach Inn, provide luxury travelers with unique lodging choices. We loved being pampered at Giacomo, with luxury bath products, bath robes, a unique room and great views of the city.
Budget friendly hotel chains, like Holiday Inn Express, Hampton Inn, and Comfort Inn, give frugal families plenty of options too.
Niagara Falls' 250+ restaurants, which range from inexpensive quick food to higher priced formal dining, mean families don't have to break the bank on dining either.
Niagara Falls attractions are affordable, too, especially with the Niagara Falls USA Discovery Pass (in 2014, $36/adults for 5 attractions plus one day use of the trolley).
3. Savor is the city's best kept secret!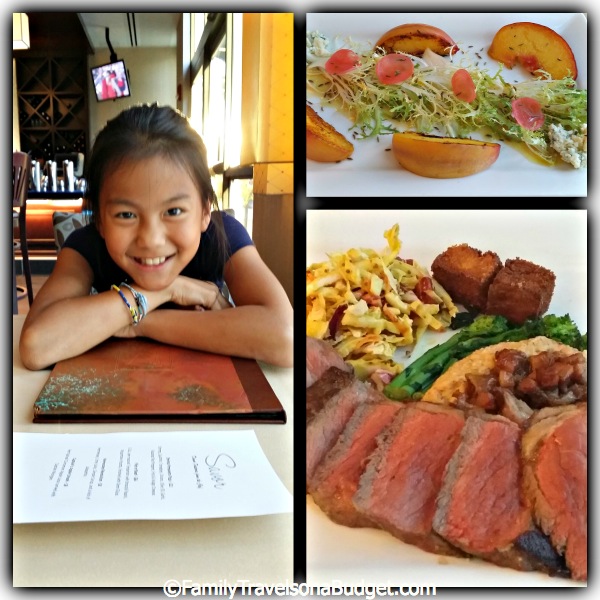 Before this trip, I didn't know about the Niagara Falls Culinary Institute. Students here get hands-on training in classrooms and in a restaurant setting. The Culinary Institute runs a deli-style restaurant, a pastry shop and a fine-dining restaurant. Culinary Institute students learn the skills needed to manage a kitchen and produce excellent meals. Restaurant diners get a fabulous meal made of fresh ingredients served at a leisurely, European pace.
The restaurant's sleek interior with partitioned walls offers guests privacy. At the same time, the open kitchen allows guests to watch the chefs make their dinner.
My daughter was enthralled by everything we experienced here. She loved the table linens, being treated like a young lady, having the napkin laid across her lap and being offered her own dessert menu. She "savored" the pace of the meal, making full use of the time to ask all the questions that swirl through a 10 year old's mind. Perhaps that's what we loved best — not rushing through dinner, but taking the time to enjoy each other's company and talk. In this crazy world, an evening like that is to be cherished. Of course, the food was fabulous too!
We recommend that anyone heading to Niagara Falls make reservations at Savor. Expect a full dinner (appetizer, main course, dessert) to take about two hours and enjoy the pace.
4. Evenings on Old Falls Street are quite enjoyable.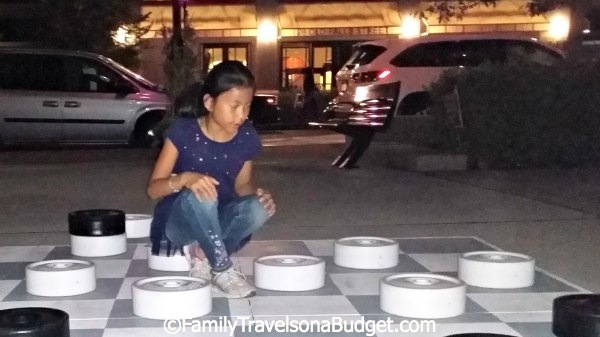 Old Falls Street, between 3rd Street and Rainbow Blvd., provides great walkable evening entertainment the whole family can enjoy. Weekends mean that guests can enjoy bands playing at open air bars, outdoor dining at Savor and TGI Fridays, and "hanging out" at the giant chess and checker boards in the green space next to the Quality Hotel and Suites. We wandered the street, from one end to the other and played a late night game of giant checkers. Along the way, we enjoyed the fire pits and conversation areas at Savor's outdoor dining area. We took in the sights and sounds — such a pleasant surprise.
5. Niagara Gorge Trail is phenomenal and free!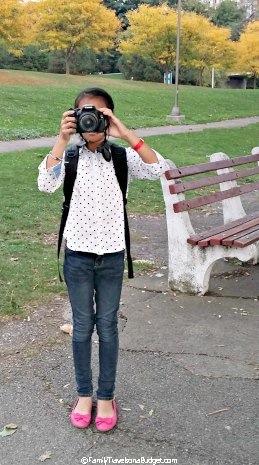 She's taking a picture of me taking a picture of her!  Or is it me taking a picture of her taking a picture of me?
Running through the state park and extending for miles along the Niagara River, the easy, paved paths of the Niagara Gorge Trail offer views of the river, the gorge and the falls that are unparalleled. The well-marked paths offer regular benches for rests or relaxation, picnic areas and excellent views!
A sunset walk is worth the view as blazing reds and oranges streak across the sky and reflect on the water. It's breath-taking, rivaling the night light show at the falls. When we saw the falls, Ellie was suitably awed. She didn't expect them to be so large, so noisy or so powerful.
Perhaps the best part of Niagara Falls USA is the relaxed pace that complements the powerful falls. Relaxed dinners, fun-filled walks through Old Falls Street and the easy hiking trails make this a refreshing destination as well. Even though we packed tons of fun into each day, the easy-going pace kept us from getting worn out. Nice — don't' you agree?