9 tips for healthy eating on a cruise
This post may contain affiliate links. Click here to see what that means.
A couple weeks before a girlfriends' getaway cruise, I got a tough medical diagnosis — not fatal, but serious. For my recovery, it was important that I eat healthy. For a couple days after the diagnosis, I was freaked out. Is healthy eating on a cruise even possible?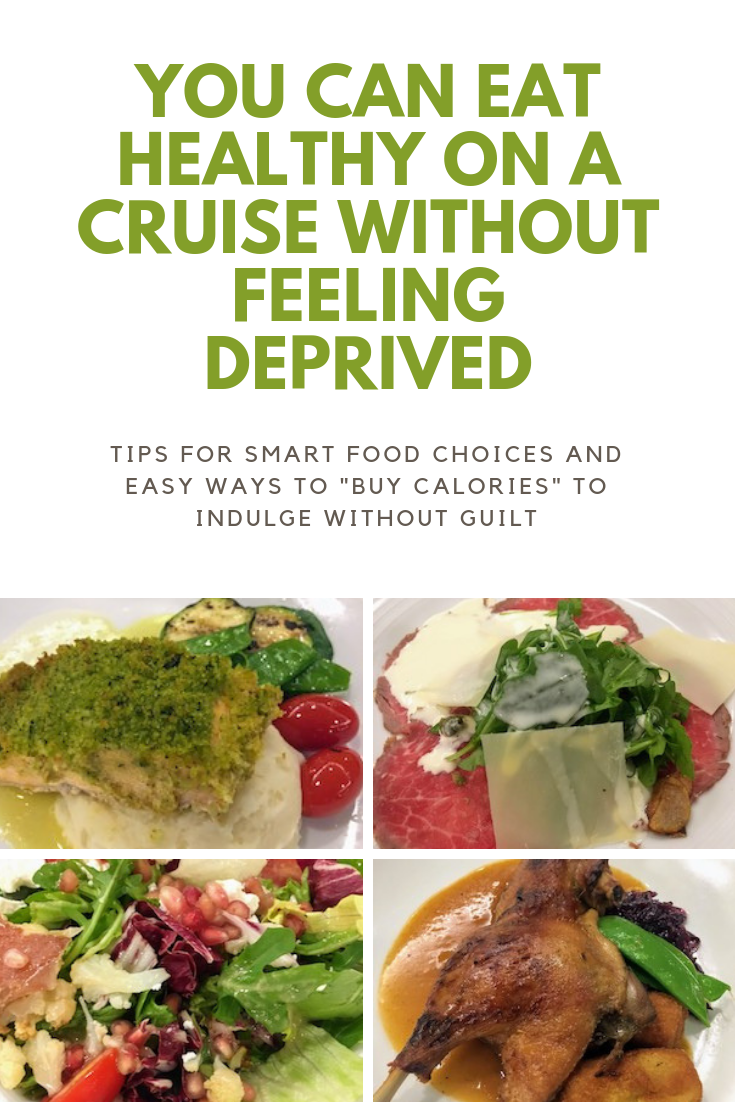 But then I thought about all the food options there are on a cruise. And, I realized you can eat healthy on a cruise!
I won't lie, a couple days before the cruise, I cried. A major meltdown. I wanted steak, and dessert, and more dessert, and fruity drinks with umbrellas. I wanted to have fun. I didn't know if I could eat healthy and still have fun.
I figured out how to eat healthy on a cruise! AND, I had a lot of fun (thanks, Dana)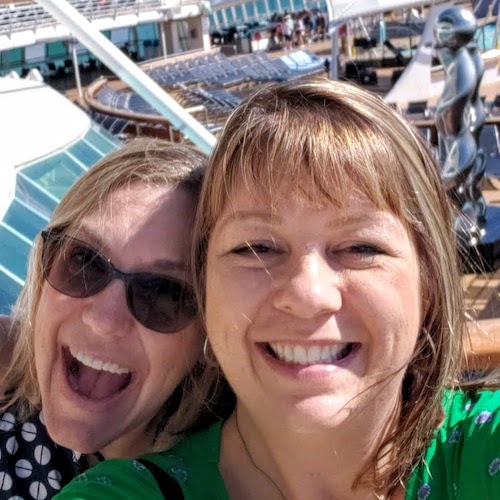 Tips for healthy eating on a cruise
If you need to eat healthy, even on a cruise vacation, and wonder how, these tips will help.
1. Practice moderation.
If you're healthy enough to travel, then healthy eating on a cruise is probably something you SHOULD do. But, it doesn't mean deprive yourself. You'll only be miserable.
On my cruise, I practiced moderation, making sure I got lots of veggies at lunch and dinner. But I still enjoyed my steak.
I got dessert, but only ate the whole thing if I absolutely loved it. I savored a few bites, and let most of it go.
I did have a few of those cute drinks with umbrellas — but mostly, I drank water.
Practicing moderation, I got to enjoy my favorite foods while eating healthy on a cruise.
2. Eat a healthy breakfast
Instead of going to the breakfast buffet, enjoy breakfast in the formal dining room to limit temptation.
I absolutely love pastries. LOVE THEM! Especially if they have pecans or lemon, but those aren't exactly helpful to achieve healthy eating on a cruise.
Going to the formal dining room, where I ordered from a menu, I resisted temptation. And, it felt good to know I started the day eating healthy.
I focused on foods I knew I needed: yogurt, oatmeal and fresh fruit. I might have eaten 50% of the blueberries on board!
Starting the day off healthy was as good for my mental health (recovery-mindedness) as it was for my physical health.
3. Select the healthy options at lunch
The lunch buffet can be a challenge, but healthy eating on a cruise at lunchtime is possible.
The buffet restaurant has pizzas and burgers, which don't fit the healthy options. Though, I did have a slice of pizza one day! (Remember, moderation!)
Otherwise, my lunch was a large salad with lots of colorful veggies, grilled chicken and chickpeas or black beans. Honestly, it was really nice to make a salad where I didn't have to slice and dice everything!
I used a balsamic dressing instead of the creamy blue cheese.
And if I was still hungry, I got a small serving of anything I wanted. Knowing I had eaten the nutritious salad, I didn't deprive myself of the delicious foods I wanted. I just stuck to that moderation!
4. Preview the dinner menu
If you have food allergies and have been on a cruise before, you're probably familiar with previewing the dinner menu. Because of my shellfish allergy, I get to see the next night's menu at dinner every single time so I can pre-order my dinner to ensure it is prepared in an allergy free zone.
A nice side benefit of previewing the menu when you are eating healthy on a cruise is you get to look forward to your dinner all day long! I tried to make healthy choices that I knew I would enjoy — usually a "Mediterranean diet" type thing — loaded with complex carbs, lean protein and a variety of vegetables.
I got to savor dinner — or the thought of it — long before I ate it.
A couple of times, I wanted a side dish from another main course and ordered it, too. I ate a few bites to satisfy my craving without eating the whole thing. Moderation again!
5. Drink water
I never order the beverage package on a cruise — something about that whole budget travel mindset that launched this blog. You know?
So, this advice is very easy for me to apply. Drink water! In the dining room, you can request slices of lemon, lime or orange to make it tastier!
But, drinking water instead of soda, beer, wine or cute little umbrella drinks is a great way to eat healthy on a cruise.
Don't deprive yourself — unless the doctor says you can't have any soda or alcohol — just limit it to when you know you'll savor and enjoy it.
6. If you don't love it, don't eat it
You know that meme that says something like, "Do the calories count if I didn't like it?"
I kept that philosophy in mind on my cruise. If I got something on the cruise and really didn't enjoy it, I stopped after a bite or two!
Simple as that.
By the way, that philosophy is one I still hold today, not just for eating healthy on a cruise.
7. Try something new
In some ways, eating healthy on a cruise is almost easier than at home!
On a cruise, you can try the "heart healthy" dish and if you don't like it, ask for something different.
On my cruise, I ordered horseradish crusted salmon, something I would never make at home.
It was amazing! The horseradish was mild as prepared, not overwhelming. The salmon was mild and tender. It was one of my favorite meals the whole cruise.
Bravely, I tried tilapia another night. I did not like it at all, and swapped for the chicken dish. Much better.
You can't do that as easily at home, so explore and find something new to enjoy. Eating healthy on a cruise does not mean bland and boring!
9. Whatever you choose to eat, enjoy it
Eating healthy on a cruise can be fun — especially when you apply these tips.
Eat the foods you enjoy the taste of. Don't eat the ones you don't enjoy.
Bottom line, it's vacation. Who wants to think about keeping fit and healthy on vacation? Not a lot of us. So, when you do eat, be mindful. Enjoy each bite. If you don't enjoy it, don't eat it. That's a great place to start.
For more tips on cruising