Hiking Gear for Beginners (and Other Important Hiking Tips!)
This post may contain affiliate links. Click here to see what that means.
Day hiking for beginners — it might seem a bit intimidating. Visit an outdoor supply store, and it can be downright overwhelming: What are the best hiking clothes? Which are the best hiking boots for beginners? With all that gear, what is essential hiking gear for beginners?
The truth is hiking for beginners is really pretty easy. You don't need any special skills for hiking. If you can walk, you've already accomplished the most important skill. Don't let the fear of the unknown keep you from enjoying the great outdoors.
This hiking guide provides everything you need for first time hiking to ensure your adventure is both safe and fun.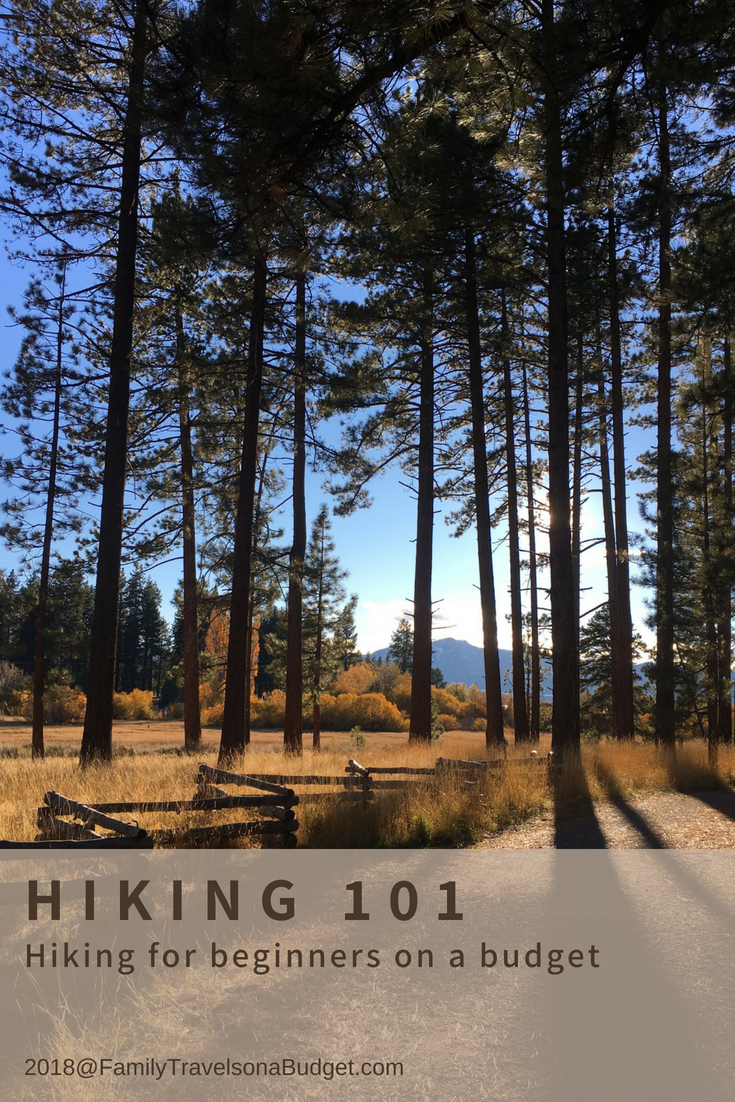 1. What to wear hiking?
I am fairly new to these treks and have absolutely no idea what to wear hiking! So, I consulted a hiking guide — my son — who just finished a five day hike in Wyoming. He cautioned that it's not a good idea to go hiking in jeans, which is one of the biggest hiking mistakes he sees people make.
The best clothes to wear when hiking (frugal beginner edition)
First, why is it bad to go hiking in jeans?
My son, Ben, explained that the best clothes for hiking should be synthetic and/or wool. Jeans are made of cotton. You want to avoid cotton (with the exception of women's underwear) because it doesn't wick the moisture away, so you feel worse once you sweat. Also, if jeans get wet, they get heavy and stiff and can cause chafing. Nobody wants chafing!
So, what should you wear?
Long pants and long sleeve shirts are best to protect you from insect bites and scrapes in the underbrush. You can roll the sleeves to stay cool. And, if you want to invest just a little bit, you can get pants with zip-off legs to stay cool on hot days but have the option to protect yourself from bugs and scratches. Some come with built in SPF to protect you from the sun. Still wondering what pants to wear hiking?
As for what shirt to wear when hiking, consider the men's Baleaf Men's Outdoor Running Long Sleeve T-Shirt
or the women's Baleaf Women's Long Sleeve Outdoor Performance T-Shirt
. They're lightweight, breathable, and have sunblock protection at a good price point.
What are the best hiking boots for beginners?
Good beginner hiking boots should have "lugs" that will grip the dirt. They don't have to be expensive, and you don't even have to buy new. If you have a pair of rugged boots, running shoes, trail shoes or sandals with good "lugs," you're set for your first outing.
If you need to buy hiking shoes for beginners, here are three good options:
Wear socks meant for hiking! Breathable, moisture wicking socks, usually in a wool blend, do the best. Wool socks aren't scratchy like they used to be, either!
And finally, Ben says always wear a hat, whether it's a beanie or a baseball cap. It helps protect you from the sun and protects you from ticks and other critters that live in nature.
2. What is the best hiking gear for beginners?
Like I said at the outset, if you go to any outdoor supply store, there's so much hiking gear to choose from it can be overwhelming! So what is truly essential hiking gear for beginners? Ben narrowed it down for me, based on what you really need for your first time hiking.
Ben's hiking gear list for your first time hiking:
Start with a lightweight, water resistant daypack that can hold your water bottle and other items. A "typical" school backpack is probably too heavy and not breathable enough for hiking. But, for a short hike, it will do.
Here are two budget-friendly hiking daypacks to consider:
[table id=2 /]
Then, pack your bag with these essentials:
For a more complete guide to hiking gear for families, read our family guide to hiking.
3. What are the essential safety tips for beginning hikers?
Now that you have your clothes, gear and water, let's cover some hiking safety tips to make sure you don't just look good, but have a great experience.
Pick a trail you can handle. One of the biggest mistakes beginning hikers make is to pick a trail they can't handle — either one that's too long or that has too much climbing. Good beginner hikes are less than 5 miles and involve minimal climbing. The hiking guy wrote a great guide to help you find a good trail.
Familiarize yourself with the trail. I'll confess, I didn't follow this important tip when we took short hikes with the kids. We just parked at the trail head and set off. It's much better, trust me, to look at the trail online or in a guidebook or on a map to familiarize yourself with landmarks and distances. That way, you're less likely to get lost! It will also help you plan how far to go so you don't pick a trail that's too long.
Take a map. Whether you take a paper map (store it in a ziplock bag to keep it dry) or a GPS map on your phone, carry something to help you navigate. If you want to use your phone, download the map because cell signals are iffy in nature (and it chews up your data). Also, set your phone on airplane mode to preserve the battery. That map won't help if your phone dies!
Hike at a comfortable pace. There's no prize for getting to the top first. In fact, when you go too fast, you're much more likely to have an injury: trip over a tree root, step in a hole and twist your ankle, slip on a wet rock… you get the idea.
Tell someone before you go. Tell someone where you are hiking, when you'll be going, and when you expect to get back. That way, if something does go wrong, someone will know to look for you. It's unlikely on your first hike, but practice hiking the right way from the beginning and you'll never forget this important step!
If you discover that hiking is something you want to do more regularly, consider buying used hiking gear as you add overnight trips. It's a great way to save when you're getting started. And, since it's not a good idea to hike alone, consider joining one of the many hiking clubs for beginners!
Our favorite day hike destinations
Here are my favorite day hiking destinations in the United States!