10 reasons to vacation at Gulf State Park in Alabama
Between the popular vacation towns of Gulf Shores and Orange Beach in Alabama, sits the region's shining jewel, Gulf State Park.
Covering more than 6,200 acres, Gulf State Park is home to three fresh water lakes, a golf course, the Gulf State Park Campground, cabins, the Gulf State Park Pier and 2 1/2 miles of incredible beach.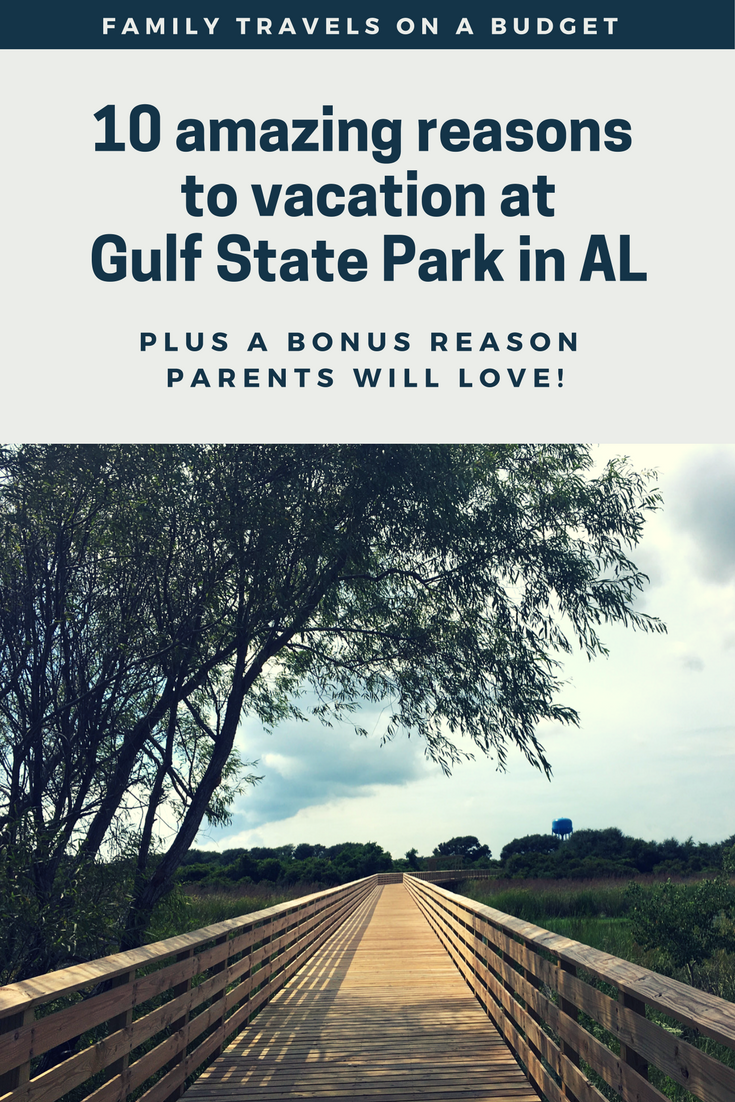 Gulf State Park is dog friendly. Pets are welcome as long as they are well-behaved, on a leash and stick to the trails.
• Read more: A complete guide to pet friendly travel •
I've been to Gulf Shores and Orange Beach several times, but I always bypassed Gulf State Park.
From the road, it looks rather uninspired — all you can see easily from Route 182 is dunes — lots and lots of dunes. You can't climb the dunes, so I didn't give the park much thought.
Until this trip…
When I finally took an up close look at everything Gulf Shores State Park has to offer. I wish I had found it sooner!
It's a great place for a family beach vacation.
10 reasons to visit Gulf State Park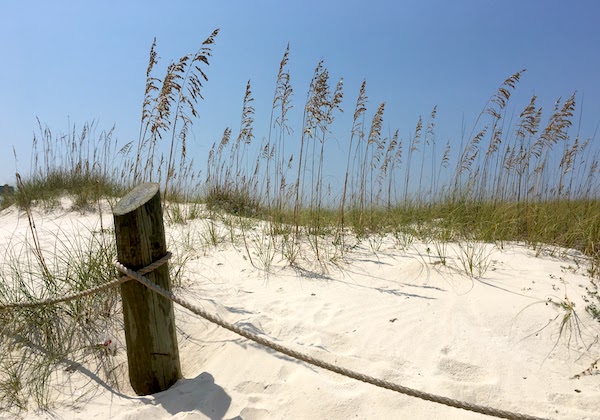 Gulf State Park is one of the most biodiverse ecosystems in the United States. In other words, there's more than dunes out there! There's a woodland forest, swamp, wetlands, the dunes (of course) and more. The more time I spent at Gulf Shores State Park, the more I wanted to see.
And there's a bonus reason to visit Gulf State Park, so I hope you'll read to the end. Seriously, parents, you don't want to miss this!
The Hugh S. Branyon Backcountry Trail system is popular with families.
The backcountry trail is actually comprised of 28 miles of trails through nine distinct ecosystems. Along the Hugh S. Branyon Backcountry Trail, you'll discover all sorts of different plants and animals, including a bald eagle (if you're lucky), butterflies, and an alligator named Lefty.
If eagles and alligators don't convince you to explore the Hugh S. Branyon Backcountry Trail, maybe this will:
For a closer look, download the Gulf State Park Trails Map to plan your adventure.
Geocaching for kids is a great way to explore in Gulf Shores State Park.
Geocaching uses GPS-enabled devices for real life, outdoor treasure hunting. Simply input a specific set of GPS coordinates into your map and try to find the container hidden at the location. There are several places along the Hugh S. Branyon Backcountry Trail at Gulf State Park to go geocaching for kids.
If you are new to geocaching, the rules are simple:
If you take something from the "cache" (container), leave something of equal or greater value.
Write about your find in the cache logbook.
Share your experience at Geocaching.com.
Click here to learn more about geocaching.
Here's the link to geocaching at Gulf State Park.
I'm fairly new to geocaching, and caught the bug after seeing my friends' posts on Facebook as they explored all sorts of neat outdoor places. I
Geocaching for kids is a great way to inspire excitement about the great outdoors.
My brother is an avid bicyclist — he always has been. Me, not so much. I am always afraid that I'll hit a rock and go flying over the handlebars. It's an irrational fear, I know, and one I'm trying to overcome.
Gulf Shores State Park is the perfect place to do that!
At this Alabama state park, there are miles of paved bike trails making beach bike rentals a great way to see Gulf Shores and Orange Beach!
I rode a bike 7.5 miles along the Hugh S. Branyon Backcountry Trail and throughout the rest of Gulf State Park. I did not wipe out, not even close. And, I actually had fun! Like serious, grin on my face fun.
I think it helps that Beach Bike Rentals (located next to the Rosemary Trail entrance to Gulf State Park) was involved.
The staff there is super-friendly.
They took the time to explain all the bike's features to me and adjusted my seat to the perfect height. They go over every bike after each ride to ensure they are clean and in pristine riding condition. Every rental includes bike, helmet, basket, bell and lock — and a trail map, of course. If you ask, they'll help you plan a route that meets your interests.
Added bonus: Wherever you stay in Gulf Shores and Orange Beach, they deliver!
While I'm not a big time bike rider — yet — I'm 7.5 miles closer to having confidence.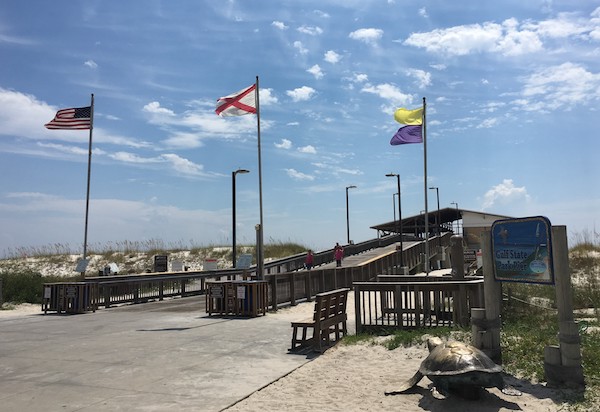 I am not a fisherman. Nor am I a fisherwoman. But, my daughter is — and she would love to spend a day at the Gulf State Park Pier.
This is actually the second pier at Gulf Shores State Park. The first pier was washed away by Hurricane Ivan in 2004. The new Gulf State Park Pier, which opened in 2009, is the longest fishing pier in the Gulf of Mexico.
And, it's not just for fishermen.
The Gulf State Park Pier has air conditioned concession stands, clean restrooms, and a souvenir shop. You can buy a day pass to enjoy the views or you can get a fishing license to fish for the day.
Avid fishermen will appreciate the bait and tackle shop, fish cleaning stations, electrical outlets (for bubblers if you, like me, have no clue what serious fishing entails) and sea turtle friendly lighting for night fishing.
The Gulf State Park Pier is completely accessible to those in wheelchairs, including a paved parking lot at the end of the pier. There are even fishing spots specially designed for easy access.
If you can't tell, I was pleasantly surprised by the Gulf State Park Pier.
I enjoyed watching people fish — especially Kristen Walters from Arkansas, who caught her first big fish at the pier while I was there. Oh my goodness, she was so excited!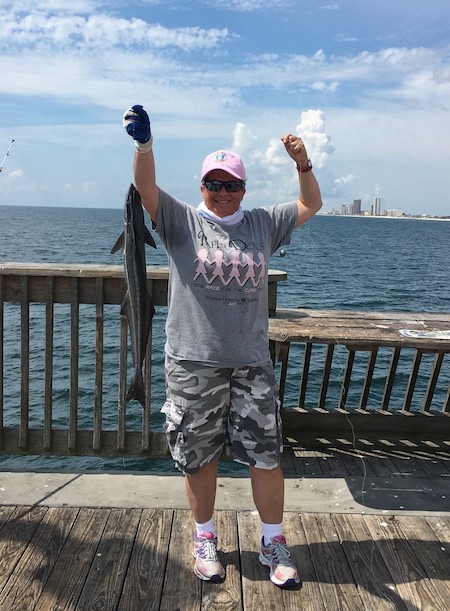 Really, I should be talking about the white sandy beaches and warm gulf waters, but you know… the beach pavilion at Gulf State Park is pretty awesome too.
It offers a snack shop, covered eating areas, real bathrooms and showers with warm water! I
don't know about you, but after a day in the sand and surf, I am glad I can wash the sand off before driving "home." Use of the pavilion is free, but it's $6/car to park.
6
Gulf State Park Cabins offer a number of lakeside and woodlands cabins and cottages for vacation rentals all within the beautiful Alabama state park. Some of the Gulf State Park Cabin rentals are pet friendly. There's even a dog friendly beach near the Gulf State Park Cabins.
Besides the quiet location, Gulf State Park cabins are quite affordable. You can rent a 3 bedroom/3 bath cottage weekly for about $2,000 during peak summer season!
Click here to learn more about Gulf State Park cabin rentals and rates.
If you have a camper or like to tent camp, the Gulf State Park Campground has almost 500 spots for you to enjoy. Many of the spots at Gulf State Park Campground are pull-through sites with water views.
Some of the Gulf State Park Campground amenities include:
11 air-conditioned bathhouses,
a camp store,
onsite laundry,
outdoor swimming pool with splash pad,
tennis/pickleball courts,
horseshoes,
volleyball,
the Hugh S. Branyon Backcountry Trail, and
a nature center with weekly activities.
When I took my beach bike ride, I got to the end of the campground and saw the trail stretch out ahead of me. But, there were all these warning signs. I had no idea if I was allowed on the trail or not!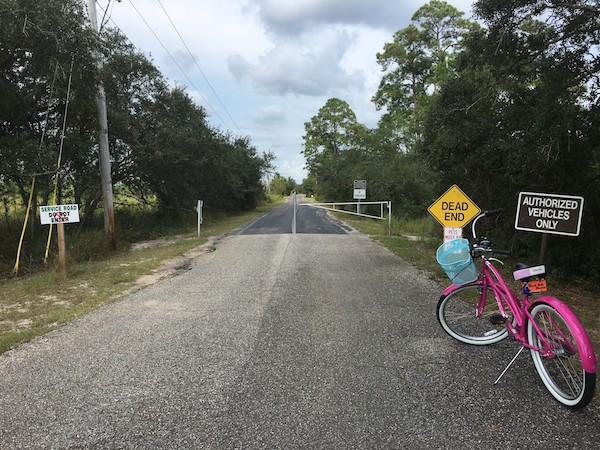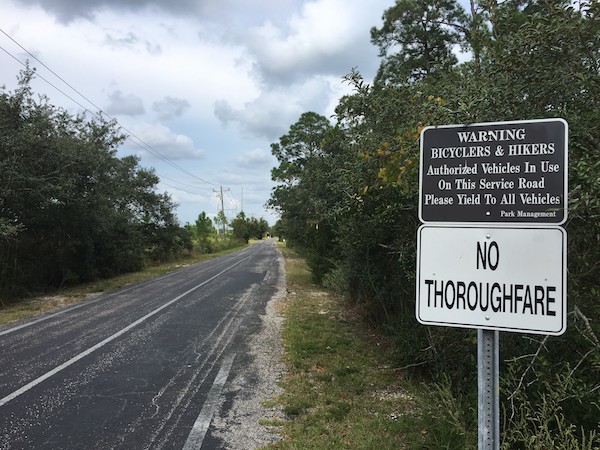 I think I might need new glasses, because this sign, just beyond the blockade, explains it all!
If you stay at the Gulf State Park Campground, bring the bikes or get beach bike rentals and take advantage of this quiet biking trail!
Tucked in the campground by the pool is the Gulf State Park Nature Center.
Gulf State Park Nature Center exhibits feature local wildlife, but there's a lot more to this activity center. Weekly activities at the nature center are the best part.
Families, not just kids, staying at the park can attend free weekly activities to learn more about the ecosystem in Gulf Shores and Orange Beach.
If you are vacationing in Gulf Shores or Orange Beach but staying at one of the hotels, condos or beach houses, just pay $2 to park at the nature center and take advantage of the free events!
• Book your Gulf Shores getaway with our trusted partners here •
Here are some of the options they offer:
GeoCaching 101: Bring a smartphone or other GPS device and learn about geocaching. Then, go with the guide to try it out!
Exploring Coastal Creatures: Guests meet at the foot of the fishing pier to learn about fish and other creatures found in the Gulf of Mexico. This is a hands on activity and you will get wet.
Eco Art: Meet at the camp store pavilion to create an art project/craft that highlights a natural aspect of the Park.
Guided Kayaking Tour: Head over to Lake Shelby for a one hour guided kayaking tour to learn the basics of kayaking and a take short trip around the lake. $20 includes single kayak, lifejacket. Call ahead for reservations as space is limited.
For this, I think a picture or two should suffice!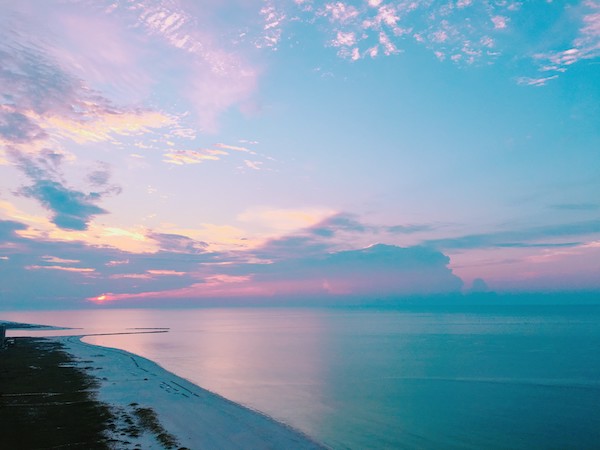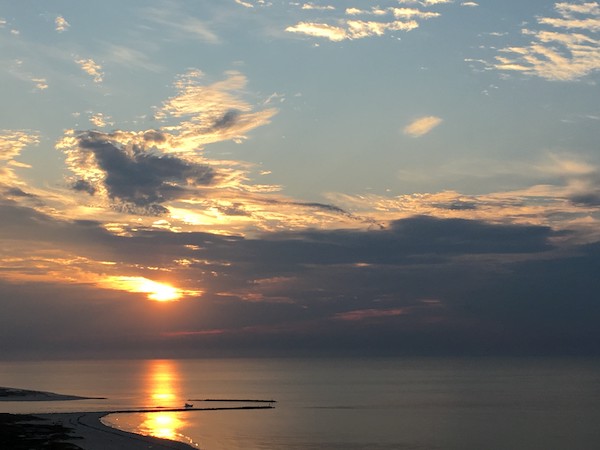 And there you have it, nine amazing reasons to vacation at Gulf State Park in Alabama this fall — or winter or next year. But, I promised you one more, right, parents? I didn't forget!
Your Gulf State Park bonus
Parents, if you visit Gulf Shores (whether you stay at the state park or anywhere else in Gulf Shores and Orange Beach), Kidcam Camp! That's right. Kids' summer camp at the state park! Kids can go for a week, two weeks, the whole summer or — for vacationers — just for a day or two.
Camp runs from 9 a.m. to 3 p.m. Monday through Friday. Register online and voila! You've just made your own all-inclusive vacation. The kids go to an awesome camp while mom and dad go kayaking or parasailing or just relax on the beach. It's a win-win for everyone. Kids have fun, and parents get some quality time.
Check out Kidcam Camp at Gulf State Park and start planning your summer getaway today!
And if Alabama isn't an easy place to get to, consider one of these other amazing Gulf Coast beach destinations for your family vacation.
Learn more about Gulf Shores and Orange Beach
When you vacation at Gulf Shores State Park, check out some of the other great places in Gulf Shores and Orange Beach!