Top things to do in the Lehigh Valley
In February, I was invited to discover things to do in the Lehigh Valley, PA. Before my trip, hosted by Discover Lehigh Valley, all I knew about things to do in Bethlehem, PA came from a Billy Joel song.
Needless to say, there's lots more to Bethlehem, Easton and Allentown, PA than I could have guessed, making it one of my top picks for family vacations to Pennsylvania.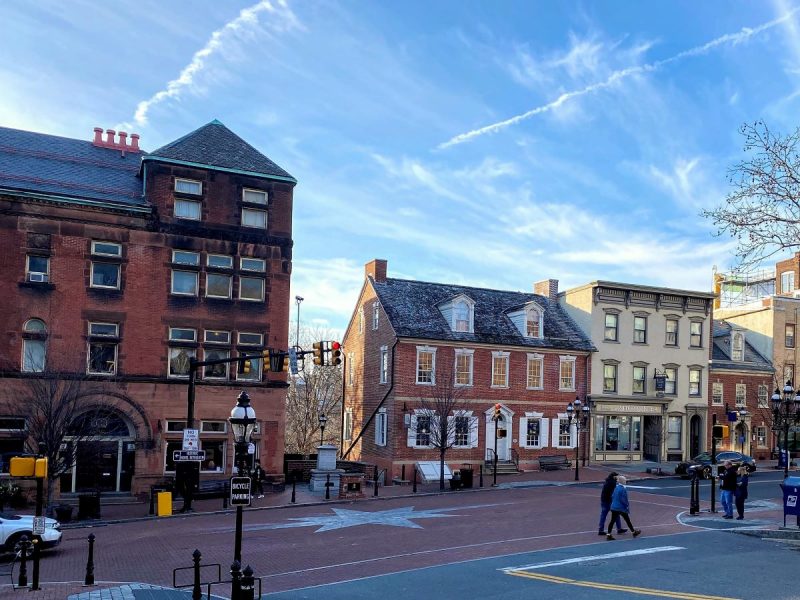 What are the best things to do in Bethlehem, PA?
It's probably no surprise that I didn't know what to do in Bethlehem, PA before my visit.
I pictured a factory town dominated by the steel stacks of Bethlehem Steel. To be honest, I didn't even know all the factories had closed down permanently.
Picturing an industrial town, Bethlehem was never tops on my list of family vacations in Pennsylvania. I'm not sure it even made the list before this visit!
It turns out that there are lots of cool things to do in the Lehigh Valley — some inspired by the industrial age, others dating back to colonial America.
Hopefully as I share the best things to do in Bethlehem, PA, you'll want to see it, too!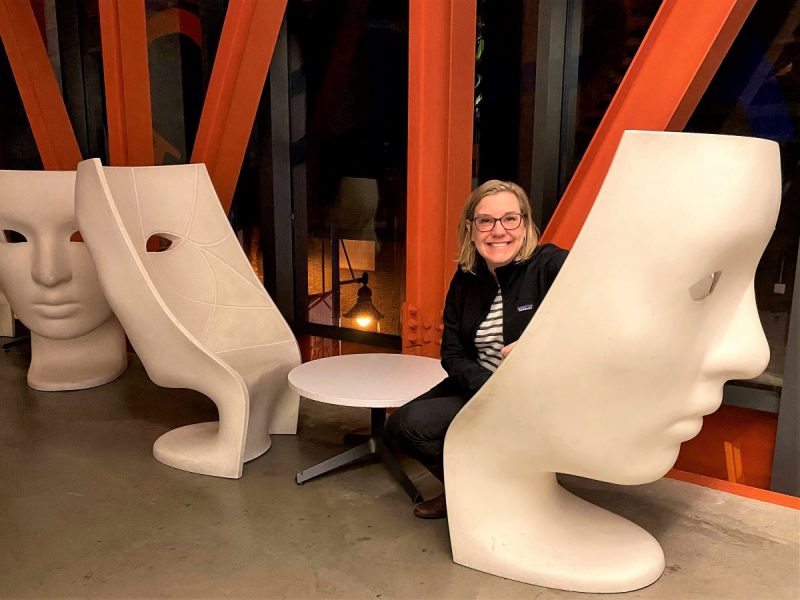 Explore Historic Bethlehem, PA
Bethlehem, PA began as a Moravian village, a missionary outpost of the Moravian church.
Today, Moravian history is preserved in the historic buildings, God's Acre — the Moravian cemetery, and all around Moravian College.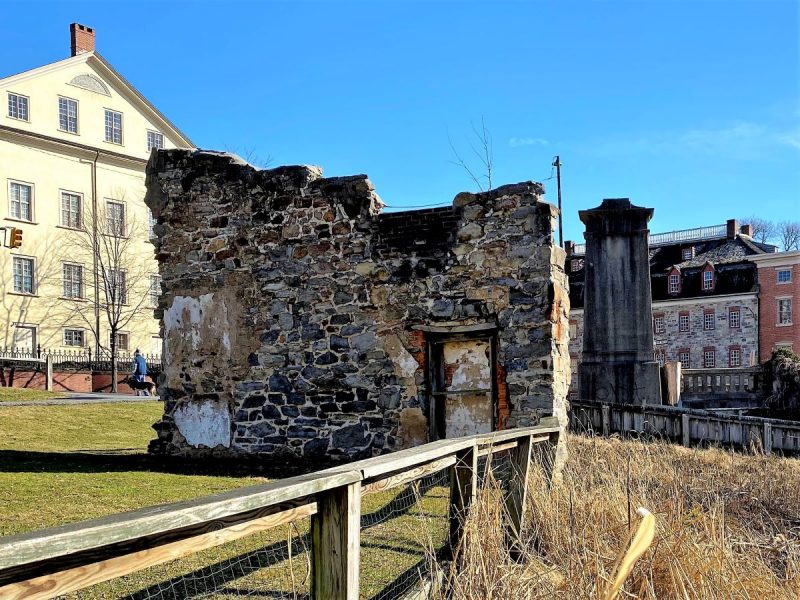 The historic Bethlehem Hotel sits in the heart of this area. The Bethlehem Hotel overlooks the relics of historic Moravian Bethlehem, a National Historic Landmark District, that supported early settlers to Bethlehem, PA.
When planning what to do in Bethlehem, PA, I recommend that you wander through historic Bethlehem, PA.
To start, just look for the Moravian star in the middle of the street and go from there to enjoy local food and boutique shopping. You might even pick up Moravian stars for souvenirs as you explore the Moravian College campus area.
Tour Historic Bethlehem Museums & Sites
On the campus of Moravian College, the Moravian Museum of Bethlehem in the historic Moravian Gemeinhaus that dates back to 1741.
At this museum, docents take museum goers on tours sharing stories of early Moravian history in Bethlehem, including how Bethlehem got its name and the history of the Moravian stars.
Nearby, the Kemerer Museum of Decorative Arts preserves Moravian culture and history with a special emphasis on Victorian history.
An impressive doll house collection and children's play space round out the permanent exhibits, while revolving exhibitions on the main floor keep it fresh and new.
During my visit, the museum hosted a spectacular collection of purses, courtesy of owner Ilene Hochberg Wood.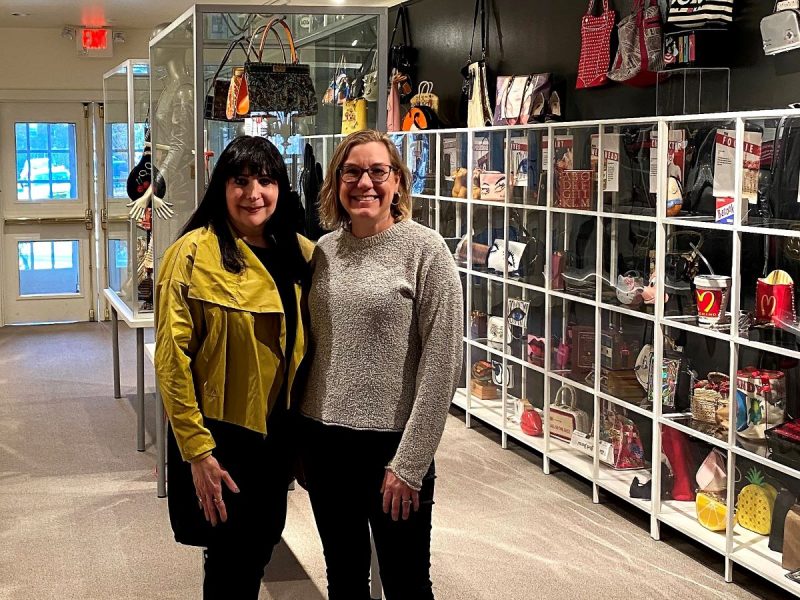 Admission to the Kemerer Museum of Decorative Arts is free on Sundays from January to October.
Next door to the Kemerer Museum sits God's Acre, the Moravian cemetery of historic Bethlehem. It's an interesting place to visit, whether as part of a Historic Bethlehem tour or on your own.
Visit the Steel Stacks, Bethlehem's industry
A visit to historic Bethlehem, PA is incomplete without a visit to the steel stacks, Bethlehem's industrial heritage site.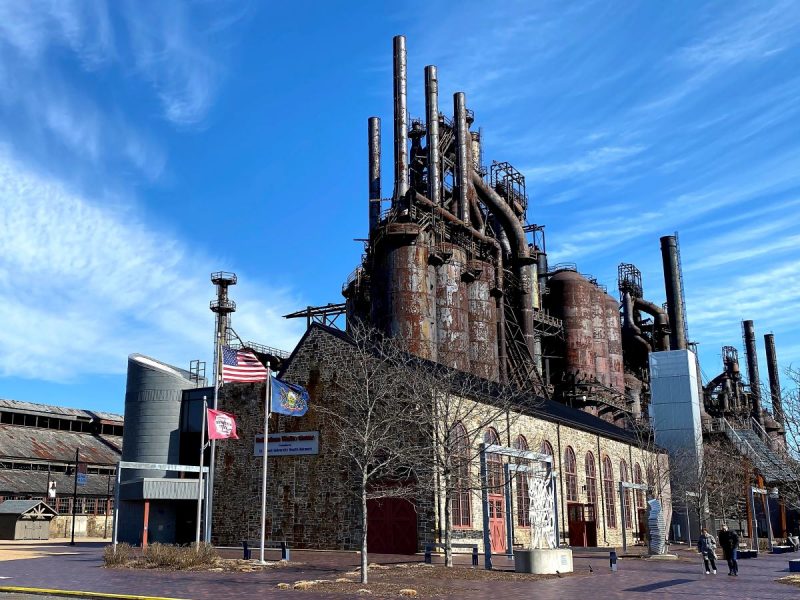 The Steel Stacks of Bethlehem put the city on the map as a premier maker of steel beams and pig iron, essential to the industrial revolution in America. The steel beams made at the Bethlehem Steel plants built major landmarks across America including the Golden Gate Bridge, Madison Square Garden, the Rockefeller Center and the Hoover Dam (to name a few).
As the United States moved away from industry and steel production costs skyrocketed, the plants shut down. That left Bethlehem with 4.5 miles of empty factory space.
Bethlehem made a bold decision to preserve its industrial history while moving forward to develop a vibrant entertainment district called "Steel Stacks," an eclectic entertainment space offering many things to do in the Lehigh Valley.
Free concerts at Levitt Pavilion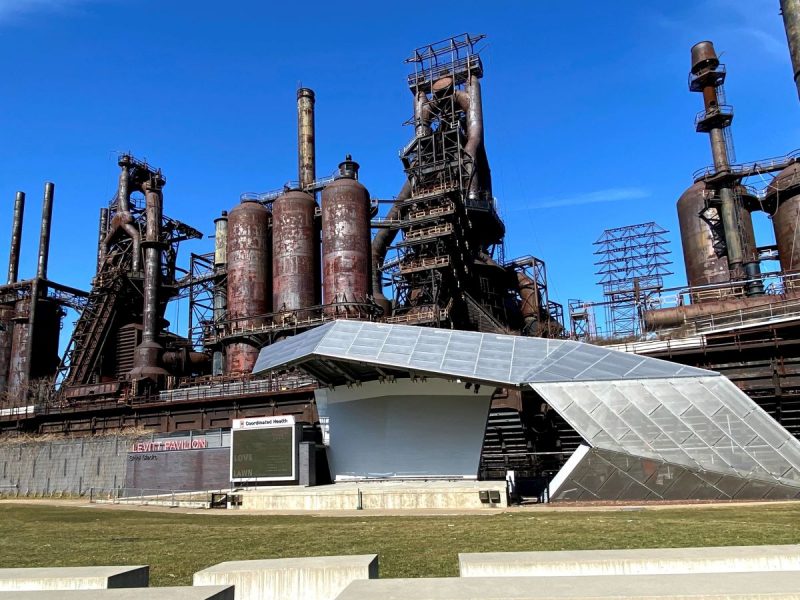 Every summer as part of the Levitt Summer Concert Series, fifty free concerts are performed at the Levitt Pavilion. Situated at the base of the Bethlehem blast furnaces at SteelStacks, Levitt Pavilion is the place to go for FREE summer entertainment!
The ArtsQuest Center at SteelStacks
The ArtsQuest Center was created to bring art, culture and education to the SteelStacks entertainment district in Bethlehem.
The modern steel and glass building, which looks out on the steel stacks, is an exciting events venue.
At the Musikfest Cafe, enjoy concerts — sometimes it's even dinner and a show!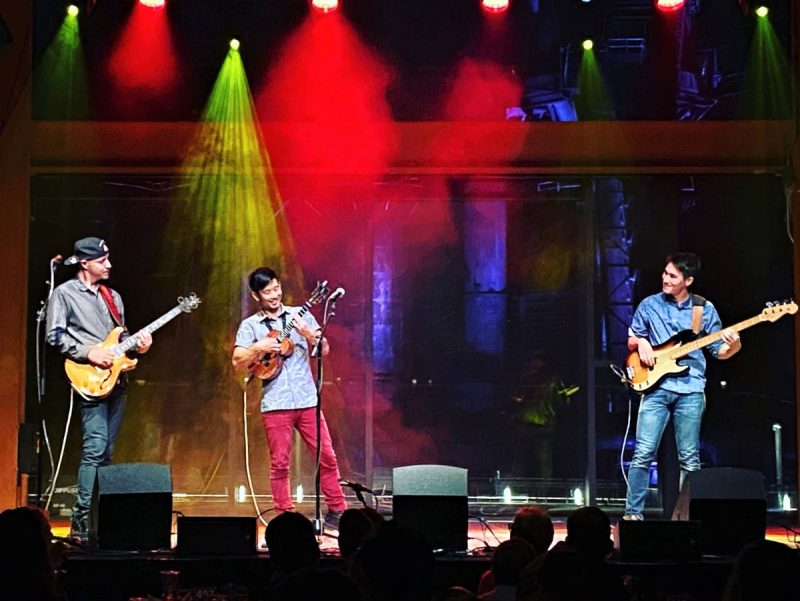 The building also has a restaurant space, two movie theaters, a brewery and several event spaces that overlook the blast furnaces of the steel mill. For family vacations to Pennsylvania, check the offerings at ArtsQuest during your trip!
Walk the Hoover-Mason Trestle at SteelStacks
As the SteelStacks were repurposed for arts and entertainment, the Hoover-Mason Trestle, once responsible for bringing ore to the stacks, was repurposed as an elevated walkway.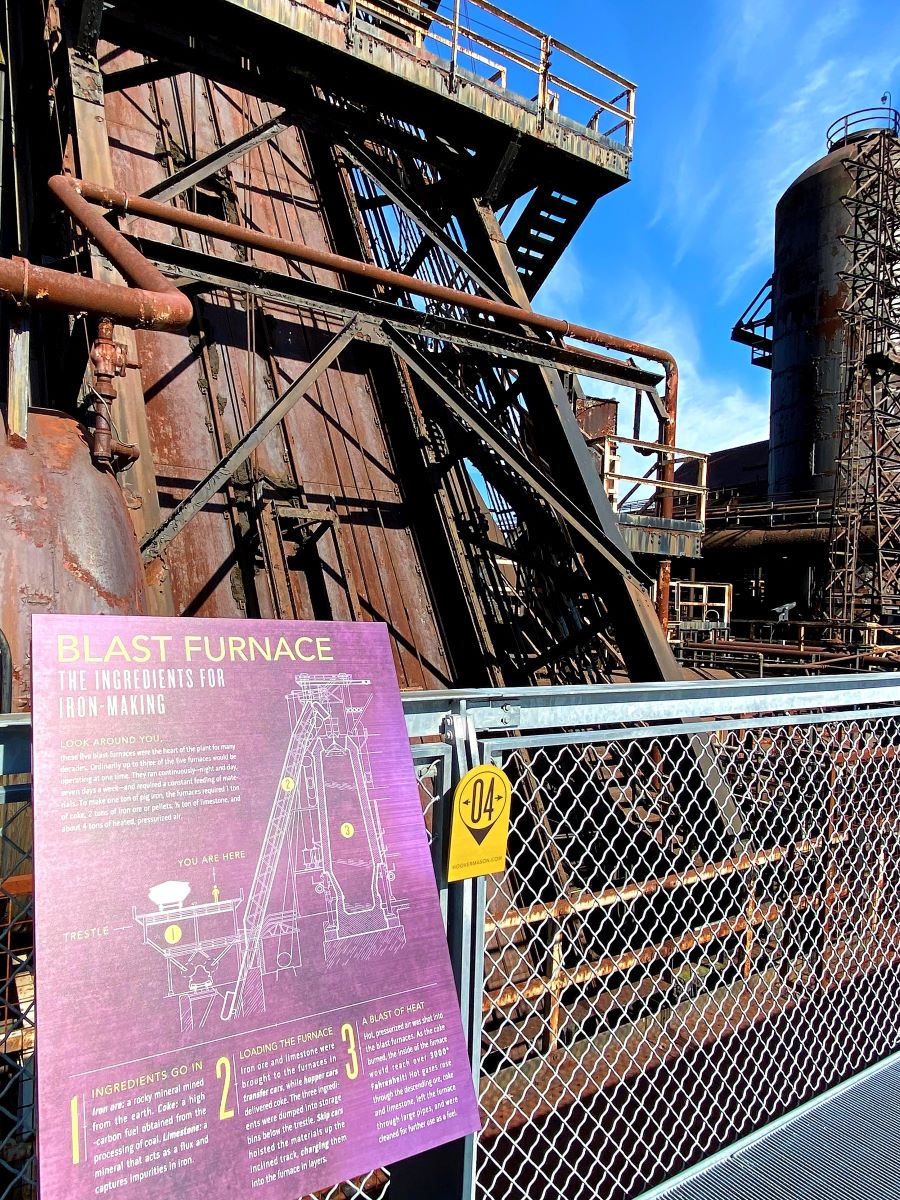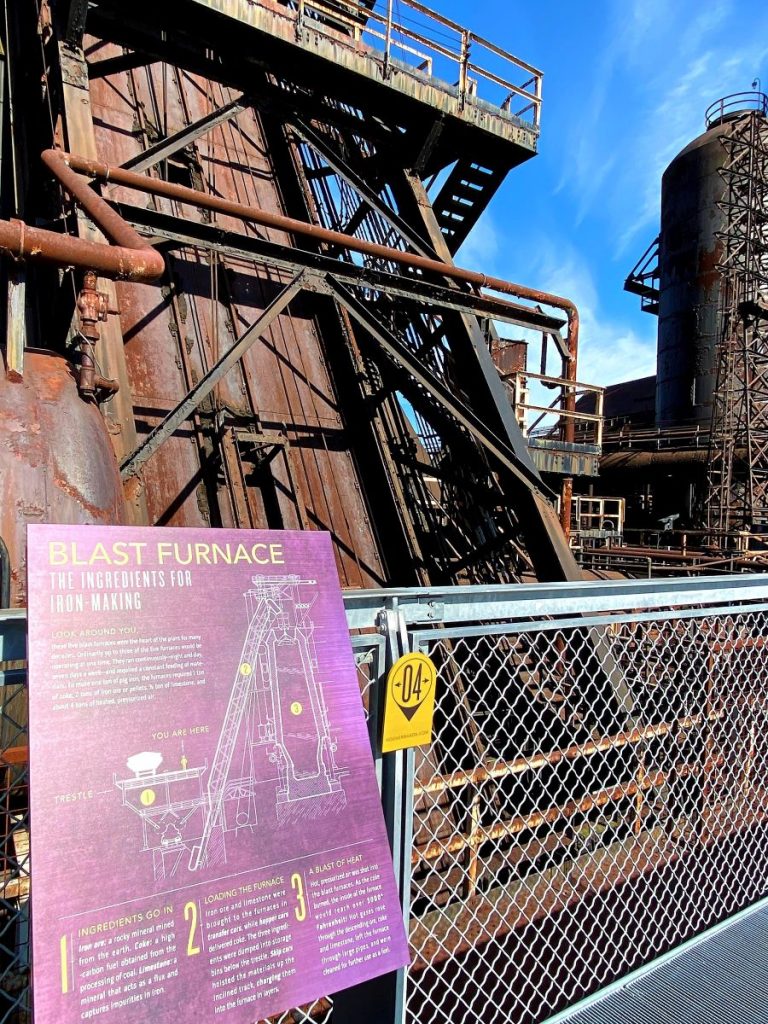 Free and open to the public, the ADA accessible, elevated walkway, explains the history of the Bethlehem steel plant and its workers. Native plants provide a soft contrast to the imposing structures.
Relax on the Town Green
In designing the SteelStacks area, planners wanted to create a town square for people to enjoy.
Of course, on family vacations to Pennsylvania, visitors can enjoy these spaces, too.
A children's play area with climbing rocks, benches under shade trees and a summer water feature does just that — inviting families to come and relax. ArtsQuest, right across the street, provides convenient dining options.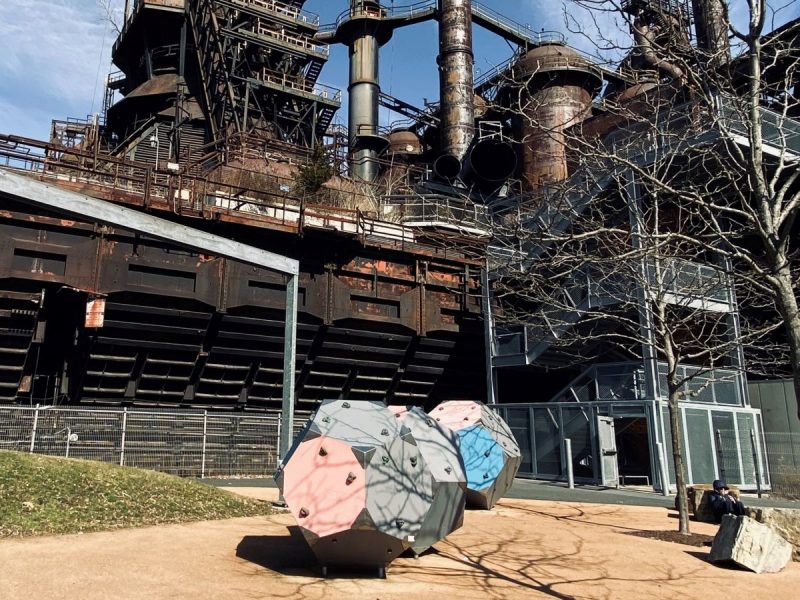 Visit the National Museum of Industrial History
When looking for what to do in Bethlehem, PA, the National Museum of Industrial History should make the list. It is one of the best things to do in the Lehigh Valley!
The National Museum of Industrial History is housed in the old electrical plant for Bethlehem Steel. The building was completely renovated and engaging displays installed, many of them on long term loan from the Smithsonian.
Visitors learn about industrial history in America, from the earliest days of traveling steam engines to the first world's fair.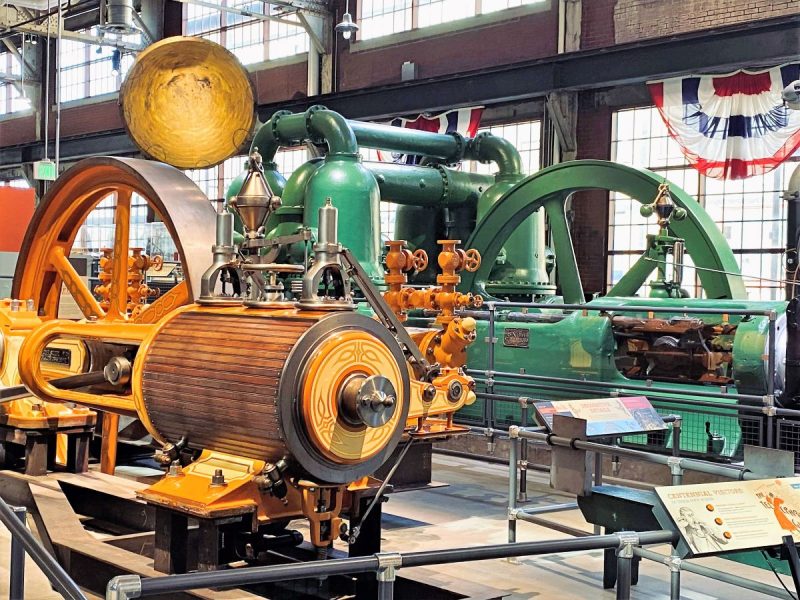 You can also see how early assembly lines made tedious work more efficient using steam engines to power repetitive motion machines. Learn about the steel industry, from its origins in Bethlehem to its role in the world economy and even in ship building during World War II.
The museum doesn't shy away from the tough issues, either. Displays explain the importance of work safety initiatives, the role of unions and even the need for child labor laws.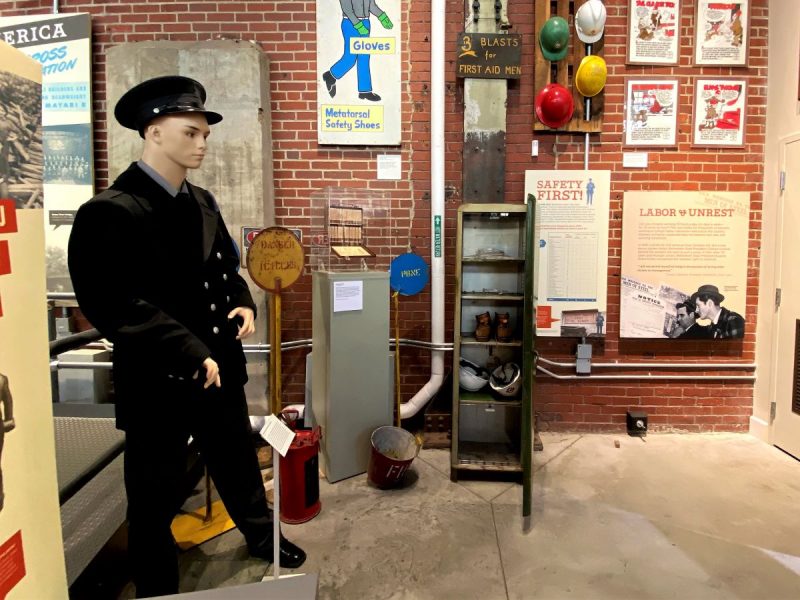 The museum is open year-round. Guests can take self-guided tours or pay a flat fee of $25 (up to 20 people) for a guided tour. Many of the docents at the National Museum of Industrial History once worked in the Bethlehem Steel plants and are happy to share stories of their life experience if you ask.
BUDGET TIP: On Sundays, children 12 and under visit free with paying adults.
What are the best things to do near Bethlehem, PA?
When visiting historic Bethlehem, PA, it's worth a drive to the nearby towns of Easton and Allentown to discover other things to do in the Lehigh Valley. My top three recommendations for family vacations in Pennsylvania are:
Crayola Experience in Easton, PA
The Crayola Experience, located at 30 Centre Square, in downtown Easton is a great indoor option for family vacations in Pennsylvania with young kids. The museum offers 25 unique hands-on experiences, some to create artistic masterpieces and others, like the 2-story playground and water works, more physically active.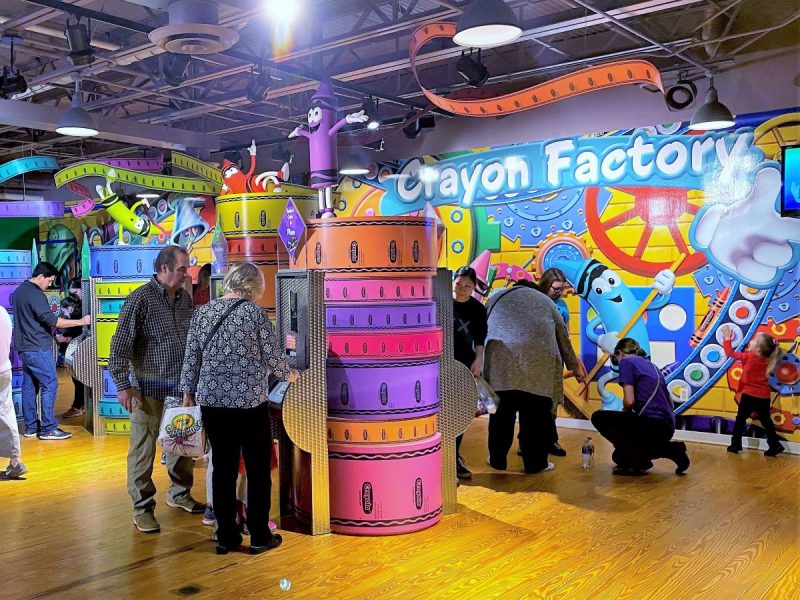 Crayola Experience is open year-round with a parking garage located next door. I recommend the museum for families with kids ages 4 to 10, and suggest looking for discount coupons as they are widely available.
The C.F. Martin Guitar Factory
Located at 510 Sycamore St. C.F. Martin Guitar Factory in Nazareth, PA offers guitar factory tours year-round, between 11:00 a.m. and 2:30 p.m., Monday through Friday.
To learn about current tours or book a group tour, call the Martin Guitar Phone Number at 888-433-9177,
Martin Guitar Factory tours last about an hour and are free, available on a first come-first served basis. Close toed shoes are recommended.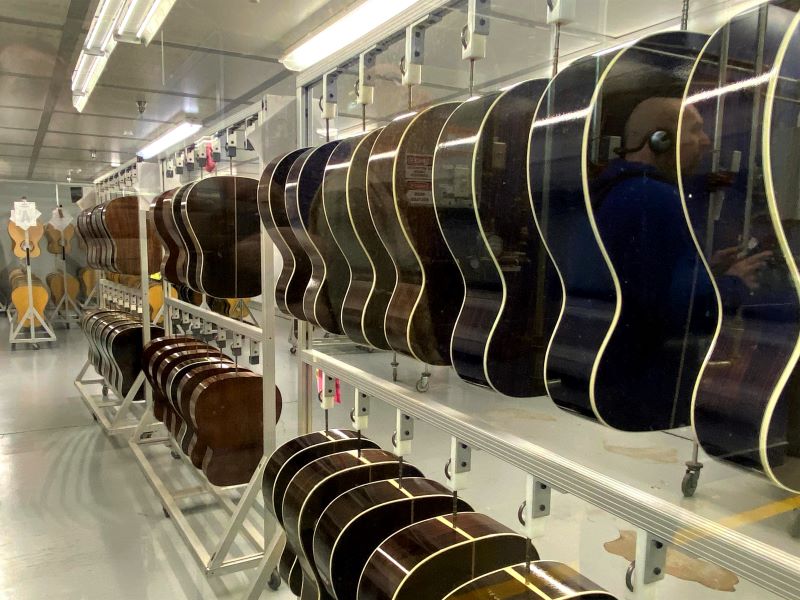 Martin Guitar Factory tours take guests through the entire guitar building process from initial design through final finish. The tour is fascinating, but I recommend it for families with kids ages 8 and above.
During the summer travel season, the tours can fill up, so arrive early to ensure you'll get in. And remember, this is a working factory, so close toed shoes are a must!
Allentown Art Museum
The Allentown Art Museum, located at 31 N 5th St, in Allentown, PA, is one of my top picks for family vacations to Pennsylvania. There is limited off-street parking behind the building and ample paid street parking nearby.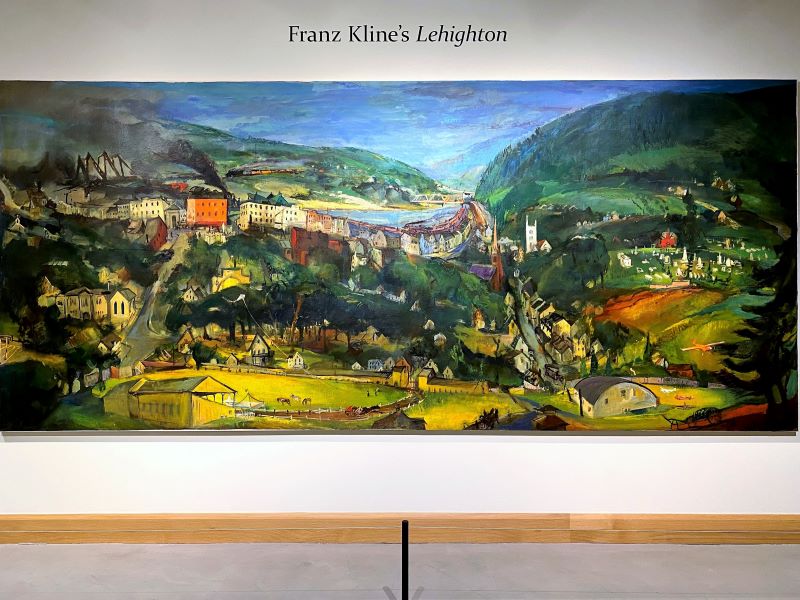 The Allentown Art Museum created a Children's Treasure Hunt to help kids think about works on display like an artist would. When they complete the treasure hunt, they can return it to the museum gift shop to receive a prize. The treasure hunts at the admission desk on the main floor.
The top floor of the Allentown Art Museum hosts temporary exhibitions which change every few months. Also on the top floor is an expansive children's area which allows kids to explore their own artistic skills inspired by the works they see in the museum.
The Allentown Art Museum offers FREE admission on Sundays and a Spanish Immersion program as well. See the museum website for a complete list of programming and for information on their upcoming exhibition, "Rembrandt Revealed."
Are there any special events in Bethlehem, PA?
When I visit a new destination, I check to see if there are any special events that might be interesting (sometimes, I find special events to avoid…). There happen to be several special events in Bethlehem, PA throughout the year that families will enjoy. When planning family vacations to Pennsylvania, see if these Bethlehem events fit your schedule:
Blueberry Festival: Historic Bethlehem hosts a two-day blueberry festival every July. The two day event features food, drinks, live entertainment, demonstrations and shopping the whole family can enjoy.
Musikfest: Held at the end of July/early August, this ten day music festival offers both FREE and ticketed live music events, food, and other activities in venues throughout Bethlehem, including SteelStacks and the riverfront. Plan ahead because there's lots to enjoy!
Christkindlmarkt: Recognized as one of the best Christmas markets in the U.S., Bethlehem Christkindlmarkt features gifts handmade by expert artisans, live Christmas music, a Christmas ornament shop, ice carving and glass blowing demonstrations and, of course, breakfast with Santa. Christkindlmarkt runs from late November to late December each year.
What are the best hotels in Bethlehem, PA?
Since Bethlehem is home to Moravian College and is close to skiing nearby, there are many hotels in Bethlehem, PA that are great for family vacations in Pennsylvania. Check with our hotel partners at Kayak for current rates and availability.
On my trip, I was hosted at the newly renovated Hyatt Place Bethlehem at 45 W North St, Bethlehem, PA is situated just a few blocks from Moravian College on the north side of town. Spacious suites, free parking in the garage across the street and free wifi make it a great value for families.
If you stay here, I recommend dinner at Apollo Grill — a short walk from the hotel. The food is delicious, the servers amazing and the atmosphere relaxed.
The Holiday Inn Express, Bethlehem, PA is located just of I-78, convenient for travelers but with easy access to all the things to do in the Lehigh Valley. The hotel, located at 2201 Cherry Lane, offers rooms and suites, free wifi and, depending on the package, breakfast is included.
The Hampton Inn, Bethlehem, PA is located at 200 Gateway Dr, just north of the city about halfway between Allentown and Easton. The hotel offers a free hot breakfast daily, free wifi and free parking as well as specials.
The historic Hotel Bethlehem is in the heart of the Moravian village part of town. The hotel was rated one of the best historic hotels by USA Today, offering upscale charm that is true to its history. It's conveniently located in the heart of historic Bethlehem, a premier option for people visiting Lehigh Valley, PA.
The Lehigh Valley is great for family vacations in Pennsylvania. With history, outdoor activities, hands on kids' museums and spacious, affordable accommodations, there's plenty to do in Bethlehem, PA!
Pin it for later
Save this post of the top things to do in the Lehigh Valley for later to make vacation planning easier. Bethlehem and the Lehigh Valley make a great weekend getaway destination for budget minded families who enjoy the outdoors, unique places, history and food.