Fun things to do in Erie, PA
This year sure hasn't shaped up the way it should. Today, I was supposed to be on a plane to discover all the fun things to do in Erie, PA. Instead, I'm at home, writing a virtual guide to the fun attractions in Erie, with hopes I will get there later this summer.
If you're looking for a fun road trip for the family this summer, consider a vacation in Erie, PA! Situated on the Lake Erie shore, this town has lots of wide open spaces to explore. There are so many attractions in Erie, you'll discover there's plenty for a family to enjoy!
Fun attractions in Erie, Pa
There are so many fun things to do in Erie, PA making this a great destination for a family road trip getaway.
Read our Guide: Road Trip Tips: Surviving "Are we there yet?"
Outdoor fun attractions in Erie, PA
Erie, Pennsylvania's location on the southern shore of Lake Erie lends itself to outdoor adventure. The city and surrounding areas have several parks to explore. There's also lots to do on the water.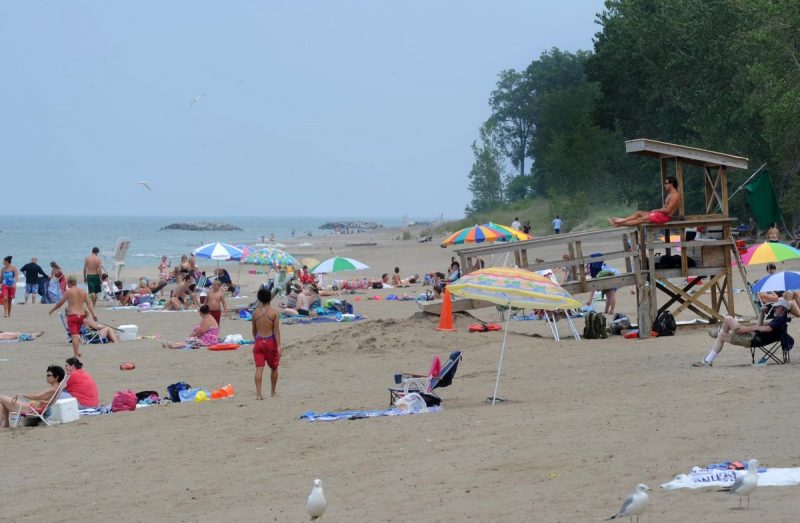 Presque Isle State Park — With seven miles of beach front, 13 designated swimming areas, 13 miles of paved trails and water sports like boating, wind surfing, kayaking and water skiing, Presque Isle State Park is an adventurer's playground. The park is also well-known for its spectacular sunsets, fall foliage and winter activities. It might come as no surprise that more than 4 million people visit each year.
Asbury Woods Nature Center — The nature center, geared toward kids and families, has been completed after 10 years of planning and development. It offers a wide boardwalk that's fully ADA accessible, a teaching pavilion at the edge of the wetlands and other unique outdoor experiences for kids and their adults.
Lake Erie Arboretum at Frontier Park — The LEAF Arboretum grew from a wrong turn, and became a beautiful park with trails through the trees, learning kiosks and so much more. This is a great spot to learn while having fun.
The Fishing Pier at East Dobbins Landing — The fishing pier at the foot of Holland Street will be available later this summer to give people someplace new to fish the waters of Lake Erie.
Family fun attractions in Erie, PA
There are lots of fun things to do in Erie, PA with the kids from museums to indoor water parks.
Erie Art Museum, 20 E 5th St, Erie, PA 16507 — The museum collection includes more than 8,000 objects including American ceramics, Tibetan paintings, Indian bronzes and comic book art.
expERIEnce Children's Museum, 420 French Street, Erie, PA 16507 — Geared for children up to age 8, the museum is located near the Art Museum and only 5 minutes from the waterfront. Exhibits focus on fun learning experiences for math, science, art, culture, literacy and health. There's a dedicated Tot Spot for kids aged three and under that has soft mats, soft blocks, interactive felt board, activity panels and a sensory wall. Sensory backpacks are available as well — just ask at the front desk.
Splash Lagoon Indoor Water Park, 8091 Peach Street, Erie, PA 16509 — Whether staying at a partner hotel or purchasing a day pass for the water park, there's fun for the whole family at Splash Lagoon. There's a flow rider, slides and pools, a ropes course, kids' water play area, food and shopping all in one place. Day ticket prices start at $39.95 for kids under 42 inches and vary by season. Evening tickets and other discounts are available.
Unique attractions in Erie, PA
When looking for fun things to do in Erie, PA, consider some activities that are unique to the area. These are some can't miss attractions in Erie, PA.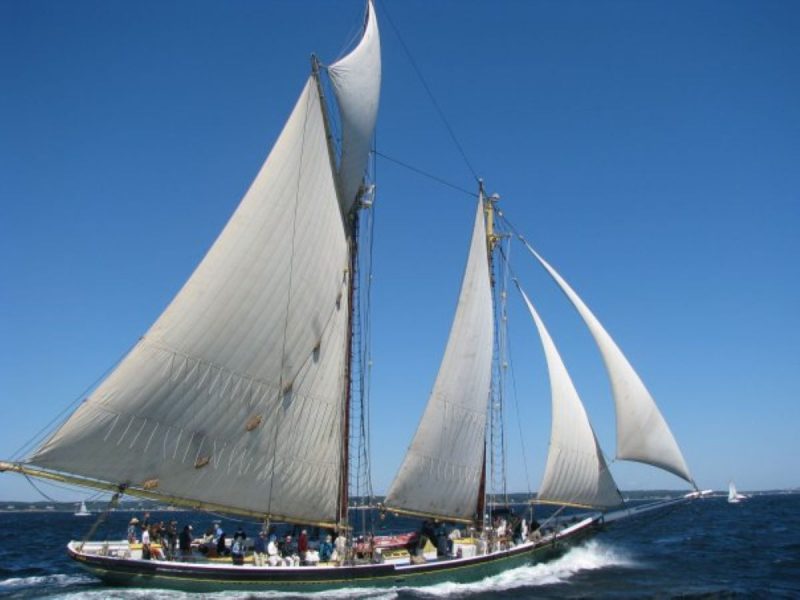 The Erie Maritime Museum, 100 Blasco St, Erie, PA 16507 — Learn the important role Lake Erie has played in American History. Discover the people and events that define this region, including the fishing industry and the War of 1812. When in port, the US Brig Niagara becomes part of the museum as well.
Bicentennial Tower, 1 State St, Erie, PA 16507 — For a $5 admission fee (some days offer free admission), visitors can head to the top of Bicentennial Tower for great views of Lake Erie and the town named for it.
The Tall Ships Festival. Every three summers, the Tall Ships come to Erie for a festival celebrating these iconic sailing vessels. Some ships offer day sails for festival guests. Other festival highlights include live music and entertainment, children's activities, a festival marketplace, food vendors, a beer garden and much more. The next festival is in 2021 — a great event to plan for!
Places to eat in Erie, PA
There are lots of great places to eat in Erie, PA offering regional cuisine, food tours and even wine and beer tours. Here are some of the best places to eat in Erie, PA — or to enjoy a drink! Some on this list would make a great date night dinner. But, Erie isn't a fussy place.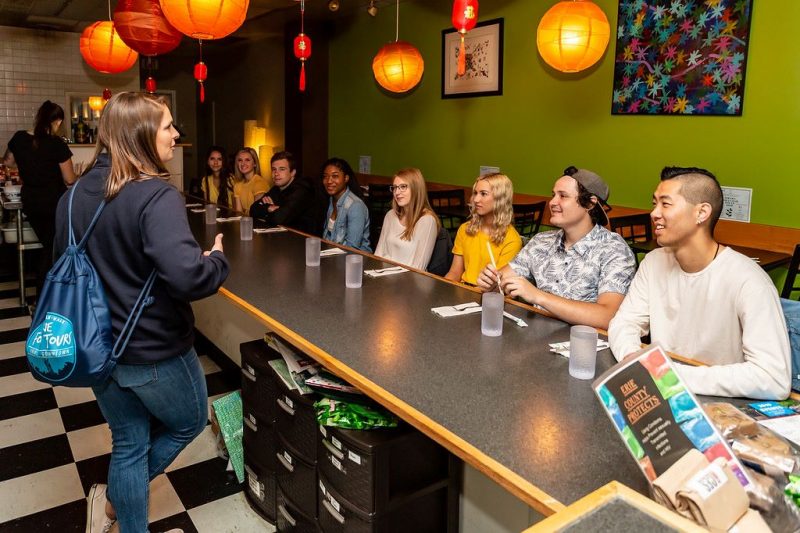 Hotels in Erie, PA
All the major hotel chains have a presence in Erie, so when looking for hotels in Erie, you've got lots to choose from.
One option is to stay at the Sheraton Erie Bayfront Hotel. Situated on the Lake Erie shore, the views from many rooms, the restaurants and other public spaces are simply breathtaking.
PRO TIP! If you have a hotel brand loyalty card, choose a hotel from that brand's collection to earn points toward free nights and upgrades, especially if hotel perks beyond breakfast matter to you.
Here are some of the hotels in Erie to consider.
The Hilton Hotels in Erie include:
Hilton Garden Inn,
Homewood Suites by Hilton, which offer spacious suites and kitchenettes,
Hampton Inn, and
Home2 Suites, a modern suite space.
All Hilton Hotels in Erie are located along major highways making them a great home base for travelers to the region. Click here to explore Hilton's options.
Today, pets are part of the family, and Red Roof Inn Hotels in Erie welcome them. Click here to learn more.
There are several hotels in Erie offered by the Choice Hotels family of hotels, including:
Quality Inn & Suites
Comfort Inn & Suites
Solstice Hotel, Ascend Hotel Collection
All three hotels are located along I-90, convenient to downtown, the waterfront, and major family attractions in Erie. Click here to learn more about Choice Hotels in Erie.
The IHG brand of hotels in Erie include:
Candlewood Suites
Holiday Inn Express & Suites — located at the Splash Lagoon Indoor Water Park.
These hotels are geared for families, with spacious rooms located close to all the family friendly attractions in Erie. Click here to explore the options.
Pin it for later
If you're not ready to plan an Erie, PA road trip, pin this post for later so you can find it when you are ready to go!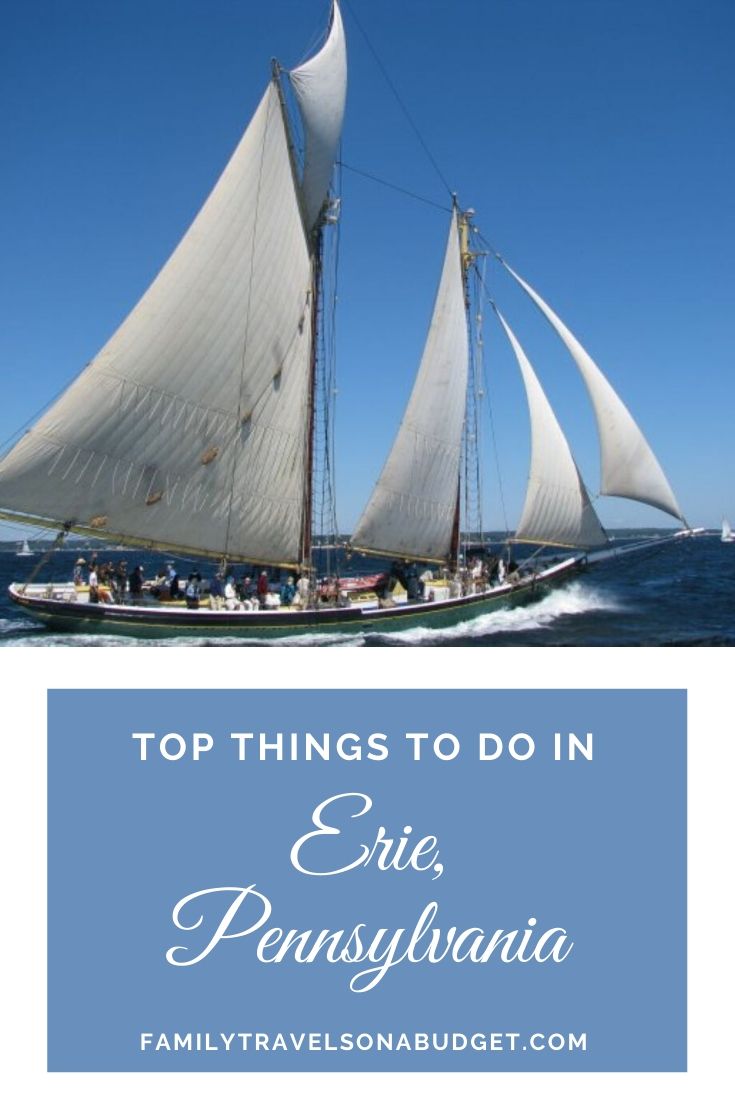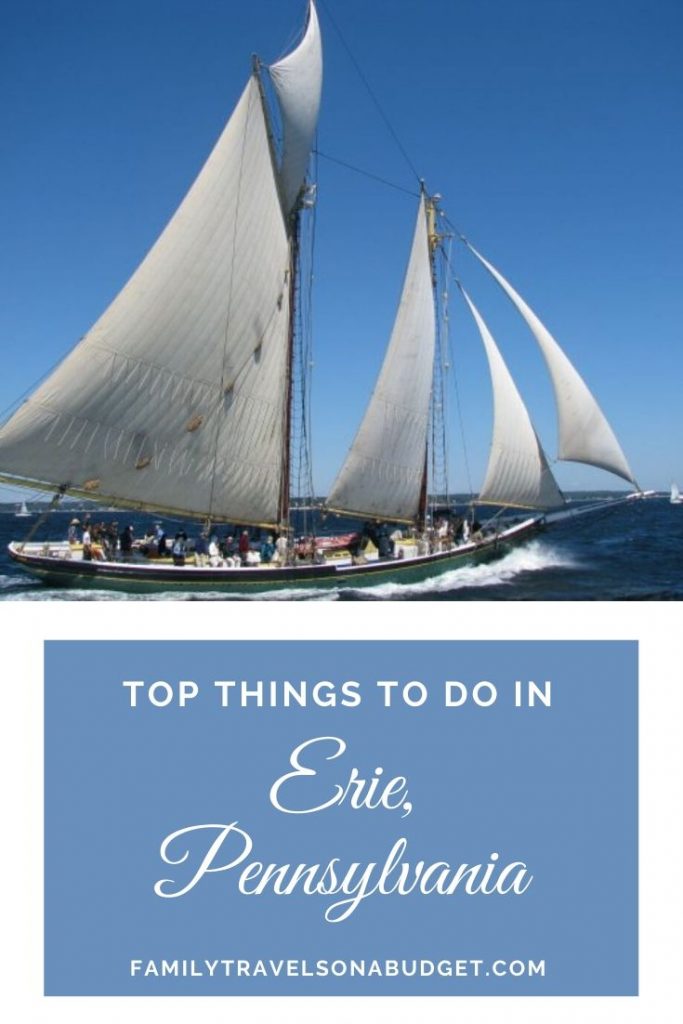 Discover more great road trips:
Road trips are a great way to explore the USA with your family!