Spring Break with teens: 10 reasons to visit Alabama's beaches!
When you consider where to go for spring break, especially spring break with teens, my top pick is Alabama's beaches! Alabama sits on the Gulf of Mexico, offering calm waters, gorgeous sunrises and sunsets and wide, white sandy beaches that rival those of neighboring Florida.
But, for this mom of teens, Alabama's family friendly policies make it a better fit for families with teens. Alabama's coastal towns of Gulf Shores and Orange Beach have chosen not to allow alcohol on the beach at spring break. That means families can relax and enjoy the waves, the sand and those magnificent sunsets without worrying about the issues alcohol can bring.
But you want a beer, you say? No worries! It's not a dry county, just an alcohol-free beach for the safety and enjoyment of all guests. If you like craft beer, Big Beach Brewing is a family friendly brewery with plenty of lawn space to play games and a great atmosphere to enjoy a craft beer — or soda.
Okay, enough about the parents! This is a post about where to go for spring break with teens, so read on for…
Ten reasons Alabama's beaches make great spring break vacations for teens and their families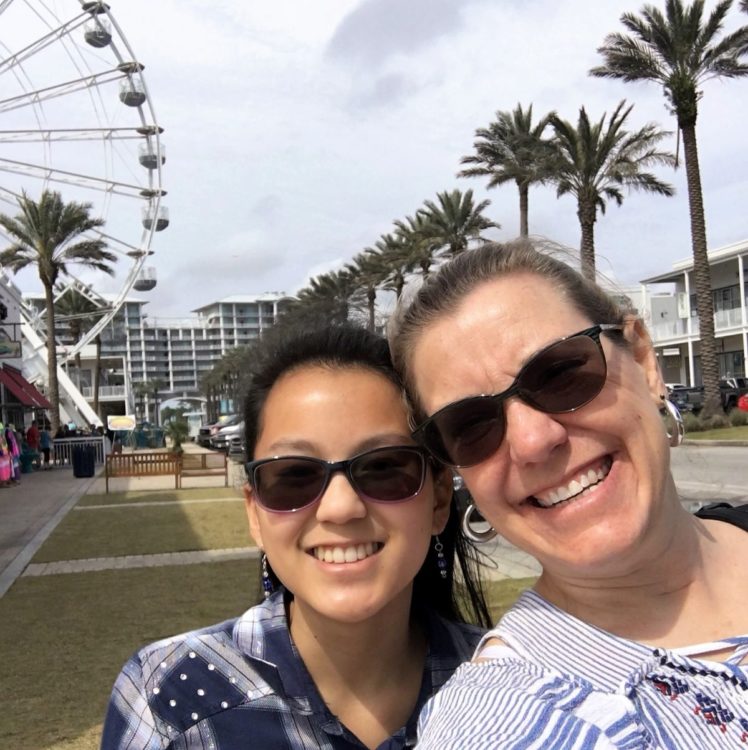 Ellie and I were hosted on a visit this past spring break to research this article. We had a blast exploring Alabama's Gulf Coast — and Ellie took lots of notes. My young lady is a journalist in the making, I think!
Number one: It's easy to slow down!
Whether you prefer a go-go-go vacation or a relaxed one, Gulf Shores and Orange Beach has it. The beaches are wide, with plenty of space to relax. Spacious condos and rental beach homes provide the space families with teens appreciate so everyone can relax. But, there are so many activities (some listed below) that families can enjoy.
My daughter has been to Gulf Shores and Orange Beach with me twice. She absolutely loves the relaxed vibe of Alabama's beaches. There's plenty to do, but there's no rush to do it.
She recommends that families balance out their vacation time.
Plan stuff to do some of the days, but on the sunny, warm days, relax and slow down!
Number two: It's nice not to cook.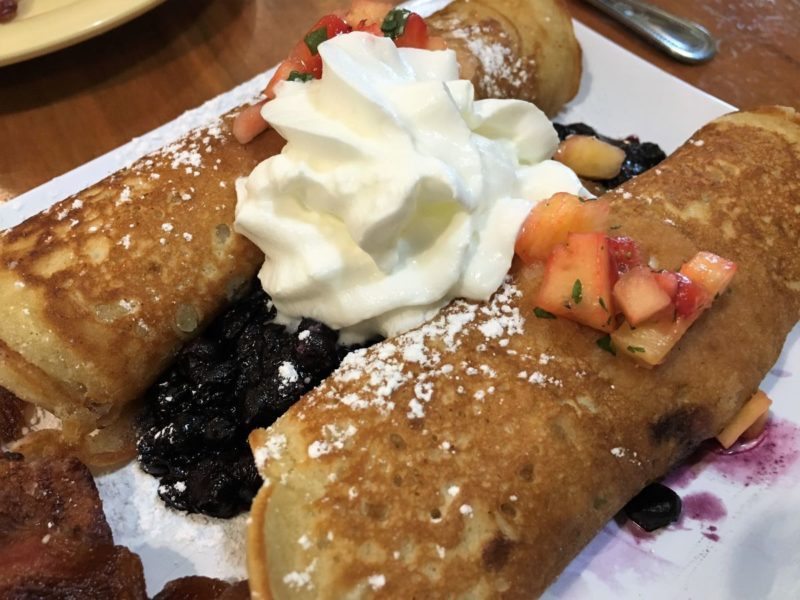 Our family tries hard not to eat at national chain restaurants on vacation. Gulf Shores and Orange Beach make that easy with independent restaurants on just about every corner. Whether you want a fancy, formal dinner with the white tablecloths or a casual hangout, you'll find the cuisine — and the atmosphere — consistently amazing.
• Read our complete guide to coastal Alabama restaurants •
Number three: It's relaxing to sail away on a catamaran tour.
I've always loved to be on the water, and the Sail Wild Hearts catamaran tours are among the best excursions in Orange Beach. You can read my full review here, but for spring break with teens, it's hard to beat a day on a boat to see dolphins, the Blue Angels and do some paddle boarding! It's both relaxing and exciting — and made for lasting memories we still talk about years later.
Number four: It's fun to cuddle furry critters at the zoo.
Our first trip to Alabama's beaches, Ellie was younger and she loved our day at the Alabama Gulf Coast Zoo. It's a smaller zoo, so families can see the whole thing in just a few hours. BUT, on spring break with teens, the zoo offers some special activities (separate cost) that will bring a smile to even the most reticent of teens. Who doesn't want to cuddle a baby kangaroo? Play with a lemur? Or snuggle a sloth? This is an easy parent win!
Number five: It's easy to explore by bike.
Gulf Shores and Orange Beach are two of the most bike friendly places I've ever been. Even on the main road, wide, clearly marked bike paths make it easy for families to explore the gulf coast on two wheels. The Hugh S. Branyon Backcountry Trail has miles of paved bike paths and boardwalks to let riders get close to alligators, eagles and other wildlife. You can even rent bikes for the whole week and explore the beach at a slower pace.
Number six: It's a great place to shop.
Maybe stop before you drop! But, there are lots of great places to shop in Gulf Shores and Orange Beach. For souvenirs — and a silly photo op in the mouth of a shark — head to Souvenir City in Gulf Shores. Or, head to The Wharf, a shopping, dining and entertainment complex in Orange Beach, for some retail therapy.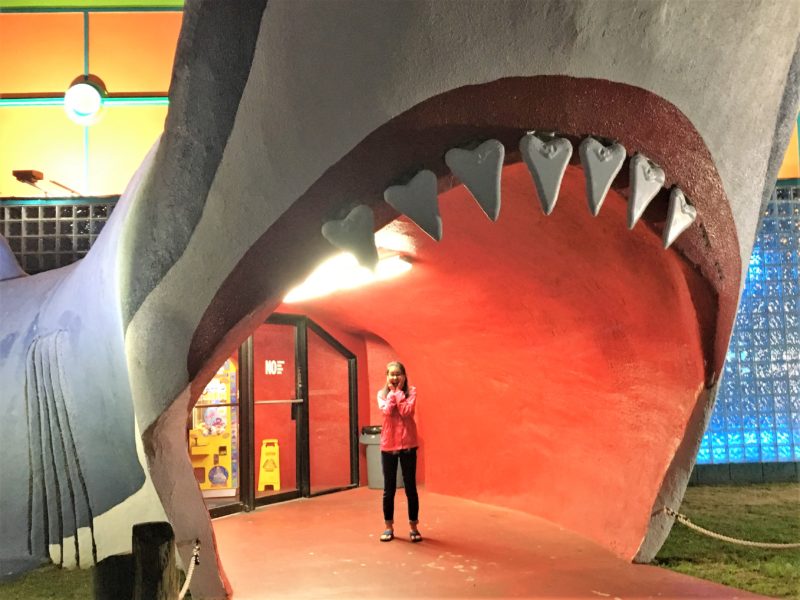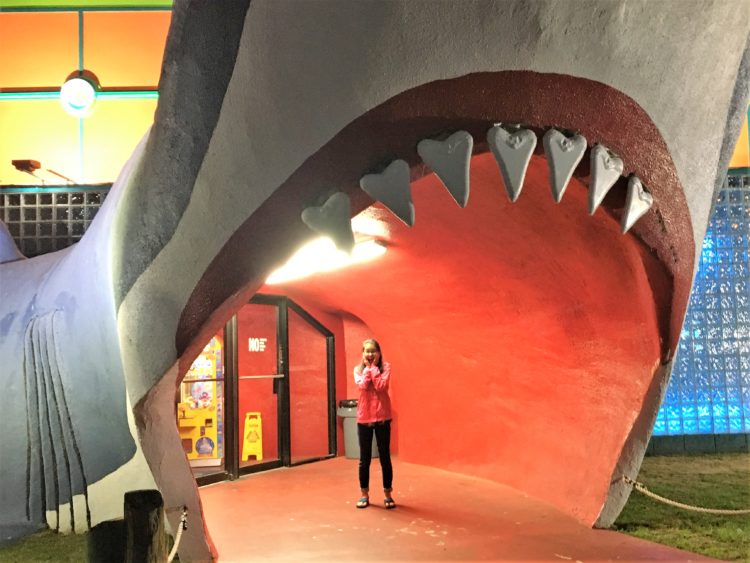 Number seven: It's even fun on a rainy day.
Don't let rain dampen your spring break with teens! Sure, you could give in to screen time, but we think the indoor attractions are great. My favorite indoor activity is escape rooms like Breakout Games in Orange Beach and Espionage at Mobile Point Escape Room, an escape room experience based on Civil War history of the area.
• Read this to learn what to expect at an escape room •
Number eight: It's a good place for friendly competition.
The best spring break vacations for teens, at least for my teens, tend to involve some level of competitive fun. On our last trip to Gulf Shores and Orange Beach, Ellie and I had a blast racing cars at The Track, a family fun park with go-carts, arcade and bungee fun. Well, you decide on bungee fun — I said no to that one!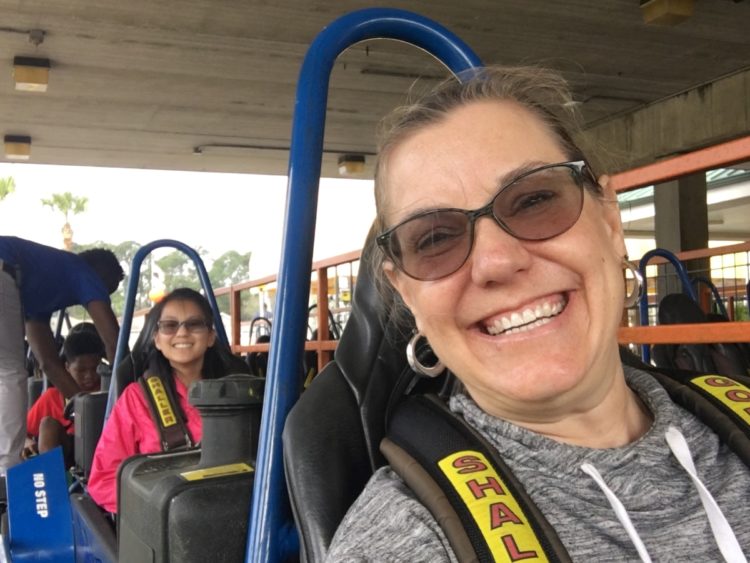 The day we went, Ellie and I raced several times, each time a blast that ended in laughter. She noticed parents sitting nearby on a bench while their kids raced. She grabbed my hand and squeezed it.
Thanks for racing with me, Mom.
Oh my goodness, y'all. If your health allows it, race with your kids!
Number nine: It's home to world class golf (Kiva Dunes) and fun putt putt, too.
Whether your family likes regular golf or putt putt, you've got lots of options at Alabama's beaches. Traditional golf courses offer tee times, golf packages and even club rentals (I know purists probably don't do that, but I'm a new golfer so that's great for me). For the less serious golfer, the putt putt course at The Wharf is a lot of fun.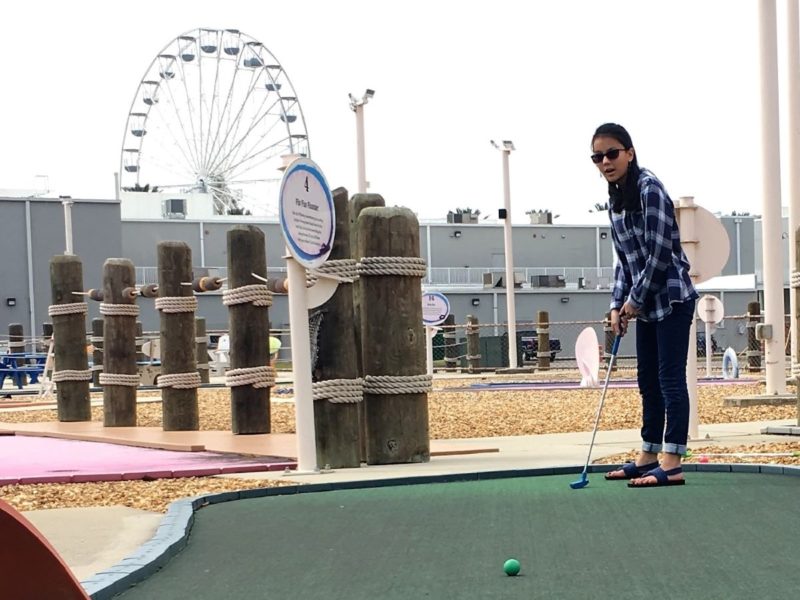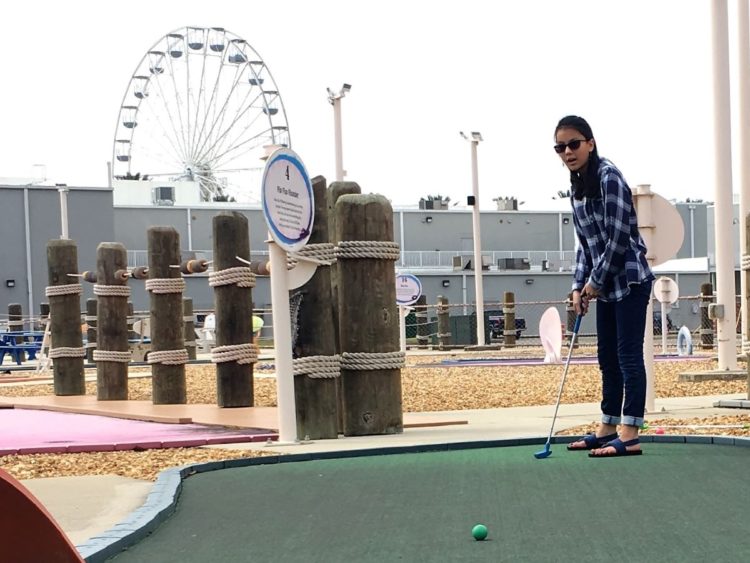 Number ten: It's a great place for water sports!
Whether you like to fish, go kayaking, paddle board or snorkel, Gulf Shores and Orange Beach have them all. The Gulf State Park Fishing Pier, the longest on the Gulf of Mexico, has every amenity an avid angler could want. Or, take a sunset, dolphin kayaking tour to explore nooks and crannies along the shoreline. I learned to paddle board in Gulf Shores, and loved it so much our whole family paddle boards every chance we get. Several businesses in Gulf Shores and Orange Beach rent paddle boards for the day, weekend or weeklong stays. You're sure to find some near wherever you stay. And, of course, those clear, turquoise waters begged to be explored, so grab some snorkeling gear and discover a whole new world.
Pin it for later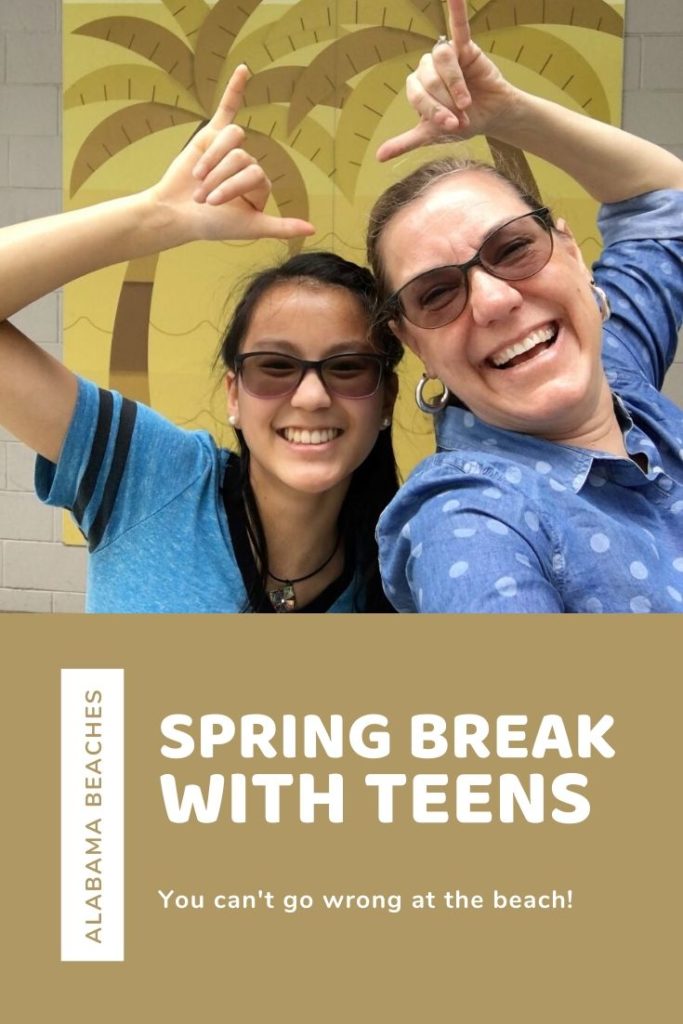 To learn more about Gulf Shores and Orange Beach, check out these resources:
Whatever you decide to do this spring break, whether the beach, the big city or a couple of things near home, I hope you'll enjoy time connecting with your teen!