Linville Falls, North Carolina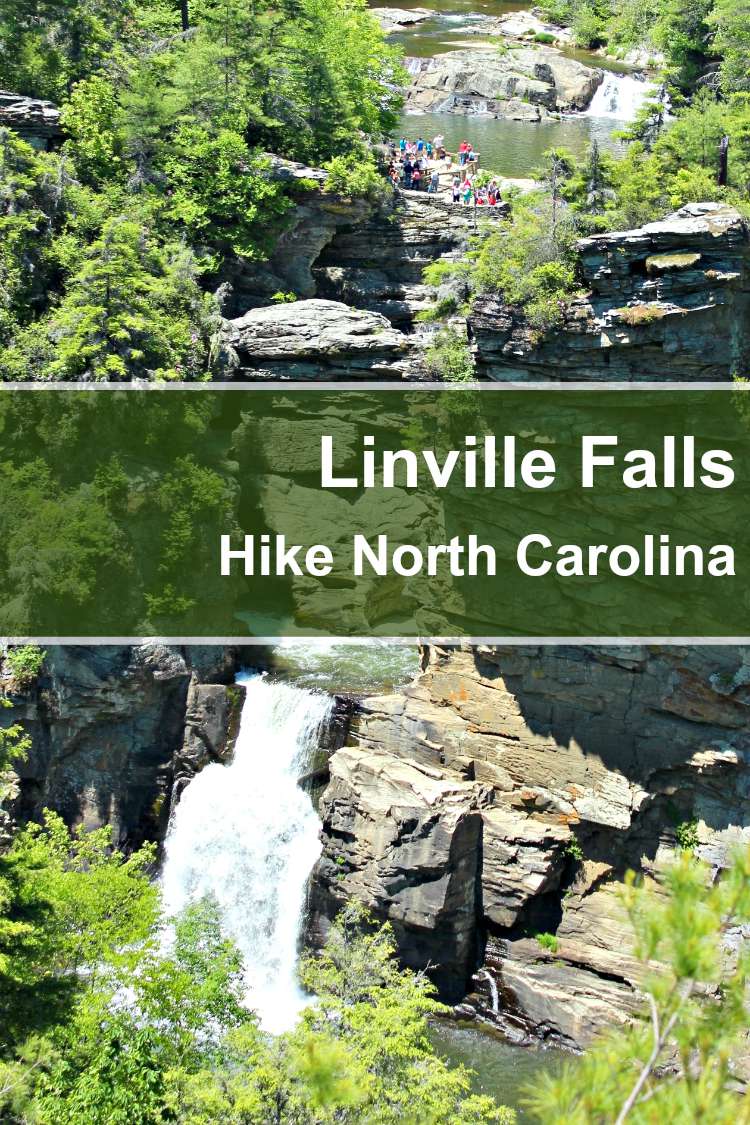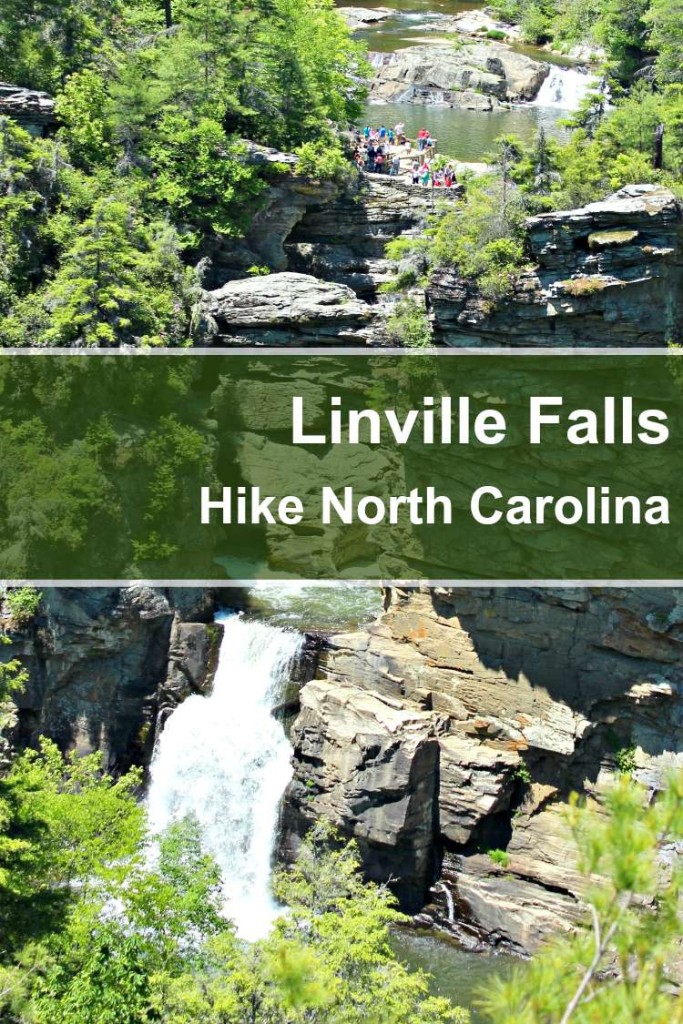 Linville Falls in North Carolina's Blue Ridge Mountains is the most popular waterfall in the state. Easily accessed from the Blue Ridge Parkway, more than 350,000 people register at the visitor center each year. The visitor center has restrooms and drinking fountains. There's also a nearby campground with 50 tent and 20 RV sites for visitors to the area. Pets are welcome, but must be on a leash.
The falls itself is a three-tiered waterfall that plunges 90 feet. Two trails, both originating at the visitor center, provide views of the falls. The trail to the right is less strenuous than the trail to the left. A number of overlooks on each trail offer varied views of the falls and/0r nearby Linville Gorge.
Save up to $109 on Universal Orlando Resort tickets!
Autumn is the perfect time to visit Linville Falls. Cooler temperatures mean lower humidity, which makes hiking easier. Trees dress for the season, too, with vibrant reds and yellows. Though, we visited in spring — and enjoyed the rhododendrons' colorful pinks!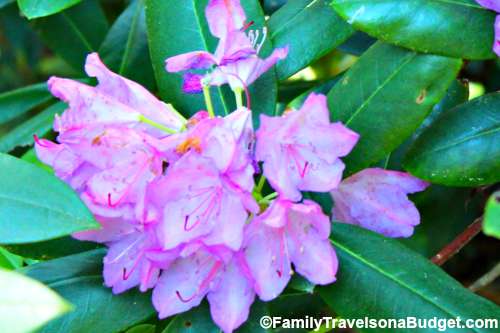 Know before you go: Linville Falls
Because Linville Falls is so easily accessible from the Blue Ridge Parkway, this trail is more crowded than most. The parking lot is often full to overflowing, and the trails are too. Visit weekdays (Monday through Thursday) and avoid holidays for fewer crowds.
The moderate trail is not too strenuous. Except for those with health conditions that limit mobility and climbing, it is fairly easy to climb.
The official address is 717 Gurney Franklin Rd, via Blue Ridge Parkway at Milepost 317.4, Linville Falls, NC. Use the official address in your GPS as the term "Linville Falls" will take you to town, not the falls.
Like any nature trail, the walkways are not level. Wear supportive shoes when visiting. Yes, we saw teens in flip flops. No, they did not handle the trail well.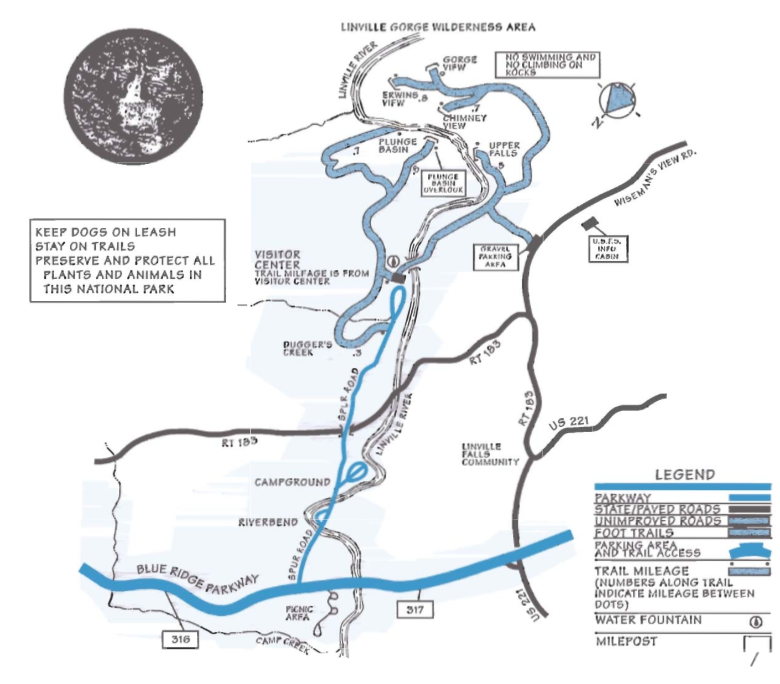 Common sense tips for hiking
Lock valuables in the trunk of your car.
Wear hiking boots or shoes for your safety on the rocky trail and uneven terrain.
Sudden weather changes are common in the mountains, so bring appropriate gear — especially consider wind and quicker drops in temperature in fall and winter.
Respect nature: Stay on marked trails to prevent erosion and preserve natural habitats. This is also for your safety!
Do not drink the water. Bring your own water bottle instead.
All pets must be on a leash. Bring water for your pet as bacteria in the streams and creeks can be dangerous to them too.
Don't litter. Dispose of garbage in designated receptacles at the visitor center.
Despite the temptation, don't pick the wildflowers or gather other natural items. Preserve the park and its habitat by leaving the nature there. (It's also a violation of federal law)
Since this happened recently, I feel I should cover it (though, really, this is common sense)> Graffiti and other markings on park property and historic places is illegal.
Weapons are not allowed.
Don't light fires!
That seems like a long list of don'ts, maybe, but they're mostly common sense. Dress appropriately. Anticipate the weather. Bring water and snacks. Respect the land. Respect others!
Many beautiful waterfalls in America are not easily accessible. We are fortunate to have such easy access to this gem.