Ricketts Glen State Park: PA's answer to overcrowded national parks
Over the past several years, national parks have grown quite popular for vacationers. Of course, the Grand Canyon, the Smoky Mountains and Yosemite have long been popular — and for good reason. But, the growing popularity of national parks across the country has led to overcrowded national parks and the related problems. I think we forget there are other places to see. Visit the national parks to see those things that can't be seen elsewhere, but…
Go other places! Like Ricketts Glen State Park, which I think might even be better than most national parks!
Ricketts Glen State Park in northeastern Pennsylvania. Ricketts Glen State Park provides stunning views, great hiking, rock climbing and camping. It's my favorite park in the country!
You've never heard of Ricketts Glen State Park?
That's okay. Neither had I until recently.
Ricketts Glen State Park is named after Colonel Robert Ricketts, who served in the Civil War and once owned the property where the park now sits. His heirs sold a large tract to the state in the 1920s, the area approved to be a national park site. World War II interrupted and the land was eventually transferred to the Commonwealth of Pennsylvania.
Things to do at Ricketts Glen State Park
I visited Ricketts Glen to explore the waterfall trails, but I discovered that there is much more to do. I honestly can't wait to go back.
Day trip activities at Ricketts Glen include:
Hiking trails with waterfalls, 22 of them in fact! There are 21 falls in the Glens Natural Area, all of which can be reached on one long loop hike. Just off Hwy 487 a short walk from the Evergreen Parking area is Adams falls, a 36′ fall that spills into beautiful pools below. It's an easy, two-minute hike from the lot.
Picnicking, with charcoal grills available near Lake Jean. The park even provides charcoal disposals to prevent forest fires.
Swimming, from May to September at Lake Jean. There are no lifeguards and swimming is allowed only in designated areas of the park for your safety.
Fishing, in Lake Jean, not in the Glens area. All PA fishing laws apply at Ricketts Glen, including license and limits.
Boating on Lake Jean. Boats, including rowboats, paddleboats, kayaks and canoes, are available for rent if you don't bring one.
Hunting in designated areas. The park's hunting areas are well marked. Pennsylvania hunting laws apply, of course.
Birding, which I thoroughly enjoyed. The park is home to a wide variety of bird species, including bald eagles. As I hiked the Highland Trail, there were so many singing, I had to pause and listen. Not surprisingly, the park is part of the Audubon Susquehanna River Birding and Wildlife Trail. Bring binoculars and take time to listen. You won't regret it!
Participate in educational activities at the park.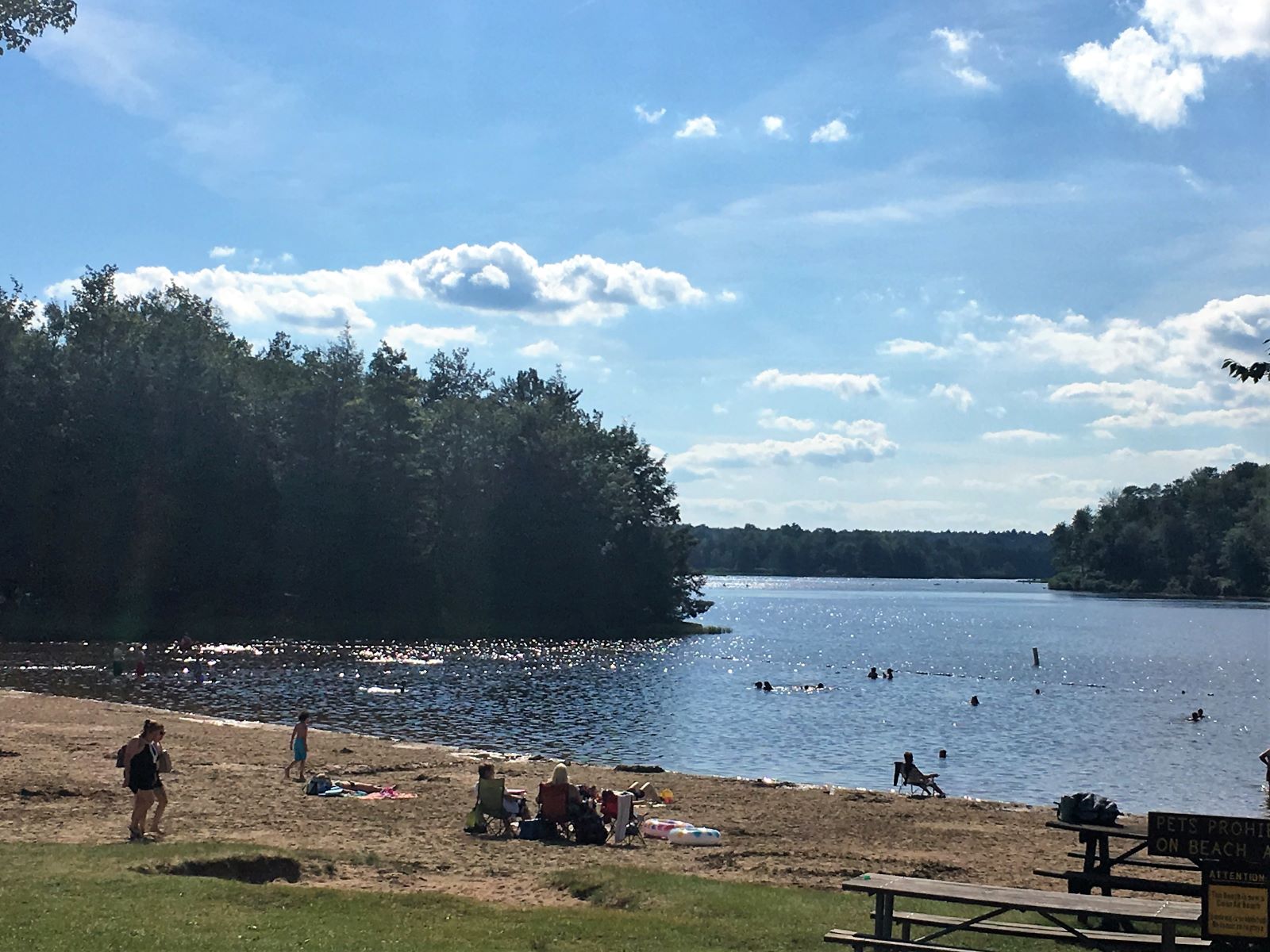 The park is open year-round, providing opportunities for cross country skiing, snowshoeing, ice fishing and other winter sports. The falls trails are closed in winter because of icy conditions, only accessible through guided hikes.
Best Camping at Rickets Glen State Park
When visiting Ricketts Glen State Park, camping overnight is an affordable and fun way to enjoy this beautiful area. The park has 120 tent and trailer campsites with showers and flush toilets. Some sites are available year-round.
Ricketts Glen State Park cabins are also available to meet a variety of camping needs, from basic to deluxe. Some are ADA compliant, and a few are dog friendly.
In fact, that's another reason Ricketts Glen State Park is a great alternative to national parks, you can bring your dog! Most national parks do not allow dogs (except for service animals).
Crazy story! I went to Ricketts Glen to see it for myself so I could write this post. That evening, my son got to join me — his day off from life as a camp counselor fitting with my schedule. YAY! Guess what? He camped at Ricketts Glen the night before I went! He never saw the falls, as they were there to teach kids about tent camping and stars. Our paths almost crossed in the Pennsylvania Mountains! He says it's a great place to camp, and highly recommends it. No photos because he's not allowed to take pictures of his campers with his own phone. Anyway… if you like to camp, this is a great spot. Ben approved!
For more information on camping at Ricketts Glen State Park, click here.
But is it really as good as a national park?
I started this post with a bold statement, suggesting that Ricketts Glen State Park is a good alternative to visiting national parks. I meant it!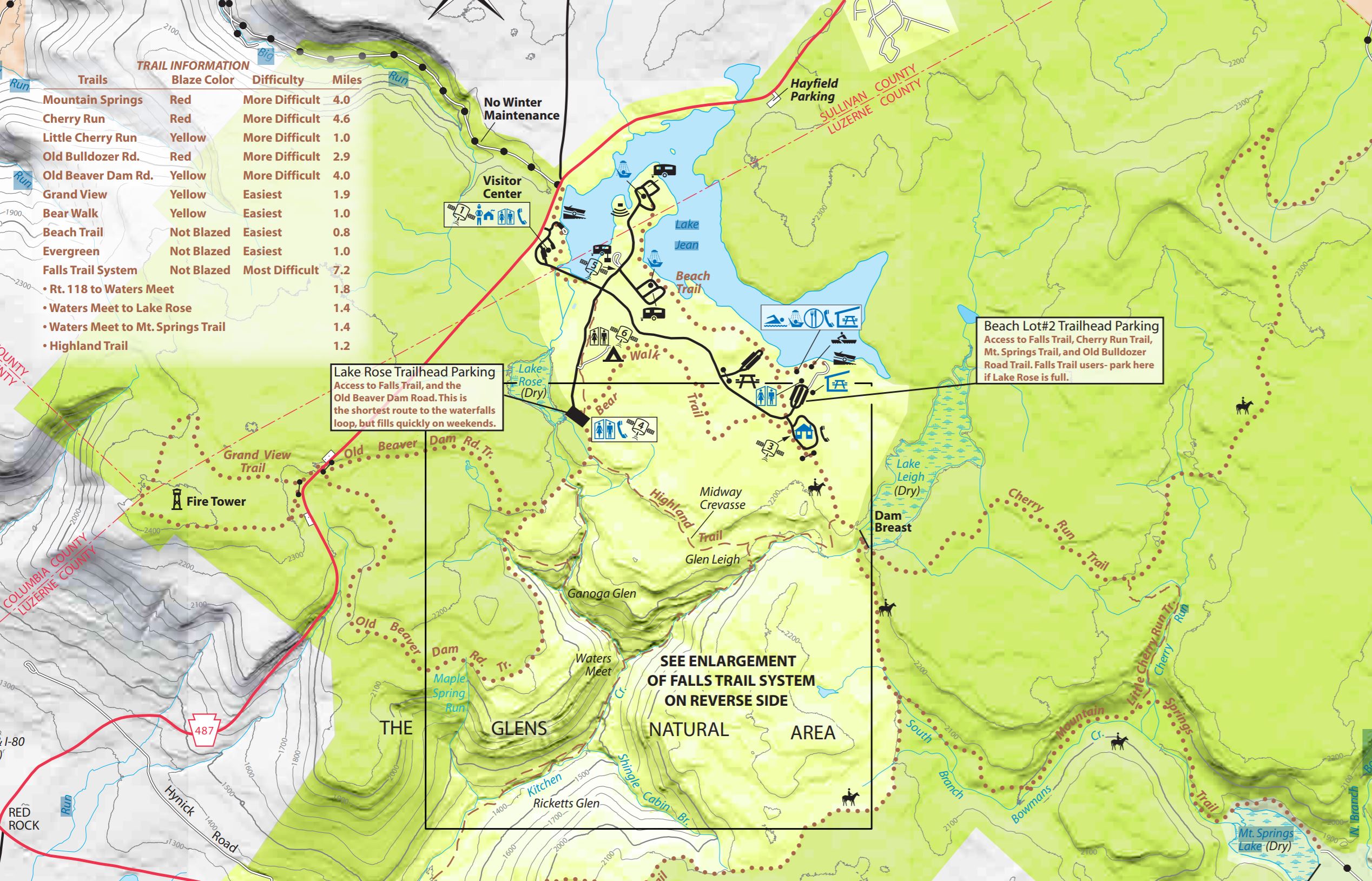 Ricketts Glen State Park is known for its waterfall trails, particularly the Ricketts Glen Falls Trail, a strenuous 7+ mile trail that takes you past 21 waterfalls. Some are larger, like Ozone (60′), Erie (47′) and Ganoga (94′). Others are smaller, but still stunning, like Onondaga (15′) and Seneca (12′). I hiked the Highland trail, which wanders through the hemlock forest, through some stunning rock formations and the Midway Crevasse, to the Onondaga Falls. Of hiking trails with waterfalls this one is fairly easy, though the trail gets more difficult as the falls get near. I didn't have time to complete the whole loop, but I sure will the next time I visit.
The trails at Ricketts Glen State Park are well-marked and easy to follow. There are many beautiful areas along the trail, including boulders and rocks, the hemlock trees and, of course, some of the most beautiful waterfalls in PA!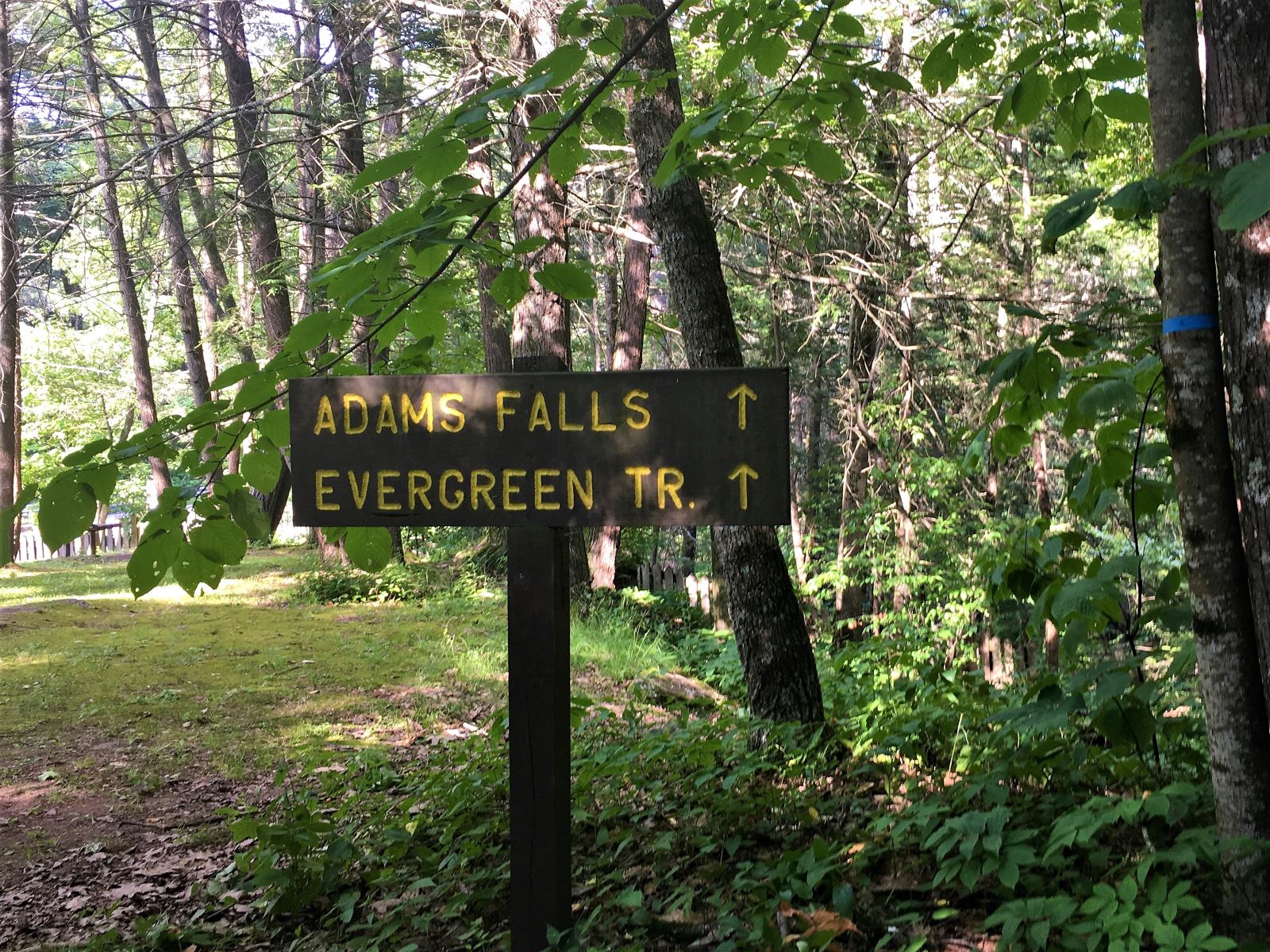 Beyond that, the park was not crowded. I visited on a Tuesday, and there were plenty of places to park in the lots at the trailheads. The bathrooms were clean — yes, I checked! And, so were the trails. No litter. No crowds. Beautiful scenery. And birds.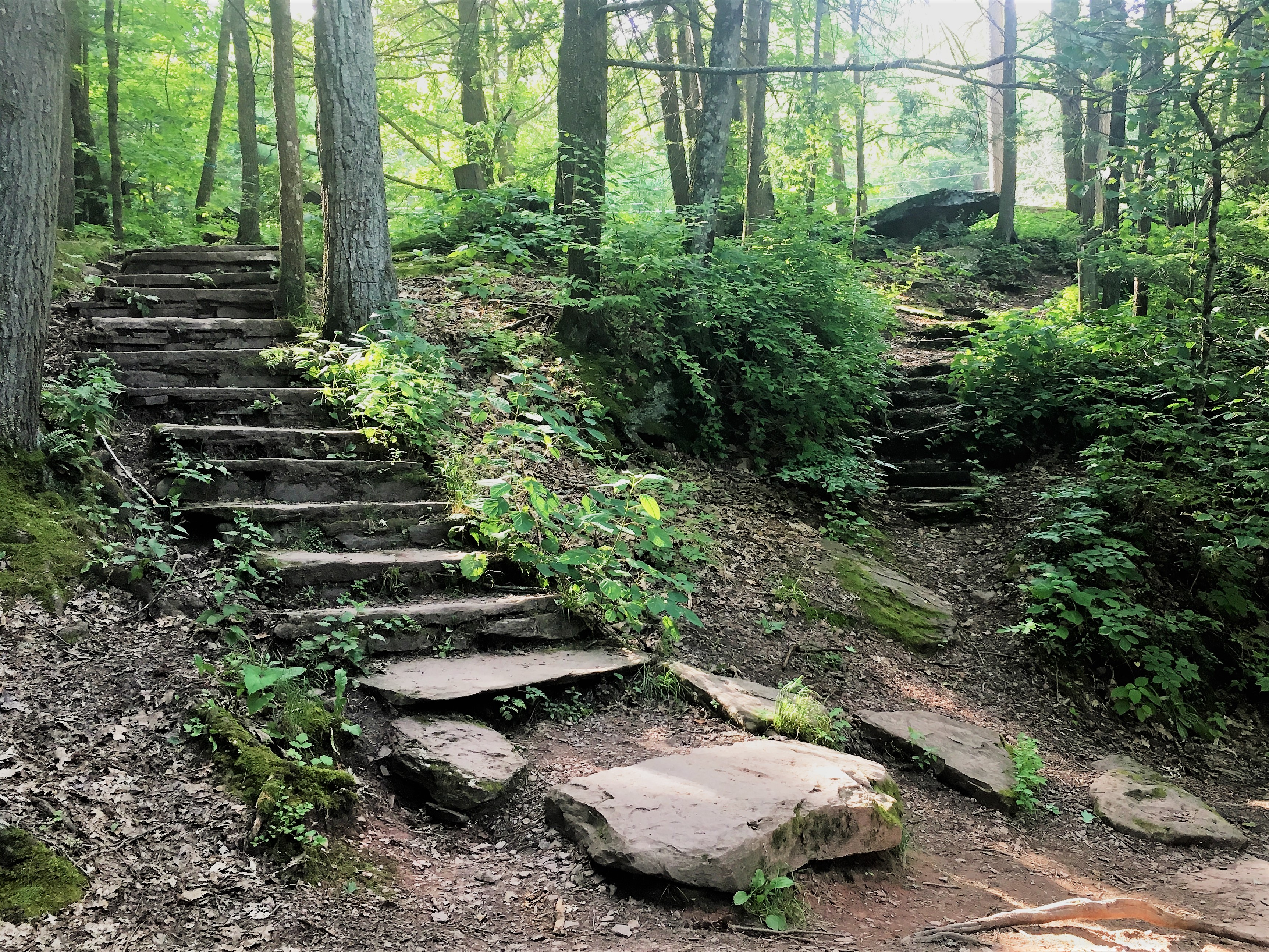 On the roads leading to Ricketts Glen State Park, I didn't get caught in bumper to bumper traffic. I did see a few cars and one brave bicyclist.
Further, I didn't have to pay a national park admission fee or pay for parking.
Really, what else could you want?
I haven't seen the Grand Canyon (yet), and I understand it's a view that can't be put into words. I have been to Half Dome at Yossemite. It's beautiful.
But, for hiking, camping and waterfalls, give me Ricketts Glen State Park.
You can have the crowds!
Psst! Stop to see Adams Falls at Ricketts Glen
If you don't have time — or the inclination — to hike to the waterfalls, stop at Adams Falls, PA which is near the Evergreen Trail parking area on PA Route 118. The falls are only a couple minutes from the parking lot down, with easy access by stairs. In three minutes, you're there!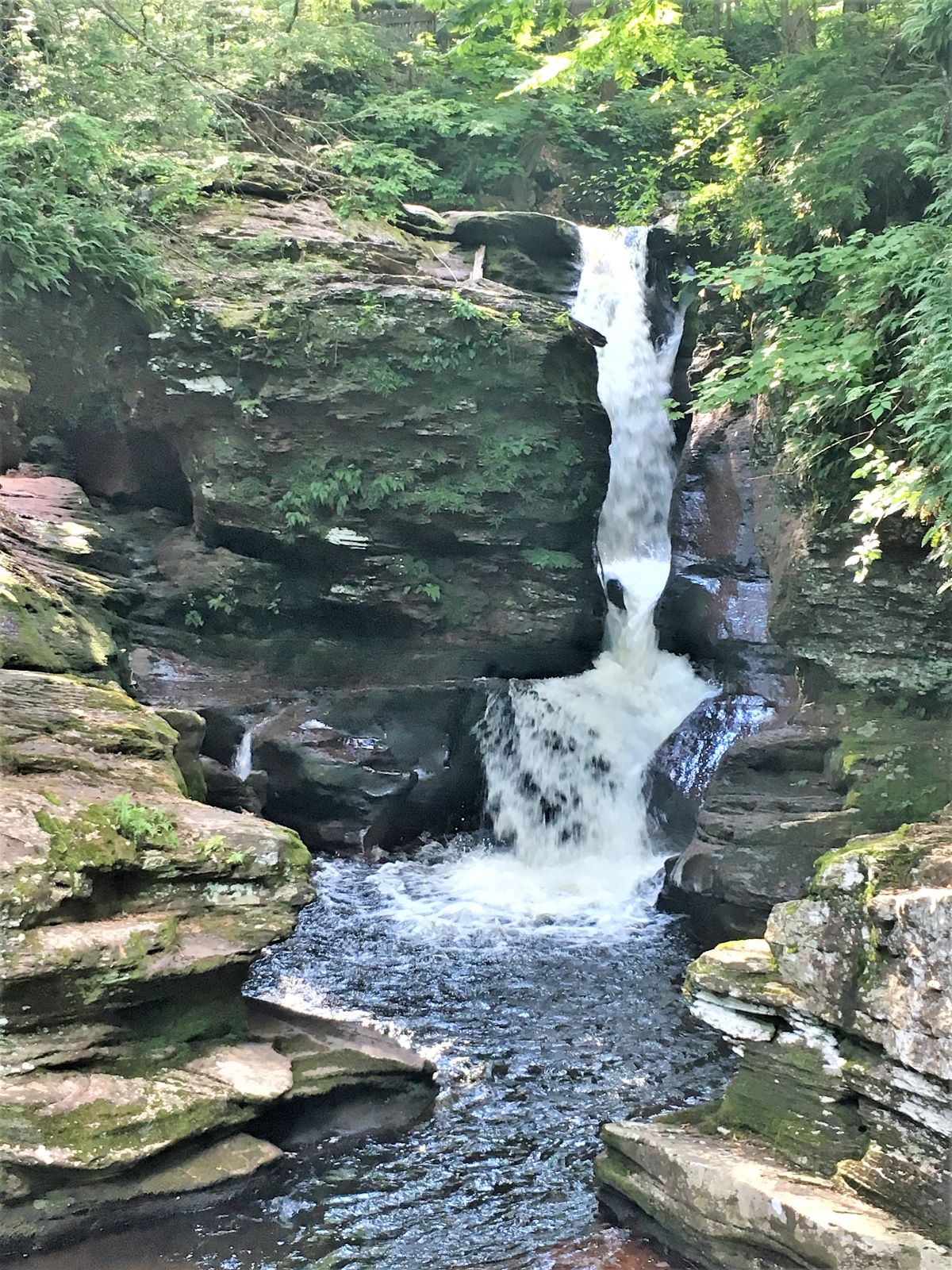 I stopped at Adams Falls on my way to Tunkhannock (where I stayed that night), and met a mother and son who were sitting on the rocks overlooking the falls, chatting about life as they enjoyed their afternoon. It's the kind of place where the worries of the world slip away and relaxed conversation can happen.
They said they live about an hour away and enjoy coming up to the falls regularly. It was wonderful to see a mother and her teen enjoying each other's company. Without crowds and chaos, well…. you know!
Tips for visiting Ricketts Glen State Park
Ricketts Glen State Park is located in the Northeastern Pennsylvania Mountains, about three hours from Philadelphia and less than two hours from State College. If you're within three hours of the park, it's worth a day trip!
Pin it to plan your adventure to Ricketts Glen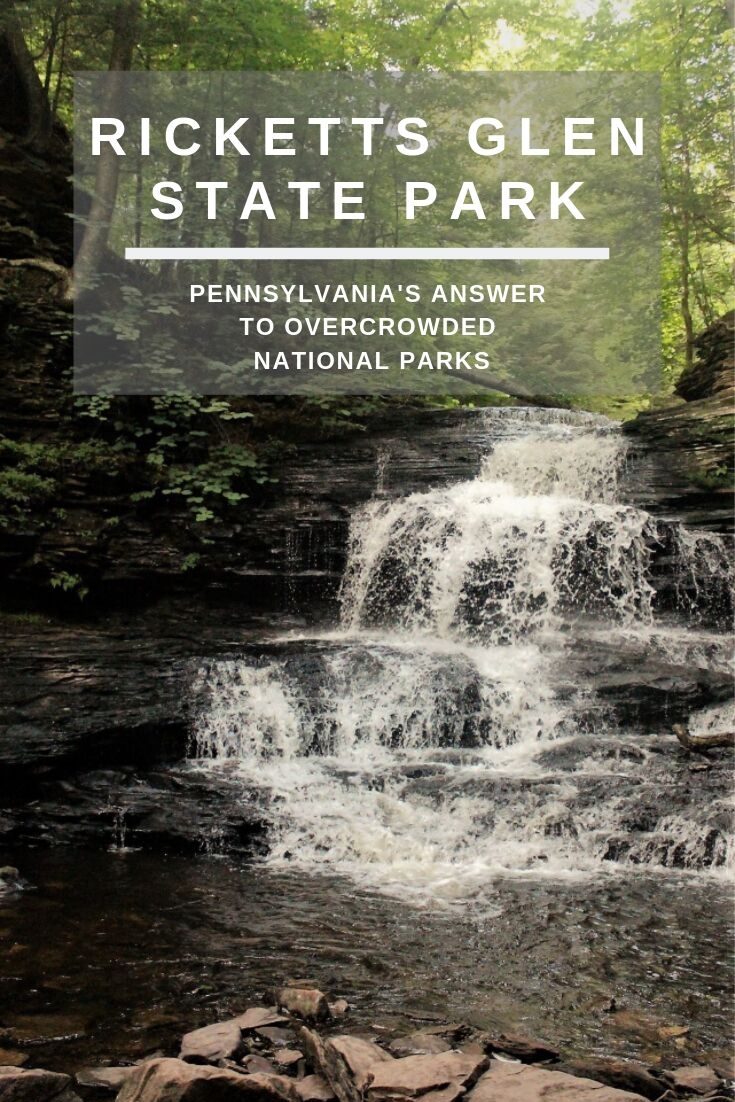 Further away? Plan a weekend and bring a camera. It's simply beautiful.
These websites can help you plan your visit:
So tell me, have I convinced you that state parks — some of them, anyway — can be an answer to the overcrowding problem at national parks? If you have a favorite state park that should be on people's radar, please leave a comment! Let's make a list people can use!