How to estimate travel expenses
This post may contain affiliate links. Click here to see what that means.
At Family Travels on a Budget, we learned long ago that the first step to a great vacation is figuring out the travel budget — big or small — for the trip. Along the way we learned some great strategies to calculate travel costs.
So, if you don't know how to estimate travel expenses for vacation planning, you have come to the right place!
We use this step by step guide, Our TRAVEL COST ESTIMATOR, to calculate trip expenses before we commit to a travel plan.
This post explains how use this travel cost estimator to figure out a vacation budget.
At the end of the post, there's a FREE download of the travel cost estimator we use to help you plan your own family vacations on a budget!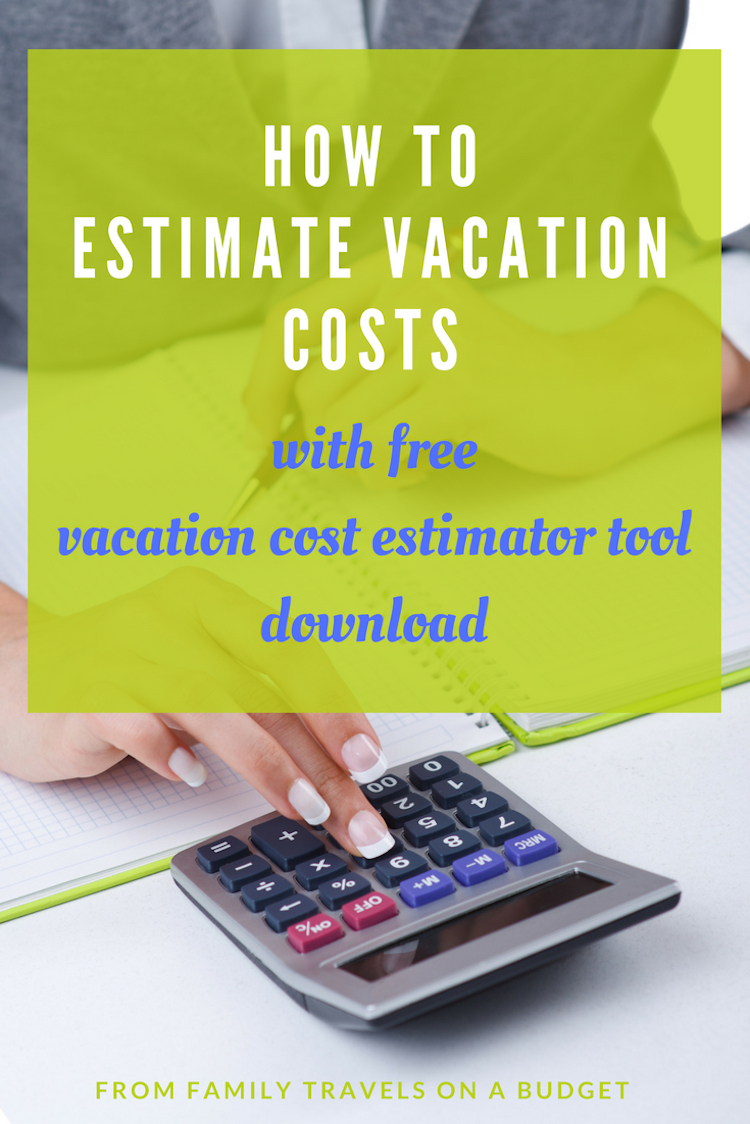 UPDATED February 2023
When calculating travel expenses, we estimate the cost of each element of the trip to get a good idea of what we will spend. Online tools make it a lot easier to estimate the cost of travel.
How to estimate travel costs for a realistic vacation budget
Believe it or not, when you calculate travel costs ahead of time, vacation is a lot more fun!
When you estimate travel costs ahead of time, it's easier to decide what to do on vacation.
And, that means more relaxing once you get there, because you won't wonder, "How much is this costing me?"
Step one is deciding the type of vacation you want and where to go. Got it?
Step two is figuring out how much it will cost.
If you have never looked ahead at expenses for vacation, it might seem overwhelming the first few times. But, I promise, after you do it once, it's easy! And the peace of mind you get from knowing you can afford your vacation? Priceless!
So let's look at how to calculate travel costs of your vacation.
I'll be using a 5 day vacation example through the whole thing to help you see how it works.
The best vacation planning tools to estimate travel costs
Two tools I use to calculate travel costs are MOMONDO and KAYAK.
MOMONDO is an online cost comparison search tool that does so many amazing things:
Compare flight costs by airline, date/time of travel and by airport to find the best value for your vacation,
Compare hotel costs from various discounters and also by dates of travel — maybe adjusting vacation by a few days or weeks will help you save tons,
Compare car rental costs by location and company.
Book deals directly through the site.
I like MOMONDO because I can explore all the options in one place and decide what's best for my vacation budget.
On one trip, we used the tool to discover that flying from Fayetteville, NC was cheaper than flying from Raleigh. Sure, I drove an extra 30 minutes to get there, but I saved about $200. Great investment!
KAYAK is similar to MOMONDO and can help you save money on travel.
You can book flights, hotels, rental cars and even cruises through KAYAK. I compare prices I find on Momondo (which offers date flexibility) with Kayak (for specific dates) as Kayak is more of a booking site.
I use the map feature with KAYAK to help me visualize where a hotel is. Once I know what I want, it's easy to book through KAYAK.
A new feature making it even easier to plan through KAYAK is their summer trip calculator tool! Just plug in your starting location and your destination, the number of travelers and general dates of travel. KAYAK's summer trip calculator will show you estimated air travel costs, road trip costs and suggested hotels. Plug those numbers into our worksheet and a lot of the work to estimate travel expenses is already done!
Step by step guide to planning vacation expenses
So, you know where you want to go. Let's figure out how much this vacation is going to cost.
1. The Cost of  Travel: How much will it cost to get there?
The first thing to consider when you plan a vacation is how will we get there?
When I plan a vacation more than a one day drive from home (10 car hours), I compare the vacation expenses of driving to the vacation expenses of flying.
We actually enjoy road trip travel, so ten hours in the car isn't too bad.
But, sometimes, when you weigh out all travel expenses, flying is actually cheaper than driving, particularly for smaller families.
How do you calculate travel costs by car?
First, determine road trip gas prices:

determine the number of miles you will travel (google maps provides a good ballpark figure)
divide the number of miles by your car's mpg (the number of miles you travel per gallon of gas)
multiply that answer by the current cost of gas per gallon
Formula: M (miles round trip) / mpg X $ (price of gas/gallon) = Total cost of gas for travel.
Example: You decide to go someplace 250 miles from home, which is 500 miles roundtrip. Let's say your vehicle gets 20 miles per gallon (mpg) on average. And, let's say the cost of gas is $2.50/gallon. Using the formula above, it looks like this:

500 miles / 20 mpg = 25 gallons of gas needed.
25 gallons X $2.50 = $62.50 needed for car travel.

This Fuel Economy Trip Calculator is a great tool to simplify this step.

Then add in costs for toll roads if needed. This link helps make that easy. In our example, there are no toll fees.
Add in the cost of meals during road trip travel:

as a general rule, figure $20/person per full day of travel. If traveling with teens or others with large appetites, increase that budget to $25/per person per day of travel to and from the destination.
In the example above, a 250 mile trip (one way) which is 3.5 to 4.5 hours of travel is, at most, one meal. For a family of four, I would budget $40 for this meal (half the daily food budget). Then I would double it for the meal on the drive home for a total of $80.

Add overnight hotel lodging (if needed for the length of the trip):

if the trip will take longer than a day, factor in the cost of a hotel at $100/room per night needed (there and back).
In the example above, an overnight stay would be unnecessary.

Then add in the cost of parking during your trip:

Do you have to pay for parking at the destination? If traveling to a major city such as Washington, DC, NYC or San Francisco, factor daily parking at $40/day for the duration of your stay. Other cities might cost a bit less.

Total each of these categories to estimate the cost of driving to and from your destination.

In the example, our cost for travel is $142.50 (gas + food).
If headed to New York City for 5 days, the estimated cost is $342.50 (parking for 5 days at $40/day = $200 in addition to gas for travel and food).
How do you calculate air travel costs?
When estimating travel expenses, I use easy numbers to estimate the budget. All I am doing at this point is deciding whether it's better for our family travel on a budget to drive or fly.
Calculate round trip tickets within your half of the country (east or west of the Mississippi) at $300/person.
Calculate round trip tickets across the country at $600.
Or, explore actual air travel costs on MOMONDO. Prices change as flights fill, but you can get a good idea of cost using this tool.
Add in luggage costs ($30 per checked bag each direction).
Factor in daily parking at the airport (anywhere from $6 to $15/day). I use $10/day for easy math.
Add in the cost of airport transfers to the hotel or the cost of rental car for the trip. I use a quick figure of $100 for airport transfers each way and $25/day for car rental (which is low).
For a family of four, the cost of round trip air travel would be $1200 for airline tickets + $60 for two checked bags + $50 for airport parking + (low) $125 for rental car costs. This comes out to $1435.
For a short trip like our 5 day vacation example, traveling by car is much cheaper.
2. The Cost of Lodging at your Destination
Other than airline tickets, hotel costs are the greatest factor when budgeting for vacation.
Consider all your options as you calculate travel costs: hotel brands, amenities and locations when deciding your vacation budget.
---
We are taking a cruise vacation, and want to stay at a hotel the night before the cruise. We considered hotels near the cruise port in Tampa, but the cheapest we found was close to $300 per night. We looked at hotels about an hour away (along our road trip travel route), and found an overnight stay for about $120, including a full hot breakfast. The hour drive to the cruise port won't be hard the morning of the cruise, and we save about $180!
---
Using an online tool like KAYAK to search for hotels, you can easily find options to fit your family vacation budget.
Next, look for resort fees. Some hotels have them, especially those that offer more amenities. Some hotels charge a daily resort fee, especially those that offer extra amenities like a lazy river, playgrounds or sauna. Many hotels charge a daily fee for WiFi and/or parking. Add those costs to your travel expenses worksheet.
Here's an example in a post I wrote about hotels near Carowinds. It's a detailed example of what I do when selecting hotels for my personal family vacation. And, when you see hotel recommendations on this site, I try to include the information you need to quickly determine if it's a good fit for your trip.
Finally, factor an extra 15% of the full hotel stay for taxes and other hotel expenses. This is a good way to build in a buffer, especially if you want to stay well within your vacation budget.
Hotel vacation expenses estimate for our sample trip: Looking at hotels at the beach, I know I want an outdoor pool, easy beach access and some sort of dining option. I find three hotels that offer these amenities and have decent ratings: Hotel A is $140/night. Hotel B is $160/night.and Hotel C is $175/night with free breakfast and the largest room. I would use Hotel C for my working budget.
5 nights at $175/night = $875.
This hotel does not require an additional resort fee.
Tax and "buffer" add on of 15% ($875 X .15 = $131.25)
Total hotel working budget is $875 Plus $131.25, for a total of $1,006.25‬.
3. Estimate food costs for vacation
You might not be able to estimate food costs exactly, but you can calculate travel costs for dining based on how you usually spend money at restaurants.
If your family spends $100 when you eat out, budget $100 for every meal you will be eating at a restaurant.
If you eat quick meals on the go and/or carry snacks, you might be able to budget less.
And, if you like to enjoy a bottle of wine or a couple of beers at dinner, the costs go up.
Simply put: You know your restaurant spending habits. Use that number to calculate vacation expenses for dining.
As a general rule (before 2022 when food costs skyrocketed), we factor $100/day for a family of four if breakfast is included at the hotel. We usually grab quick meals between sightseeing adventures on vacation and plan only one or two "nice" restaurant meals.
We increase it to $150/day if breakfast is not included. In major cities and at theme parks, we increase our budget by $50/day for a total of $200/day.
Look at theme park restaurant menus or do an internet search of restaurants at your destination if you have specific restaurants in mind.
Example: Using the same 5 day vacation scenario with breakfast included at the hotel, I would calculate food costs at $500 (5 days X $100/day = $500).
4. Estimate travel costs for attractions and entertainment
What do you plan to do on vacation? Make a list and estimate costs for tickets and parking.
Consider these travel costs:
Theme park tickets (multiday tickets are cheaper than single day tickets),
Theater tickets
Concert tickets
Museum admission costs
National park admission fees
Bike, kayak, or other adventure rental costs
Ferry costs
Mass transit costs (subway or metro tickets)
---
Here's a BONUS budget travel tip for visiting major cities! Use cityPASS to save up to 40% on admission to attractions in major cities.
Read our post on how to use cityPASS to save on vacation travel expenses
Here are some of the cities where you can save big with cityPASS:
Chicago cityPASS includes admission to five attractions for a savings up to 50% (includes Shedd Aquarium, the Skydeck, Field Museum and more)
New York cityPASS saves up to 44% admission on popular attractions like the Empire State Building, the 9/11 Memorial, and the Statue of Liberty ferry.
San Francisco cityPASS saves up to 50% on popular attractions like the San Francisco Bay cruise, the San Francisco Zoo & Gardens and the Walt Disney Family Museum.
CityPASS is offered at many more cities across the country and around the world, making it a great money saver if your family travels on a budget.
---
Let's get back to estimating travel expenses for attractions and entertainment.
In our five day sample vacation: Let's say our family wants to go to a "theme restaurant" that includes entertainment at a cost of $40/person. For a family of four that would be an extra expense of $160. Since we're at the beach, we want to rent beach bikes for one day at a cost of $15/person for a total of $60. And, we want to splurge on a cabana at the beach for two days to really relax at a fee of $80/day for a total of $160.
Our add-on expenses would be $160 + $60 + $160, adding a total of $380 to our budget travel expenses.
5. Add together all your estimated vacation expenses
To determine your vacation budget, add all the estimated vacation expenses from steps one through four. This is about what you can expect your vacation budget to be.
In our example, the total costs are:
$142.50 for road trip expenses,
$1006.25 for the cost of the hotel,
$500 for food
$380 for attractions and entertainment.
Add these together, $142.50 + $1006.25 + $500 + $380 for a budget vacation total of $2116.25.
As promised, here is your FREE Vacation Cost Estimator Tool! <– click on that and it will open! Use it to calculate travel expenses for your vacation, and you'll know your vacation budget before you go.
More great travel planning resources:
If you like this post, you'll also like these other budget family travel posts!
So, do you plan your family vacation budget? Or do you just wing it? Or something in between? I'd love to hear from you. Please, leave a comment below!