Non-beachy stuff to do in Gulf Shores and Orange Beach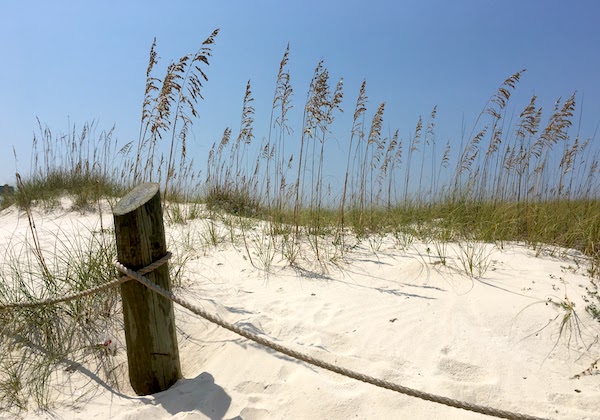 Updated February 2023
When you plan a beach vacation, you might picture long, lazy days on the beach, soaking up the sun and playing in the surf.
But, as much fun as the beachy stuff is, you might need to make other plans.
Whether you need things to do in Gulf Shores on a rainy day or are looking for some different things to do in Orange Beach with kids, we've got you covered here!
There's so much stuff to do in Gulf Shores beyond the beachy stuff! In no particular order, here are some of the best!
Stuff to do in Gulf Shores and Orange Beach besides the beach
1. Explore Fort Morgan
Fort Morgan, located at 110 Hwy 180 W in Gulf Shores, is a masonry fort built in the 1800s that stands guard at the mouth of Mobile Bay.
During the Civil War Battle of Mobile Bay in 1864, Confederate forces at Fort Morgan tried to slow Union ships from entering the bay. Their efforts ultimately failed, ending one era of warfare.
Exhibits at Fort Morgan show the evolution of the U.S. Army during the 1800s and its effect on how wars were fought.
If you're looking for different things to do in Orange Beach with kids or it's not a rainy day in Gulf Shores, guests can enjoy the pet friendly hiking trails at Fort Morgan as well as kayaking and relaxing on its remote beaches.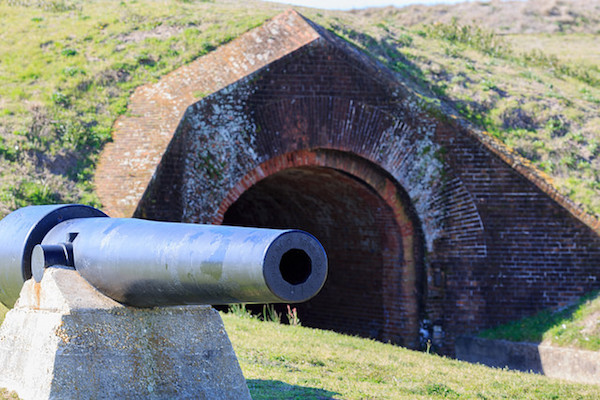 2. Golf the Gulf
Gulf Shores and Orange Beach have a number of golf courses, enough to entertain (or frustrate) duffers, hackers and pros alike for days.
With courses designed by Arnold Palmer, Jerry Pate and others, avid golfers are sure to find a course to challenge their skills.
Kiva Dunes, the top rated public golf course in Alabama, designed by Jim Edgemon and Jerry Pate, is a popular course.
Peninsula Golf Course Gulf Shores, designed by Earl Stone, is located near Fort Morgan and offers 27 holes in a picturesque setting.
Gulf Shores Country Club at 520 Clubhouse Drive offers an 18 hole course as well as a driving range. The course has public tee times, offers discounted junior rates as well as driving range specials.
If you enjoy golfing as an alternative to doing the beachy stuff, consider Gulf Shores golf packages for your stay.
3. Explore local pottery shops or make your own
At the Coastal Arts Center of Orange Beach, shop for locally made pottery or make your own.
When you make your own, a ceramics artist will guide you through making your own piece. You can start from scratch with hand building a piece or throwing pottery on the pottery wheel.
Slightly less difficult, try your hand at glazing a piece that's already formed or "pick-n-paint."
---
INSIDER'S TIP: Look ahead at the weather and/or plan before you go and schedule your activity at their website: Coastal Arts Center Classes.
---
If you visit Gulf Shores and Orange Beach in March, check out the Festival of Art — an annual event featuring more than 100 artisans, live performances, glass blowing demonstrations and great food.
4. Pamper yourself at the spa, Gulf Shores or Orange Beach
What's better than relaxing at the beach?
How about relaxing with a massage — especially if you need things to do in Gulf Shores on a rainy day!
There are several spas in Gulf Shores and Orange Beach. These are some of the best:
The Beach Club Resort and Spa, Gulf Shores. This full service spa offers discounts and priority booking to Spectrum Resorts guests.
Serenity at the Beach, a beauty salon and day spa is located at 27267 Perdido Beach Boulevard in Orange Beach, serving all of Alabama's Gulf Coast.
The Massage Office, at 24821 Commercial Avenue in Orange Beach, has provided massages in Gulf Shores and Orange Beach since 2004. Plan ahead and schedule your massage before you arrive at the beach!
For more ideas like yoga, gyms, nail salons and hair stylists, see the current list of health and spas in Gulf Shores and Orange Beach. Some salons have specials for kids, which is a great idea if you need things to do with kids in Orange Beach.
5. Bike the Hugh S. Branyon Backcountry Trail at Gulf Shores State Park
The Hugh S. Branyan Backcountry Trail features 28 trails spanning 30 miles through nine distinct ecosystems where you can discover wildlife, including turtles, eagles and alligators, butterflies and more. The trail was just named the best recreational trail in the United States by USA Today!
The trails are paved, making them easy to navigate. Park benches, wooden swings and picnic tables offer places to stop and soak in the nature.
Nearby bike rentals make it easy to explore the trails and Gulf State Park.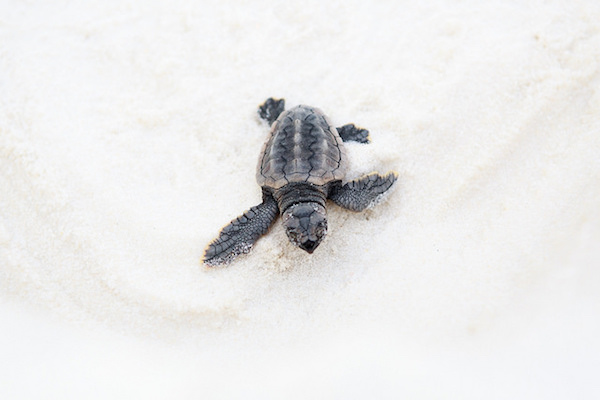 6. Spend a day at The Wharf at Orange Beach
With a 112 foot tall ferris wheel, zip lines and palm trees that dance to the music in light, The Wharf is a great place to spend a day.
This shopping and entertainment district presents a number of dining options as well, from casual to fancy. Two of our favorite restaurants are The Southern Grind Coffee House for breakfast or lunch and the Italian fusion cuisine at Villaggio Grille for dinner.
When it comes to finding fun things to do with kids in Orange Beach, The Wharf makes it easy with attractions, shopping and food all in one place!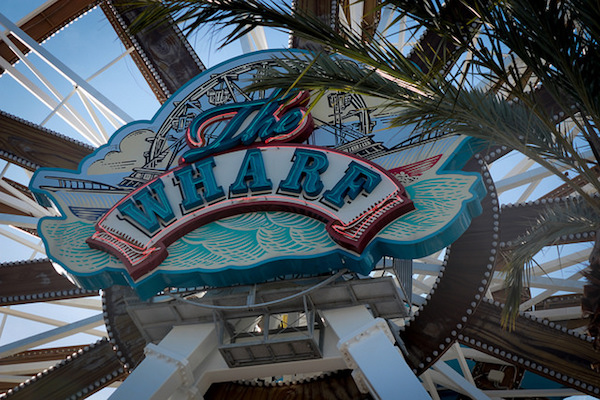 7. Spend a day at The Track.
Arcade games, go carts and putt putt golf are loads of fun and make for an enjoyable day away from the beach. The Track has something for everyone — indoor arcade games for rainy days and go carts and putt putt for some friendly competition. Check their site for packages and deals!
While spending a beach vacation doing beachy stuff makes a lot of sense, I also like knowing there are plenty of things to do in Gulf Shores on a rainy day. Hopefully, this list gives you some good ideas of different things to do in Orange Beach with kids.
Photo credits: Some photos are the property of Gulf Shores and Orange Beach and are used with permission.
For more ideas of things to do in Orange Beach with kids, check out these articles: