5 First Time Cruise Tips
This post may contain affiliate links. Click here to see what that means.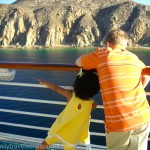 These 5 first time cruise tips come to you courtesy of Holly Woodard, a travel agent with CruiseOne. For a fabulous cruise vacation, use these 5 tips!
5 First Time Cruise Tips
1. Use a professional travel agent to book your cruise. A professional agent understands the pros/cons of each cruise line, itineraries and amenities onboard. Not only that, but a travel agent also knows which cabins to avoid. Imagine booking that dream vacation to find yourself in a room above the engine room — noisy!
Also, while online cruise deals look like they offer a great deal, you might just end up in that noisy cabin above the engine room. Once you pay add-on fees, the price through these discounters is often higher.
We used a travel agent to book our first cruise. She helped us select the best itinerary to meet both our budget and our vacation desires. We had an amazing experience on a tiny budget!
2. Consider extra expenses when budgeting your cruise. Cruise prices are not all inclusive, though they are close. Add-ons include: shore excursions, gratuities and (usually) soda and alcohol. Holly explained that  gratuities range from $12 to $15/day per person. She does not recommend prepaying gratuities for that rare occurrence when you get bad service. The customer service desk can adjust gratuities for you. The only exception would be if you get a special offer that includes gratuities. Likewise, your agent can help you determine whether to add a soda or wine package.
On our last cruise, we purchased soda packages for our teen sons. Knowing they'd be on their own much of the week, we didn't want to be hit with a surprise soda bill at the end of the trip. While we don't drink soda much at home, we wanted them to have the freedom to get sodas with other teens without worrying about the cost.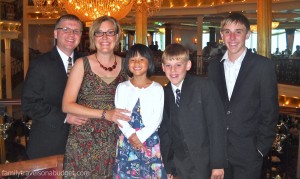 3. Ask your agent for packing advice. Travel professionals know how to pack! Ask your agent for a cruise packing list, then trust it. You will never need as much clothing as you think you do. Most cruise travelers wear casual, comfortable clothes. Holly stressed not to over think it.  Less is more.
Though I consider myself a well-seasoned traveler, I always seem to overpack for cruises. I forget that half the time I'll be in a swimsuit! Next time, I'll follow Holly's advice and pack less.
4. Consider the experience you want.  Several factors impact your cruise experience. Some cruise lines, like Carnival, Disney and Royal Caribbean, are geared for families. Celebrity Cruises is a wonderful option for couples. Still others, particularly Holland America, cater mostly to the 50+ crowd.
Cruise costs vary by cruise line as well. Carnival is generally the least expensive. Azamara, Celebrity and Holland America are pricier.
When you cruise also impacts the experience. Spring break cruises will be filled with more college kids and families than other times of the year might be.
When our kids were young, we took a December cruise. The entire ship was filled with grandparents, parents and the ten and under set. Our timing couldn't have been better. However, had it been just my husband and me, I might not have enjoyed dinner or the shows so much!
5. Use your agent or cruise line to book shore excursions! Most Caribbean cruises stop in third world countries. Taxis and independent tour guides aren't regulated there like they are here in the United States. Going off on your own, you might put yourself in a dangerous situation. Beyond that, booking through your agent or the cruise line, you can skip the hassle of arranging your shore excursions. Just show up and enjoy! One last benefit, the ship won't leave you behind if your tour bus is late returning you to the port.
After returning to the ship from a shore excursion, we realized we had a few hours before the ship would depart again. We decided to walk to the shopping area near the port. An independent taxi driver followed us, screaming at us for being "brain-washed by the cruise ship." Talk about scary! Some places are far more regulated. Trust your agent to guide you through the excursion booking process.
I hope these 5 first time cruise tips help you better plan that dream cruise vacation. If you have questions that weren't answered here, please leave a comment below. I'll do my best to find the answer for you — probably by asking Holly!
You can also share your favorite cruise memory, cruise tip or ask a question on our Facebook page.
Special thanks to Holly Woodard for sharing her wisdom and experience with us. She's a fully licensed agent who plans all kinds of vacations, not just cruises! She can help you plan the perfect vacation for your budget.