Inspired Thai Chili Recipe
This post may contain affiliate links. Click here to see what that means.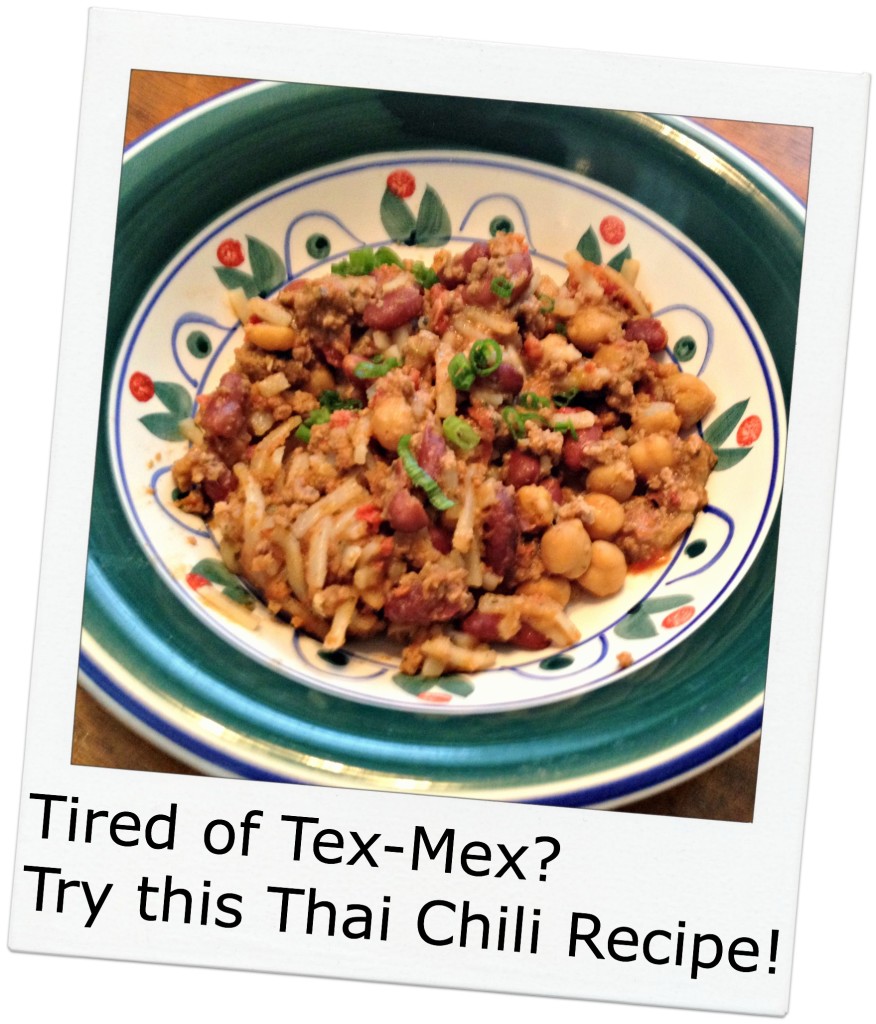 One thing I love about Facebook is the dinner inspiration I get! Well, that and catching up with long lost friends from high school. A couple days ago, I shared my kids' enthusiasm for dinner and got to be the inspirer for a change. Friends texted, emailed, and messaged their requests for the recipe. Of course, I'll oblige!
If you can't get to Thailand in the next few weeks or if you're sick of Tex-Mex chili, this might help.
Thai Chili Recipe (Serves 4-6)
Ingredients (in order of use)
2 teaspoons sesame oil
1 bunch green onions, chopped (save the greens for garnish)
1 clove garlic, minced
1 lb. ground turkey (I prefer it to ground beef for its sweetness)
2-3 teaspoons ground ginger (to taste)
3 Tablespoons chili powder
1 teaspoon ground cumin
1 teaspoon finely ground pepper
1 teaspoon kosher salt (more or less to taste)
1 can diced tomatoes
3-5 Tablespoons fresh cilantro, minced
1-2 teaspoons red chili flakes
1/4 – 1/2 cup chicken broth or stock
2 Tablespoons creamy peanut butter
1 can red kidney beans, drained and rinsed
1 can garbanzo beans, drained and rinsed
Pad Thai noodles, cooked according to package directions (10 minutes before serving)
Directions
Heat sesame oil in large pan over medium heat. Add the chopped green onion (white part) and garlic. Stir and cook until soft.
Add ground turkey and spices (next seven ingredients). Cook until turkey is no longer pink.
Add chicken stock, peanut butter and beans. Stir until well-combined, cover and simmer over low heat for 30 minutes to allow flavors to blend. Add more chicken broth if needed to keep it from drying out.
Taste and adjust seasoning if needed. (With cumin, cilantro and chili flakes, a little goes a long way — adjust just bits at a time. The recipe here allows for good flavor and just a hint of heat.)
Serve chili over pad thai noodles. Garnish with the green onion bits.
That's it! Share this recipe on your Facebook page or save it to Pinterest so you can find it easily when you're ready for fresh flavor! I hope you'll let me know how you like it!!!