Travel Insurance… Is it worth it?
This post may contain affiliate links. Click here to see what that means.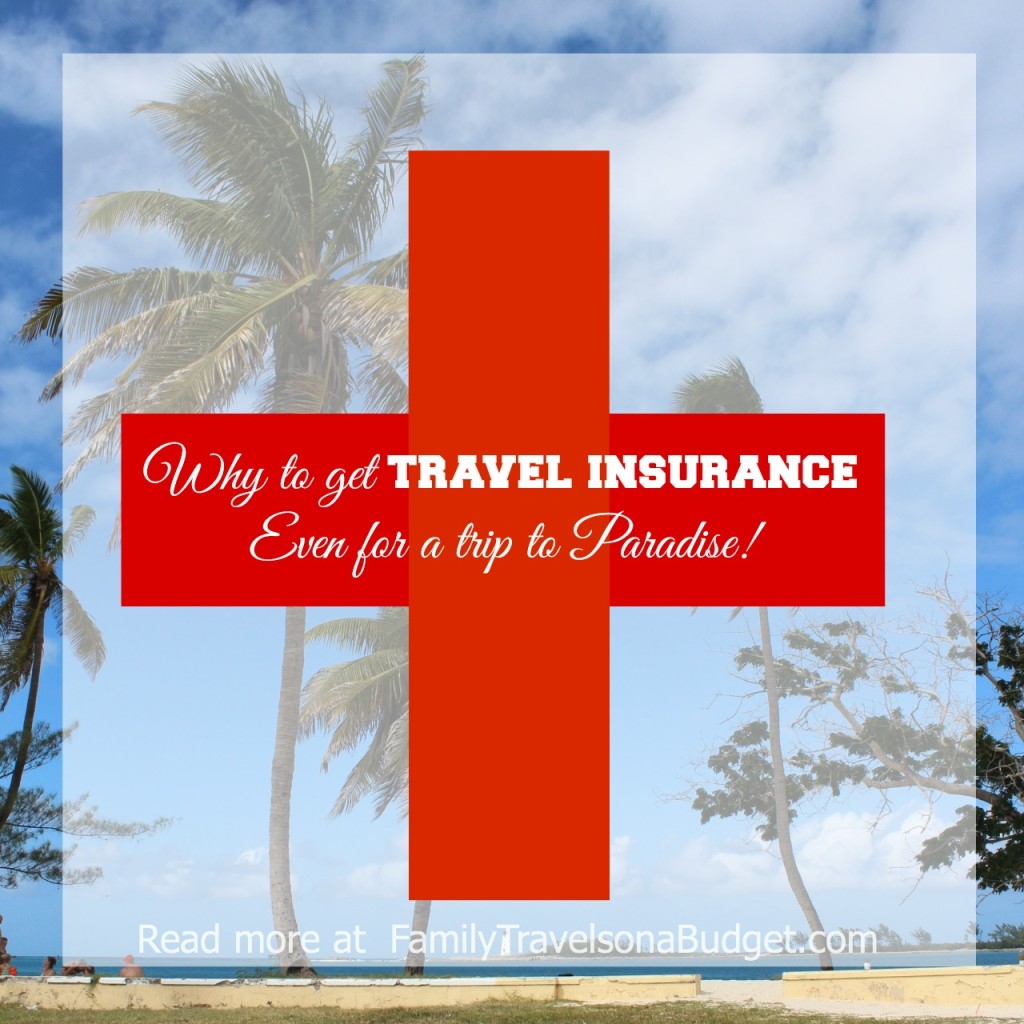 Vacation. Time to relax, rejuvenate and reconnect with loved ones. We hate to think about illness and injury — they just don't fit in with our concept of vacation. But, accidents happen. People get sick. When traveling, especially internationally or during peak holiday season, travel insurance offers peace of mind in case of a medical emergency. Some policies include lost luggage, travel interruption and other coverage as well ~ especially beneficial during peak holiday travel when crowds and weather make a mess of travel plans.
On our cruise last week, we saw how important travel insurance is.
3 reasons to invest in travel insurance
First, in port in Nassau a fellow passenger fell ill, treated first by the onboard medical staff. A little later, that passenger was transported by ambulance to the Nassau hospital. If that passenger's illness requires ongoing treatment at home (heart attack or stroke), emergency medical evacuation to the United States could cost $50,000. Travel insurance provides coverage for such transfers, not just for the medical care in that country.
Second, our first two days at sea were quite turbulent. Many passengers suffered sea sickness. Those of us with stronger stomachs struggled to walk down the halls. At one point, the ship leaned right and my mom tumbled against the wall. She suffered a gigantic bruise on her leg, but was not seriously injured. She didn't need medical care, but had the injury been more severe, travel insurance would have covered any needed medical treatment.
While the onboard medical facility provides medical care for onboard injuries and illnesses to a certain degree, major injuries require treatment at a qualified medical facility. The ship even has a helipad to facilitate such transfers and travel insurance covers those costs (up to the amount of coverage purchased).
Third, those suffering allergies or other chronic medical conditions might need special treatment. After bouncing on the giant bungee-trampoline, I sat down on the bench to put my shoes on. I grabbed my shoe from under the bench and got stung by a bee! Tell me, how does a bee find its way onto the sports deck of a cruise ship? Of course, I'm allergic to bees. In seconds my hand started to swell. A few minutes later, hives covered my body. A rec staff member took me to the medical staff for treatment. I carry an epi-pen everywhere I go, so I was prepared for this medical emergency, but what happens to the guy who gets stung and learns of his allergy onboard?
A cruise ship is fairly well-equipped to handle accidents and illnesses, but not major illnesses and injuries. Other vacation destinations, such as island resorts, don't offer medical facilities. Without travel insurance, the cost of treatment and/or transfer back "home," can cost more than $15,000. When traveling, especially internationally, invest $35-100 on travel insurance for peace of mind in case of medical emergency during the trip.
Other benefits of travel insurance
In my opinion, the most valuable aspect of travel insurance is the medical coverage and emergency transport for illness and injury suffered abroad. Other benefits include:
reimbursement of travel expenses for covered, pre-travel cancellations (illness, weather, transportation issues)
loss or delays, especially for travel during peak periods or bad weather (such as airport delays that make you miss part of your trip or lost luggage replacement)
24/7 assistance by phone (varies by policy type)
Basic travel insurance policies offer limited coverage for trip cancellation due to illness or injury, lost luggage and travel interruption in addition to medical and emergency evacuation coverage. More comprehensive plans, while pricier, offer additional coverage. Consider your vacation investment and then select the level of coverage that works best for your needs.
Where to obtain travel insurance
Airlines, vacation package brokers, and travel agents offer travel insurance. You can also purchase it through independent travel insurance companies.  You can shop around for the best coverage at the best rate, just like you would with auto and home insurance.
I'm not trying to scare you into obtaining travel insurance — I certainly don't benefit financially from your purchase. BUT, the more I travel, the more unusual scenarios I encounter. Especially for international travel, travel insurance makes sense. It's a small investment offering great peace of mind.
Do you invest in travel insurance? Why or why not?