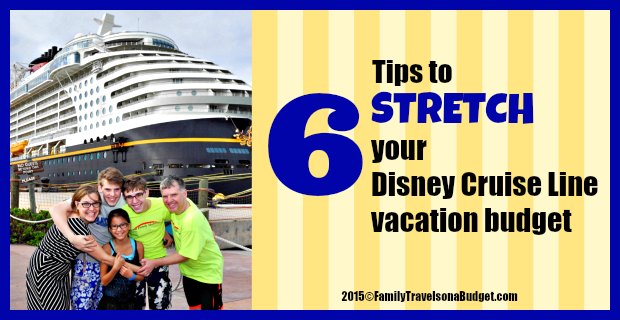 You've compared the cruise lines and decided to take the plunge — Disney Cruise Line it is. Or maybe you're on the fence, and a few more budget savers might just sway you. Either way, we've got you covered. I discovered these 6 budget stretching tips for Disney Cruise Line on our family vacation last month. I hope they help you as you plan yours!
Disney Cruise Line budget stretching tips
1. Register and Check In online! Guests in regular cabins can check in 75 days before the cruise (Suite guests and gold members can check in 90 days ahead). Be sure you check in that day if at all possible. The earlier you check in online, the earlier a boarding time you can secure. That means you get on the ship before most everyone else to enjoy a less crowded lunch or nearly empty pool. NICE! Also, the earlier you complete online check in, the more options you have to reserve specialty dining, shore excursions and other extras. We checked in 74 days before travel and secured a 10:45 registration. We boarded the ship about 11:30 and had lunch before the big crowds arrived by bus. (This article on the Disney Cruise Line Blog provides a good walk through of the check in process.)
Early check in means more time on board!!! Maximize that vacation.
***If you are using Disney transportation to the cruise ship, your check in time is whenever the bus gets to port. You do not select a check in time.***
2. Get items autographed (t-shirts, coffee mugs, a pillow case, a photo mat).
**Sadly, this program has been discontinued.**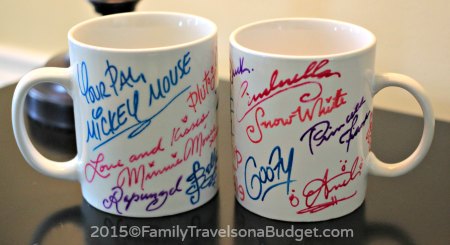 Aren't they awesome? The mugs are from a dollar store!
3. Get meet and greet tickets. After stopping at Guest Services to drop off autograph items, head to the Port Adventures desk (on the Dream, it's one level up from Guest Services) to get character meet and greet tickets. For our cruise, these tickets were available for the princesses and the Disney Jr. characters. The tickets work much like a fast pass at the parks. You bypass the regular line!
Less time waiting in line means more time to play!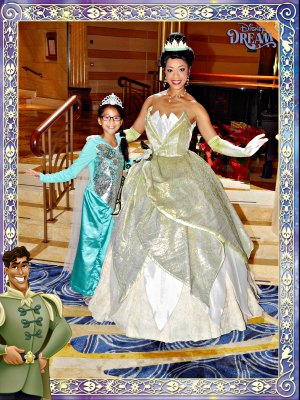 4. Attend the Oceaneer Club open house. If your kids are like mine, they'll spend a fair amount of time in the kids' clubs. On embarkation day (and various other times throughout the cruise), the ship offers an open house allowing adults to come visit. Take advantage of this opportunity to snap some photos of your child! You can't do it during regular Oceaneer Club hours. (AND be sure to check out the world's most amazing hand washing sink. I want one at home!!!)
Maybe not a budget-saver, but a great way to preserve memories.

Hula hoops and big kid's "hero" (Tigger is still his favorite!)
5. Pre-purchase the photo CD. Disney Cruise Line has partnered with Shutters to provide cruise photos. We don't normally purchase cruise photo packages, but this company does a great job! If you pre-purchase online, you save 15% compared to buying it on the ship. If you don't use the photo package or are unhappy with your photos, you can cancel anytime BEFORE the last day of the cruise for a full refund. If you keep the packages, Shutters gives you all rights to the images. Be sure you check your photo CD as soon as you get home — as the refund warranty is limited.
When we got home, I ordered a memory book through an online company for another $20. My favorite souvenir of all. Special thanks to my hubby for reminding the kids that this particular splurge was my Christmas gift. 🙂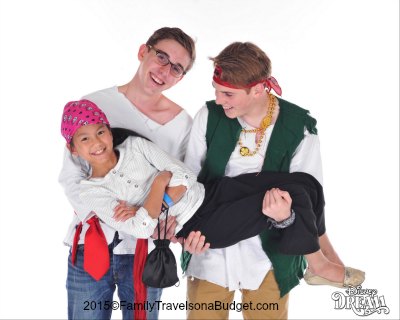 My goofy kids…. Arrrghhhhh…. I mean my pesky pirates!
The guy I get to do life with! He's a keeper!
6. Use Disney gift cards to pay your cruise gratuities. I'll be honest, I'm not sure if this was worth the hassle to me, but it can save you some money, so I'll share it. 🙂 Purchase discounted Disney gift cards at home (either through the Target red card which saves 5% or through discounters like BJs and Sams Club which offer similar savings). When you board, go to Guest Services to have the gift cards applied to your account (basically prepaying on board expenses and gratuities). It takes a bit to have the cards uploaded, but you do save money. If you don't use the full value of the gift cards deposited, you have to go back to guest services to get a refund the last evening of the cruise (again, standing in line). We saved $45 using gift cards, but spent about 45 minutes in line. I guess the more you plan to spend, the better the value!
A discount is a discount, right? If booking shore excursions, drinking alcoholic beverages and/or planning to use specialty dining, the savings here could be big.
There you have it…. 6 budget stretching tips for your Disney Cruise Line vacation! Use them to maximize your time on board, save money and get a one-of-a-kind souvenir. Beyond stretching the budget, I hope they help you have the most magical Disney Cruise vacation ever! Bon voyage!
Like this post? Please share!