The BEST cruise ships for teens (From A teen who knows!)
A few years ago, we took a spring break cruise on Celebrity Equinox, our first cruise on the Celebrity line. We weren't entirely sure if Celebrity would be one of the best cruise ships for teens, but we gave it a try!
We recently took another cruise, this time on Royal Caribbean, the itinerary chosen by our teen.
This post is written with her input, a review of the best cruises for teens with her straightforward input.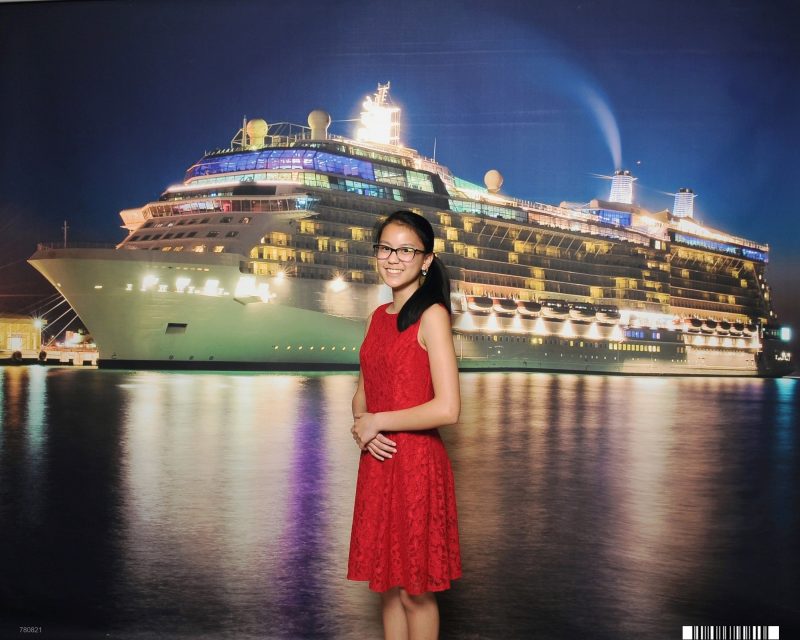 How to choose the best cruise for teens
Every teen is different, just like every cruise line is different.
Sure, Royal Caribbean, Carnival and Norwegian offer mega-ships that function like cities at sea. They have so many activities, that there's something for just about everyone. As long as you don't mind the size and the crowds, these are among the best cruises for teenagers because there's literally something for everyone!
If you are traveling with a teen aged 18 or 19, they cannot use the teen clubs!
These cruise lines offer smaller ships, as do Celebrity and Disney Cruise Line, and the amenities become more of a factor if choosing to cruise on a smaller ship.
To pick the best cruise for teens, encourage your teen to look at the amenities and activities on the ship/itinerary if you aren't sure they'll find something of interest. Knowing their input matters is probably all you need!
I talk about that in this post: The ONE THING you need to know to enjoy travel with kids!
REVIEWS: The best cruise ships for teens
Royal caribbean Cruise Line
Some of the best cruise ships for teens are on Royal Caribbean Cruise Line.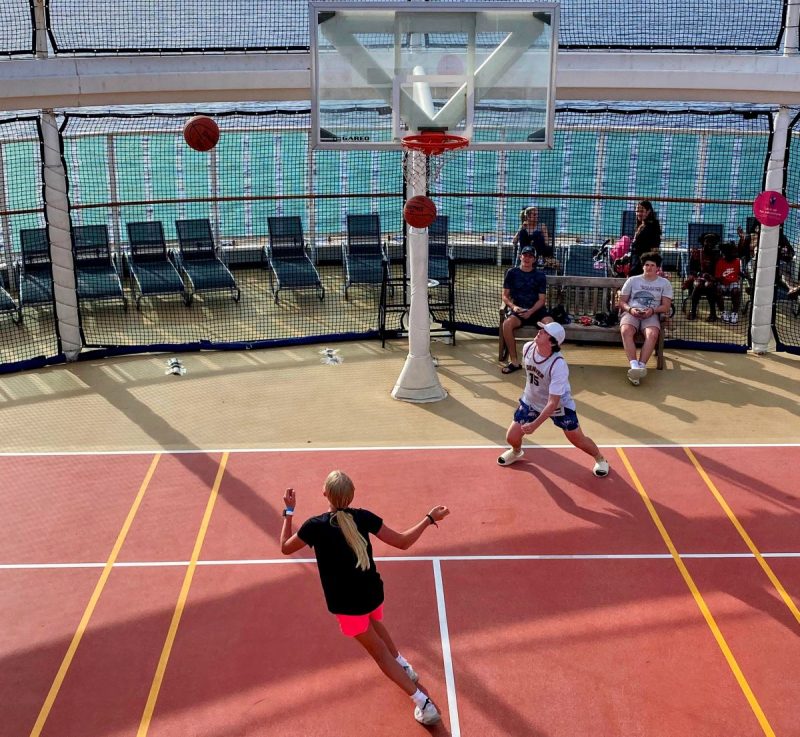 The best cruises for teenagers on Royal Caribbean have amenities for every type of traveler. These ships are in the Royal Caribbean Oasis class and include:
Harmony of the Seas,
Allure of the Seas,
Symphony of the Seas,
Oasis of the Seas,
Wonder of the Seas, and
Utopia of the Seas
Symphony of the Seas is the largest cruise ship in the world, offering more activities than any other ship at sea. Even the pickiest teen will find something to enjoy on Symphony of the Seas, making it one of the absolute best cruise ships for teens.
Popular activities on Symphony of the Seas include water slides, laser tag, and the popular FlowRider surf simulator. Broadway style shows, the zip line, sports court, shopping promenade, popular restaurants and the teen club offer lots of options for teens.
Teens aged 18 and 19 fall into a "twilight zone" of sorts. They can't go to the adult clubs, and they can't go to the teen clubs which are only for teens to age 17. Royal Caribbean Cruise Line offers a number of activities for young adults 18-20 to fill that gap. Information on those activities is provided in the Cruise Compass on your phone app.
Cabin advice: When booking a cabin on Symphony of the Seas, NOTE that cabins overlooking the "Boardwalk" and "Central Park" do not offer much privacy when the curtains are open. People in the cabins opposite can look right in your windows when the curtains are open.
The other ships in the Oasis Class are similar to Symphony of the Seas, with a variety of shows, exciting activities, pools, a teen club and shopping.
Carnival Cruise Line
Carnival offers a number of great activities for teens, making it one of the best cruises for teenagers.
The best cruise for teens on the Carnival fleet is the Carnival Mardi Gras. This ship offers a roller coaster at sea, a water park, lots of shopping, shows, restaurants and cool hang out spaces.
Additionally, all Carnival offer two teen clubs, Circle C for ages 12-14 and Club O2 for ages 15-17. The teen clubs on Carnival organize games, movie and trivia events, and dance parties, all supervised by counselors, staff trained in recreation and fun!
Carnival does not have a club for 18-20 year olds, but many of the cruise activities are perfect for this age group.
Activities onboard vary by cruise ship within the Carnival fleet. To plan the best cruise for teens, look for activities they will enjoy on any particular ship. Most ships offer things like the sports deck, pools and "waterparks" with slides, ZSPA — spa services prepared especially designed for 13-17 year olds, and pizza delivery by room service.
Norwegian Cruise Line
Not to be outdone, Norwegian Cruise Line has some of the best cruise ships for teens.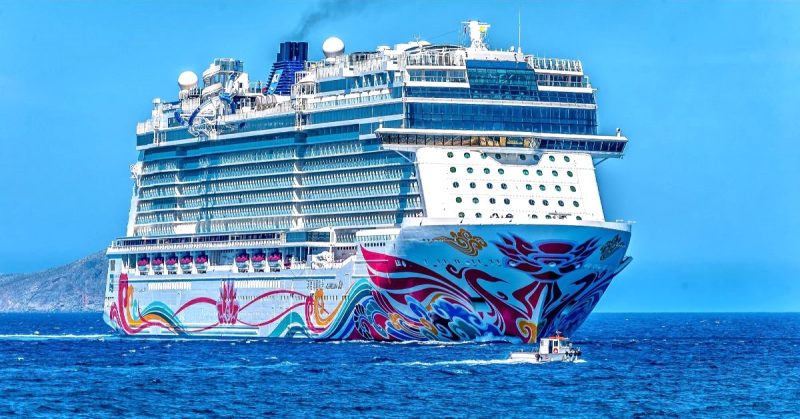 The Norwegian Breakaway and Breakaway Plus ships are particularly suited to teen cruisers. Thrill seeking teens will enjoy the ropes course and "the Plank," a narrow board that juts out above the ocean. Strap into a harness and walk on out over the sea! These ships also have water parks with slides, a racetrack, laser tag, and Broadway style entertainment.
The best cruise ships for teens on Norwegian Cruise Line are the ships with lots of options:
Norwegian Bliss,
Norwegian Encore,
Norwegian Escape, and
Norwegian Joy
The teen club on Norwegian Cruise Lines is called Entourage and is geared for 13-17 year olds. The trained recreation team provides a host of activites including movies, art, video games, sports, and a teen-centric nightclub just for this age group.
Norwegian does not have a club for 18-20 year olds. Experienced cruisers recommend that teens 18-20 meet up in Spice H2O. During the day this area is for adults only. It has loungers, hot tubs and the grotto — a walkthrough waterfall. In the evening it's a family friendly club area where the young adults like to hang out.
Disney Cruise Line
With its higher price tag, families might wonder if Disney Cruise Line delivers the best cruise ships for teens.
The answer to that question is maybe!
Our teens thought that Disney was one of the best cruises for teenagers. They are big Disney fans and enjoyed the family friendly fun on board. The unlimited Mickey bars and top notch service sure helped, too.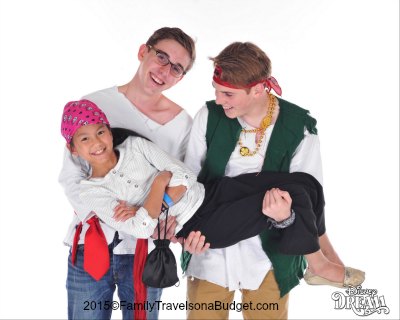 That's probably not a big surprise for Disney fans!
Disney knows how to entertain. Kids of all ages, and their parents, can enjoy character experiences throughout their cruise. Family friendly entertainment, lounges, arcades and activity centers provide opportunities for families to reconnect.
Like Royal Caribbean, Disney offers two teen clubs. "Edge" is for tweens, ages 11-14, with a dance floor, lounge area, video games, and other planned activities. "Vibe" is for older teens from 14-17, with music, movies, video games and themed activities.
Disney does not have a club for young adults ages 18-20. Many of the activities, lounges and clubs are open to all ages.
Disney cruise cabins: Most Disney cruise cabins offer more space than other cruise ships, particularly the closets and bathrooms. More space means more comfort!
celebrity Cruises
Another cruise line that's popular in the Caribbean is Celebrity Cruises.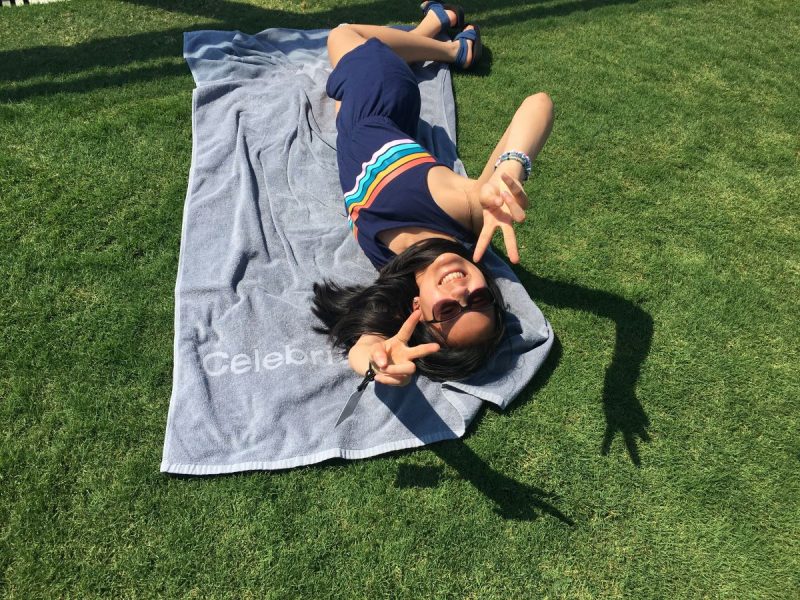 Since it's generally marketed toward an older crowd, you might question whether it's one of the best cruises for teenagers.
Celebrity Equinox is one of the best cruise ships for teens, especially those who prefer a bit calmer cruise experience.
There are few small kids on Celebrity cruises, which means that the pools and hot tubs usually have more space for teens to hang out.
Though Celebrity doesn't offer the high adrenaline activities on board, there is plenty for teens to do including the arcade, the card room with board games, themed nights like silent disco and excellent Broadway style shows. Our daughter enjoyed hanging out on the grassy lawn and the many activities planned throughout the day.
The teen clubs on Celebrity Equinox are designed for two age groups. Those aged 12-14 have planned activities including pool Olympics, game shows and karaoke. For the 15-17 year olds, the schedule more relaxed and planned activities include a prom party and "Dancing with the Stars" event. The shared teen space has a soft drink "bar" and a popcorn machine.
Celebrity does not have a club for 18-20 year olds, but most of the activities on board are open to this age group, except for the dedicated bars. The silent disco and planned movies and activities on the pool deck were a particular draw for this age group.
Celebrity Equinox cabins: The cabins and service on Celebrity Equinox are top notch. Having extra space and nicer finishes made the cruise particularly enjoyable.
Choosing the best cruise ships for teens really comes down to what teens enjoy. The major cruise lines all offer teen clubs for ages 13-17. Of the five cruises for teens reviewed here, only Royal Caribbean Cruise Line regularly offers dedicated activities for 18-20 year olds. Ask your teen for input on activities they want to do to help you choose the best cruise for teens in your family. Because the best cruises for teenagers are those the whole family will enjoy.