See Cozumel the fun way: Omar's VW Buggy Tour
This post may contain affiliate links. Click here to see what that means.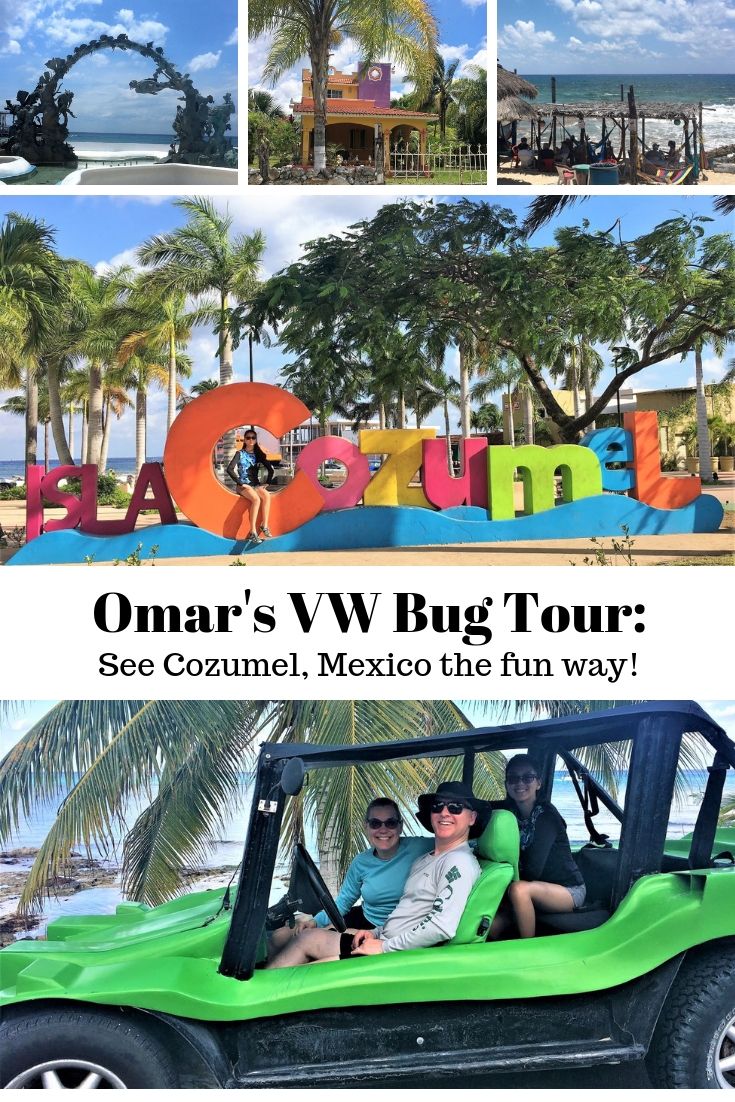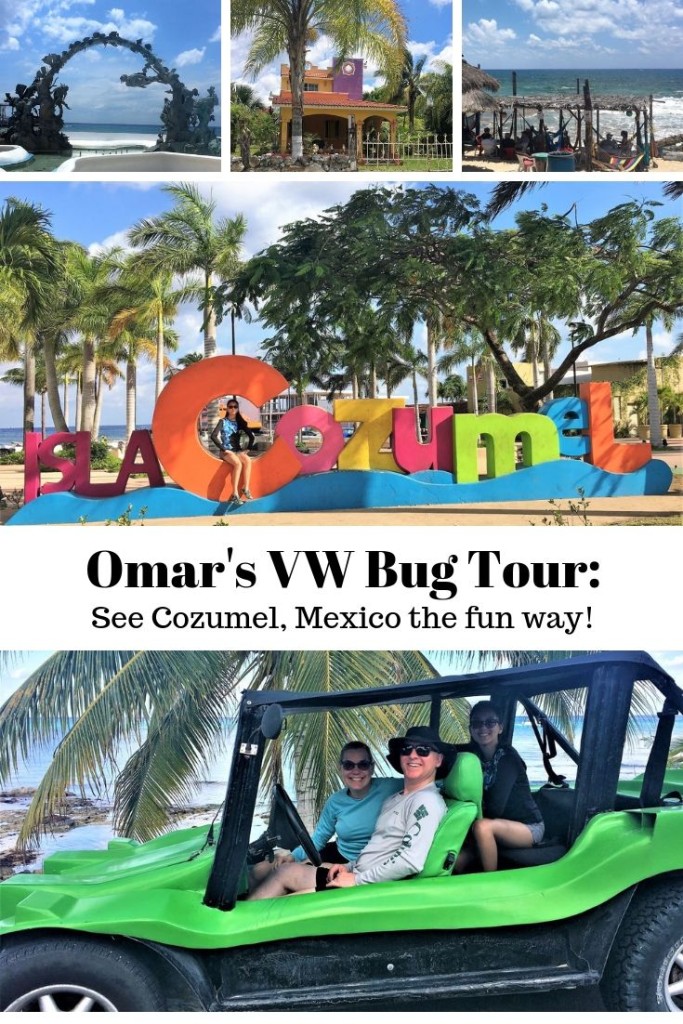 On our cruise this spring, we had a scheduled stop in Cozumel. Rob and I had been there once before (1993), but we had just graduated from grad school, so it was a low budget cruise. All we did was wander the shops near port. So, this time, we knew we wanted to take one of the more exciting Cozumel cruise excursions.
I did some research on the Celebrity Cruise excursions, but none quite fit the bill. So, I researched the best excursions in Cozumel, looking at the options with independent cruise excursions.
I tell ya, my family does not appreciate all the work that goes into planning these perfect vacays!
Okay, that's not quite true. They appreciate me, even if they don't really understand what I go through!
Back to Cozumel…
When booking independent shore excursions, it helps to work with a company that has a good reputation. I started with Island Marketing, Ltd., a company I had worked with once before, to explore their options. The company offers beach breaks, ATV tours, glass bottom boat tours and more in Cozumel, a variety of options to meet people's wishes. Topping my list, though, was Omar's Cozumel VW Buggy Island Tour.
Omar's VW Buggy Tour has a bit of everything: snorkeling, a small town tour with shopping, swimming and lunch cooked beachside. The best part? We get to drive a cute little car all over the island! Rob was stoked — he hasn't driven a stick shift in years, and the cars are adorable! I reached out to my contact with the company (yes, occasionally blogging has some great perks), and they provided a complimentary tour for purposes of this review.
If you prefer video reviews, check out our tour on YouTube:
Ahhh, reader, you're still here! YAY!
When you sign up for Omar's VW Buggy Tour in Cozumel, you'll receive a confirmation email. When the cruise gets close, you'll receive another email confirming your start time and explaining where to meet. Because this is not a cruise ship sponsored shore excursion, it meets offsite at the Diver's Memorial which requires an $8 cab ride (for up to 4 people). All of that is explained clearly in the email.
And, you might have noticed, we aren't riding in a VW Bug — but there's a good reason for that. Read on.
About the Cozumel Cruise Port
There are actually two cruise ports in Cozumel. The old port located at 77600 San Miguel de Cozumel, Quintana Roo, Mexico is small, but is still used. The new cruise port terminal is located at Puerta Maya, a development with more than 50 outlet shops, restaurants, bars and entertainment. The pier can accommodate several large cruise ships at one time, which means thousands of people!
You have to wander through the massive shopping area to get to the taxi stands, but signage is clear and easy to follow. We planned 45 minutes to get from ship to meet up spot, and needed much of it. Allow yourself 5-10 minutes to get to the taxi stand depending on how fast you walk (or shop), 5-10 minutes to get your cab depending on the queue and number of people at the taxi stand, and 15-20 minutes to get to the meeting spot.
Generally, if you allow 30 minutes, you should be okay. If you prefer less stress, allow 45 minutes and enjoy a cup of coffee from a local shop if you get there early.
If you don't prebook a shore excursion, you can get a cab to go to a beach or shop in port. It's a gorgeous island, so I hope you explore!
**Read the tips at the end of this post about returning to the ship!**
Back to Cozumel Shore Excursions with Omar
At the taxi stand, provide the address for your meeting place. For us, it was the Diver's Memorial (which is not a familiar name to the locals) at Calle 2 Norte and Rafael Melgar. Double check your meeting spot; it could change. But, the intersection is all you need to get to the Diver's Memorial.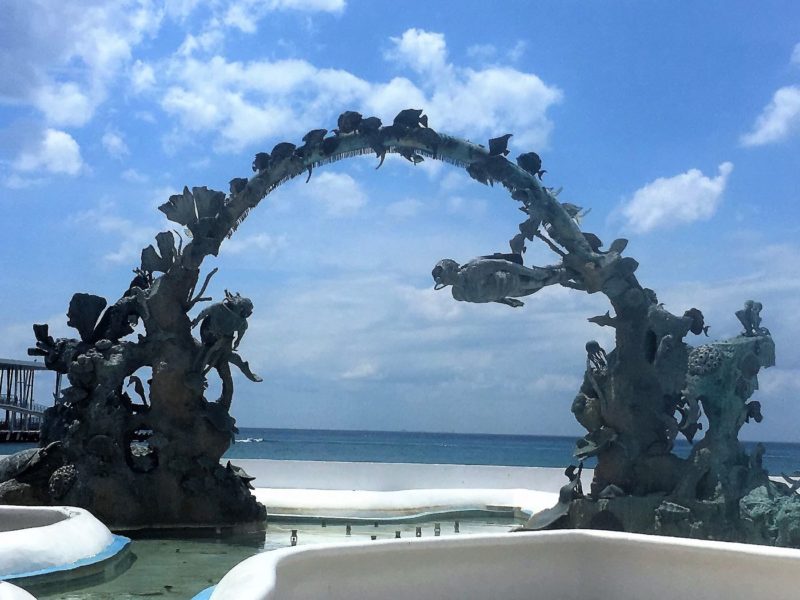 We arrived at the meeting spot early and explored nearby shops while we waited. Another couple arrived, and then Omar came and greeted us.
We walked a short distance to the parking area. I expected to ride in a VW Bug, but Omar provided a dune buggy on a VW frame so that Ellie had more leg room. I was a little disappointed not to ride in a VW bug, but the buggy was lots of fun.
Omar gave the drivers brief instructions on how to drive the old stick shift cars, offered everyone a bottle of water and then we headed off on our adventure. (See the video on YouTube to see Rob driving our car!)
Rob really enjoyed driving the buggy, though it popped out of gear between second and third more than once. These are not sleek, new cars, but refurbished VW bugs. For those who aren't really comfortable driving a stick shift car, the tour could be frustrating. My husband is a pro, so he really enjoyed it.
First stop: Cozumel snorkeling tour
The first stop on our private tour in Cozumel was snorkeling at a beautiful beach. Snorkels, fins and life jackets are included. Ellie had never snorkeled before, so Omar explained everything carefully. We explored the waters close to the dock until he was confident that we all were comfortable with our gear. As we swam, he stopped to point out coral, fish and even an octopus hiding in the rocks.
My camera malfunctioned — so frustrating — so I have no photos. BUMMER! Omar took my camera for me so I could explore more freely, which I really appreciated.
As snorkeling spots go, it's not the most spectacular. But, for those — like us — who want to give it a try, it's a great spot. The water is calm and clear, and Omar is a great guide. After about an hour, we returned to shore and showered off. Omar offered us another drink and we headed off to our next stop.
Second stop: Traditional town in Cozumel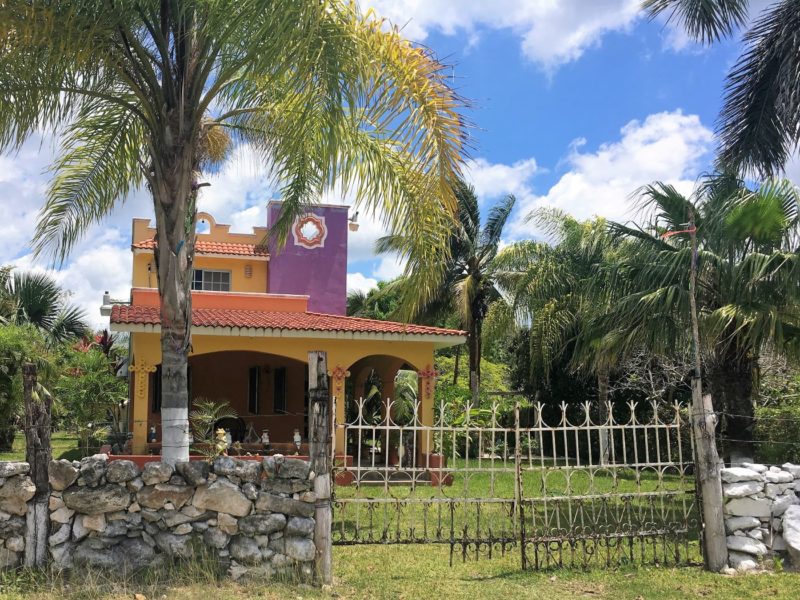 We drove along the coast for a while before turning inland toward town. We drove into the town center and parked the cars. The town happened to be preparing for a big festival, so everything was decorated with flags, banners and flowers. Omar pulled out an iPad to show us video from previous years and explain the tradition of the festival. We also learned that tourism is the driving force behind Cozumel's economy.
After watching an artisan demonstrate how he carves things from petrified coral, we explored the shops, church and Mayan ruin. I was a little disappointed by this stop and felt almost obligated to purchase something. We didn't bring any extra cash, so I didn't shop, but it did feel a little awkward.
With that said, we were really glad we saw the town. We love to see how other cultures live, and since the town is off the beaten track, there aren't a lot of shops catering to tourists.
Lunch: The highlight of the tour
After touring the town, we headed back toward the beach road and lunch!
Following Omar, the breeze picked up as did the smell of fish wafting in from the ocean. We drove along a dirt road and parked in front of a little shack that looks like it could fall over at any time.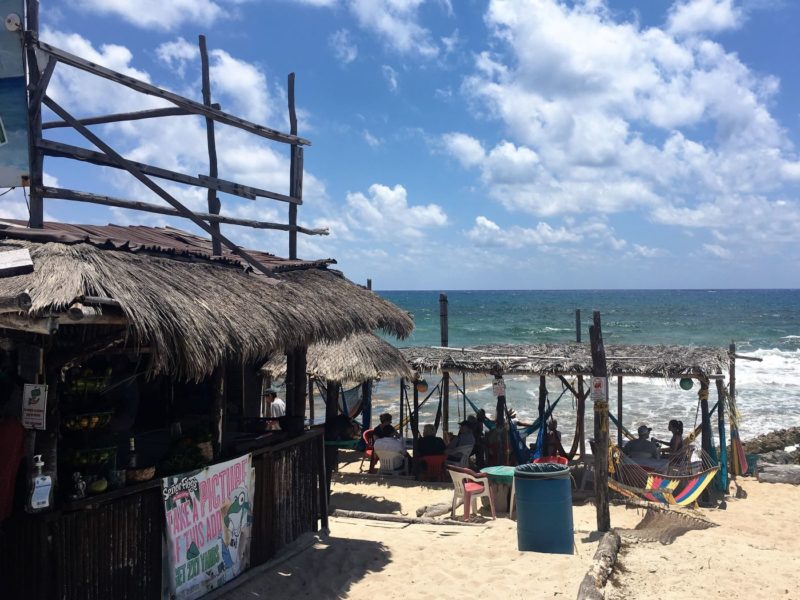 I was leery.
But, Omar knows his stuff. The "restaurant," is essentially a shack on the beach serving fresh food and amazing drinks. We relaxed in hammocks, appreciating the breeze off the ocean (no fish smell here) while Omar prepared fresh pico de gallo and guacamole. He called us over to demonstrate his secret methods.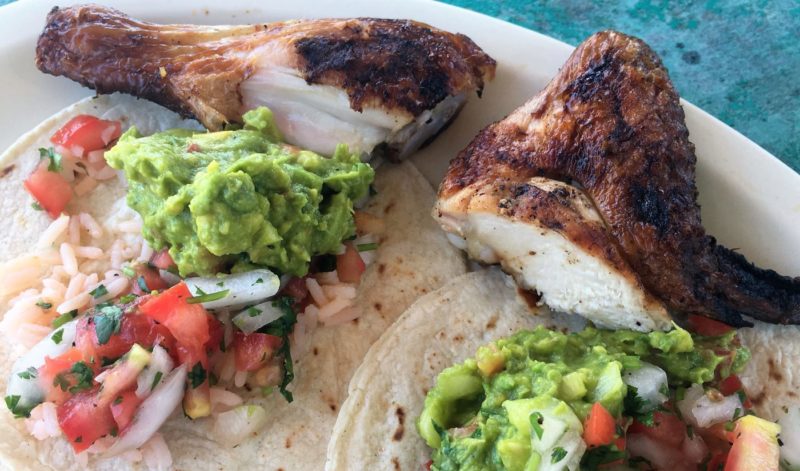 Then, lunch was served: roasted chicken, rice, tortillas, pico and guacamole with cheese and extra tortilla chips. There was plenty to eat — enough for everyone to get seconds. That chicken? I need more!
We settled the bar tab and used the porta-potty before heading to our next destination.
Final stop: Swimming beach in Cozumel
Sometimes, Omar includes swimming at the lunch stop, but there was a lot of seaweed washing up on shore — a sign of coming rain, says Omar. So, we headed a few miles down the beach to another swimming spot. The wide sandy beach at this spot is fabulous, and the sheltered swimming area is really nice.
Normally, after the beach, there's a tequila tasting, but the two families on our tour agreed to skip it and head back to our respective ships.
Getting back to the Cozumel cruise port
After swimming, we headed back to town and parked the cars where it all began. Omar tried to get us a cab, but the guy turned off and he pointed us back toward the Diver's Memorial to get a cab on our own.
Luckily, we were a group of seasoned travelers because the next few minutes were not enjoyable.
The diver's memorial is located near a ferry terminal with taxi stand. We got there just after a ferry unloaded, and the line was really long. We tried flagging down a cab, but they were all headed to the ferry taxi stand so we couldn't get anyone to stop.
The other couple checked — no Uber in Cozumel.
After standing around discussing options for a few minutes, we agreed to try catching a cab going the other way. Moments later, we flagged one down, and despite having room for only four passengers, he agreed to take us back to the port with 14 year old Ellie sitting on Rob's lap.
It reminded us of a similar, crazy cab ride in China many years ago… but that's a story for another day.
The cab driver delivered us safely to the cruise port taxi stand. We said good-bye to our fellow adventurers and, relieved, made our way to the ID and bag check area to return to the ship.
If you are not an experienced traveler or get stressed out by these types of situations, make sure your guide (Omar or one of his staff) knows to secure a cab for you. Also, allow more time than you think you need to get back to port. Both the families on our tour wanted to get back to the ship early, so we had plenty of time. If we hadn't skipped the tequila tasting, it might have gotten tight.
For peace of mind, the company, Island Marketing, Ltd.,includes a guarantee should you miss your ship because of the excursion including food, accommodations and transportation to the next port.
About the ID check area
Check the queues to make sure you go through the line for your ship. Celebrity Cruises has its own line, which was much shorter than those for Royal and Carnival.
Have your photo ID and cruise seapass card available. They will not allow you past without these documents.
And finally, don't take food back to the ship — not even bottled soda! Food cannot leave the ship to go on shore, and you cannot take food back to the ship. I was amazed at the amount of confiscated food and drinks at the checkpoint.
What did we think of our Cozumel shore excursion?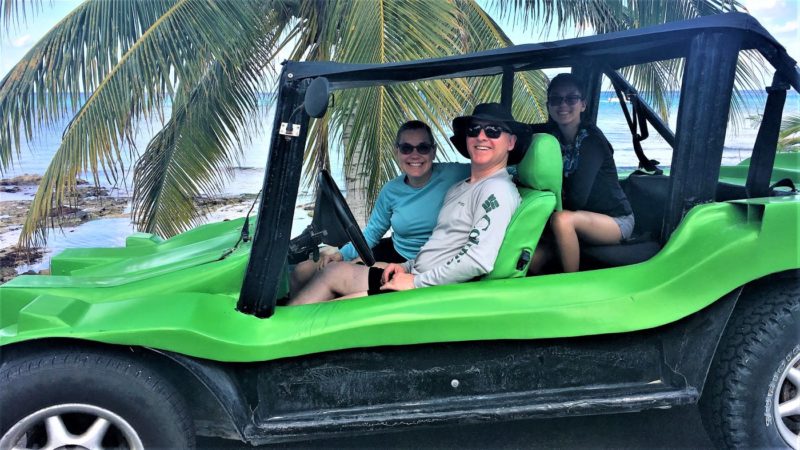 Overall, we enjoyed Omar's VW Buggy Tour Cozumel shore excursion. If we hadn't had trouble getting a cab back to port, this would definitely rank as one of the best excursions in Cozumel. Maybe one day Omar will be able to arrange a meeting point closer to the port.
For light adventure, this is a great tour. It provides an easy introduction to snorkeling, which was perfect for us. It exposed us to local culture and great food, all with an element of fun.
The VW bugs, or dune buggies, aren't exactly in prime condition, but that's part of the fun. They definitely require a skilled driver, but traffic is light and Omar is a skilled guide. We really enjoyed that part of the trip! Rob said this was his favorite day of the whole cruise. Ellie liked it a lot, but she enjoyed sea days the most.
If you're considering booking shore excursions on your own, this is definitely one to consider. As independent cruise excursions go, Omar delivers.
Quick links:
Use these links to review and book independent shore excursions in Cozumel: