Carnival: Fun Ships for Kids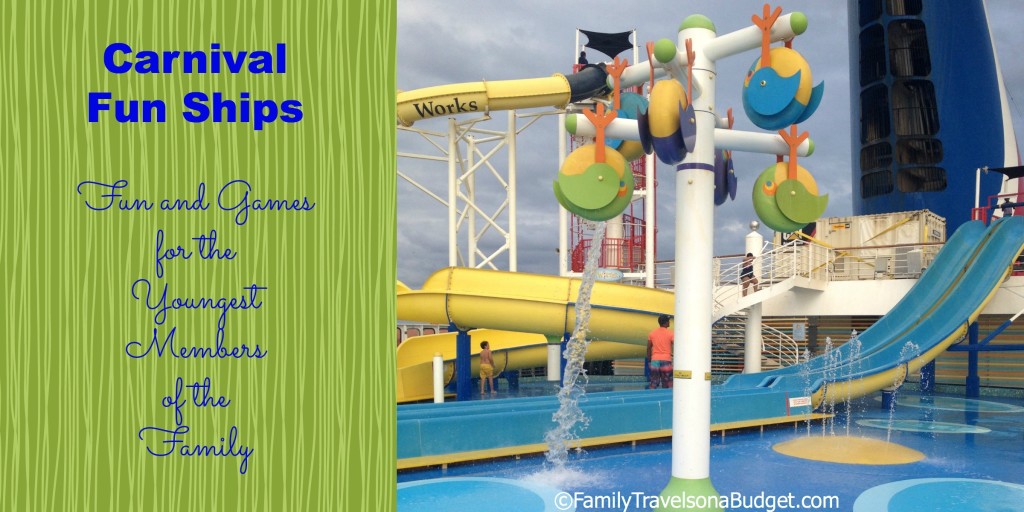 Carnival Cruise Lines expanded and upgraded kid-friendly activities complement the line's ongoing Fun Ship 2.0 enhancements. Even the Carnival Fantasy, the oldest ship in the fleet, earned a major upgrade for kids including a putt putt course, water slides, and expanded age-specific clubs. For kids under age two, Carnival offers limited services including stroller rental, family play time and late night babysitting.
Save $53on a Disney World 4-Day Park Hopper! Hop through all 4 parks.
Carnival Fun for Kids and Parents
Putt Putt — Located on the Sun Deck, putt putt was a popular activity throughout my cruise. Even the chilly wind couldn't keep kids away. A sweet little girl on pudgy preschool legs tried to pull her daddy back to the putt putt course. He explained it was too cold. She blubbered, "But Daddy, it's fun." That seemed to be the kid consensus week long.
Waterslides — The entire Carnival fleet offers water slides, much appreciated by kids and kids at heart. On my cruise, the temperature barely reached 70 but it couldn't keep the kids away. I asked one mom who sat huddled on a lounge chair if the kids like the slides. She cracked me up by replying, "If they weren't so happy, no one could pay me enough to sit out here. I'm freezing!" Of course, the kids, immune to the cold, climbed the stairs to slide again and again.
NOTE: Children must be 42″ tall, fully potty trained and able to swim to use the water slides.
Camp Carnival Fun for Kids 2-11
Camp Carnival provides kids ages 2-11 a secure play space suitable to younger kids. It's divided into three age groups:  2-5, 6-8 and 9-11. On the Fantasy, limited available space means 6-11 year olds are often grouped together for activities. Camp Carnival staff stressed that ages are determined by birthdate and that children cannot "join" an older group, no matter how advanced they are.
2-5 Year Olds have their own space on the Promenade Deck (aft) and enjoy fun games and crafts suitable to their skills. The play space is secure and spotless. Equally important, the kids loved it and didn't want to leave. One mom said that her kids love Camp Carnival and that it far exceeded her expectations.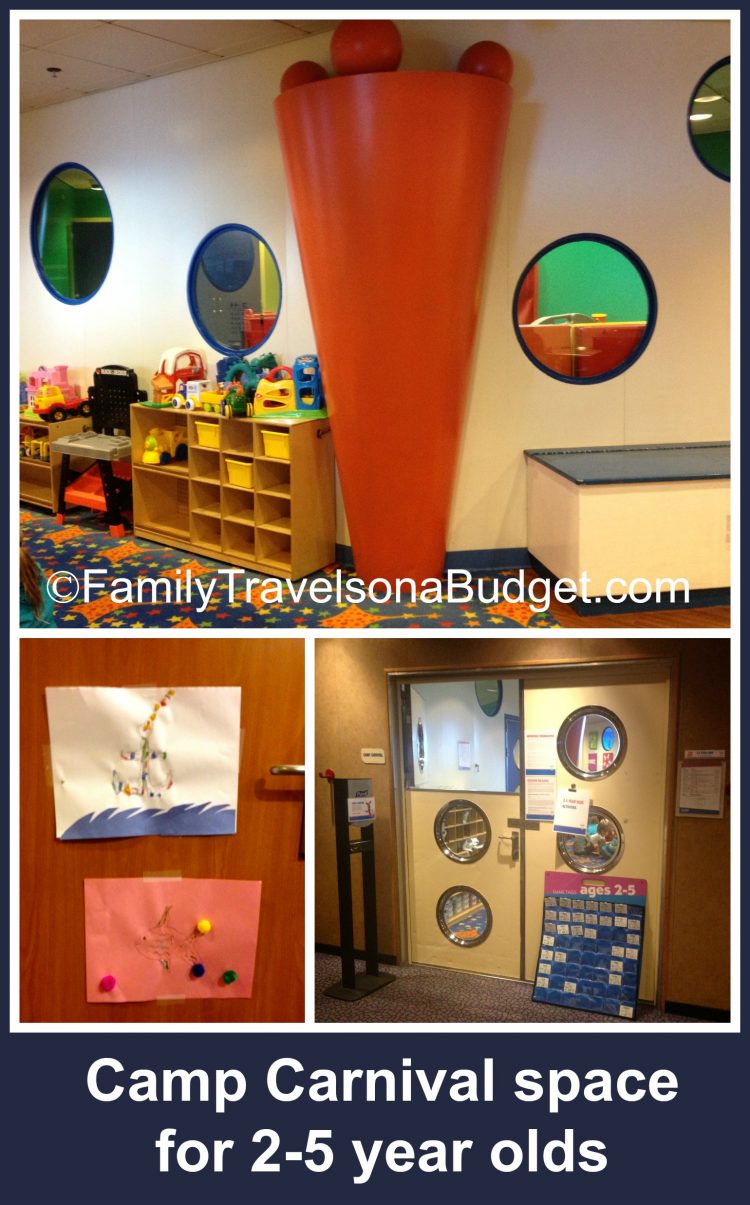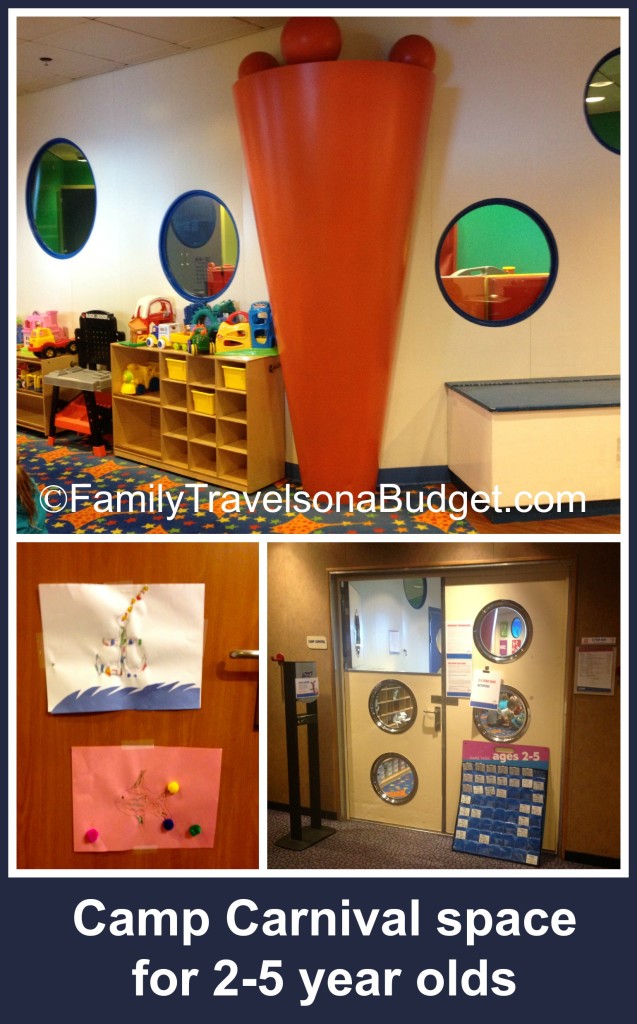 6-11 Year Olds on the Carnival Fantasy are grouped together for many activities and meet in the Conference Room on the Promenade Deck (at least sometimes). Activities offered for this age-group include board games, dance classes, putt putt golf outings, BINGO and "Cruiser Choice" (which from what I can tell is the equivalent of supervised free play). Kids' reviews of Camp Carnival for 6-11 year olds are mixed.
Caleb, 11, said Camp Carnival is too babyish. The little kids whined too much. Instead he recommends the pool and hot tub, dance classes and shows. He also says the food on Carnival Fantasy is really, really good.

Matthew, 11, said Camp Carnival is more for girls than boys. He didn't like all the crafty things they did and wished he could hang out with the 12-14 year olds instead. (He turns 12 in a few months)

Carleigh, 8, also says Camp Carnival is boring. She said compared to karaoke, the hot tub and the pool, Camp Carnival just can't compete. Carleigh recommends that kids go to the shows, especially the Motown show, and take the dance classes with the Carnival Fantasy dance team. She also says it's fun to watch the waves in the pool when there's no one in the water.
Parents gave Camp Carnival mixed reviews as well. They think a larger space would be better so that younger and older kids can have their own space. One said, "There's a big difference between a kid who just turned six and one who's about to turn twelve." (NOTE: The Carnival Fantasy was retrofitted to create Camp Carnival space from the conference room. This may not be an issue on all ships. Research deck plans before booking if this is an issue for you.)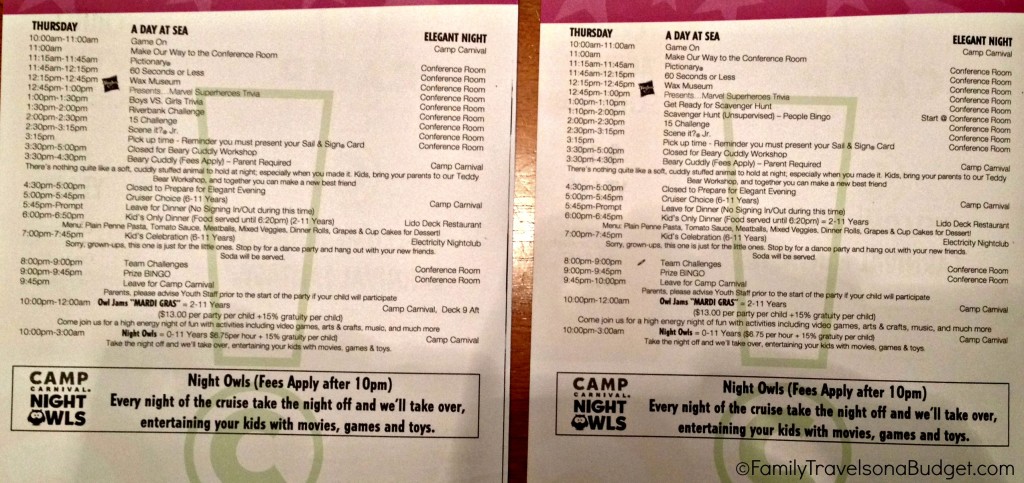 Carnival Fun for 12-14 Year Olds in Circle C
Located on the Atlantic Deck (midship), Circle C is Carnival's recreation "club" for 12-14 year olds. On my cruise, Circle C was packed out every time the doors were open! Clearlyl, Circle C is a big hit. Activities for the 12-14 set include video games, ice cream socials and pizza parties, ship-wide scavenger hunts (really popular — lots of laughs), dance parties, movie nights and more.
Ethan, 12, said that Circle C is loads of fun. That's about all I could get from him besides a big grin as he ran back to Circle C.
Carnival Fun for 15-17 Year Olds in Club O2
Club O2, on the Promenade Deck (midship), is Carnival's teen hangout space. Besides games and movies, Club O2 offers dance parties and other themed events.
Bryce, 16, said the Club O2 crew is a lot of fun. He also recommends that 15-17 year olds go to the very first Club O2 event to get to know people right away. "It's hard to get to know people after they already make friends." He also said kids should make sure they are there for the group photo which gets added to the Club O2 Wall of Fame.

Brittany, 15, says it's really important to get involved. Don't just sit in a corner and hope people will come talk to you. Everyone is in the same situation, the new kid, so meet people and find friends the first day. She also recommends the dance parties, which are "lots of fun."
Tips for Family Fun
1. Before booking, know which features your particular ship offers. Larger ships offer more amenities and attractions. Do your research and make sure you select both the cruise ship and the itinerary that best meets your family's desires.
2. Arrive early. The first people to board the ship have the most time to explore it! Board early and get to know the ship.
3. Attend the parent information session. Learn what's available for kids and get schedules for the week for a great vacation experience.
4. Check kids in for the first event offered! Activities are generally designed to help kids get to know each other the first day, instrumental to kids' overall enjoyment.
More Changes for the Carnival Fleet
Carnival Cruise Lines is rolling out the Seuss at Sea program beginning in February 2014 with the Carnival Splendor. The Seuss at Sea program will  include special dining options inspired by Seussical foods (green eggs and ham, anyone?), quiet reading space, character interactions and other Seuss-inspired activities. Carnival's commitment to make cruising "Fun for All, All for Fun" begins with the youngest cruisers and their families.
The Carnival Kids' Programming surprised me (like most everything on Carnival). How about you? Did you know the Carnival fleet had changed so much?