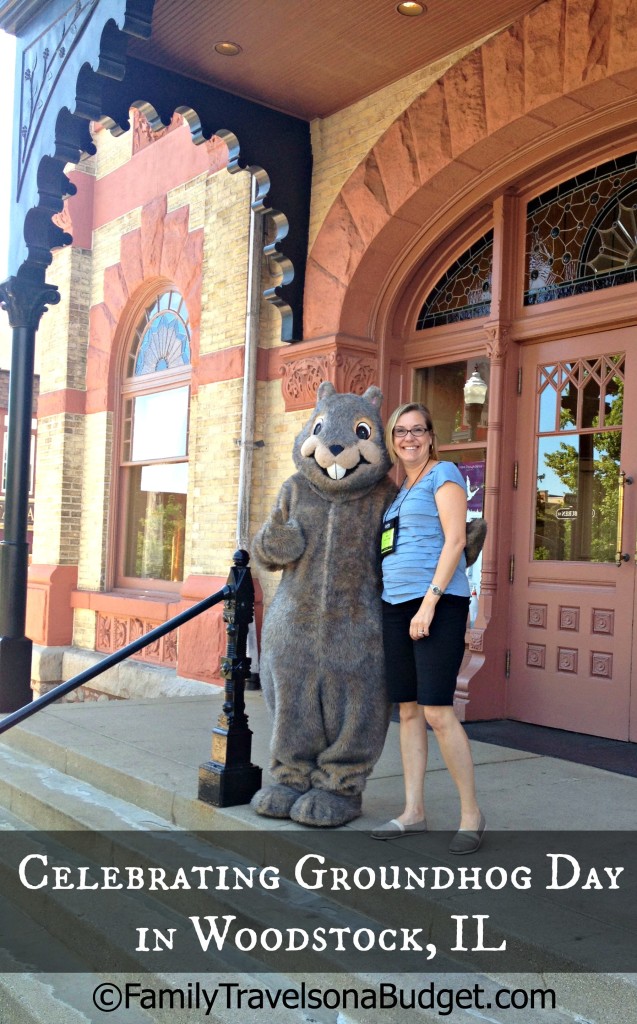 Groundhog Day in Punxsutawney, Pennsylvania is a BIG DEAL! According to tradition, the groundhog emerges from his burrow early in the morning of February 2nd to prognosticate about the end of winter. If he sees his shadow, he scurries back to his hole to hibernate for six more weeks of winter. If he doesn't see his shadow, that means winter ends soon!
Thanks, in part, to the movie Groundhog Day starring Bill Murray and Andie McDowell, Groundhog Day is more popular than ever.
Did you know that the movie wasn't filmed in Punxsutawney? Nope! To celebrate Groundhog Day Bill Murray style, head west on I-80 about 568 miles to Woodstock, Illinois where the movie was filmed. The quaint town of Woodstock celebrates Groundhog Day all week, offering free movie viewings and walking tours, special dinners and other events for the whole family.
Last summer, I got to visit Woodstock and see those sites myself. This quaint midwestern town is proud of its heritage — and its place in Hollywood history!
Groundhog Day in Woodstock, Illinois
One of my favorite scenes in the whole movie is when Bill Murray (Phil) pays a piano teacher $1,000 to learn to play Sergi Rachmaninoff"s "Rhapsody on a Theme by Paginini" (eighteenth version). While not a trained pianist, Bill Murray learned to play the piece by ear for the film.
Today, the house is privately owned and remains the same color it was in the movie — kind of like the movie itself. It's always the same! While the owners never has to worry about is what color to paint the exterior of their home, they do have to endure strangers taking photos of their front door. Would you mind that?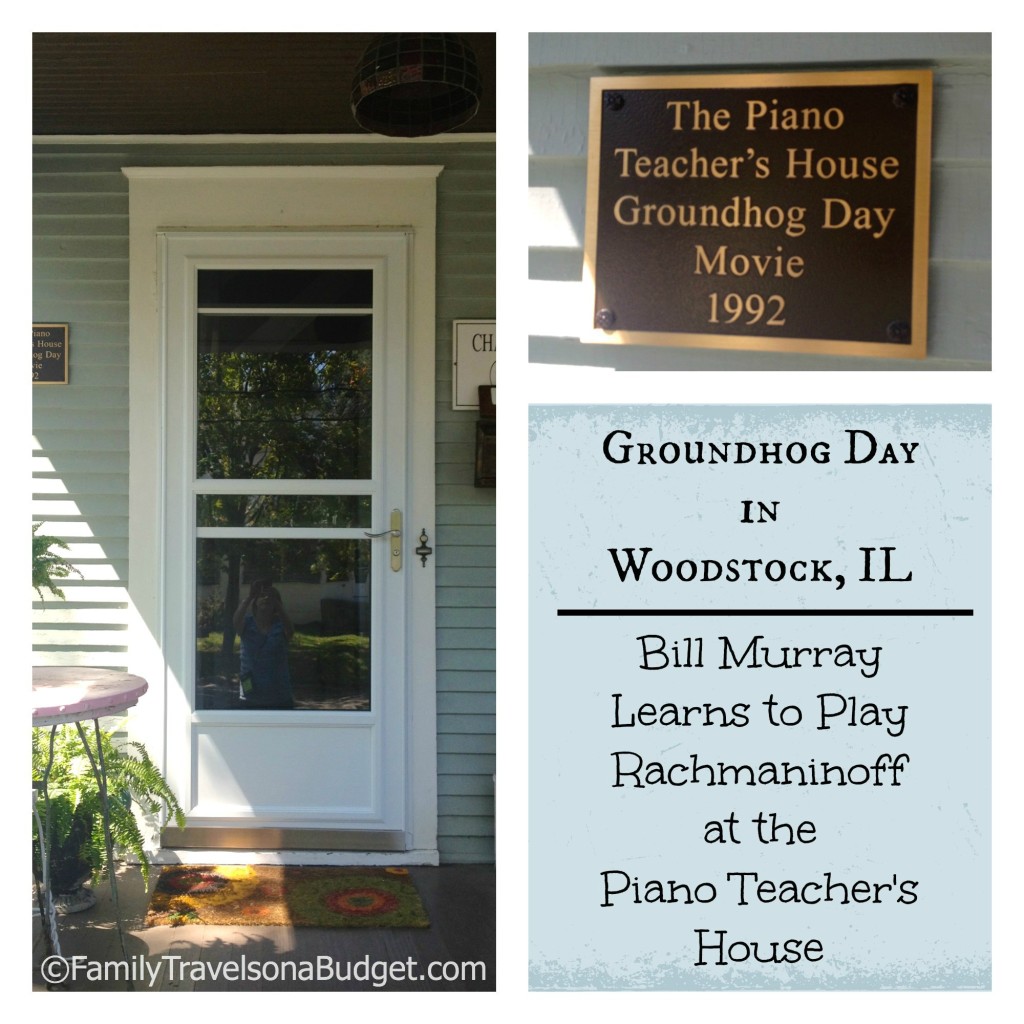 Groundhog Day Puddle Scene
On my tour of Woodstock, the guide explained that the weather changed from day to day making it necessary to recreate certain conditions such as snow and puddles. For the puddle scene, the crew actually had to remove bricks from the roadway to make the hole large enough to step in. Hilarious! Right?
While much of Woodstock remains the same today as it did in 1992 when the film was recorded, the sidewalk where the puddle scene was filmed has been widened. But never fear…. the spot where Bill Murray stepped is forever commemorated with a plaque.
What fun! Stepping where Bill Murray stepped again and again and again…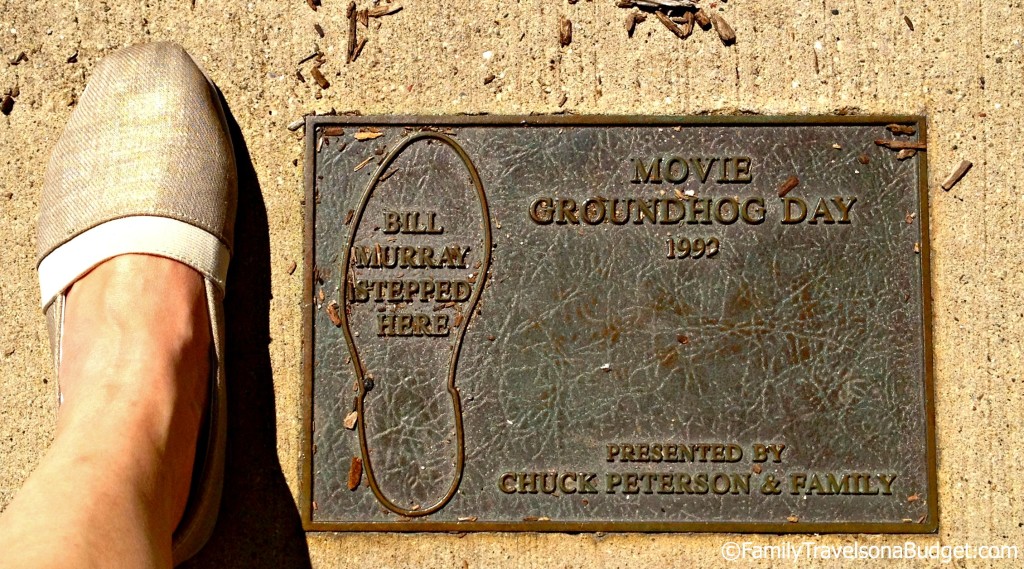 Groundhog Day's "Cherry Street Inn"
Groundhog Day fans might enjoy a stay at the Royal Victorian Manor, known as the "Cherry Street Inn" in the movie. During filming, the Inn was a private home. Only its exterior was used — and all indoor shots were filmed on a soundstage. If interested in staying here during the Groundhog Day festivities, book far in advance. Those five rooms sell out quickly.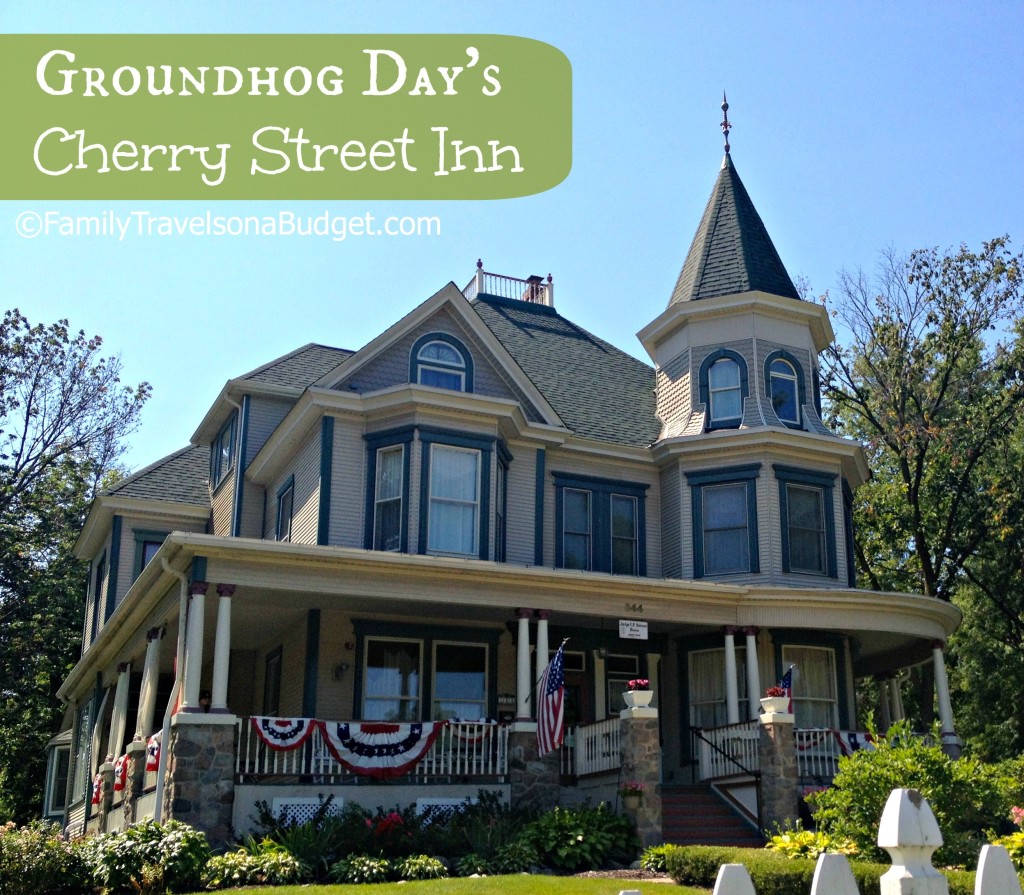 Groundhog Day Fun and Festivities in Woodstock, IL
Groundhog Day is Groundhog "week" in Woodstock! The town rolls out the red carpet for movie fans from around the world. The movie plays all week long, for free, in the town theater. Family friendly events are planned throughout the week.
Of course, the main event is the annual prediction at 7 a.m. on February 2nd. In the town square, Willie — Woodstock's own groundhog — will emerge from his burrow to decide when spring will arrive. A local polka band will even be on hand to welcome him.
After Willie makes his prediction, head over to Jaci's Cookies at 124 Cass Street (near the town square) for a fresh groundhog cookie in honor of the big day!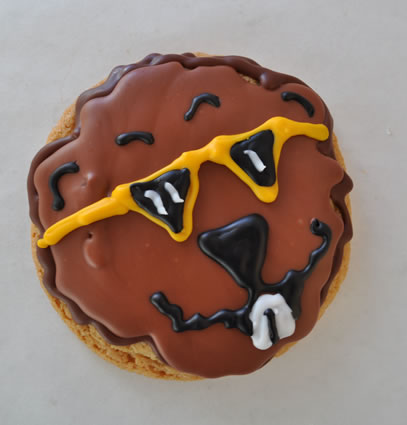 The people of Woodstock, warm and friendly midwesterners, welcome Groundhog Day fans year round. I highly recommend a visit — and a sugar cookie! Only one hour northwest of Chicago, a side trip to Woodstock would make a fun diversion from a big city vacation.
What's your favorite scene from Groundhog Day?