Winter Weather Safety Tips for Travel and Home
This post may contain affiliate links. Click here to see what that means.
Winter weather.
It blankets the landscape in beauty, but it packs a wallop, too. Every year, people die from accidents on the roads, in homes and even while shoveling snow. Plan ahead to stay safe with these winter weather safety tips for travel and home.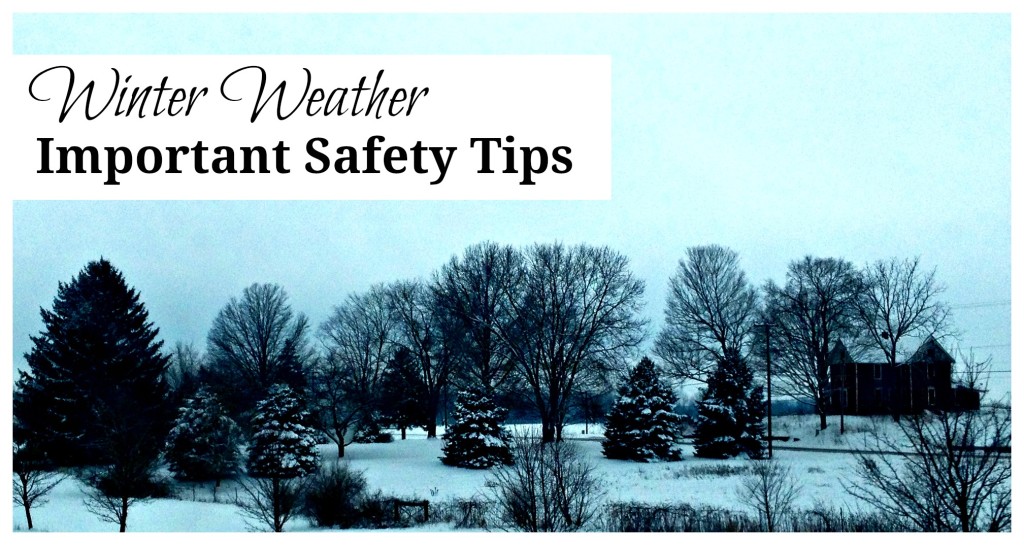 Winter Weather Safety Tips
We've searched the internet for the best resources and winter weather safety tips.
The National Weather Service provides a comprehensive resource for weather related information, including a storm preparation checklist, winter driving tips, and up-to-date information on current weather conditions.
Winter Weather Travel
Air travel experiences significant disruption in major storms, whether winter snowstorms or summer hurricanes. Before leaving for the airport, check with your airline for current flight status. It's always easier to wait at home than in a crowded airport! The website, Flightstats, offers comprehensive information as well — you can search by flight, airport or route.
Car travel requires patience above all else. If the roads are bad, delay your trip. If you must be on the roads follow these winter weather safety tips: slow down, make sure windows are clear of ice and snow, check fluids and fill gas tank often — don't let your gas run low!
Whether driving across town or across the country, stock it with an emergency safety kit. A winter weather safety kit provides the safety equipment you need to stay safe until help can arrive.
Keep blankets, bottled water and snacks on-hand. If you get stranded, you'll have the supplies you need to wait for help.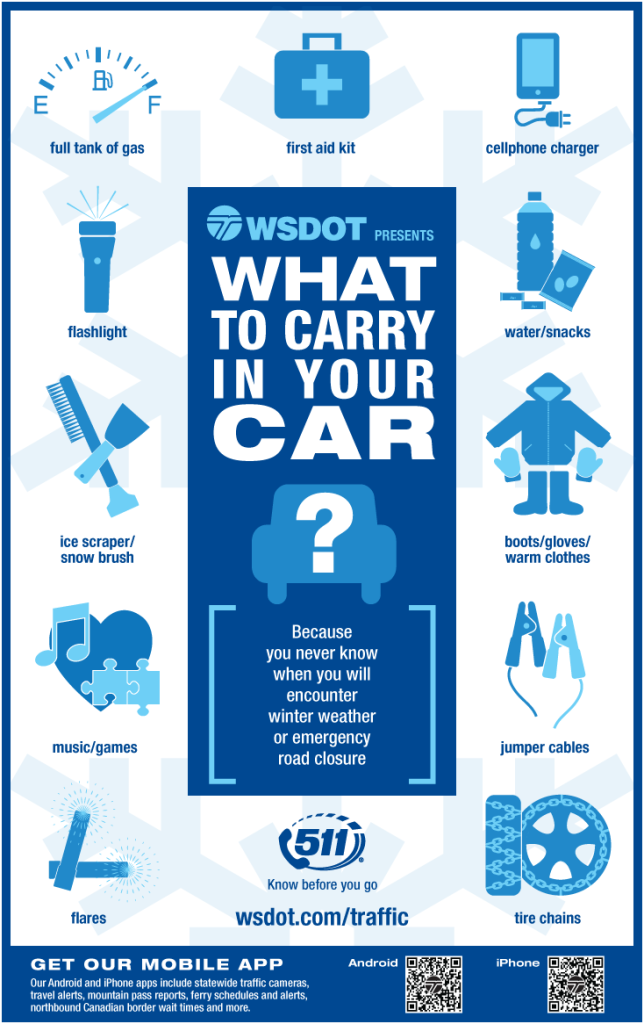 Also, don't let the engine idle without ensuring the exhaust is clear. Buried in a snowbank, the tailpipe can clog and the car can fill with carbon monoxide. Dig snow away from the tailpipe and make sure it stays clear.
Do not wander away from your car if stranded. Stay with it. Put the flashers on. Call for help with your cell phone. Keep calm.
Winter Weather Safety Tips for at home
Heating your home: Ensure that fireplaces are clean and working properly. Do not heat the house by stove or oven.
My son just called me yesterday to ask about safe space heaters. His small apartment is really old and has some really cold spots! We talked about the importance of keeping space heaters clear of clutter and away from furniture, blankets and curtains. They should not be used with extension cords. And, an important feature, especially if there are pets and small kids in the home, is an automatic shut off feature if the space heater tips over.
I recommended these to him:
Lasko Portable Space Heater for bathrooms and small spaces. Small and portable, this space heater is also safe for use in steamy bathrooms. It comes with an integrated ALCI safety plug (a device that shuts off power to the unit in a fraction of a second in the event of a short), has Automatic Overheat Protection, a self-regulating ceramic heating element and an exterior that stays cool to the touch – taking the worry out of using the heater for long periods of time.
Honeywell HeatGenius Ceramic Heater. This space heater is larger, intended for larger rooms. But, the safety features are just as important! This large room heater offers 3x Overheat Protection, thermal insulated wiring, cool touch plastic housing, tip over protection, and a 2 hour auto-off heat phase timer option.
Lasko Ellipse Ceramic Tower Heater with child lock. On sale right now, this Lasko oscillating tower heater has a thermostat with remote control so you can shut it off after you get in bed, and loads of safety features including a Tip-Over Switch, Child Lock, and Timer.
Carbon Monoxide and Fire/Smoke Alarms: All homes should have working smoke detectors. And a carbon monoxide detector is important, too, especially if you use a gas fireplace, gas heat, gas stove or gas water heater in your home.
Develop and practice fire escape plans with your family, too.
Winter Weather Personal Safety
Simply put, dress for the weather. Layers work best. Cover your head, hands and face.
Understand the symptoms of frostbite, which starts with the skin looking flushed. Then it turns white or grayish yellow. It might tingle, and then will feel numb. Often, people with frostbite don't realize they have it, but is noticed by someone else.
Hypothermia, equally dangerous, occurs when the body's core temperature drops. Signs of hypothermia include slurred speech, mental confusion, lack of coordination (stumbling or inability to make hands work together), drowsiness, failing eyesight and poor judgment.
Beware of over-exertion. Every year, 1200 people die from heart attacks caused by shoveling snow. If you're not healthy enough to walk around the block, shoveling heavy snow is probably not a good choice! A cubic foot of snow weighs anywhere from 7 to 15 pounds. Shoveling snow IS a workout!
Enjoy the Winter Weather!
Enjoy the snow using these winter weather safety tips to keep your family healthy. And, when it's just too cold or you've had enough, enjoy these creative activities, good for home or hotel.