How to navigate airports like a pro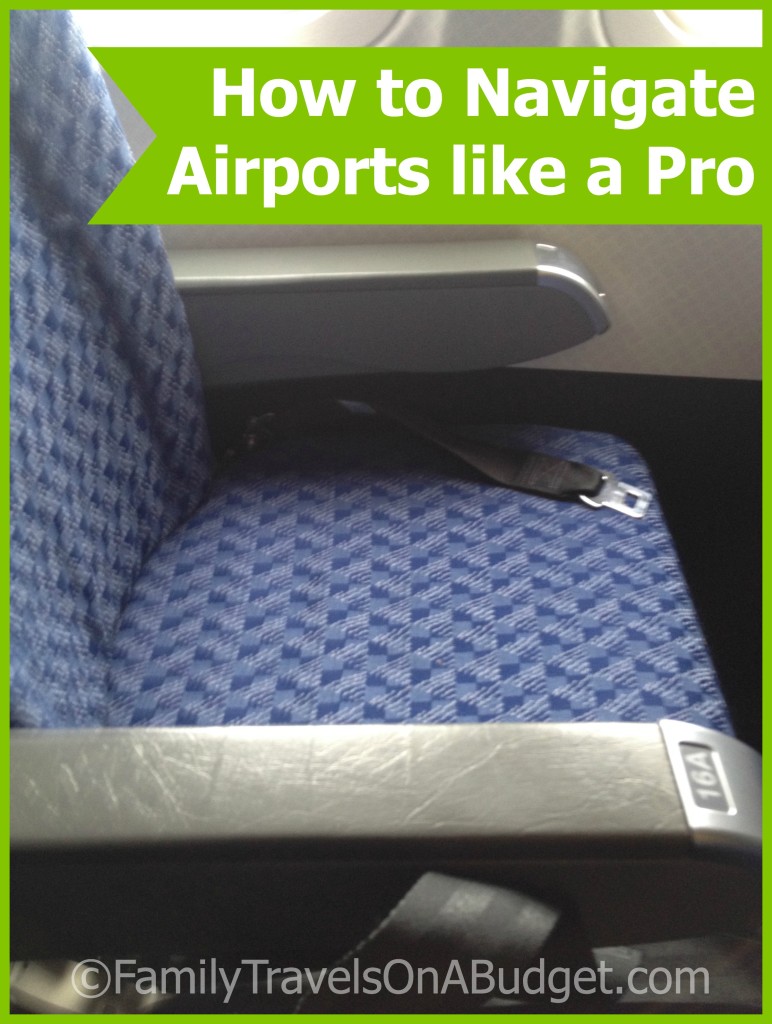 This past year, I've gotten quite comfortable with air travel… too comfortable perhaps! In June, I arrived at the gate for a flight to Mexico as they were loading my zone — close call. Just this month, I arrived with (theoretically) enough time to get through everything, but I didn't count on the airport shuttle getting off schedule! That 20 minute wait made me really nervous.
Throw in holiday crowds, Christmas gifts, and weather delays and navigating airports just gets more tricky.
Use this guide to navigate airports like a pro — with less stress, no matter what surprises pop up!
1. Check in 24 hours before your flight.
Check in for your flight online! Print boarding passes for your entire group. Prepay checked bags — you might save a few dollars over paying at the counter. When flights are over-booked, those who check in last are the first to get bumped. When it comes to air travel, the early bird gets the seat!
2. Dress and pack for the TSA!
Seasoned travelers know that slip-on shoes make the TSA check easier. To navigate airport TSA checks like a pro, put belts and jewelry (including your watch and hair clips, though wedding bands can stay on your hand) in your purse or carryon bag until after you complete your screening.
Do not wrap Christmas gifts before travel. (Mail them ahead if you can!)
If carrying a laptop computer, pack it where it's easy to reach. Digging to the bottom of your carryon bag increases the risk of losing items when pulling it out. The laptop has to go in its own bin to go through the screening equipment.
AND, the TSA 3-1-1 rule still applies. Only travel size liquids are allowed on planes.
Read this post to pack a carryon that makes navigating airports a breeze!
3. Arrive at the airport at least 90 minutes before your flight (domestic). For major airports make that two hours!
Busy airports suggest arrival for domestic flights at least 90 minutes before departure to allow for ticketing, baggage check, security screening and the walk to the gate. Kristen Hamlin at USA Today explains,
This recommendation refers to the time you actually arrive in the airport terminal, though. If you need to park, return a rental car or ride a shuttle from the airport parking area, include time for that.
Take it from me, forgetting to factor in the shuttle time from parking lot to terminal is a BAD idea!
4. Keep track of parking ticket, parking space and your luggage.
Terminal parking is expensive — often 3 times what airports charge for remote parking. If your airport still issues parking tickets, tuck it into your wallet before you get out of the car. A lost parking ticket means more stress and expense after your trip.
Wherever you decide to park, whether at the terminal or the remote lot, take a photo of the lot marker to remember which section you parked in. I find it easier to drive through the crowded "close" spots to the back of the lot. Shuttles drive through the whole lot before heading to the airport anyway.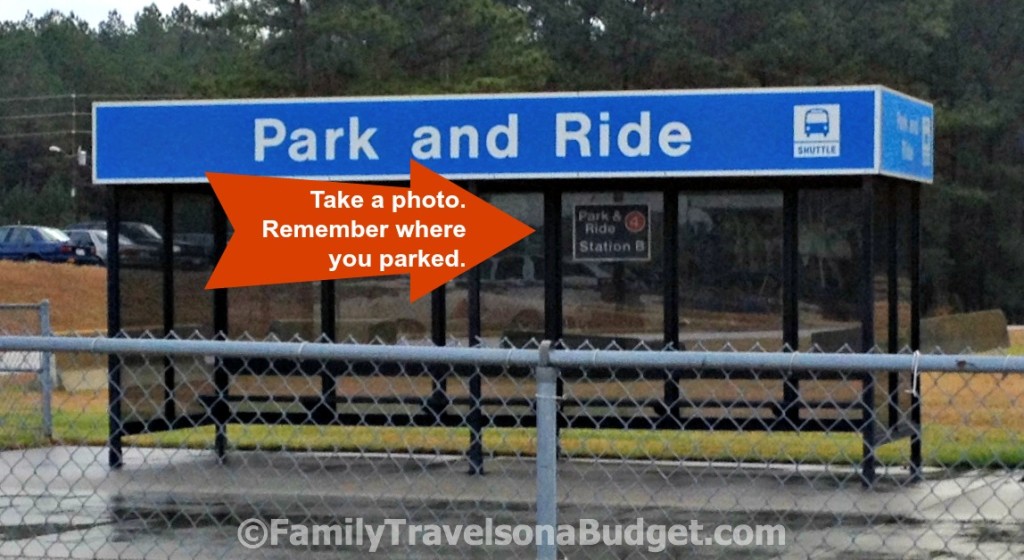 Before you leave the car, count your luggage! Let me say that again, count every piece: purse, laptop bag, kids backpacks, and luggage.
When you get to the shuttle stop, count again. Do you have it all?
Count again when you get on the shuttle…. TRUST ME! We left a suitcase behind at the shuttle stop once. Horrible!
Count again when you get to the terminal! It's a bit obsessive, but it will make life easier. I promise.
5. Navigate the airport terminal with confidence.
If you checked in for your flight online and you DO NOT have checked bags, proceed to the TSA security check area. You can bypass the ticket agents!
If you did not check in before arriving at the airport, you have checked bags or you forgot your boarding passes at home, stop at the ticket desk. Lines here can get long, especially during peak travel times (mornings) or the holidays. Be patient! If you don't know what line you should be in, ask an agent for assistance. They'll want to know your destination and flight time.
Keep your party together. It's a bit chaotic here and if you stay together, you won't worry about losing a kid — or a bag!
6. Be kind to the TSA agents!
Whether we like it or not, the age of airport security is here to stay! TSA agents are not the enemy. If you dressed and packed according to tip #2, navigating security will be easy, though lines are really long during the holidays. Be patient.
When it's finally your turn, the TSA agent will need to see tickets for each member of your traveling party. They'll confirm names and ages, even for kids. Adults need to provide photo ID (drivers' license or passport) as well as their ticket. If you keep all these items together in their own pocket of your carryon or purse, it's easier.
The TSA agents will direct you to the screening line they want you to use. Take off shoes (kids under age 12 can leave theirs on) and jackets. Double check that no one is wearing a belt or metal hair clip. Make sure everyone's pockets are empty.
Pass through security. On the other side, gather all your items. Don't rush (if you arrived 90 minutes before your flight, you'll have plenty of time!). Get everyone's shoes back on. Make sure you have cell phone, laptop and all your bags. Yes, that means count them again!
7. Confirm your gate and proceed there.
Double-check that your assigned gate hasn't changed since arrival at the airport. Proceed to your gate. Consider other travelers. Stay to the right if you walk slow, just like cars on the highway! Business travelers rushing to make a tight connection will appreciate your consideration.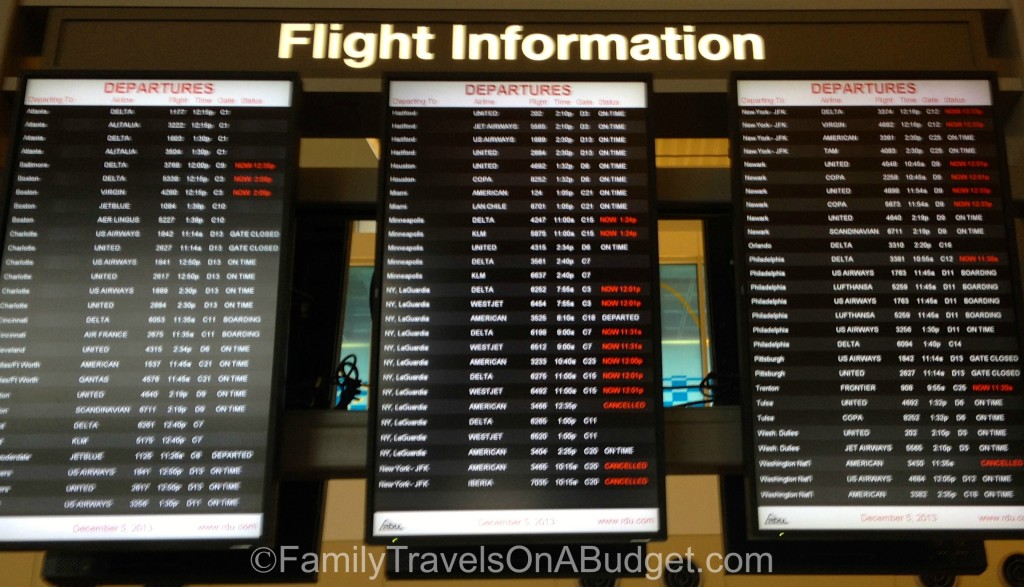 If at all possible, wait until you get further away from the main terminal area to take kids to the restroom, since restrooms nearer the gates tend to be less crowded.
Remember to count that luggage if you stop anywhere to eat or to go to the restroom on the way to your gate.
8. Board the plane!
Once you arrive at your gate, you're ready to go. Unless you need assistance to check a stroller or wheelchair, you don't need to check in with the agents at the gate. Listen for your flight number to be called and board when you should.
Each airline is different in this regard. Some airlines (like Southwest), allow families with kids under age 5 to board first to ensure they get seats together. Other airlines assign seats and will rearrange passengers once everyone is on board to keep families together as much as possible.
If you aren't sure when to board, ask an agent what you should listen for.
To board the plane, you'll need those tickets one more time. Photo ID is not required at the gate.
Place larger carryons in the overhead bins (wheels should go in first). Be careful not to bump anyone in the head! Put smaller bags under the seat in front of you. Sit down. Buckle seat belts and wait patiently for takeoff.
That's it! Everything you need to know to navigate airports like a pro!
Happy travels.