What you should know before visiting Notre Dame Cathedral
This post may contain affiliate links. Click here to see what that means.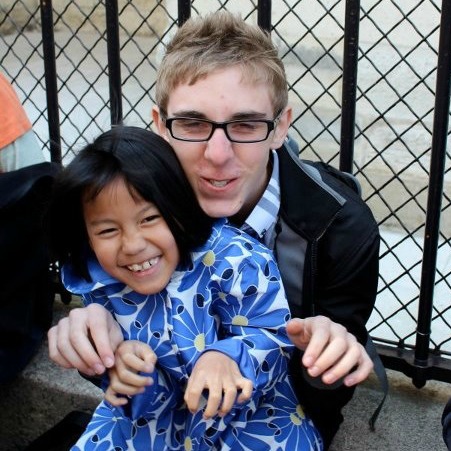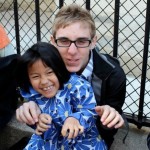 It's been a year since our first (only, so far) trip to Paris. Visiting Notre Dame Cathedral an the Eiffel Tower, eating the baguettes… ahhhh….
But, I didn't expect to love the city.
Millions of visitors each year can't be right, can they?
Despite my best efforts to doubt Paris, I fell in love with Paris' uniquely Parisian essence. (I haven't blogged about the trip before, because I hoped I'd be better able to describe it by now. I can't. Paris simply is… well…. Paris!)
That trip inspired this website. Talk about having an impact! Anyway…
We enjoyed everything we did in Paris, so much so that I really don't know where to begin… so I'll start with our Notre Dame Tower tour, which is the most visited site in the city.
And you thought it was the Eiffel Tower…. Gotcha!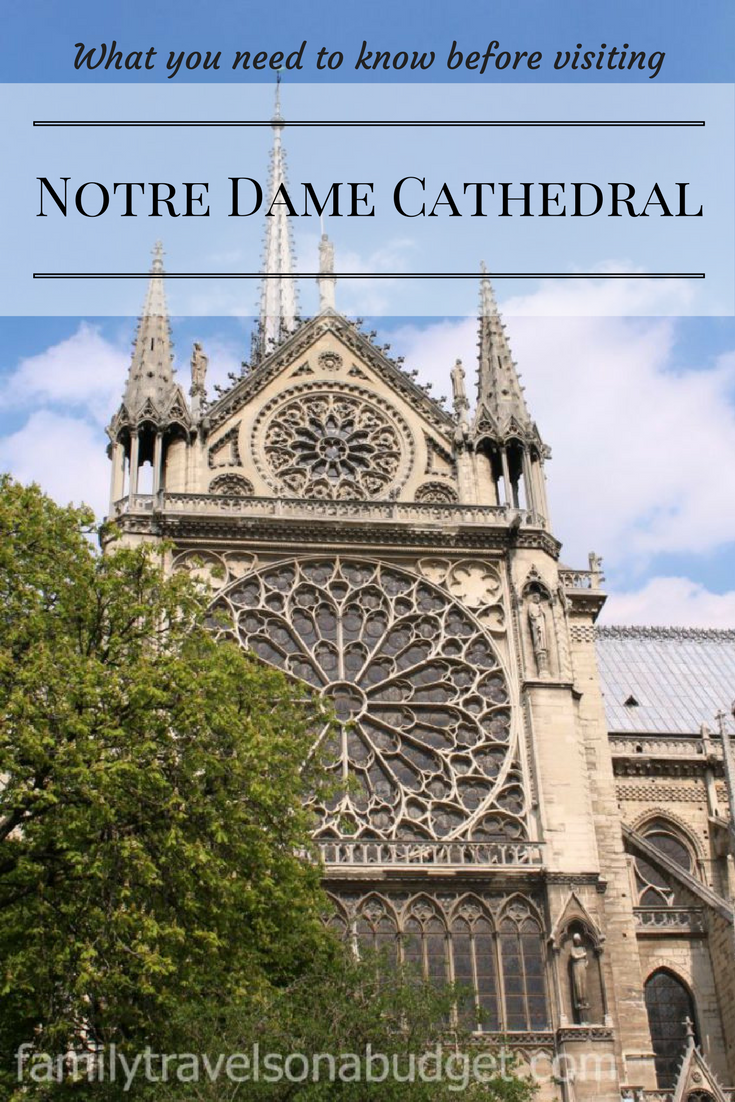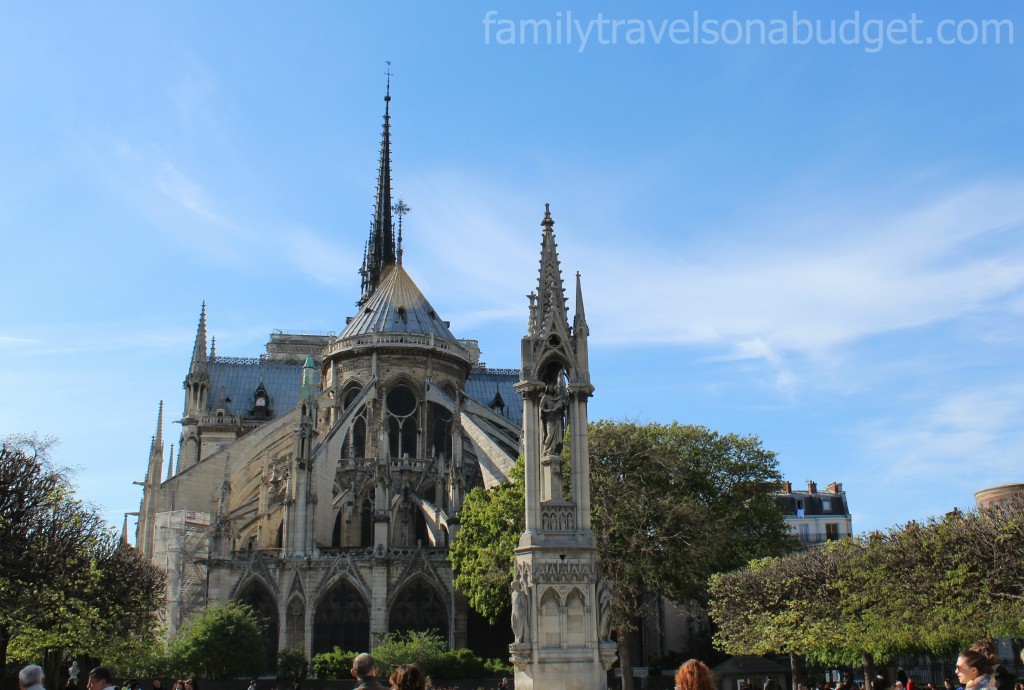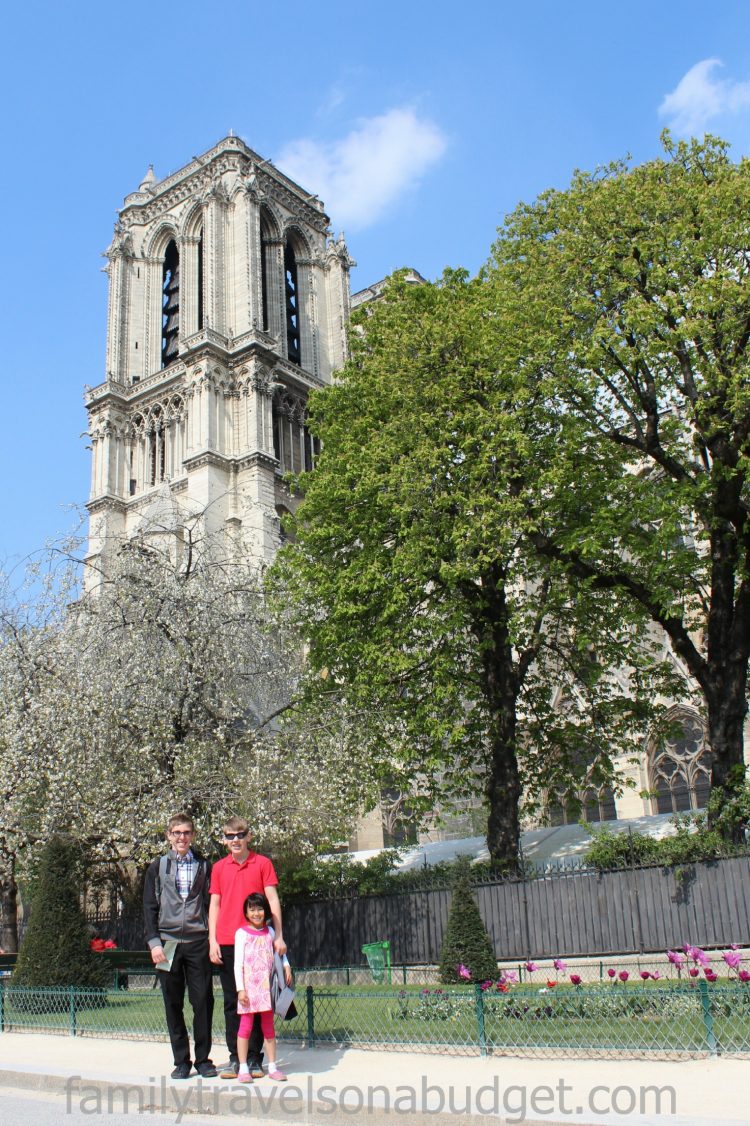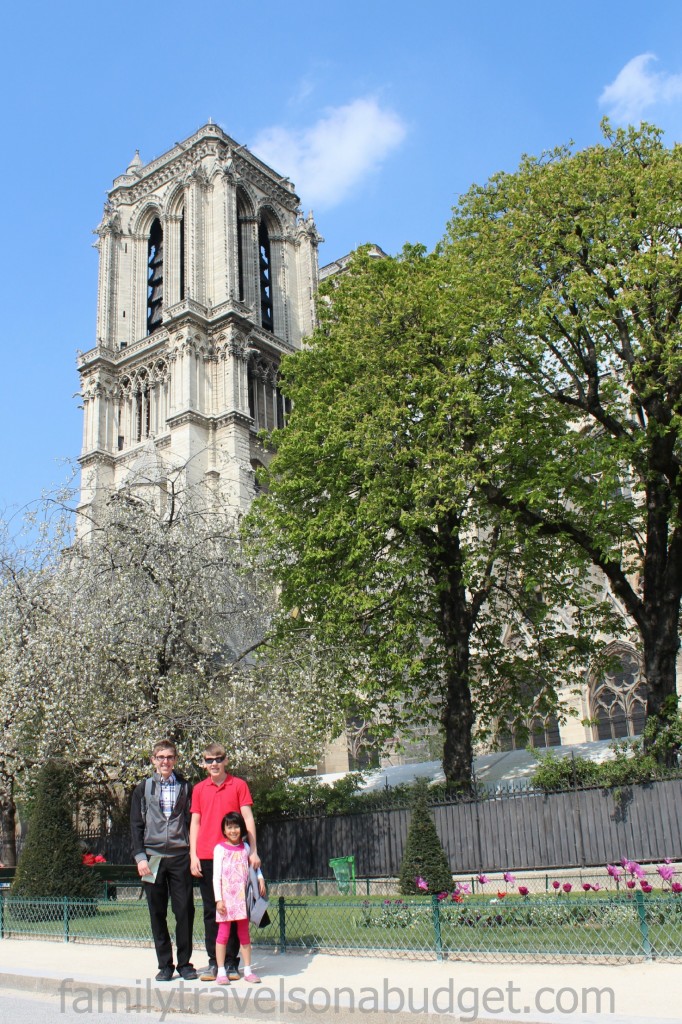 Notre Dame Cathedral history
Notre Dame Cathedral is located the Île de la Cité in the heart of Paris. Construction on this exquisite French Gothic building began in 1163 and was essentially completed by 1250. The stained glass rose window, stone sculptures and bell tower inspire wonder in more than 13 million visitors each year. Notre Dame Cathedral is also an active Catholic church, a place of pilgrimage, and the heart of the Catholic Church in France. The Cathedral was seriously damaged in the French Revolution and rebuilt a century later.
Notre Dame Cathedral facts and history
Victor Hugo wrote "The Hunchback of Notre Dame" to raise awareness and appreciation for the cathedral after it had fallen into disrepair and was considered too hideous to be worth saving. 

Much of the cathedral was destroyed during the French revolution in 1793. Restoration was begun by architects Jean-Baptiste-Antoine Lassus and Eugene Viollet-le-Duc and lasted 23 years.
Napoleon was coronated here in 1804.
The largest bell in the towers is known as the bourdon bell Emmanuel and weighs over 13 tons.
Visitors who wish to climb the towers should wear comfortable shoes and be in reasonably good health. You've been warned! It's 347 steps to the top!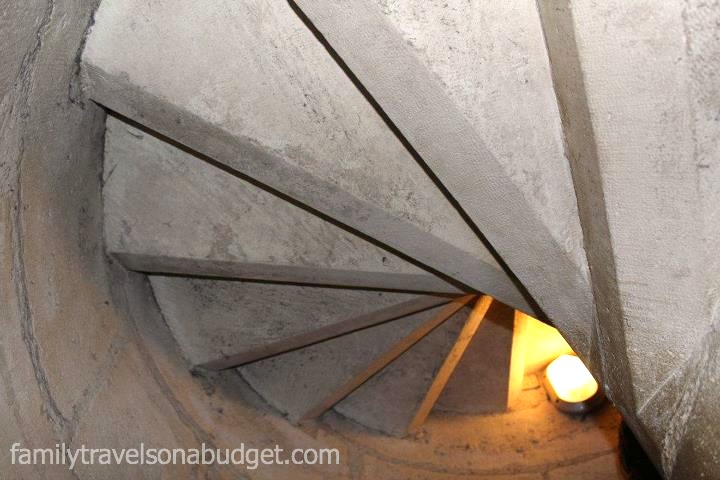 Not sure those 347 steps are worth the trouble? Maybe these will convince you!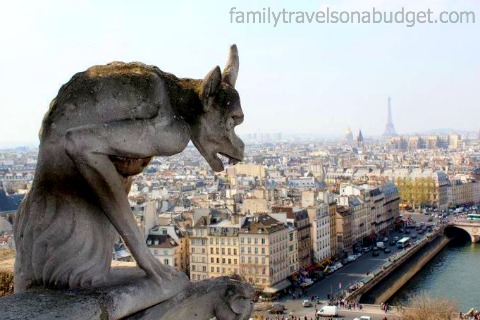 Not only would you "meet" a Notre Dame gargoyle up close, you would also experience sweeping vistas of historic Paris, France. The Seine River, centuries of architecture, the Eiffel Tower and the golden dome of Les Invalides in the distance. Simply breath-taking.
Of course, you also get to see this (adorable girl not included) tiny door that leads to the immense Notre Dame bell tower and the Bell Emmanuel.
A tip for parents: If you share some facts about Paris for kids before travel, they'll be really excited to see those places come to life during the trip. A little background history gives them an "anchor" to better appreciate where they are.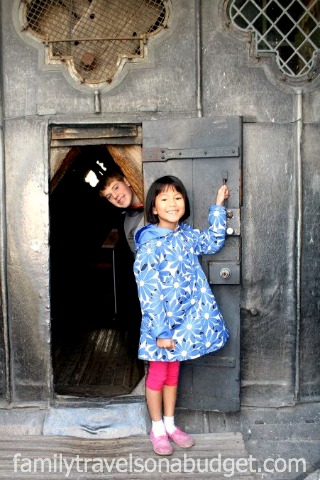 Yes, that's our resident photo-bomber, Ben, peeking through the doorway. Obviously, we had fun at Notre Dame Cathedral.
Notre Dame Visit: Know before you go.
Exploring the main cathedral is free and open to the public every day.
Notre Dame entrance fee to climb the tower (as of this post): 8 euros for adults, 5 euro for those between 18-25, and free for children under 18.
 The Notre Dame Bell Tower tour is included in the Paris Museum Pass.
Allow an hour for your climb and exploration at the top. That does not count the wait in line! (See next point)
Unless you purchase a Notre Dame Tower skip the line package, arrive EARLY! Because the number of people who can climb the Tower at one time is limited, the wait is very long.
When purchasing a Notre Dame Tour skip the line package, make sure it includes the tower climb, not "just" the Notre Dame Cathedral tour. Entrance to the main cathedral is free — and the lines move quickly. Notre Dame tower tour lines can go as long as two hours.
Notre Dame tower hours vary by season. The tower is closed January 1, May 1 and December 25. Click here for Notre Dame tower hours and to plan your visit.
If you get stuck in line like we did, enjoy some of the nearby street food, get to know your neighbors, and/or practice your best gargoyle impression. Make the wait fun!
Nearby food includes Berthillon Glacier, the best ice cream in Paris.
Closest Metro Lines to Notre Dame Cathedral are St-Michel Notre Dame – RER B Train Line, St-Michel Notre Dame – RER C Train Line, and Cité – Line 4.
Our visit to Notre Dame Cathedral was both interesting and challenging. Those stairs proved tough, but the view, the sense of history and the sense of accomplishment were well worth it!
Have you climbed Notre Dame? Would you?
Other places you might enjoy: