Hiking Ricketts Glen in Winter
This post may contain affiliate links. Click here to see what that means.
Last summer, I saw the Ricketts Glen State Park waterfalls for the first time and absolutely fell in love! As beautiful as it is in summer, hiking Ricketts Glen in winter is like nothing else I have ever done.
For hiking Ricketts Glen in winter, it's best to work with a tour company. I used Valley to Summit Guided Wilderness Adventures for hiking the Ricketts Falls Trail.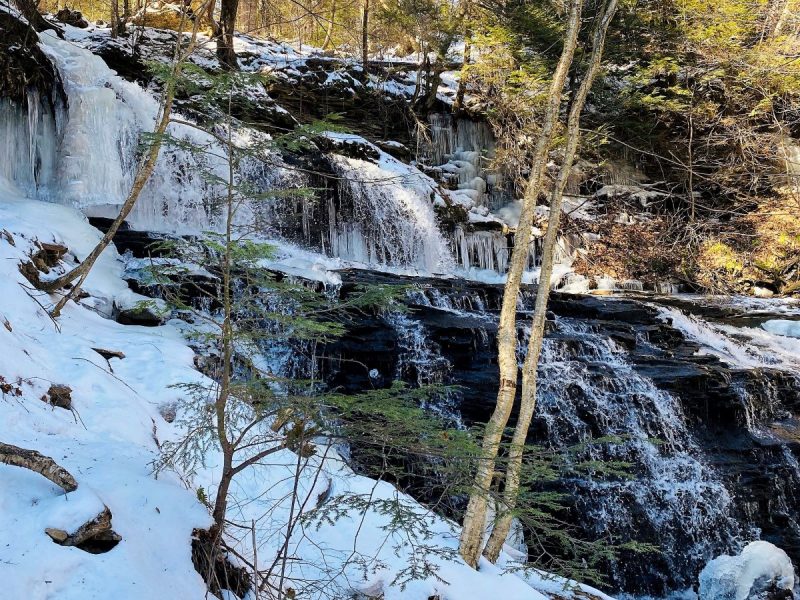 Before going on an ice hike, whether at the Ricketts Glen Falls Trail with Valley to Summit or on another tour company somewhere else, it helps to have the right ice hiking gear!
What to wear ice climbing
On an ice hike at Ricketts Glen State Park, the tour company provided the specialty gear needed.
But, you need to have your own cold weather gear.
I got a list of everything I needed to have with me far in advance of the ice hiking tour. If you plan on winter hiking, this is a good list of gear, even if you won't be hiking water falls.
At a minimum, you will want this gear for ice climbing:
A non-cotton base layer like this winter weather base layer for men, a poly/spandex base layer for women, or this quick dry base layer for kids.
A non-cotton fleece pant for warmth like these fleece pants for men, winter fleece for women, and fleece pants for kids.
Wool hiking socks — I prefer smart wool socks because they have a strong reputation and are not scratchy. Here's the link to men's smartwool socks, women's smartwool socks, and kids smartwool socks for skiing and hiking. Check sizing to get the best fit.
A waterproof rain pant outer layer like these Columbia waterproof pants for men, waterproof rain pants for women, and waterproof polyester/nylon rain pants for kids.
A non-cotton fleece top, wool is best because its warm and dries fast, such as this Smartwool crew top for men, Smartwool top for women, and this Merino wool top for kids.
A loose-fitting non-cotton jacket or vest.
A waterproof jacket shell like this Marmot hooded rain jacket for men, this waterproof, breathable rain jacket for women or this rain jacket for kids.
You will also want a warm hat, waterproof gloves/mittens, a scarf — especially if it's really cold, and a bag to carry your gear, water and snacks. I used this waterproof day pack by Gonex and it was perfect — my snacks fit in one pouch, and my extra gear was easy to reach when needed. The tour company will tell you exactly which supplies to bring — just read and follow the instructions!
Can I wear hiking boots in snow and ice?
Choosing the right boots for ice hiking is probably one of the most important decisions you can make.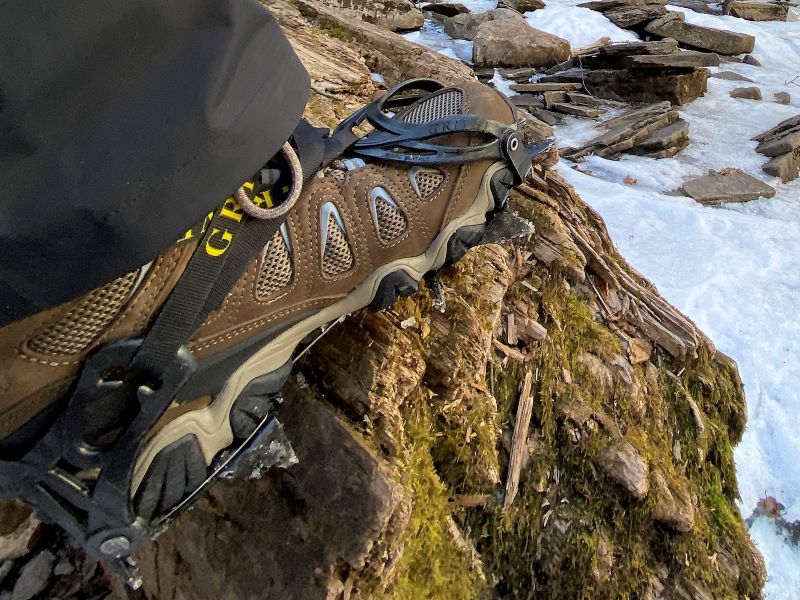 I wondered if I can wear hiking boots in snow and ice, or if I need special boots for ice hiking. Luckily, waterproof hiking boots work well. Though, in really cold climates, insulated hiking boots are better.
Whether you wear winter hiking boots or regular, waterproof boots, it's important to wear hiking boots that will support your ankles on difficult terrain, keep your feet dry and allow the crampons to grip to them.
My boots, pictured above, are Oboz waterproof women's hiking boots. From the moment I put them on, they were comfortable.
Whether using boots you already own or buying new, make sure they fit well, provide good support in the ankle and have a decent tread on the bottom. While you have crampons for the ice hike, you will still need to be comfortable walking on ice and snow in the parking areas.
What other gear do I need for ice hiking?
One of the most important tools you need when going ice hiking is crampons — though ice climbing tour companies will probably provide them along with the rest of your safety gear.
What are crampons, you ask? Good question!
Crampons are essentially spikes to help you maintain your footing on icy terrain. They have adjustable straps to fit over boots, kind of like chains for car tires!
Other safety gear that the adventure tour company will provide includes helmets, an ice pick, and a harness with carabiners for the safety rope. Basically, if it's something you wouldn't use to go sled riding, the tour company provides it.
Hiking Ricketts Glen in Winter
As far as our ice hike at Ricketts Glen State Park, I was in awe. It's one of the best things I've done in my entire life! I can't wait to go again next year, hopefully with my husband. The falls, still flowing, but also shrouded in ice and snow, were magical. The quiet trail, our chatter and the stomp of our boots the only noise, was mesmerizing. And, the sense of accomplishment at doing something so challenging, spectacular!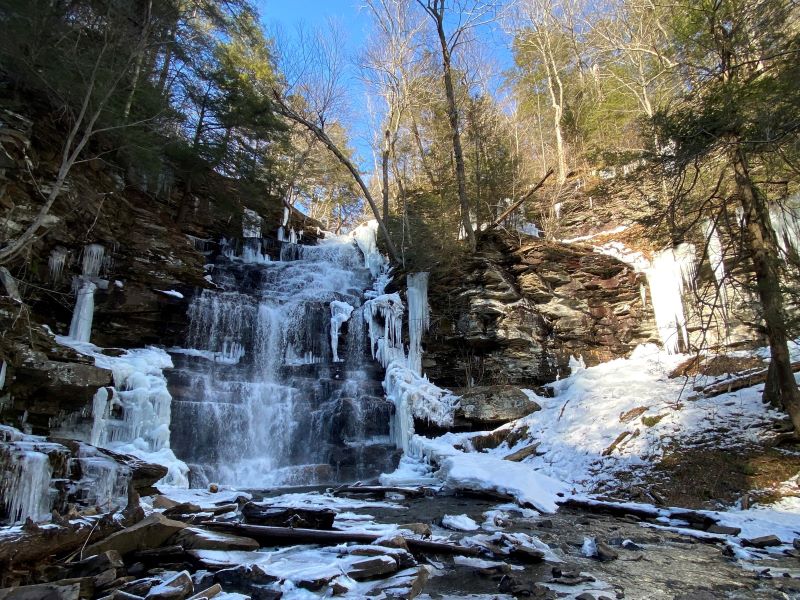 What should I expect when booking an ice hiking tour?
After registering for the ice hike with Valley to Summit Tours, I had to complete a health form and activity waiver. I then had to gather the required gear and clothing. I was able to borrow several of the items from the list above, but I did have to buy a few things. Make sure in advance that you have everything you need.
On the day of my hike, I arrived at the trail head where Carlos, our guide, went over the gear — clothes, crampons and ice picks. He helped fit our crampons properly and had us test them out in the parking lot before setting out. Then, he provided the ground rules — follow the safety rules, drink lots of water and stay together.
And then, we set off on our hike!
We started on level terrain, getting used to walking on spikey shoes. Then, Carlos demonstrated the proper way to go up and down inclines and watched each one of us to make sure we were following the proper technique.
Insider tip: If you aren't doing it right, your knees will tell you!
As we walked along the trail, Carlos kept a decent pace, slowing down when we got to interesting scenery.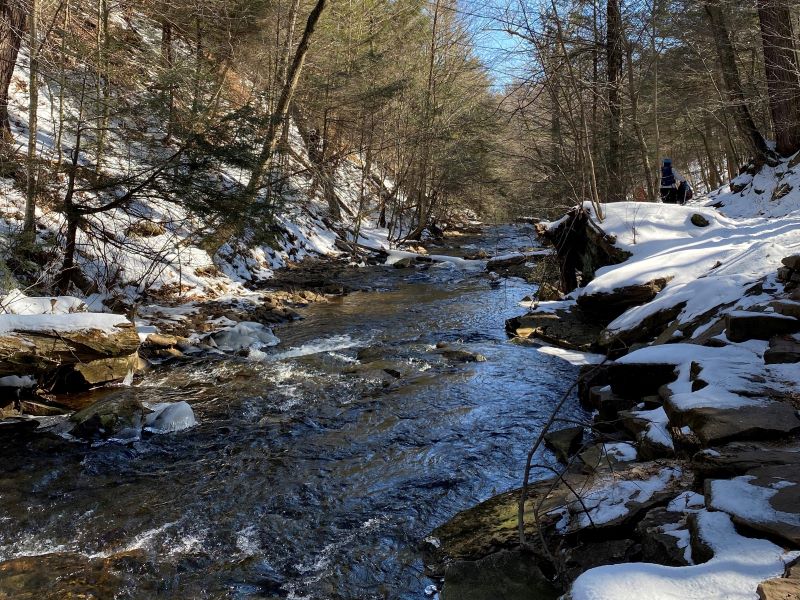 At the first waterfall, we had a steep descent. He used a lead rope which he tied around a tree and tied us into the rope with carabiners so that if we did slip, we wouldn't fall far. No one in our group lost their footing, thankfully.
We continued along the trail, marveling at the frozen waterfalls and walls of icicles we saw along the way.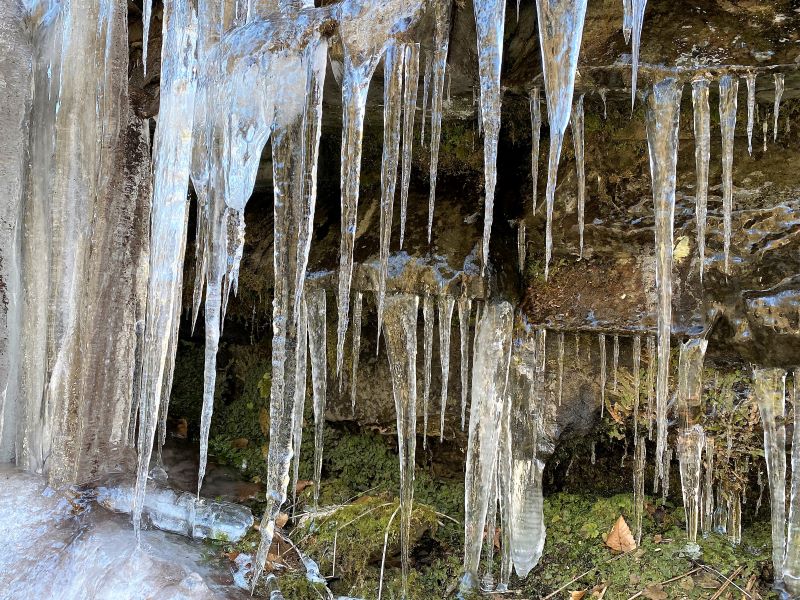 Before descending to the base of the last waterfall, we stopped for snacks and hot chocolate on a sheltered ledge. I, for one, was grateful for the break!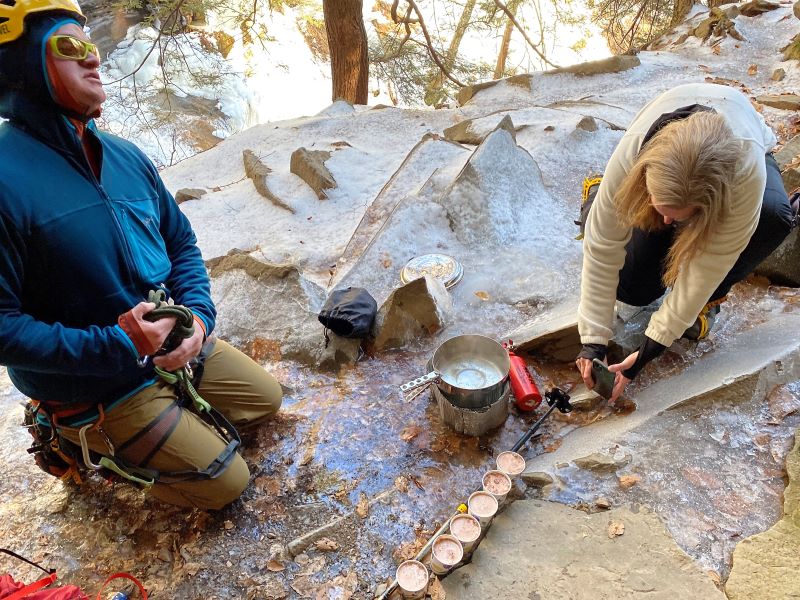 We then descended 94′ feet to the base of Ganoga Falls, saving the best for last. After spending a few minutes at the base of Ganoga Falls, but before the mist of the falling water got us too wet, we started our return climb to where it all began.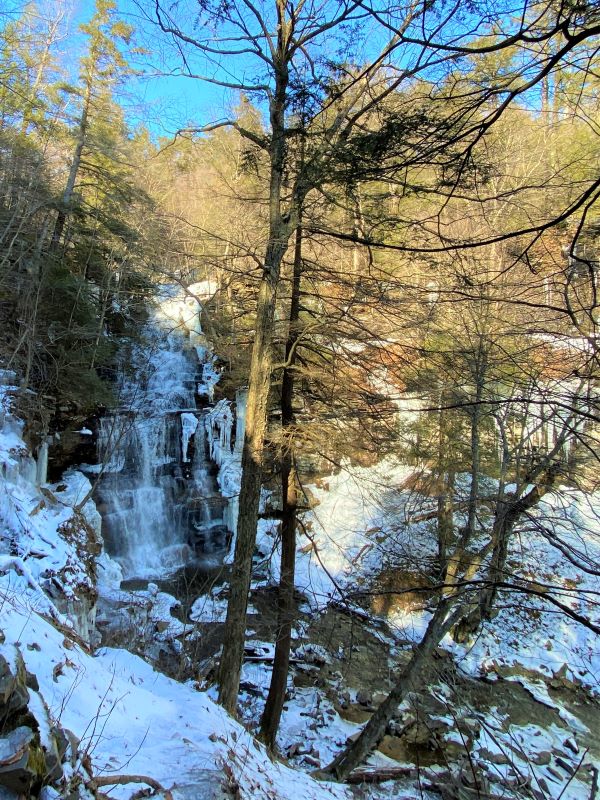 Believe it or not, the climb back to the top was easier than the hike down to the falls — even after two hours on the trail.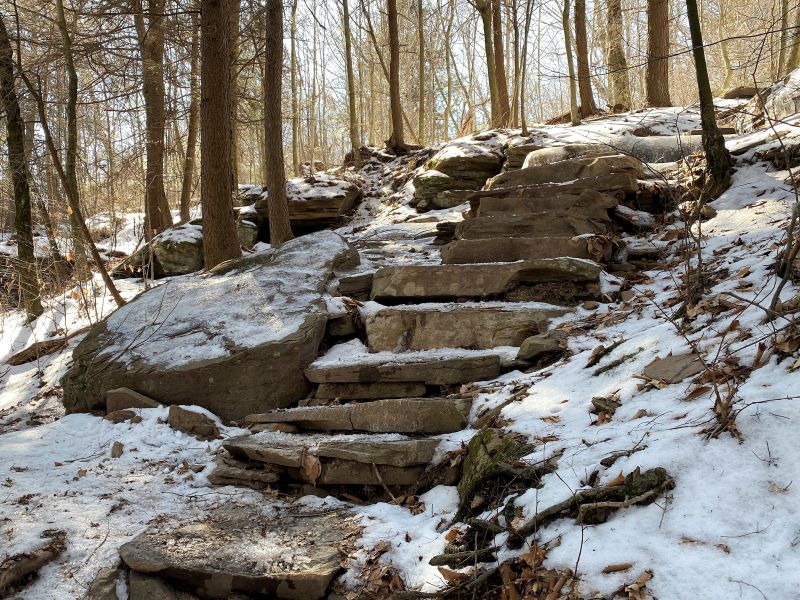 Back in the parking lot, we took off our borrowed gear and said our group good-byes. It was a phenomenal experience shared with new friends from Pennsylvania and New Jersey.
Tips for going on an ice hike
You don't have to be marathon runner ready to go ice hiking, but it does help to be reasonably fit. To prepare, I walked about five miles per day the month before my hike and did a whole lot of squats! That core strength is critical to balance and having the stamina to carry the load.
Between clothing, a pack full of snacks and water, and an ice pick, you carry more weight on an ice hike than normal, so those squats were a huge help!
Besides that, make sure you have the proper clothes — NON-COTTON is important. Cotton clothes, like blue jeans, do not dry quickly. If you get wet, that trail is going to be miserable. If you don't want to buy it all, borrow from friends. And, if they don't have what you need, consider second hand sports stores or clearance racks at sporting goods stores.
If you enjoyed this post, you'll also like: