Walsh Family Winery in Loudoun County (Family Friendly Relaxation!)
This post may contain affiliate links. Click here to see what that means.
You may know that Virginia wines are among the best. In fact, Charlottesville was just voted the wine region of the year!
And, you may also have noticed I don't usually talk about wineries on this site, though I discovered a few wineries in Culpeper, which is nearby.
So, why am I writing a feature article about Walsh Family Winery in Loudoun County?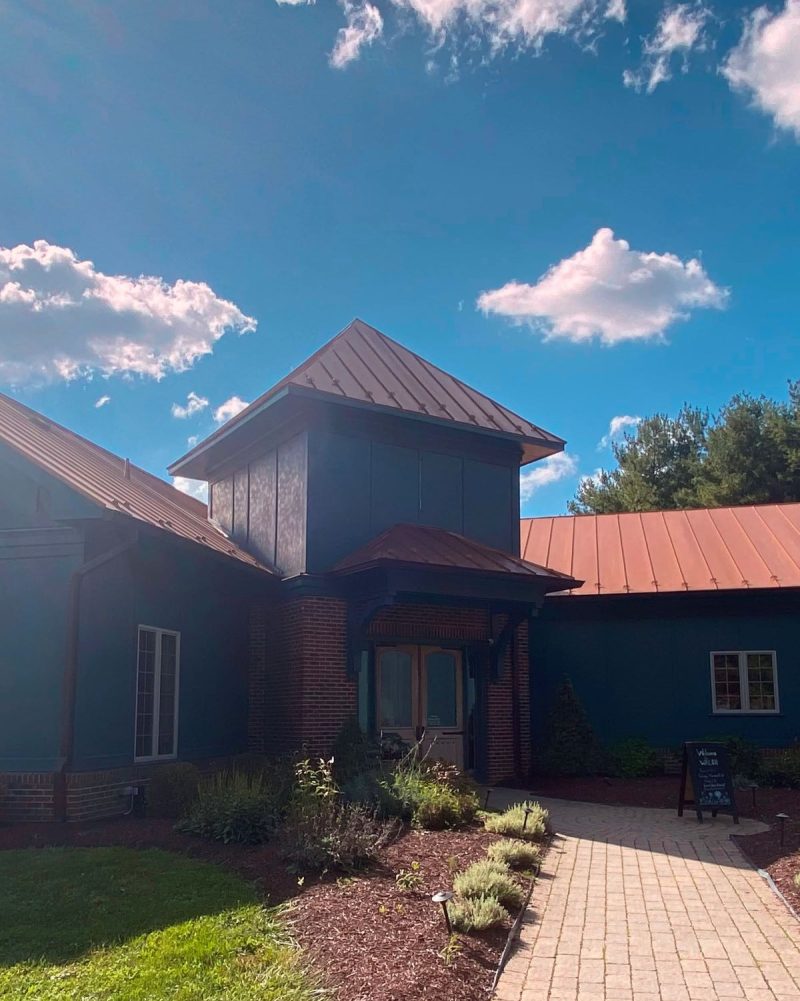 The short answer: Walsh Family Winery is a family-owned, Virginia winery that makes great wine AND has an incredibly family friendly tasting room!
I toured Walsh Family Winery recently and got to meet one of the owners, Sarah Walsh. The instant we started chatting, I felt at home. It didn't feel like I was on a wine tour, but like I was enjoying a drink with a long-time friend in her living room.
It's just that kind of place. She's just that kind of person.
But first, for those interested in the wine itself.
What is Walsh Family Wine?
Walsh Family Wine was founded by Nate and Sarah Walsh, a dynamic husband and wife duo with a great passion for quality Virginia wine and an authentic customer experience.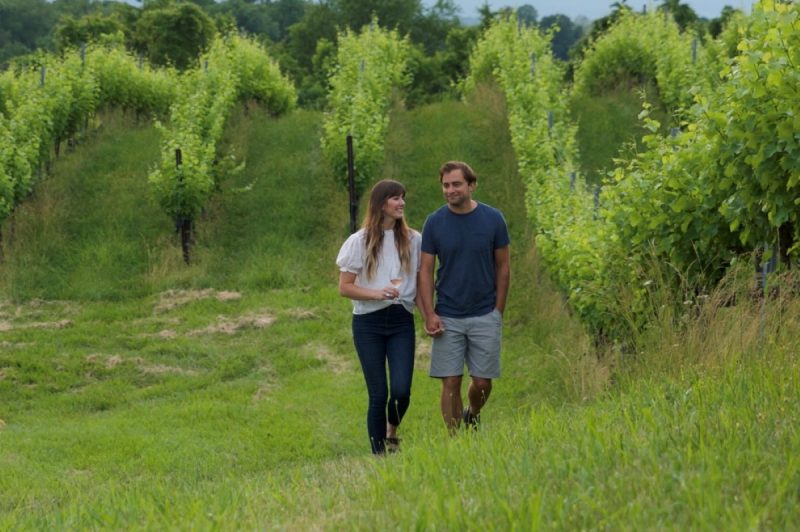 From day one, they focused on creating grapes in a healthy, balanced manner that draws from the nuances of the land in Loudoun County.
They believe that the best wines are attained when drawing from the strengths of the soil as they pull the complex flavor from the grapes.
On my tour of Walsh Family Wine, which happened to be during the height of the grape harvest, I learned so much about vinification, the wine production process. They explained how the way that grapes are crushed, de-stemmed, pressed, macerated and fermented affect the final product.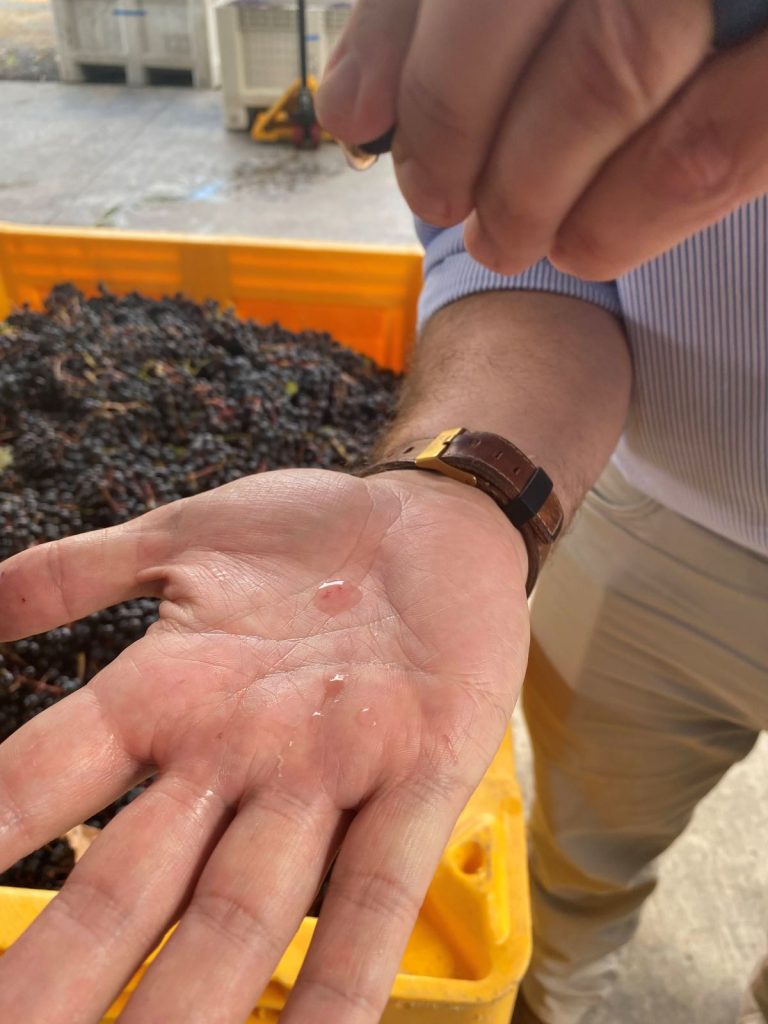 On the tour, I sampled freshly picked grapes to learn the tannins and sugars and other subtle nuances of the harvest that they look for.
I saw the passion the whole team has to extract the flavor and balance for each wine produced.
But the ultimate proof is in the bottle. No pun intended!
After touring the vineyard and the production facility, I got to enjoy some wine in the tasting room.
My tasting began based on what I enjoy — a sweet, white wine. Go ahead and roll your eyes! I'm a work in progress.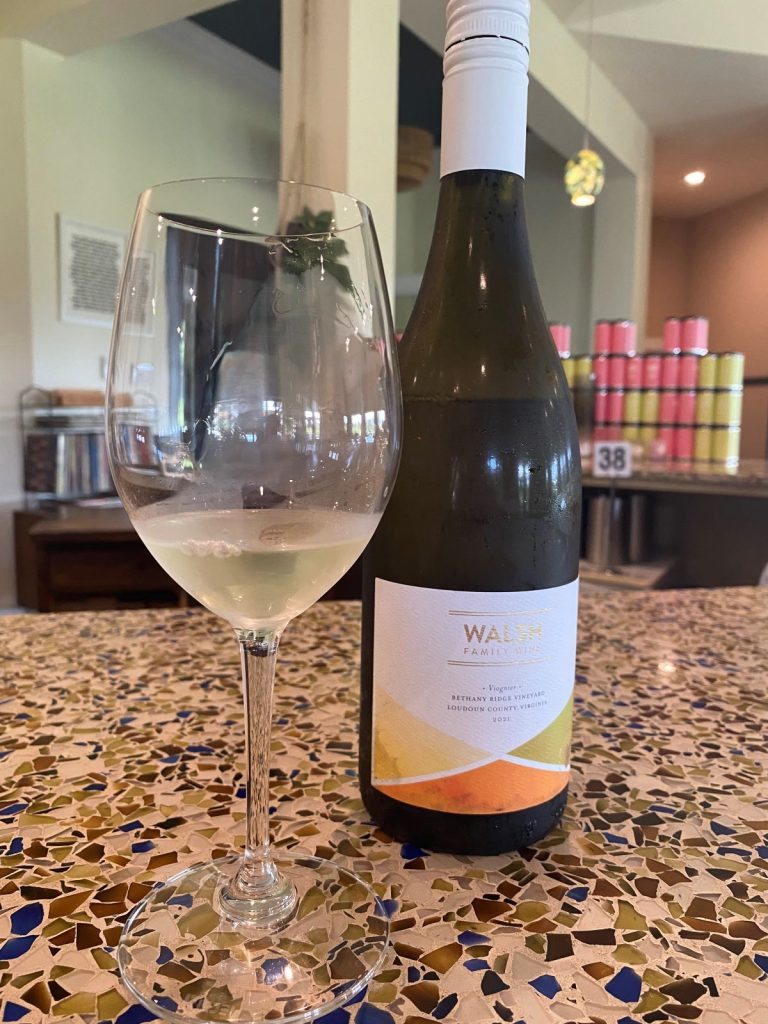 The first wine I tasted was exactly what I have always liked, sweet, but not cloying. Clear and fresh.
Then, I tried a few more — all white wines but more complex, less sweet and a bit more dry. For the first time in my life, I actually could taste the subtle notes of the wine. And, I found a complex wine that I truly enjoyed.
As I had learned about the wine making process, I discovered I can experience the flavors and "notes." I just needed to know what I was looking for — and how to find it!
That brings me to the tasting room.
What makes Walsh Family Wine so special?
Hands down, Walsh Family Wine is my favorite winery ever!
And, I believe that's because of Nate and Sarah (and their helpful team).
Walsh Family Wine is dedicated to making a premium quality Virginia wine.
Nate is a career winegrower. He got started at Horton Vineyards and then worked at other vineyards throughout Virginia where he honed his skills. Eventually, he started looking for his own space to grow premium wine grapes.
Sarah worked in hospitality, including fine wine sales and education. She has extensive restaurant experience and a passion to educate others about wine.
The two met in 2012, got married in 2013 and launched Walsh Family Wine in 2014.
It was meant to be!
The Walsh Family Wine tasting room is a beautiful facility. The space is open and airy, with a cozy, homey feel. In cooler weather, enjoy a glass of wine by the large fireplace.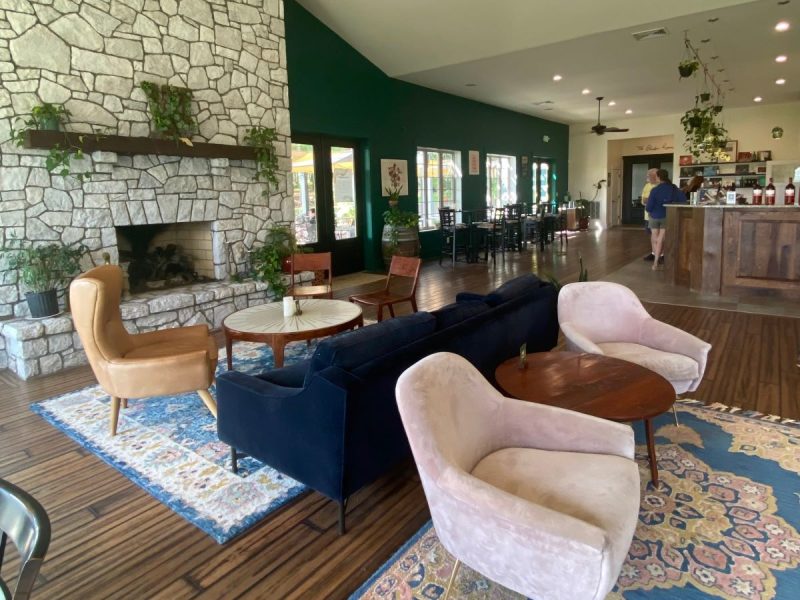 It's got Sarah's "fingerprint" all over it, from the colors used to the furniture used and even the personal touches.
Beyond Walsh Family Winery: The Winemaker's Studio
Besides making wine and the Walsh Family Winery tasting room, Nate and Sarah give back to the Loudoun County winemaker community. They serve on several wine community associations throughout the region and the state.
And, they pour into up and coming winemakers.
Their Winemaker's Studio program allows newer winemakers the opportunity to produce wines using Walsh Family Winery equipment and space, as well as borrow from the expertise of the Walsh Family Wine team.
Nate and Sarah believe that by supporting these new winemakers, the full potential of interesting, delicious Virginia wines can be realized.
They don't see those winemakers as competitors, but as colleagues who can bring Virginia wine to the forefront of the wine industry.
And that's not hyperbole. During my visit, one of the newer winemakers stopped by to discuss something. We enjoyed a long, friendly conversation about wine and the wine community in the area. He was quite complimentary of Nate and Sarah's influence on the Loudoun County wine scene.
The conversation turned to their Bar Takeovers, where new winemakers can present their wines to the Walsh Family Winery community. Some wines you might get to try at a Bar Takeover are Quartzwood Farm, Guide Wines, Boden Young, Clever Beast and Florilegium with more to come.
Plan your tasting at Walsh Family Winery
The Walsh Family Winery Tasting Room is located at 16031 Hillsboro Road in Purcellville, Virginia.
The space is bright, warm and inviting with comfortable seating areas throughout the space that encourage groups to sit, visit and relax! It truly feels like you're at a very nice house — just a really big one!
They even have an extensive record collection.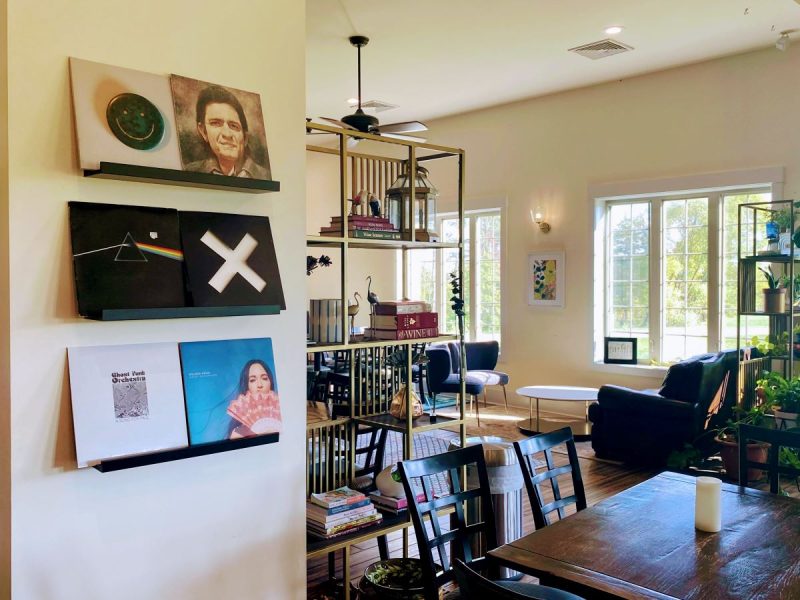 Yes, with a record player!
You can choose the music during your visit, though when it's busy, you might have to wait your turn.
They have lots of outside seating, too. Some in the yard area under the trees next to the vineyard. Some under cover on the patio.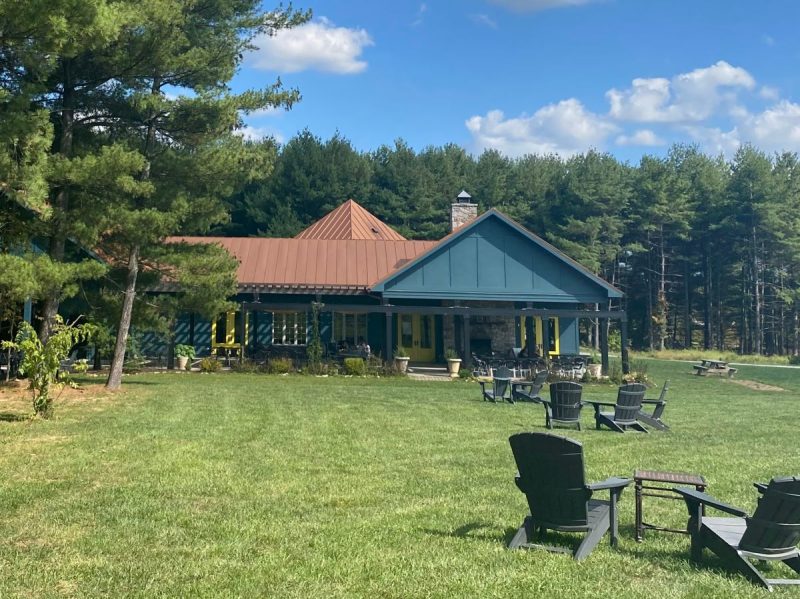 They don't just welcome families. They expect families and don't get too stressed when kids run and play — as long as they stay near their parents.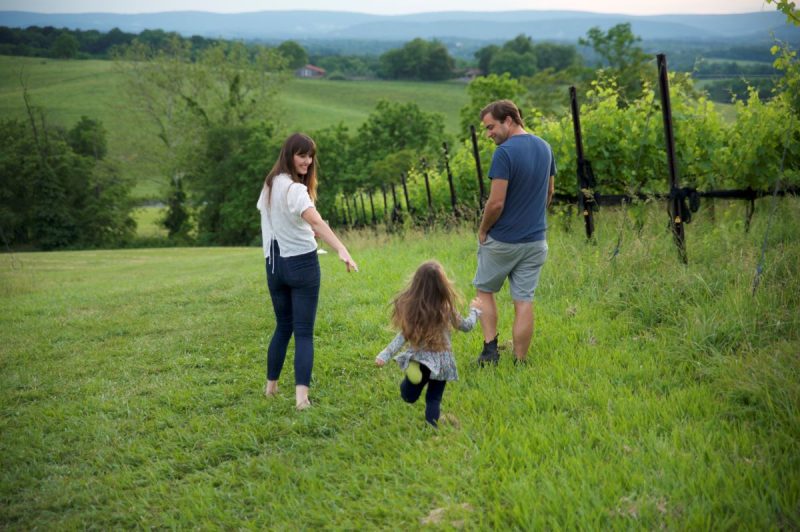 You don't need reservations, but they recommend them for groups of six or more to ensure you have a comfortable space to relax and enjoy your wine.