We celebrated the end of our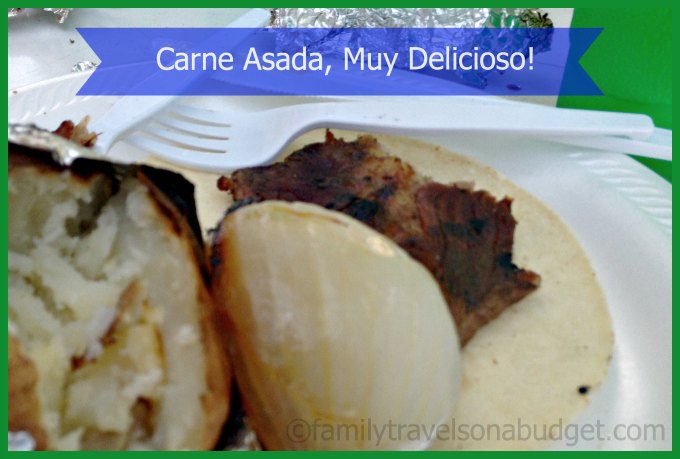 mission trip to Mexico with a fantastic cookout prepared by our host church. In typical guy fashion, the men circled up around the grill while the ladies chatted at tables and supervised kids.
The menu included refreshing aguas frescas (like all other meals), refried beans, flour tortillas, potatoes baked on the hot coals and the most delicately sweet grilled onions I have ever tasted. The star of the show, though, was the carne asada which had marinated for hours before grilling. Not much of a carnivore, I enjoyed it so much I went back for seconds — and I think Ben had thirds!
If blogs had smell-o-vision, you'd understand why I was halfway through my dinner before remembering to photograph it!
The only difficult thing about making carne asada at home is remembering to marinate the meat. Marinate overnight whenever possible and definitely for six hours or more before grilling. We use a gas grill to cook ours, but charcoal-grilled does taste better.
Carne Asada Recipe, Juarez Style
Ingredients:
2 pounds flank or skirt steak cut thin. Ask the butcher to cut it into thin sheets (1/4 inch thick) if possible. If you must cut it yourself, "half-freeze" the meat for easier slicing.

1 can beer
1/2 can cola
Juice of 2 limes
2 Tablespoons soy sauce
1 onion, finely diced
1 garlic clove, crushed
salt and pepper to taste
Directions:
Mix marinade ingredients (beer, cola, lime juice, soy sauce, onion, garlic, salt and pepper) in a medium bowl.
Rinse meat and pat dry.
Pour enough marinade into the bottom of a large rubbermaid container to cover it, then place one slice of meat on top.
Pour marinade over that slice of meat to cover, then add another slice of meat. Repeat until all meat is used and cover all with any leftover marinade.
Refrigerate overnight (or at least 6 hours)
To Grill:
Heat grill to high (500 degrees for gas grills).

Remove meat from marinade and pat dry.
Place reserved marinade in a small saucepan and heat on medium-high to a boil. Skim off the foam and allow it to reduce by half (10 minutes). Pour through a strainer into a heatproof bowl and adjust flavor with salt or a pinch of sugar as needed.
In the meantime, grill meat for 5-7 minutes per side for medium doneness. Remove to a platter, cover loosely with aluminum foil and allow it to rest for 10 minutes.
To Serve:
To serve with salad, beans and rice, slice meat into one-inch strips. Place in bowl, pour marinade over top and toss to coat.
To serve as tacos and/or burritos, coarsely chop meat into cubes. Place in bowl, pour marinade over top and toss to coat.
Mexican Carne Asada Bar
Carne asada is simple enough to prepare for a party and tastes phenomenal. Make it the cornerstone of your Mexican fiesta and serve it with:
Soft Tortillas

Hard Taco Shells
Guacamole
Grilled Onions
Refried Beans
Salsa (offer mild, hot and medium)
Shredded Lettuce
Chopped Tomatoes
White Rice
Fresh, Chopped Cilantro
Fresh, Chopped Peppers (green, red and/or yellow)
Queso Blanco (traditional white Mexican cheese, soft and flavorful)
Mexican Crema (a mild version of sour cream, serve from a squeeze bottle like ketchup or mustard)
Enjoy a light dessert of popsicles (called paletas in Mexico) or fresh fruit. Your friends and family will thank you for providing this scrumptious spread!
Have I left anything out? Do you have a carne asada recipe to share? Please leave a comment here or share a link to your favorite Mexican recipe at the Family Travels on a Budget Facebook page!