Grapevine at Christmas: A Magical Christmas Getaway! (2023 Edition)
This post may contain affiliate links. Click here to see what that means.
For the best Christmas getaway in Texas, you can't beat Grapevine at Christmas.
Known as the "Christmas Capital of Texas," Grapevine hosts more than 1400 events in 40 days.
I got to experience the fun of Grapevine at Christmas a few years ago. I can honestly say that the "Christmas Capital of Texas" moniker is well-earned.
A Grapevine Texas Christmas? It's a winter wonderland filled with holiday cheer, bright lights, train rides with Santa and much, much more! Take a peek!
Kick off Grapevine at Christmas with the Carol of Lights
Your downtown Grapevine Christmas getaway begins on Main Street.
The Grapevine Carol of Lights is an old-fashoined Christmas tradition that draws thousands each year.
This year's Carol of Lights is on November 20, 2023, from 4:00 pm to 8:30 pm at City Hall on Main Street.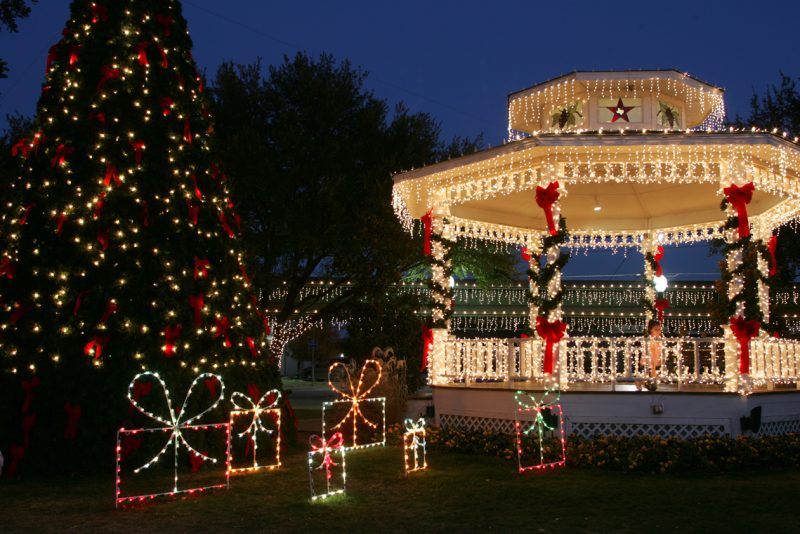 This Downtown Grapevine Christmas event is everything a magical, small town Christmas event should be.
Spend the afternoon exploring Downtown Grapevine shops, all decked out with thousands of lights and other holiday decor.
As if the festive atmosphere isn't enough, you can also enjoy seasonal crafts, bounce houses and street vendors selling festive treats.
Then, head to Peace Plaza at 6:30 p.m. for the OFFICIAL Downtown Grapevine Christmas Tree Lighting! With live music and fireworks, this is one of the most magical times to visit Grapevine at Christmas.
Where: Downtown Grapevine Main Street at Peace Plaza, 815 S. Main Street
When: Monday, November 20, 2023 (Thanksgiving Week)
Learn More: Carol of Lights website
Elf Adventure at the Settlement to City Museums
Your Grapevine Texas Christmas fun continues, starting the day after Thanksgiving at the Settlement to City Museums.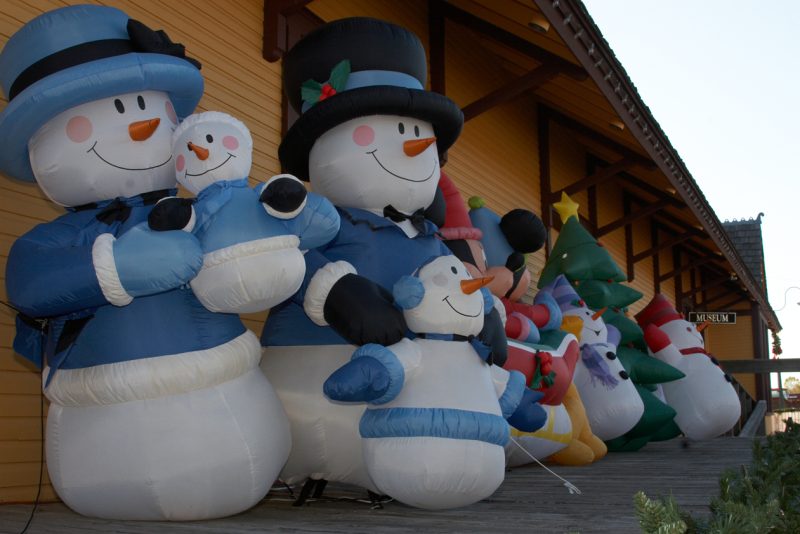 From November 24 to December 23, get into the magic of Christmas with an Elf Adventure Passport at Grapevine's Settlement to City Museums.
As you explore Grapevine's history at this free museum, you can create four unique crafts and activities to get in the Christmas spirit.
With your passport, you will:
Create a thaumatrope- an old-fashioned optical illusion using a vintage printing press
Make a snowman tassel ornament out of cotton
Decorate a wooden Christmas ornament
Design your own Christmas bookmark
The Christmas passport is $10 per participant, (a $13 value). If time is limited, you can purchase activities individually.
NOTE: While the North Pole Express Grapevine Christmas Train is pictured on the logo, the Elf Passport does not include a train ride. You have to book that separately.
North Pole Express Grapevine
Another popular event is the North Pole Express, Grapevine's Christmas train.
The North Pole Express at the Grapevine Vintage Railroad transforms each Christmas holiday into a magical train ride to the North Pole.
Kids will love meeting Santa and his elves, singing familiar Christmas carols and enjoying delicious "Christmas snow milk" and fresh baked cookies.
The North Pole Express Grapevine Christmas train ride includes special souvenirs for the kids including a festive mug, a souvenir train ticket, a photo with Santa Claus and a magical Christmas bell to cherish.
The incredibly popular North Pole Express Grapevine Christmas train is already sold out for 2023, but you can still join the waitlist! Hey, it's Christmastime — miracles happen!
Where: Grapevine Vintage Railroad, 705 S. Main Street, Grapevine, Texas
When: November 24 – December 23, 2023, multiple times each date.
Learn more: North Pole Express Grapevine, Texas
Tickets for North Pole Express Grapevine go on sale in late July each year. Mark your calendars for next year if this is on your Grapevine Texas Christmas bucket list!
Grapevine Texas Christmas Parade of Lights
The first Grapevine, Texas Christmas Parade of Lights was in 1979, and the parade keeps getting better and better!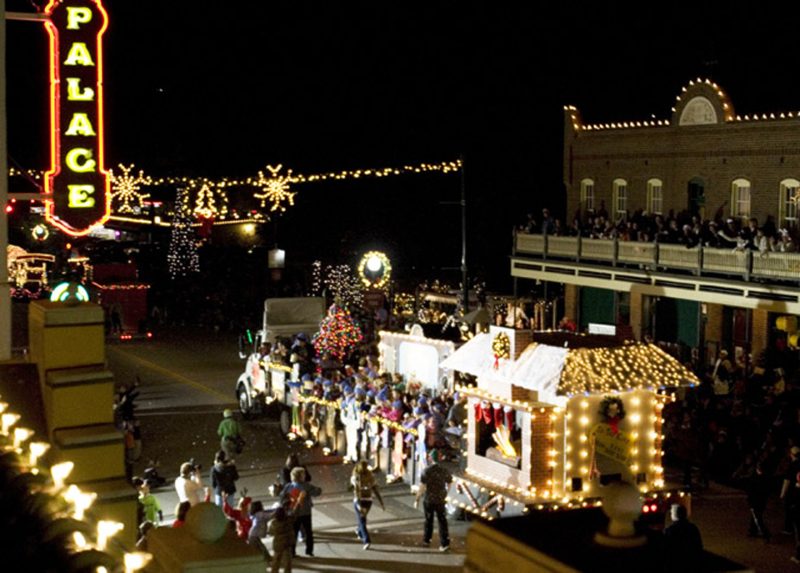 Every year since, the Christmas in Grapevine Parade of Lights is held the first Thursday of December, hosted by the Chamber of Commerce and the City of Grapevine.
The largest, lighted Christmas parade in North Texas, the Parade of Lights features more than 100 lighted Christmas floats with live music and singing. Marching bands add to the festive atmosphere.
The Downtown Grapevine Christmas Parade of Lights route runs along Main Street from Northwest Highway to Hanover Drive.
PRO TIPS: Get there early and save your spot on the parade route! Enjoy snacks and treats from local shops while you wait. And, finally, get ready to wave at Santa, the grand finale to the parade!
See a performance at the Historic Palace Theater
With more than 1,400 events each year, it's probably no surprise that the Grapevine Texas Christmas starts way before Thanksgiving!
And to kick the season off well, the Historic Palace Theater presents holiday shows beginning November 10th.
This year's shows include:
Lots of holiday movie classics like Home Alone, It's a Wonderful Life, Miracle on 34th Street, and Elf. (Here's a link to the complete calendar),
Classic Christmas cartoons with crafts, on several dates throughout the holiday season,
Live stage shows including "The Nutcracker," "Frank Sinatra & Dean Martin: A Christmas Tribute," "Christmas with Reba: The Holiday Tribute," and "Carpenters Legacy A Christmas Portrait," and more.
Get tickets early for your preferred dates and time as the shows do sell out!
Where: Grapevine Palace Theater, 300 S. Main Street, Grapevine, TX
When: Shows begin November 10th with multiple dates and times.
Merry & Bright Drone Show
For even more Grapevine Texas Christmas fun, head downtown to Peace Plaza for the third annual "Merry & Bright Christmas Drone Show."
Look up to the sky over the Christmas Capital of Texas to marvel as 200 drones create Christmas in the skies over Main Street.
Each of the three shows starts promptly at 8:00 p.m. and lasts almost ten minutes.
PRO TIP: Arrive early so you don't miss the show looking for parking! The Grapevine Main garage is most convenient. Enjoy snacks and treats from Harvest Hall while you wait for the show to begin.
Visit the ICE! Exhibit at the Gaylord Texan
Every November and December, the Gaylord Texan Resort transforms into a magical winter wonderland. With twinkling lights everywhere, a massive 54-foot tall Christmas tree and a calendar filled with special holiday events, this is a great spot to kick of your Christmas in Grapevine!
Of course, the highlight of the Gaylord Texan Christmas is ICE!
ICE! This year featuring "How the Grinch Stole Christmas," is a walk-through exhibit made entirely of ice — two million pounds of ice.
This interactive display, there's even a slide, is set at a constant 9 degrees. Your ticket includes a warm parka, but it's a good idea to wear warm socks, boots and mittens!
Tickets include an assigned entrance time so make sure you check date and time when booking.
And, arrive early. The resort is enormous, and you might end up parking far away from the attraction. For maximum enjoyment, plan to arrive at least an hour early.

OR, come even earlier to enjoy a meal and wander through the many holiday displays throughout the resort. Then head to Ice! to top off your day!
PRO TIP: This event is incredibly popular. Weekends fill quickly and the attraction gets crowded. Tuesdays tend to be the least crowded dates.
The Gaylord Texan Christmas includes many other experiences as well: An escape room, a resort scavenger hunt, gingerbread house decorating, snow tubing, ice skating, photos with Santa and even a holiday themed Cirque du Soleil show!
Snowland at Great Wolf Lodge
Another fun way to celebrate a Grapevine Texas Christmas is with Snowland at the Great Wolf Lodge.
If you're celebrating Christmas at Grapevine with kids, Great Wolf Lodge is ready with loads of Christmas fun for everyone.
During the Snowland season, Great Wolf Lodge Grapevine transforms into a winter wonderland, complete with falling snow! There are also holiday crafts, festive shows, character meet and greets, and other holiday fun!
There's also a great PJs dance party with Wiley the Wolf and Oliver the Raccoon the kids will love!
Where: Great Wolf Lodge, 100 Great Wolf Drive, Grapevine, TX
When: Late November through Early January
Learn More: Great Wolf Lodge Grapevine
Ice Skating at the Peace Plaza Ice Rink
One of the most popular ways to enjoy Grapevine at Christmas is ice skating on the outdoor rink at Peace Plaza.
You have to plan ahead for this one. It's best to purchase tickets in advance for each one hour session.
But then, enjoy skating under the bright Texas sky or at night under twinkling Christmas lights.
Where: Peace Plaza Ice Rink at Harvest Hall, 815 S. Main Street, Grapevine
When: Beginning November 20, but not Thanksgiving or Christmas, and weather dependent
With more than 1400 events, Grapevine at Christmas is quite a wonderful place.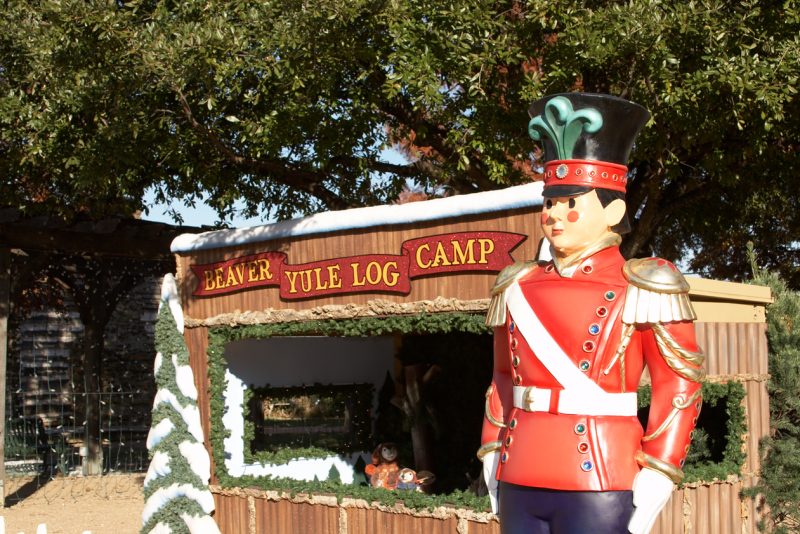 Whether you come to enjoy the old-fashioned fun of lights, tree lightings and parades of the Downtown Grapevine Christmas or "just" for festive shopping, you'll enjoy the sights and sounds of the season. Perhaps you're coming to make special memories with the kids, whether on the North Pole Express Grapevine train or ice skating at Peace Plaza or to enjoy the Christmas drone show. Or, perhaps it's Ice! and the over the top decor at the Gaylord Texan Hotel.
No matter why you choose a Grapevine Texas Christmas celebration, you're sure to create memories to cherish! We hope this round up of the best activities and attractions makes it easier to plan!
Happy holidays from the team at Family Travels on a Budget.