City Tours: A great way to explore new places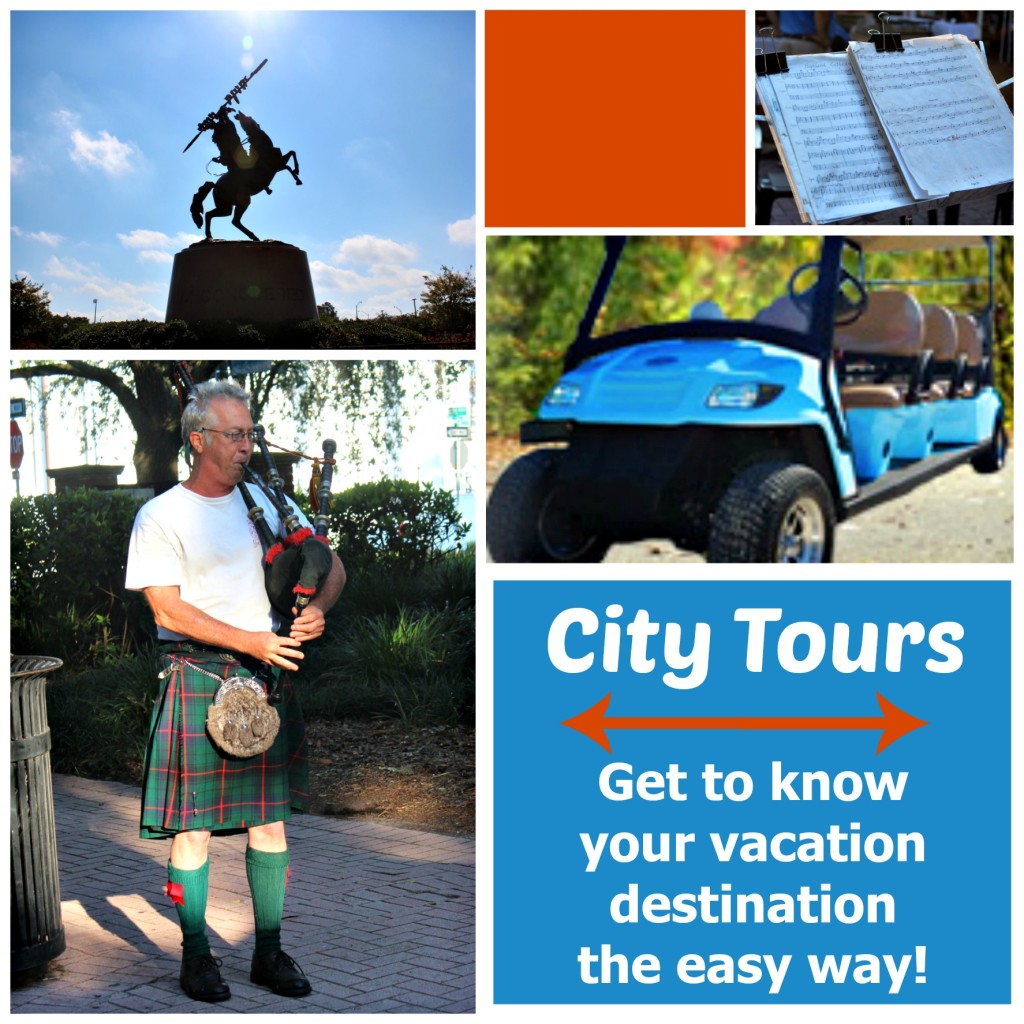 Have you ever wondered how Baton Rouge earned the nickname "Red Stick"? Or who is buried at the Tennessee State Capitol?  When I travel, questions like these swirl through my mind. I never know what I'll discover. It's like every destination is a Christmas present wrapped in glistening paper, just waiting to be unwrapped and enjoyed.
Tour the city to discover its secrets and charms
In Baton Rouge, I enjoyed the C'est Si Bon food tour, a historical culinary tour of downtown Baton Rouge. I discovered new foods and learned key points of the city's history… like its name: Baton Rouge (French for Red Stick). If you were wondering, the term "Baton Rouge" came about in 1699 when French explorers noticed a red cypress tree stained red that marked the boundary between the Houma and Bayou Goula tribal hunting grounds. The explorers called the tree "le baton rouge" — or "Red Stick" — and the name stuck (Learn more HERE). By the way, I give the food tour an enthusiastic thumbs up — not only did I get to sample foods from some of the best restaurants in the city, but the company accommodated the food allergies of three of our group members effortlessly.

In Nashville, one of the most family friendly cities I've ever been to, we enjoyed the Music City Duck Tour — and amphibious vehicle ride through downtown that ended with a splashdown into the Cumberland River. The guides there were quite entertaining, mingling history with quacks to passersby, and my daughter still talk about the "truck that turned into a boat." Duck tours are offered in several cities across the country, and they're a great way to discover a new place. (By the way, President James K. Polk and his wife are buried at the State Capitol, as is the Capitol's architect, William Strickland, who died during its construction.)
Save $60 on Universal 3-Park 3-Day Park to Park! Visit Universal's Volcano Bay Water Theme Park.
Of course, major cities like New York and Savannah (to name a few), offer bus and trolley tours. While you can't learn everything about a city through a bus tour, they sure speed up the familiarization process. When my oldest was a freshman in high school, the marching band was in the Macy's Thanksgiving Day Parade. My younger son, Ben, tagged along, and to this day, Ben insists that bus tours should be the first thing we do whenever we go someplace new!
Tour by golf cart
When in Tallahassee, Florida, the only way to tour the city is in a golf cart named "Wilma." Well… it's not the only way to tour the city…. but it sure is the fun way!  The golf cart's owner, and Tallahassee's head cheerleader, Beth LeCivita shares the history of downtown Tallahassee like no other. On her tour, you'll learn:
• How Park Avenue got its prestigious name (I won't tell! I'd hate to spoil the surprise)
• Where the recycled beer cans are displayed (I promise… without a tour, you'd never know)
• Why the banker killed himself — and how (It's not what you might guess)
• Where to find Tallahassee's resident witch (And how to tell her apart from her neighbors)
• And a whole lot more!
Beth's tours begin at the Downtown Market which gets set up in the Chain of Parks each Saturday morning. After a rousing welcome from the bagpipers — yes, a market that opens with bagpipes — Beth takes visitors on a 30 minute guided tour sharing the city's colorful history and secret charm. When she stops, take a moment to get a snapshot (Which I failed to do — I was too engrossed in the story to think about pictures. Rare for me!) Beth's entertaining and informative tours are $10/person. To schedule a tour or learn more visit the tour website.
Tips for selecting city tours
The key to a truly enjoyable city tour is selecting the right one to meet your needs.
Consider:
1. Who the youngest member is in your group — they tend to have the shortest attention span.
2. Whether the tour involves on and off stops — and if all members of your party can handle that activity.
3. How the tour will complement your desires — foodies might enjoy a culinary tour more than picky eaters.
4. What you want to learn — Do you want an overview of the city? Or is entertainment the goal?
Different city tours cater to different needs. By selecting the tour that best meets your needs and desires, your whole family, or group, is sure to remember the tour fondly — and who knows, maybe you'll even learn a few things in the process!
We'd love to learn about city tours in other places? Please recommend your favorite tour! We'll add it to our list!