Grosse Savanne Ecotours: Creatures great and small

The alarm woke me at 5:15 a.m., far too early for my night owl tendencies. While it was still dark, I dressed for adventure as a cup of strong coffee brewed on the credenza. With cup in hand, I headed to the van waiting outside the hotel — to be whisked away to, well…. someplace out in the vast bayou wilderness. About 30 minutes into the drive, the sun awoke — as beautiful at daybreak as it is at sunset (who knew?). We stopped a moment for a photo (apparently my whole entourage was made of night owls)… and then continued to our destination.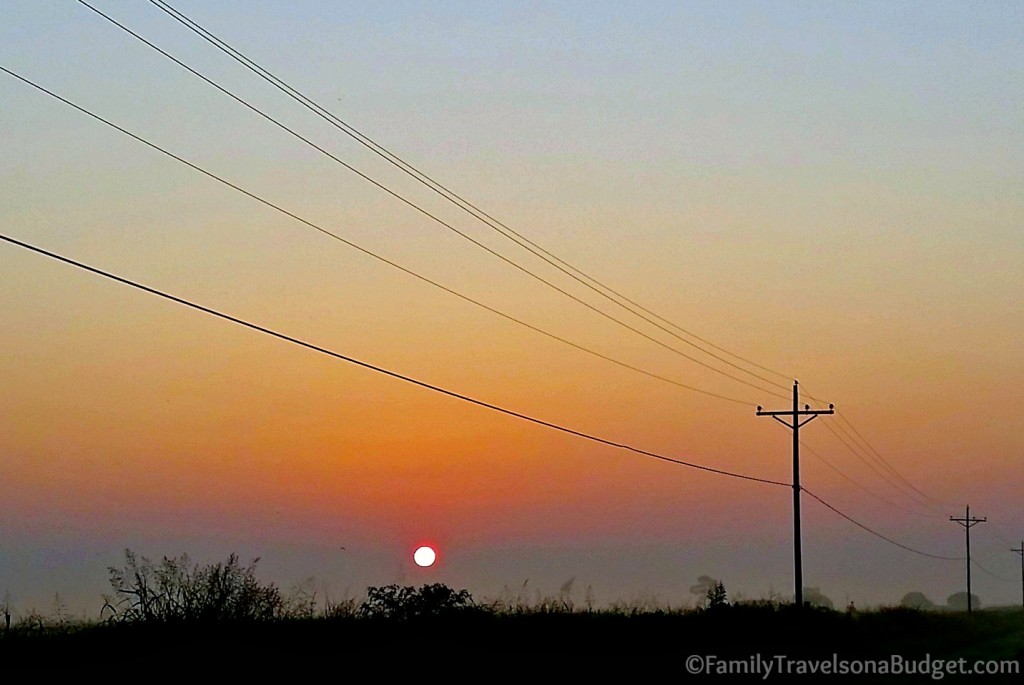 Grosse Savanne Ecotours
Considered one of the top ten birding areas in the United States, visitors to Grosse Savanne Ecotours are sure to see an abundance of colorful wildlife. I have to admit, those who set an early alarm are sure to get the best tour. We saw birds swoop through the air to dive for breakfast, dragonflies flittering from place to place and even a few gators! More on them in a minute…
But first, a little history…
Grosse Savanne Ecotours spans nearly 500 acres on the property of its parent company, Sweet Lake Oil & Land Company. When the owners first purchased the land, it was used for rice production. In the 1940s, pumps were installed to control the water and regulate production, but it got too expensive to pump them. The marshland dried up and invasive species overtook the area. For decades, the area looked desolate. Not even gators wanted to live there.
In 2009, private donors committed to restoring the region's habitat, building a levee to reintroduce marshlands to the area. After permanently flooding the area, birds, alligators and plants returned to their coastal home. Today, birds nest in branches of dead trees and alligators navigate the waters looking for breakfast, lunch and dinner. Frogs, turtles and bugs call this place home as well.
For amazing photos, click here! 
Grosse Savanne Ecotours opened to the public in 2013. Tour guide Bobby Jorden grew up in the area, his passion for the region obvious in every story he shares. As our boat floated gently through the wet marshland, Bobby pointed out a wide variety of birds and plants. He explained birding habits and how the reclaimed marshland benefitted the area.
Fast forward an hour into our leisurely tour…
Bobby took us to a rookery where young birds were practicing for life beyond the nest. Some slept in nests, far above the water, safe from sharp gator teeth. Others hopped among the branches, stretching their wings and preparing for independence. Bobby told us they were safe, as long as they didn't fall into the water.
We laughed… there was not a gator in sight!
Then Bobby splashed the water, which drew the attention of a young gator who had been hiding among the reeds. He swam toward the noise, but he didn't come too close. Small, young and a safe distance from our boat, he was cute. Our little gator friend realized we weren't breakfast and slipped away.
A few minutes later, we watched a young bird topple from his nest into the water. He flapped his wings awkwardly and regained his footing on a branch jutting out of the water. All his wing flapping did not go unnoticed. From nowhere (or everywhere), alligators materialized. Big ones! With powerful jaws and sharp teeth. The bird regained his balance and the gators slipped away.
Unfortunately, the little bird wouldn't listen as we encouraged him to settle on the branch. He flapped his wings again… and fell to the water again. This time, he wasn't so lucky. We shouted directions to the bird as if it could understand us, but it didn't help. A gator swooped out of the water, and in a flash the bird was gone.
Trust Bobby when he says there are gators everywhere!
Grosse Savanne Ecotour options
Bobby Jorden offers a variety of tours, including private boat tours through the marshes, photography tours or private hikes along nature trails. Prices vary by tour. Custom tours that include a picnic lunch can also be arranged. Bobby recommends calling ahead to arrange your tour. To learn more, click here.
Review and recommendations
Despite getting up really early, this was a great tour. The boat is small, seating only 8 guests, which means a lot of personalized attention. Also, Bobby, our trusty guide, is a native of the area and passionate about his topic. While I expected to see birds and alligators, I did not expect to learn as much as I did. Also, while I knew that marshland is important to our world, I gained a far greater appreciation for its value.
This trip is suitable for all ages, though I recommend it for kids age 6 and above. There's not much room to roam on the boat, so younger kids might be hard to entertain.
The boat doesn't travel at high speeds and the water is only a few feet deep (though it is gator infested). Guests should not experience motion sickness on this tour.
Recommendations
Wear sunscreen.
Tour early in the morning when the birds are most active.
Don't drink too much coffee before you go. There are no bathrooms on the marsh!
Make sure your camera battery is fully charged.
 I got to participate in this tour during a writer's trip to Louisiana. All opinions are my own.
Related articles